Summer is here. Which means 1) it's hot 2) you're no longer wearing pants 3) no seriously, you're not even gonna wear pants to work, and 4) there are SOOO many summer festivals going on, it's impossible to keep track of them all... Until now.
All-you-can-eat burgers + all-you-can-polish-off booze + all-you-can-listen-to live music = this amazing festival.
This year marks the 152nd anniversary of the signing of the Emancipation Proclamation, the 150th year since the slaves in Texas were informed of their freedom; the 42nd year of central Houston Juneteenth Parades, and the 0th year since you decided to check it all out.
There are going to be foam cannons, and that should really be all you need to know.
Is there anything better than tequila tastings and margarita contests? Probably, but that won't matter once you start sipping.
120 independent artists are coming from all over the globe to rock your faces off for three days.
It's a country and western music fest with the guy from Hootie, plus a whole lot more.
Because if you're going to discover something this summer, let it be good wine and music.
25 different brews, live music, and great eats are three pretty good reasons to make your way to Clear Lake.
Celebrate individuality and equality all week long, but make sure to double mark your calendars for the parade on the 27th.
It's like being a punk teenager again, just with a much bigger hangover.
You can get day-only or three-day passes... but it'll probably take you all three to get through the 100 craft beers.
We'll let them bill it: "A 5K musical voyage filled with lights, lasers, beats and celebration for the lover of Electronic Dance Music. Run, walk, skip or dance your way through this electrifying adventure."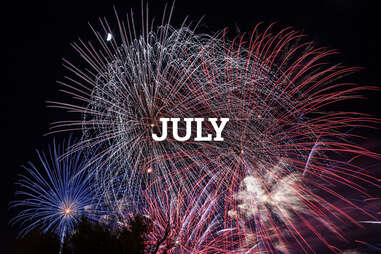 Hit the hill to get a taste of today's most innovative, influential, and cutting-edge Latin jazz. And do it all with a box of wine.
Happy 3rd, y'all!
The city's best fireworks fest features a Bud Light Lime-A-Rita Beach Bash and a Dr Pepper Zone featuring H-town pro-team setups, music, food, and a salute to the military.
Because Fulshear likes to celebrate freedom, too.
The 94.5 The Buzz music festival features Shinedown, Blue October, X Ambassadors, Meg Myers, and more.
The Hindu festival -- which originated thousands of years ago in Puri, India -- is all about promoting the idea of togetherness. So come together.
Come out bright and early to harvest, watch the crush, and dance, baby, dance.
T.I. and Lil Boosie are going to be there. Will you?
Salsa, meringue, and fresh-as-hell Colombian foods are a good time.
Time to relive high school. Fuel. Everclear. Toadies. Plus more.
Over 20 food trucks will be lining up in the purple lot for your eating pleasure.
Get your nerd on at Houston's very own Comic Con.
This 14-hour event features live music performances, art exhibits by emerging local talents, a gut-busting comedic showcase, interactive activities, and free Ziegenbock for ages 21+.
Hardcore collectors, street wear brands, and local boutiques show up to show off the dopest kicks around.
The granddaddy of ALL Texas hunting shows is hitting Houston for three days. Try out the latest deer-hunting equipment, hunting accessories, hunting clothing, rifles, knives, archery gear & other exciting stuff.
Catch free alternating performances of Macbeth and The Merchant of Venice. Hill seating is open and reserved seats are available for free.
Celebrate the essence of spirit through music, dance, arts, and more.
Don your best P. Diddy gear and head to the Heights for an all-out street fest and market.
Jam to face-melting rock from with Slayer, King Diamond, Hellyeah, The Devil Wears Prada, and more.
You don't have to be Latin to know that Latin dance, music, and culture are terrific. As is the food.
August is hot. Cool off with crisp wine and plenty of fresh eats.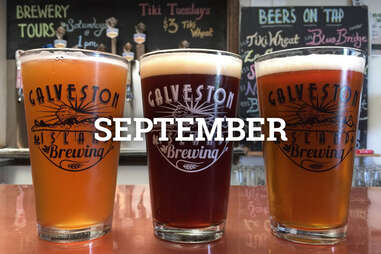 The Labor Day weekend was made for beer (... right?). Hit the largest craft beer celebration at the beach for a BrewLicious Brews and Food Pairing and BrewHaha Grand Tasting.
Hit this all-day outdoor festival for food, games, and performances from Jack & Jack, Aaron Carpenter, Sam Pottorff, and more.
Catch live performances of music, dance, poetry, and more.
Art lovers shouldn't miss this huge fair featuring modern and contemporary masters, mid-career, and emerging artists from around the globe.
Over 200 premium brews and plenty of live music and cool beats will keep you happy, even if summer is ending.
Prove your love of all things hot through lick-a-thons and ghost pepper contests. Or just show up to taste, drink, and shop.
Get cultured through over-eating all the foods and buzzed dancing to sounds from around the world.
If there's one thing Texans love more than a hot sauce festival, it's got to be a whiskey one.