Where to Watch Houston's 4th of July Fireworks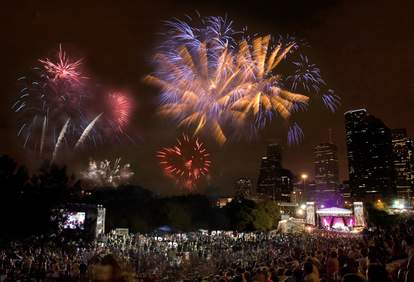 Fourth of July is right around the corner: a day of hot dogs, flowing beer, and FIREWORKS! And Houston, being the awesome, sprawled out city that it is, has no shortage of places to catch some patriotic pyrotechnics. From the city's official fireworks showcase -- Freedom over Texas -- to bright displays all around the Loop, our Fourth of July Fireworks guide has got your holiday covered. Here's where to go, what to do beforehand, and when to show up in time to watch fireworks illuminate the Houston sky.
WHEN DO THE FIREWORKS START?
Exact times vary by location (more on that below), but you can expect most firework shows to be popping off between 9pm and 9:30pm; the main Freedom Over Texas display kicks off at 9:35pm. Of course, there's plenty of fun stuff to do beforehand.
WHERE ARE ALL THE FIREWORKS SHOWS THIS YEAR?
Downtown
Festival: 4pm
Fireworks: 9:35pm
The City of Houston's tribute to patriotism takes place along the Buffalo Bayou at Eleanor Tinsley Park, drawing over 40,000 people for a day of live country music, Bud Light, and top-notch pyrotechnics set to the backdrop of the city skyline. This year's event will pay homage to the Apollo 11 Moon Landing in honor of its 50th anniversary, bringing an exclusive Space City experience complete with astronauts, robotic demonstrations, virtual reality field-trips to the International Space Station, and other NASA assets and activities. The festival will also feature a kids' zone and live musical acts throughout the day, with headliner and country music star Jake Owen taking the stage along with special guest Kellie Pickler before fireworks light up the sky. Tickets are $8 in advance and $10 day-of (children under 5 get in free with a paid adult). There is plenty of easy parking near the festival at street level, and event parking is also available downtown at the Theater District Parking Garage and at the Hobby Center for the Performing Arts.
Memorial District
Festival: 7pm
Fireworks: 9:30pm
CityCentre's 15-minute fireworks spectacular begins promptly at 9:30pm (weather permitting), but you'll also find fun from 7-11pm. People's Choice Band will be playing country and pop, and CityCentre restaurants will be offering tasty eats that can be taken to-go. Parking will be $10 in all CITYCENTRE garages beginning at 4pm.
Galveston
Parade: 7pm
Fireworks: 9:15pm
The 180th City of Galveston Independence Day Parade and Fireworks Celebration will go down along 37th Street and Seawall Blvd. The island party kicks off with a glittering parade on Seawall between 59th and 25th, followed by a dazzling 20-minute fireworks display over the Gulf.
Museum District
Concert: 8:30pm
Fireworks: 9:30pm
The classiest way to celebrate the Fourth is at Miller Outdoor Theatre in Hermann Park, where the Houston Symphony will present a Star Spangled Salute to America capped off by a spectacular fireworks display. As always, the concert is free, with open seating on the hill and ticketed seating offered for the covered seating area (limited to four per person over age 16 while they last, available at the box office the day of between 10:30am and 1pm). The show goes on rain or shine.
Friendswood
Festival: 7:30pm
Fireworks: 9:20pm
Spend the evening at Centennial Park, where you'll find rides, live music, and an extravagant firework display. There is no public parking at Centennial Park, but free shuttle buses will be running from Friendswood High School and Friendswood United Methodist Church beginning at 6:30pm.
Baytown
Festival: 4-10pm
Fireworks: 9:30pm
Say "Happy Birthday America" with a free festival at Baytown's Bicentennial Park. The fun actually kicks off on Wednesday, with headliner The Village People and Bag of Donuts rocking the stage. On the Fourth, the day opens with music from RL Bell and country music singers Tracy Byrd and Joe Diffie headline. You'll also find vendor booths, food trucks, a patriotic parade, kids play zone, and a DJ spinning patriotic tunes as fireworks shimmer over the park.
Katy
Festival: 9am to 1pm
Fireworks: 9pm
Katy's annual Freedom Celebration begins in the morning, with fun activities, bounce houses, petting zoos, snow cones, and more at Fire Station #1 and Katy Heritage Park. Later that night, music and fireworks will be lighting up the sky near Typhoon Texas and Katy Mills Mall at 9pm.
Kemah
Fireworks: 9:30pm.
Hit the boardwalk to catch live music and a patriotic fireworks show set over Galveston Bay. 9:30pm. The event is free to attend, but those looking to get a special deal in honor of the holiday can enjoy unlimited visits to the Pleasure Pier, Kemah Boardwalk and the Downtown Aquarium Houston from July 4-7 for $59.99.
Pasadena
Festival: 5-10pm
Fireworks: 9:15pm
The City of Pasadena Parks & Recreation Department's 4th annual July 4th festival rocks live music, kids games, food vendors and a sky full of fireworks. Admission is free. Texas Country Music favorite Kevin Fowler will be taking the stage at 7:30pm. The musical entertainment will be in the Rodeo Arena and seating is available there, but chairs and umbrellas are welcome.
Sugar Land
Festival: 4-10pm
Fireworks: A little after 9:30pm
The Sugar Land sky will light up with colorful fireworks at the annual Red, White and Boom festival, with fun stuff including a children's zone, local musical talent, and festival eats available for purchase. Tickets are free but required for the event, so don't forget to grab yours. Limited parking will be available at Brazos River Park and there will be three designated parking locations for shuttle pickup/drop off (Edward Mercer Stadium, Smart Financial Centre and University of Houston Sugar Land) from 3:30pm to midnight.
Missouri City
Entertainment: 6-9pm
Fireworks: 9:15pm
Head to Buffalo Run Park to celebrate the holiday with free live entertainment, activities, and tasty treats. Seating is available in the Thurgood Marshall High School stadium.
Pearland
Festival: 6-10pm
Fireworks: Sundown
Pearland's Independence Park will celebrate the country's birthday beginning with a military salute and followed by the National Anthem on the H-E-B Entertainment Stage. At sundown, a spectacular fireworks display will be unleashed by VCA Westside Animal Hospital. Food and glow trinkets will be available for purchase, and parking and seating are free.
Cypress
Fireworks: 9pm
Live music from Danny Ray and the Acoustic Production will be followed by a fantastic firework show over the water beginning promptly at  9pm. No outside food or drinks are allowed, but there are several Boardwalk restaurants where you can grab dinner before the show.
The Woodlands
Festival: 6-10pm
Fireworks: Approximately 9:30pm
The 22nd Annual Red, Hot & Blue Festival and Fireworks Extravaganza will take place throughout The Woodlands, with all sites featuring live music beginning at 6pm and bands playing until the Fireworks Extravaganza. Oversized beach umbrellas and pop-up tents are not permitted at the Festival. The primary fireworks display will be located in Lake Woodlands adjacent to Northshore Park, with a secondary close-proximity (special effects) display at Town Green Park. Teaser shots will be fired from all launch locations at 9pm, 9:10pm, and 9:20pm to ensure y'all have secured the best views by showtime.
Tomball
Festival: 5-10pm
Fireworks: At dusk
Texas Country Music Hall of Fame group, The Posse, will perform an evening of Country tunes and Southern Rock, with a special patriotic tribute to America and its veterans, food vendors and a giant kids' zone followed by an aerial fireworks display at dusk. Admission and parking are free.
Spring
Park: 10am on
Fireworks: At dusk
Things will go "splash" and "boom!" at this waterpark, which will be open all day with music, games, rides, and fireworks shows starting at dusk on both July 4 and 5.
WHERE SHOULD I PREGAME?
A bunch of venues are hosting festivals leading up to the blasts, offering food, live music, and fun throughout the day. If you are looking to raise a glass to the land of the free and the home of the brave at a local watering hole, there's plenty of opportunity for that, too. Your first move should be to hit up one of Houston's finest rooftop bars, and soak up as much sunshine as possible whilst tippling. Over in Midtown, new rooftop spot 77 Degrees is going Red, White, & Brew with bangers, burgers, and drink specials on July 3 and 4, and a fireworks watch party on Independence Day itself. 
Washington's Platypus Brewing also has views of the fireworks, so it's celebrating with a free-all-day 4th of July celebration complete with craft beer and family-friendly activities. Nearby, B.B. Lemon will be hosting an all-American cookout from 6pm-close, with live music by Buck Yeager Band, yard games, and special Independence Day food and drink packages (you can also stick around for views of fireworks over Downtown).
Just blocks away from the Freedom over Texas display, Henderson Heights is getting Wet n' Wild starting at 11am. The bar will be featuring "Truck Bed Pools," a swim up bar, water gun fights, and food and drink specials all day.
You can also celebrate 'Murica with a $5 buffet of all-American classics at City Acre Brewing. All you have to do to unlock the special (unlimited burgers, hot dogs, and sides) is buy a beverage from 11am to 6pm.
Karbach Brewery is hosting its own July 4th Music and Fireworks Spectacular with legendary band Cheap Trick, $5 craft beers, and a lineup of food trucks before the fireworks pop off. Tickets are $28 for general admission and $100 for VIP and doors open at 6pm.
If a pool party hosted by Rick Ross is your idea of a proper pregame, you can hit up Rick Ross Pool Party at day and nightclub Clé. Get tickets for $30 and party from 2 to 8pm.
WHAT WILL THE WEATHER BE LIKE?
Well, we're in Houston, so the easiest answer is "face-meltingly hot," but there's always the chance of torrential downpour and maximum humidity, too. Right now, it's looking like it'll be in the 90s during the day, and temps will cool off a bit by night. Sunset's at 8:27pm, and the day has a record high of 100 degrees and low of 70. Long story short, dress for warm (likely humid) weather.
Sign up here for our daily Houston email and be the first to get all the food/drink/fun in town.
Brooke Viggiano is a Houston-based food and lifestyle writer who may or may not have almost set her neighbor's roof on fire with illegal July 4th fireworks back in the day. She's since realized that was really, really bad, but you can still follow her pyrotechnic adventures on IG @brookiefafa or on Twitter @brookeviggiano.