The Fourth of July is almost here, y'all. A day filled with hot dogs, cold beer, and, most importantly, fireworks. Since Houston is into all things fun, there is absolutely no shortage of places to catch some patriotic pyrotechnics. From Shell Freedom over Texas—the city's official fireworks showcase set to the backdrop of the city skyline—to bright displays around the Loop and beyond, our Fourth of July Fireworks guide has got your holiday fireworks gameplan covered.
Here's where to go, what to do beforehand, and when to show up in time to watch fireworks illuminate the Houston sky.
WHEN DO THE FIREWORKS START?
Exact times vary by location (more on that below), but you can expect most firework shows to be popping off between 9 pm and 9:30 pm; the main Freedom Over Texas display kicks off at 9:35 pm. Of course, there's plenty of fun stuff to do beforehand, too.
WHERE ARE ALL THE FIREWORKS SHOWS THIS YEAR?
Festival: 4 pm to 10 pm
Fireworks: 9:35 pm
Downtown
After two years of a "reimagined" celebration, the City of Houston's tribute to patriotism, Shell Freedom Over Texas, returns in all its glory to the Eleanor Tinsley and Sam Houston Parks along the Buffalo Bayou. All are invited to hit the bayou for live music and activities, with Step Rideau and the Zydeco Outlaws opening the Main Stage, followed by country sister duo Walker County, rapper/singer Blanco Brown, country music band Sawyer Brown, and finally the headliner, Houston-area native and country music star Clay Walker performing for the crowd. There will also be an All-American Kids Zone; Bud Light Seltzer Summer Sizzle; Dr Pepper Cool Zone featuring Houston professional sports teams, live music, and food; Liberty Park featuring Symbols of Freedom, the Space City Experience, and a salute to all five branches of the military; and of course, the grand finale fireworks featuring top-notch pyrotechnics set to the backdrop of the city skyline. Tickets are $10 online or at the gates (children under 5 get in free with a paid adult). There is plenty of easy parking near the festival at street level, and event parking is also available downtown at the Theater District Parking Garage and at the Hobby Center for the Performing Arts.
Festival: 7 pm - 11 pm
Fireworks: 9:30 pm
Memorial
CityCentre's 10-minute fireworks spectacular begins promptly at 9:30 pm (weather permitting), but you'll also find fun from 7 - 11 pm. Expect live country and pop throughout the fest, and CityCentre restaurants will be offering tasty snacks that can be taken to-go. Parking will be $10 in all CityCentre garages beginning at 4 pm.
Parade & Fireworks Celebration: 7 pm - 10 pm
Galveston
The City of Galveston Independence Day Parade and Fireworks Celebration will go down along 37th Street and Seawall Blvd, kicking off with a glittering parade on Seawall between 59th and 25th, followed immediately by a dazzling fireworks display over the Gulf.
Festival: 7:30 pm
Fireworks: 9:20 pm
Friendswood
Friendswood invites locals to spend the evening at Centennial Park, where you'll find food, live music, and an extravagant firework display. The morning kicks off with a Grande Parade on Friendswood Drive between Heritage Drive and Stevenson Park at 10 am; followed by rides, food, and fun at Stevenson Park at 11 am.
Festival: 4 pm
Fireworks: 9:30 pm
Baytown
Say "Happy Birthday America" with a two-day free festival at Baytown's Bicentennial Park. On Sunday, The Spazmatics take the stage at 6:30 pm, followed by headliner Vanilla Ice at 8:30 pm. On the Fourth, the day opens with music from David Lee Garza, followed by a parade at 5:30 pm, live music from Cody Hibbard at 6 pm and The Band Perry at 8:15 pm, and the grand finale fireworks show at 9:30 pm. You'll also find vendor booths, food trucks, kids play zone, and a DJ spinning patriotic tunes as fireworks shimmer over the park.
Fireworks: 9 pm
Katy
The City of Katy and Typhoon Texas have teamed up for another year of parties and patriotism. Locals are invited to get some 4th of July action and entertainment at Typhoon Texas starting at 11 am; then stick around for the Freedom Celebration fireworks show starting at 9 pm, with views from inside the water park or the Katy Mills Mall.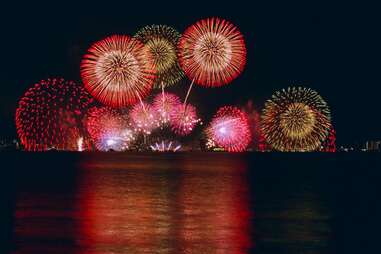 Festival: 1 pm - 11 pm
Fireworks: 9:30 pm
Kemah
Kemah Boardwalk will be lighting up the sky red, white, and blue with a fireworks display over the water at 9:30 pm. But attendees are welcome to come early to grab a bite to eat, ride some rides, and enjoy live music from Bama Breeze (1 pm to 5 pm) and Yelba (6 pm to 10 pm). There is also a Boardwalk Fantasea Fireworks Cruise setting sail at 8 pm, and the Boardwalk Beast Speedboat Fireworks Ride (available first come, first served). Parking is $25.
Festival: 4 pm
Fireworks: 9:15 pm
Pasadena
Hit the Pasadena Municipal Fairgrounds for the City of Pasadena's Annual 4th Fest, rocking live music by The Slags and Gray Falls, food trucks, a kids zone and hayrides, attractions from a 30' Mega Slide to a Eurobungee Trampoline, and, most importantly, a big ole Texas sky full of fireworks. Admission is free.
Festival: 6 pm to 10 pm
Fireworks: 9 pm
Sugar Land
The Sugar Land sky will light up with colorful fireworks at the annual Red, White, and Boom Festival, with fun stuff including a kids zone with rock walls and sports inflatables, live music such as dueling pianists, bands, and DJs, and food vendors from Big 6 Bar-B-Que and Cousins Maine Lobster to Chupacabra Ice Scream. The event is free to attend and limited onsite parking is available (your best bet is to come around 5 pm) along with shuttle services.
Festival & Fireworks: 4 pm to 9 pm
Fireworks: 9:15 pm
Missouri City
MCTX's Independence Day celebration goes down around HCC Campus, with free live entertainment, carnival games, and family-friendly activities, along with delicious snacks from local vendors, plus a show stopping fireworks display to close out the evening.
Festival: 6 - 10 pm
Fireworks: Sundown
Pearland
Pearland's Independence Park will celebrate the country's birthday with live music from Adrian Michael and the Greenway Band on the H-E-B Entertainment Stage, followed by a spectacular fireworks display at sundown. Food and glow trinkets will be available for purchase, and parking and seating are free.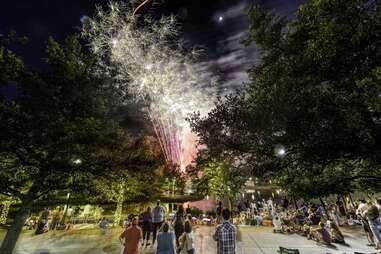 Festival: 6 pm - 10 pm
Fireworks: 9:30 pm
The Woodlands
The 25th Annual Red, Hot, & Blue Festival and Fireworks Extravaganza will take place throughout The Woodlands—including but not limited to Town Green Park, Northshore Park (primary display), and Waterway Square—with all sites featuring live music beginning at 6 pm and bands playing until the Fireworks Extravaganza at approximately 9:30 pm. To ensure spectators have the best fireworks visibility possible, fireworks teaser shots will be fired from all launch locations at 9, 9:10, and 9:20 pm. Coolers, picnic baskets, blankets, and lawn chairs are welcome (with glass, oversized beach umbrellas, and pop-up tents prohibited).
Festival: 6 pm
Fireworks: 9:30 pm
Tomball
This explosive July 4th celebration goes down on Business Highway 249 just North of FM 2920 in Tomball, featuring live music from Mango Punch, food vendors, a kids zone, and special patriotic tribute to America and its Veterans. Gates open at 6 pm, with fireworks at 9:30 pm.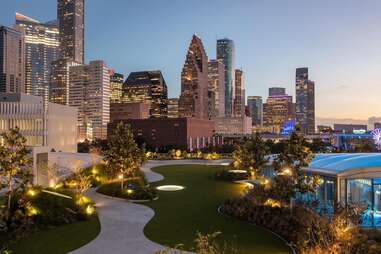 WHERE ARE THE BEST PLACES TO PREGAME?
A bunch of venues are hosting festivals leading up to the blasts, offering food, live music, and festivities throughout the day. If you are looking to raise a glass to the land of the free and the home of the brave at a local watering hole, there are plenty of opportunities for that, too. Your first move should be to hit up one of Houston's finest rooftop bars, and soak up as much sunshine as possible whilst tippling.
Post Houston is another prime choice for pregaming and fireworks watching, with a massive food hall downstairs and an incredible rooftop skylawn set to the backdrop of downtown where you can watch Freedom Over Texas. The Houston Brass Band will be playing patriotic sounds on the skylawn starting at 7:30 pm.
Over in Arts District Houston, Buffalo Bayou Brewing Company is selling tickets to its 4th of July Rooftop Party, popping off from 7 pm until close. Each ticket secures third floor rooftop access to catch Houston's fireworks show, plus a color-changing BuffBrew 4th of July stadium cup to enjoy your beverages from. All food, brews, and frozen treats will be available to purchase a la carte. Platypus Brewing also has direct views of the show from its parking lot, and it's throwing a party starting at noon with a special festive cocktail, $5 secret beer tap, new beer, and gourmet hot dog special in addition to its regular suds lineup and food menu.
Close by, B.B. Lemon will be hosting 4th of July DJ Brunch starting at 11 am, and if you're heading here for dinner, you can stick around for views of the Freedom Over Texas fireworks from its parking lot.
If a bubbly-fueled pool party is your idea of a proper pregame, you can hit up Drip or Drown Pool Party at day and nightclub Clé from 2 pm to 9 pm (admission is free before 4 pm).
Over in the Heights, Bobcat Teddy's Icehouse is throwing down a Fourth of July bash with live music and complimentary burgers and hot dogs all day (while supplies last); and Bosscat Kitchen & Libations has got a Red, White, and Blue Donut Burger on the menu from Saturday - Monday, July 4.
Montrose favorite Revelry on Richmond is going big on beef, smoking up a Fourth of July steak special with two sides and a pint of beer for $25 that probably also pairs quite nicely with one of its patriotic Red, White, and Blue Frozen Cocktails. Just sayin'.
WHAT IS THE WEATHER GOING TO DO?
This is Houston, so the easiest answer is "face-meltingly hot," but there's always the chance of torrential downpour and maximum humidity, too. Right now, it's looking like it'll be in the 90s during the day, and temps will cool off a bit by night. Sunset's at 8:27pm, and the day has a record high of 100 degrees and low of 70. Long story short, dress for warm (likely humid) weather.
Sign up here for our daily Houston email and be the first to get all the food/drink/fun in town.
Brooke Viggiano is a Houston-based food and lifestyle writer who may or may not have almost set her neighbor's roof on fire with illegal July 4th fireworks back in the day. She's since realized that was really, really bad, but you can still follow her pyrotechnic adventures on IG @brookiefafa or on Twitter @brookeviggiano.