Everything You Need to Know About Houston's Pride Celebrations This Weekend
June of 2019 marks the 50th anniversary of the 1969 Stonewall Riots, an event commonly considered to be the spark that ignited the modern LGBT rights social movement in America. A new wave of social activist organizations emerged soon afterward, and on June 28, 1970, the Christopher Street Liberation Day in New York and Christopher Street West Association in Los Angeles became the first Gay Pride Parades in US history. June is now Pride Month, celebrating the LGBTQ community and its achievements, legal rights, and pride.
In today's harsh political climate, it's more important than ever to honor social and self acceptance, and Pride Houston does just that. While the entire month sees Pride celebrations across town (including a genderless cocktail party, baewatch pool party, and closing tea dance), the Houston Pride Festival and Parade is the main attraction. Here's everything you need to know about it: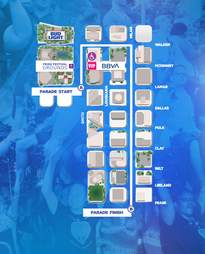 Where and when does the action start?
The Pride Festival runs from noon to 7pm, on Saturday, June 22, taking place at the cross streets of McKinney and Smith around Hermann Square. The Pride Parade follows shortly after, from 8-11pm. The route begins at Smith and Lamar, then continues up Smith Street to Walker, where it will make a right turn and run along Walker to Milam before making its final right turn down Milam to its end point at Jefferson.
Y'all can expect rainbow-colored everything, festive floats, plenty of glitter and tie dye, and 700,000 joyous spectators from around the globe ready to par-tay into the night.
Will there be street closures?
Yes, absolutely. The city has the following street closures planned for Saturday:
Festival Closures:
Smith from Walker to McKinney (West Curb Lane) at 9am to noon
Smith from Rusk to Lamar (All Lanes) from noon to midnight
Smith from Lamar to Dallas (2 east lanes) at noon to 6pm
Smith from Lamar to Dallas (all lanes) 6pm to midnight
Bagby from Walker to Lamer (all lanes) at 6am (re-opens on Sunday, June 24 at 2am)
McKinney Exit Ramp at 45 N at 6am (re-opens on Sunday, June 24 at 2am)
Pride Parade Staging and Route: Staging will start at 10am on Outbound Allen Parkway and Montrose; Inbound Allen Parkway will close at 5:45pm. The parade route will close at 7:30 pm and will start reopening at 10pm as the parade moves through the route.
Outbound Allen Parkway from Bagby to Montrose (all lanes) 10am to 10:30pm
Inbound Allen Parkway from Taft to Bagby/Dallas (all lanes) 5:45pm to 11:30pm
Bagby from Rusk to Dallas (all lanes) 7:30pm to 11:30pm
Walker from Bagby to Milam (all lanes) 7:30pm
Milam from Walker to Pease (all lanes at Rusk) 7:30pm
Pease from Milam to Smith (all lanes at Travis) for disbanding from 7:30pm to 11:30pm
How do I get there?
Parking is available at all open downtown garages and lots, with sponsored parking at the 1100 Smith Garage available for $10 (limited). Though if you want to fully partake in the festivities (and by fully, we mean with booze), you'll want to use a ride-share. Lyft will be offering a 50% ride discount for rides, up to $3, to and from the Houston Pride Festival and Parade. Or, you can try the METRORail: all three lines (Red, Green, and Purple) make stops at Central Stations just a short walk to the Festival and Parade route.
Bonus: In celebration of Houston Pride, Lyft is also rolling out a multi-stop experiential pop-up, where locals learn about the history of Pride and show their support for the movement. On Saturday, the pop-up can be found at the Houston Pride Festival, near the corner of Bagby and Walker, from noon to 6pm. When riders use promo code PRIDE2019IAH traveling to or from the Lyft pop-up events, Lyft will donate $1 to The Montrose Center, a community group that has provided resources and support to Houston's LGBTQ+ community since 1978.
Are the events free?
Yes, the parade and festival are completely free and open to the public to attend/watch (no age limit). New this year, you can choose to purchase tickets to the Parade VIP area ($175 to $250) and special access to the Main Stage Plaza and exclusive access to the Main Stage Bar during the Festival ($10).
Is there a theme?
Yes, and it's a great one! This year's theme is "Summer of '69," celebrating Moving Mankind Forward, honoring LGBTQIA+ Pride, and paying homage to the 50th anniversaries of the Stonewall Riots, the Woodstock festival, and the Moon Landing.
Who's leading the parade?
The 2019 Grand Marshals were chosen to celebrate our past and look forward to our future, with the roster including top role models in Houston's LGBTQ+ community and honoring the addition of the new Gender Non-Binary category. This year's GMs include Harrison Homer-Guy (Male-Identifying), Judge Shannon B. Baldwin (Female-Identifying), Mike Webb (Gender Non-Binary) and Constable Alan Rosen (Ally). As this year marks the 50-year anniversary of the Stonewall Riots, Pride Houston is also recognizing four community activist trans women of color as the Pride Houston Honorary Grand Marshals: Atlantis Narcisse, Dee Dee Watters, Ana Andrea Molina and Monica Robert.
What performers will be there?
Before the parade, the festival will feature a slew of performers on its Main Stage and throughout the event, including Young M.A., Dorian Electra, Plastique Tiara, and hometown queen London Adour as the festival host. At the parade, you can expect DJ Aracely and Christina Wells rocking the Parade Stage.
What will the weather be like?
Y'all know you're in Houston, right? And that it's summer? That means you can expect it to be HOT and maybe even rain a bit, but we can get a bit more specific than that: Saturday's forecast is 95 degrees with a 40% chance of stormy weather.
Spenser Harrison/Visit Houston
Where's the afterparty?
The Official Pride Afterparty is going down at iconic gay nightclub and bar Rich's Houston, with the revelry popping off at 9pm and going hard till 4am. The "dance palace" will rock three DJs, a "big tent event" and drag performances by The Ladies of Rich's. Admission is $20, either online or at the door.
Sign up here for our daily Houston email and be the first to get all the food/drink/fun in town.
Brooke Viggiano is a Houston-based food and lifestyle writer who thinks if you're ever going to go to a parade, let it be this one. Share the rainbow love with her on IG @brookiefafa or on Twitter @brookeviggiano.