Looks like the cold front is finally here (for real this time), so you truly are a poor excuse of a Houstonian if you do not take full -- and I mean FULL -- advantage of the situation. Grab your best jacket, throw on a hat, get off the couch, and get out to these awesome weekend events. There's the chance to hit up a legit night market, a way to become the ultimate Oktoberfester, a pregame for Halloween, and a giant street party in one of the city's oldest neighborhoods.
Recommended Video
You Can Fit This Grill In Your Backpack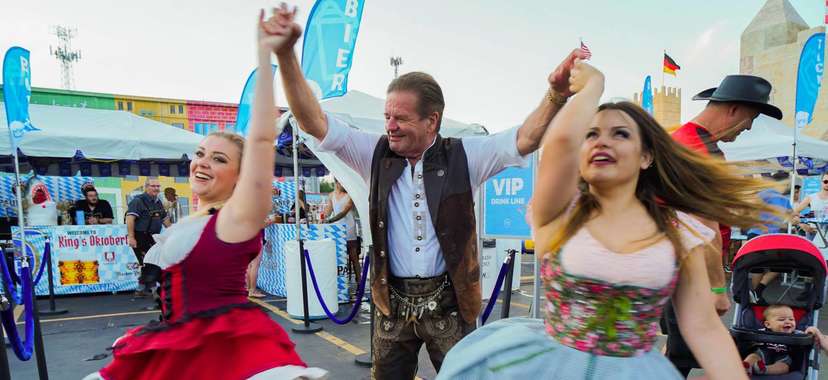 Friday, October 19 - Sunday, October 21
Greater Heights
The King's Oktoberfest celebrations are coming to a close at the Heights BierHaus location this weekend. Father/son duo Hans and Philipp Sitter will be lacing up their lederhosen just for the event, throwing a massive three-day extravaganza complete with German food and drink (think German biers, wursts, and eight-hour roasted turkey legs), live music, and special events including a Bavarian Strongman Competition, arm wrestling, beer pong competition, and adult carnival games.
Cost: GA tickets are $12 for single day pass and $20 for a weekend pass
Friday, October 19
Museum District
The Asia Society Texas Center is hosting its annual Night Market from 6pm to 10pm, giving locals after-hours access to two new art exhibits, live music, an artisan market, Japanese-style carnival, and, as any good night market would, plenty of tasty food and drink. Get tickets to the upstairs beer garden to enjoy beer alongside bites from Café Natalie, Cordúa, and Tony's -- or hit up the free access festival lawn and street to find food trucks and pop-ups from Dumpling Haus, Fung's Kitchen, Nom Mi Street, Spicy Dog, and more.
Cost: The festival is free to attend, with ticketed beer garden access costing $25 and including beer tickets, live music, and special culinary offerings
Get the crap scared out of you at a haunted house
Friday, October 19 - Sunday, October 21
Houston
It may not have felt like October lately, but it sure is, and that means it's time for one thing and one thing only. No, not PSLs. It's the season of fears, freaks, frights, and scaring the bejeezus out of yourself at a haunted house. Run screaming from the maniacal clowns at ScreamWorld, get your nightmare fuel as you creep through dark hallways at Phobia, or take a trip to the fear-unleashing Deadwood Asylum at the Redrum Haunted House. For more options, look through last year's Best Haunted Houses in Houston guide. Also, don't forget to pack a change of pants.
Cost: Prices vary per house
Saturday, October 20
East End
Get better acquainted with Houston's birthplace at the annual East Street Fest, which brings live bands, DJs, artisans, street performers, and good food together for a giant three-block party on Navigation Boulevard. The family-friendly event celebrates the neighborhood's rich heritage, as it hosts two of Houston's oldest Hispanic neighborhoods, Magnolia Park and Second Ward. Noon to 10pm.
Cost: Free to attend, with food and drink available for purchase
Saturday, October 20
Tomball
Tomball's historic Depot Plaza will play home to a bunch of gourmet mobile vendors as the third annual Freight Train Food Truck Festival rolls into town. Expect two stages of live music, a "Pour Patio" featuring adult bevys, and plenty of tasty food truck eats, including the return of some old favorites and some soon-to-be new favorites, too. Stuff yourself with treats from spots like Good Dog, Friohanna, Ray's Texas Smoke Barbecue, and The Waffle Bus. Gates open at 11am.
Cost: Admission is free 
Saturday, October 20
Heights
The Houston Zombie Walk's Halloween Fest returns to the Heights for its eighth year, bringing cool stuff like live music, beer gardens, food trucks, costume contests, an HZW special FX station, photo ops, and carnival games along with it. The family-friendly festival takes place along the 300 block of 19th from 5 to 10pm.
Cost: Tickets are $10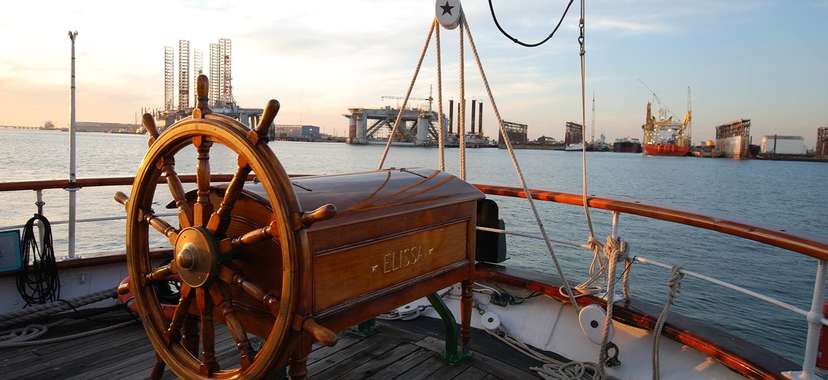 Saturday, October 20
Galveston
October is the official birthday month of the historic 1877 Tall Ship ELISSA -- a super-cool, iron-hulled sailing ship built in Aberdeen, Scotland, that spent 90 years carrying cargos to ports around the world and is still a functioning vessel today. You'll find it sittin' pretty at the Texas Seaport Museum, where you can honor its birth with a one-day-only History on Tap tasting featuring brews from Saint Arnold Brewing Company (including Elissa IPA, obviously) from 6pm to 8pm.
Cost: A $20 ticket gets you admission to the Texas Seaport Museum, onboard the ship, and complimentary craft beer
Saturday, October 20 - Sunday, October 21
Todd Mission
It's week four of the epic nine-week Texas Renaissance Festival, which means it's time to come ashore for a pirate party complete with hidden treasures, tankard of ales, and a fish-n-chips eating contest. As always, festival goers can expect fantasies to come to life alongside live music and shows, shoppes and costumes, mead and ale, after-dark parties, colossal turkey legs, and feasts fit for a king.
Cost: Daily passes are $24.95 for adults and $12.95 for kids up to 12, with camping and weekend packages available
Sunday, October 21
Highland Village
Head to Bosscat Kitchen & Libations, where you can enjoy your choice of three "Beer-Tails" in a
2,000-square-foot private event space and adjoining back patio. The eatery has dreamed up 8th Wonder Brewery and Beam Suntory bourbon cocktails, served out of 8th Wonder cans and with flavors including Basil Hayden's Bourbon & 8th Wonder Haterade Whiskey Sour, Maker's Mark & 8th Wonder Oktoberfest DIY Boilermaker Bar, and Jim Beam Black & 8th Wonder Rocket Fuel Fall Old Fashioned. Noon to 3pm.
Cost: Tickets are $45 ($60 at the door) and include three tokens for cocktails, small brunch bites, gifts from the brewery and distillery, and live DJ entertainment
Sunday, October 21
Houston Art District
Head to the Sawyer Yards Art District, where Holler Brewing Co. has teamed up with local food truck Breaking Bao to offer a badass pairing menu. Guests can dig into a a mini flight of three beers and three delicious baos, plus enjoy a commemorative pint glass while supplies last. The event runs from 1pm to 7pm.
Cost: Tickets are $20 and can be purchased on the spot on the day of the event
Ace a Sake Sushi 101 Class
Sunday, October 21
CityCentre
Learn the art of sake tasting and sushi rolling at RA Sushi, which will host a Sunday evening class at both its Highland Village (sold out) and CityCentre locations. Each interactive class and tasting will run from 7pm to 8:30pm, covering the fun traditions around sake and the proper way to roll sushi. Guests will make and eat a Spiked Sake Roll (yep, that's a sushi roll infused with sake) alongside items like the Philadelphia roll and salmon nigiri, and sip sake flights featuring Sho Chiku Bai, Miso Sparkling Sake, and Red Flower Sake.
Cost: Tickets are $45
Sign up here for our daily Houston email and be the first to get all the food/drink/fun in town.