Everything Fun to Do in Houston This Weekend
Get out of the house for Drunk Shakespeare, big Lunar New Year fetes, volunteering opportunities, and more.
After a severely stormy start to the week, it's time to get off the couch and enjoy Houston again (even if it rains a bit, at least we're not talking tornados). This weekend, you can watch a Shakespearean play unfold in an unexpectedly hilarious way, test drive your dream car (or find a boat!) at an epic auto show, do the cabbage patch at an '80s prom, welcome in some good fortune at a Lunar New Year fete, and lend a hand after the devastating storm. Here's how to spend these next few days in Houston.
Lend a helping hand in the aftermath of Tuesday's storm
All weekend long
Houston
Communities in Deer Park and Pasadena were some of the hardest hit by Tuesday's storm, and those that would like to lend a helping hand are very much appreciated. Resources to donate your time and dollars to include The American Red Cross Texas Gulf Coast Region, The Salvation Army Houston, and the Pasadena Animal Shelter (which is in immediate need of fosters, kennels, and crates after being hit by a tornado).
Cost: Donations welcome.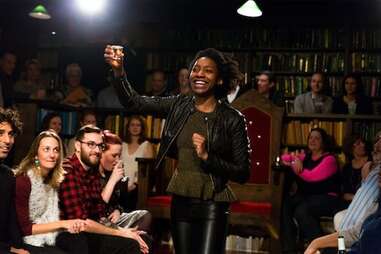 Friday, January 27 – Saturday, January 29
Downtown
Drunk Shakespeare has come to town, a play in which five professional actors attempt to perform a Shakespearean masterpiece while one of those five gets quite the buzz. Can they keep the play on track? You'll have to find out. Running weekends through April 29 at the Ensemble Theatre, shows run 90 minutes and cocktails are available for purchase.
Cost:Tickets are $39 to $79.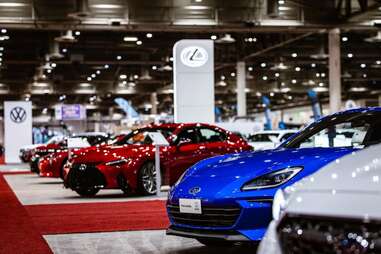 All weekend long
NRG Center
The Houston Auto Show and The Houston Boat Show are coming together for the first time in celebration of the Auto Show's 30th anniversary, with an epic event held at NRG Center from Wednesday, January 25 through Sunday, January 29. Expect more than 200 vendors showcasing the latest in boating and outdoor sports technology (including the industry's biggest brands and the debut of X Shore's new all-electric day cruiser), plus the opportuning to test drive your new dream ride and enjoy the classic beauty of vintage cars.
Cost: Tickets are $20 general admission (free for kids under five).
Saturday, January 28 – Sunday, January 29
Alief
Ramen Tatsu-Ya is just one of the ace food vendors lined up for this year's Lunar New Year Festival, held at the Viet Hoa Center over two full days. In addition to the excellent food, you can also expect 'Southern-style' Lion Dances to summon luck and fortune and shoo away evil spirits, lucky red firecrackers, martial arts performances, and more.
Cost: Free to attend.
Saturday, January 28
EaDo
The traditional Cambodian fermented fish paste Prahok will be on full display at pastry chef Vanarin Kuch's Cambodian Supper Club, held at his famed cafe and bakery Koffeteria on Saturday evening beginning at 7 pm. Kuch is a a first-generation Cambodian-American, and he'll treat guests to some of the specialties of his heritage, including Fish in Coconut with Rice Noodles, Steamed Egg Custard with minced pork and garlic, Steak dipped in Prahok, Stuffed Donuts with coconut mango sticky rice, and a whole bunch of other deliciousness.
Cost:Tickets are $125 per person.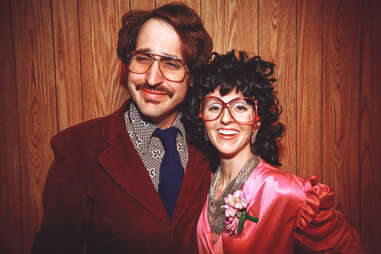 Saturday, January 28
Garden Oaks/Oak Forest
William Price Distilling is going full retro for its '80s Winter Prom Night, with a DJ spinning hits from Blondie to Wham!, the crowning of a Prom King & Queen, light bites and spiked punch, and plenty of big hair from 7 pm to 11 pm. Ridiculous '80s prom attire most obviously encouraged.
Cost: Tickets are $25 for one or $40 to two.
Saturday, January 28
EaDo
Over at The Secret Group, hosts Korey David and Andrew Youngblood will take the audience on a wild journey as they take turns telling their crime stories before sitting down at the interrogation table for questioning. The audience will help crack the case along with the detectives, and there will be beer and donuts to keep you in tip-top investigative shape.
Cost: Tickets are $10.
Saturday, January 28
Downtown
Fresh off his Netflix special, Jo Koy is taking his buzzy comedy tour to Toyota Center, with doors opening at 7 pm and the show starting at 9 pm.
Cost: Tickets run $59.50 to $209.50.
Sunday, January 29
Midtown
Creative collective Have a Nice Day Market showcases BIPOC makers, creators, and causes year-round, and its Lunar New Year Edition is no different. Head to The Ion from 4 pm to 8 pm to shop and support local creatives, eat and drink well, make friends, and have a really nice day in celebration of Year of the Rabbit.
Cost: Free to attend.