Everything Fun to Do in Houston This Weekend
Head to a German heritage festival, take a spin class that ends with oysters, and more things to do in Houston.
Hope you're in the mood for a good time because this weekend in Houston is ready to bring the fun. We've got multi-day events including a brat-filled German heritage festival, a four-night comedy showcase, a crawfish cook-off, and springtime food fest in a beer garden. Have yourself a little sweat sesh by the bay, followed by a round of raw oysters. Here's everything fun to do in Houston this weekend.
Fun Things to Do in Houston This Weekend
Thursday, March 23–Sunday, March 26
Montrose
This weekend's gonna be a riot over at Rudyard's, as the dive bar and comedy club showcases a 60+ lineup of super funny people over three stages and four nights. Headliners include Joe Machi (The Tonight Show, Netflix, Comedy Central), Jeremiah Watkins (Jimmy Kimmel Live, HBO, DC Super Hero Girls), and Cipha Sounds (Chappelle's Show, MTV, TruTV), among other talented comics.
Cost:Tickets run $25 to $115.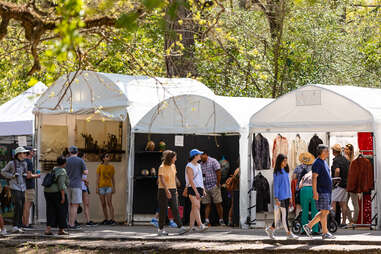 Friday, March 24 – Sunday, March 26
Memorial Park
The Bayou City Art Festival is back at Memorial Park all weekend long, transforming the South Picnic Loop into a super cool al fresco art gallery and interactive event from 10 am to 6 pm each day. Experience the work of over 300 artists from across the nation, mix and mingle with the creators, and shop for paintings, jewelry, sculptures and mixed media. Guests can also expect live music stages, a food truck park, craft beer and wine garden, scotch tasting four-hole mini putt-putt course and more.
Cost: Tickets are $2 ($5 for children 6-12) and $75 for the VIP Hospitality Lounge.
Friday, March 24 – Sunday, March 26
Tomball
Break out the lederhosen and head to Old Town Tomball to partake in the city's annual German heritage festival. Expect four stages of live music, more than 200 street vendors, plus activities such as stein holding and polka dancing. Of course there will be brats, currywurst, and bier aplenty. Hours run from 6 pm to 10 pm on Friday, 10 am to 10 pm Saturday, and 10 am to 6 pm Sunday.
Cost: Free to attend, with a free shuttle to/from the parking lot.
Saturday, March 25
San Leon
Rush Cycle League City will be taking its high-energy spin class to bayside seafood and oyster house Pier 6. Reserve a time slot (11 am, noon, or 1 pm), ride with a gorgeous view of Galveston Bay, and follow your sweat sesh up with 10 percent off eats and happy hour pricing until 5 pm.
Cost: $25 for Rush Cycle members and $30 for nonmembers; email leaguecity@rushcycle.com to secure your bike.
Saturday, March 25
Lazybrook/Timbergrove
Cactus Cove is doing crawfish season justice with its annual mudbug cook-off. Crawfish teams will go head to head making the tastiest bugs around, meanwhile you to shuck 'em and suck 'em all down. The parking lot party will also rock live music, fun and games, and hella good times from 1 pm to 5 pm.
Cost: Bands are $40 and include 10 tasting tickets, one drink ticket, and special drink prices all day long.
Saturday, March 25
Midtown
Social Beer Garden's hosting its Spring Food Fest going down from 3 pm to 6 pm, inviting local food vendors out to the garden to serve up the goodies while they sling more than a hundred beers. March Madness games will be playing on the 20-foot big screen for fans and gamblers alike.
Cost: Free to attend.
Sunday, March 26
Downtown
Choose your distance– from a half marathon to a 10K, 5K, or Kids 1K–for the Run Houston! Minute Maid Park Race, which'll start and end at the home of our beloved Houston Astros, with some scenic views of the city skyline in between. Conquer your run (with start times at 7:30 am for the half, 8 am for the 5/10K, and 9:45 am for the Kids 1K), then party on with some post run food, drinks, and photos inside Minute Maid Park.
Cost: Registration starts at $45.
Sunday, March 26
River Oaks
People-watching party brunch spot Brasserie 19 is going big for its next disco-fueled Le Brunch de Funk experience, as its crossing over with the annual elderflower booze-filled St. Germain Day Brunch. Score a reservation to hit the buzzy patio in your disco best to enjoy live DJ beats, playful St. Germain cocktails, and eats from poached lobster and shrimp stuffed croissant to short rib eggs benny.
Cost: A la carte, reserve via OpenTable.