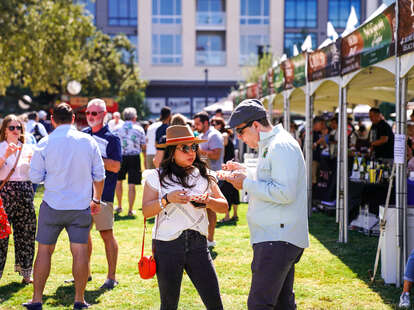 Photo by Robert Lerma, courtesy of Chefs for Farmers (2022)
Photo by Robert Lerma, courtesy of Chefs for Farmers (2022)
Blessed with the best of both worlds—a big, urban concrete jungle and an abundance of natural landscapes—Houston bursts with exciting things to do and thrilling places to explore. This massive city boasts museums, record stores, amazing restaurants and bars (hidden ones, too), vintage shops, luxurious spas, farmers markets, and much more.
Houstonians love the great outdoors, too. Running paths, lush hiking trails, nearby beaches—there's a flavor of greenspace for every level of outdoorsy. Plus, the prettiest places in Houston are perfect for simply going outside to bask in nature.
For the sporty set, catch an Astros game at Minute Maid (and snap up a few food and drink recs before you go), or plan your visit to the rodeo. Food lovers are rarely if ever bored with dining options that range from beloved brunches to prime steakhouses to top-notch barbecue.
As for Houston events, you're in the right place. Our monthly guide outlines all the entertainment you can't miss in September 2023. Stay tuned here to discover the best things to do in Houston, updated monthly.
September 17–18, 8 pm
Toyota Center, $249 and up
Rescheduled from June, Drake fans can finally experience the Canadian rapper's co-headlining tour with Atlanta-based rapper 21 Savage over two nights this month. Doors open at 7 p.m.
September 23–24, 8 pm
NRG Stadium, $250 and up
The Houston born and raised superstar added a second date for her hometown stop on her proving-to-be-worth-the-hype Renaissance World Tour. Now you have two chances to sing along to the 32-time Grammy winner's smash hits.
September 28, 6 pm
Minute Maid Park, $24.50 and up
Axl Rose and co. are turning Minute Maid into "Paradise City" for a hard hitting rock show filled with gritty metal, throwback hits, and Slash solos, with opener Alice in Chains.
Food & Drink Events in Houston
September 1–3
Moody Gardens Hotel, $175 and up
A poolside happy hour, Champagne social, bourbon tasting and military salute, seafood extravaganza, and "Penguins & Pinot" Grand Tasting at the Aquarium are all a part of the good times at 2023's Galveston Island Wine Fest, now in its new location at Moody Gardens. As are flowing wine, live music, and fireworks!
September 9 & 10
Truck Yard, Free
Fun-loving EaDo hangout Truck Yard is saying "prost!" to its annual Trucktoberfest weekend, with activities including stein hoisting, wiener dog racing, and pretzel eating competitions alongside flowing Oktoberfest beers and German-themed eats and beats. The shenanigans are free to attend and welcomes all ages (21+ after 9 pm).
September 16, 10 am–6 pm
NRG Park, $8–$15
Show off your noodle slurping game at the Phở Eating Contest, try your hand at Traditional Chess (Cờ Tướng), and enjoy all the entertainment, culture, and real deal Vietnamese food and drink at this annual Vietnamese culture festival, which is expected to draw a crowd of 7,000 to 8,000.
September 22 & 23
Historic Strand District, $65 kick-off party, $13 gumbo tasting
Pregame for 14th annual Shrimp Fest with a Friday Kick-Off Party and fried shrimp dinner. On Saturday, it's the big event: endless gumbo sampling extravaganza the Gumbo Stroll on the Strand from noon to 4pm.
September 22–October 6 (weekends)
Karbach Brewery, free
Karbach's annual take on the German beer festival extends over three weekends, rocking live bands, Stein Hoisting and Chicken Dance Competitions, Keg and Wiener Races, food trucks and beer garden eats, and all the Karbachtoberfest brews you can responsibly handle. The event is free and family friendly.
September 30
Post Houston, $45 and up
Powerhouse foodery ChòpnBlọk is spreading the gospel of West African cuisine and culture at its first-ever Chopd & Stewd Festival, rocking an exemplary culinary lineup including Top Chef finalists Eric Adjepong and Dawn Burrell, ChòpnBlọk's Ope Amosu, local stars Greg Gatlin and Keisha Griggs, and more. Expect Afro beats, a Sippin' & Speakin' event, the Chop Nation brunch, and an Òrêké Market, among other exciting happenings.
September 30–October 1, 1–5 pm
Autry Park, $135–$185
The immersive culinary event returns to Houston in time for fall, this time with an extra day and seeming endless roster of top Houston chefs–including Hugo Ortega (Backstreet Café), Evelyn Garcia & Henry Lu (Jūn), Leonard Botello IV (Truth BBQ), Robin Wong, Quy Hoang, Arash Kharat (Blood Bros BBQ), Jerrod Zifchak (Navy Blue), Louis Maldonado (Andiron), and the list goes on. The all-inclusive event will showcase local farms alongside live entertainment, local vineyards, fresh cocktails, and fun, with this year benefiting Urban Harvest.
Arts & Theatre in Houston
August 29–September 10
The Hobby Center, Sarofim Hall, $40–$139
The life-altering music of Alanis Morissette's cult favorite album is reimagined as this Tony and Grammy winning musical production and makes its way off Broadway and on to Houston's Theatre Under the Stars.
September 8, 7 pm
Discovery Green, Free
Nationally touring mariachi and ballet folklorico dancer troupe México en el Corazón will bring its more than 50 performers to downtown's gorgeous urban park for a night of folk dance, music, and culture.
September 14, 8 pm
Marriott Marquis Houston, $45–$75
You can expect Dancing Queen, Mamma Mia, and more disco pop sensations at this moonlit ABBA performance, set on the rooftop at Marriott Marquis. The concert will last around 90 minutes, but guests are welcome to stay after to enjoy rooftop views and drinks.
September 14–17
Buffalo Bayou Park Cistern, $25
Cutting-edge music series Nameless Sounds is back at the Buffalo Bayou Park Cistern this fall, with four Houston-based musical groups performing pieces that play to the underground cistern's killer natural acoustics.
September 15, 7 pm
Smart Financial Centre, $36 and up
Watch Spider-Man: Into The Spider-Verse on the big screen as its fire hip-hop score is performed live via electronics, turntables, and a whole damn orchestra.
All Month
Westin Galleria, $21–$26
A mind-bending sensory experience is coming to Houston beginning September 1, featuring 60 immersive exhibits that combine mesmerizing optical illusions and wonderment. We're talking tilted rooms, vortex tunnels, and a chance to shrink yourself or have your head served on a platter. Children under five get free admission.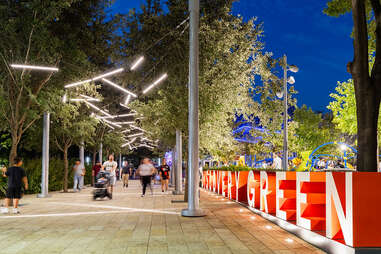 Special Events in Houston
September 16, 6–10 pm 
Discovery Green, Free
Treasure hunt for locally made and vintage goodies under the moonlight at Discovery Green's open-air pop-up market. Live music and food trucks will keep you going while you shop.
September 21, 6–9 pm
Market Square Park, $10 (cash only)
Blanket Bingo continues its fun run at Market Square, offering folks a chance to scream "Bingo!" and win prizes. The event is free and open to all, with $10 packets and $1 daubers. Packets on sale at 6 pm, games start at 7 pm. Blankets and lawn chairs welcome.
Health & Wellness
September 2 & 3, 11–6 pm
The Lone Star Convention & Expo Center, $7+
Expect 60+ mind, body, and spirit vendors offering products and services including essential oils, energy healing, holisic demos, and more as this traveling expo heads to Conroe over two days.
September 9, 8 am
Houston City Hall, $29.50 and up
This 5K run along the bayou honors the heroes of 9/11, families of the fallen, and all those who have served and continue to serve the nation since. Runners and walkers of all ages and levels are welcome.