Houstin is in official #HunkerDown mode, y'all. You've definitely spent the entire week being  TOTALLY productive and TOTALLY NOT sitting pantsless at your makeshift desk bombarding your coworkers with Tiger King memes, so it's finally time to unwind. This weekend, we've got the lowdown on how you can still experience a bit of virtual fun while social distancing, from getting a special delivery of Ranchwater punch and slinging your own local pizza to hosting a group chat game night with friends. Here's exactly how:
Show up for your day with new Coca-Cola Energy -- it has the same delicious Coke taste with a boost to help you enjoy all of life's most fun moments. Coke Energy has the energy you want, with the taste you love.
All weekend long
Multiple locations
Coronavirus may have canceled your original weekend plans, but it hasn't canceled your right to great beer. Some of your favorite local breweries are making it easy to snag their brews while avoiding the grocery store crowds, including Eureka Heights, 8th Wonder, Buffalo Bayou Brewing Company, Ingenious Brewing Company, No Label, Saint Arnold, some of which are doing pretty convenient beer to-go drive thrus. Ready for your bevies? Your best bet is to check their Facebook pages for the latest updates on how you can procure some fresh crafts.
Cost: A la carte
All weekend long
Multiple locations
There's no booze like local booze, especially when you can get it delivered straight to your doorstep. As such, we've curated a special list of to-go booze, some of which can be delivered straight to ya. Try Ninfa's "Ninfarita Kits," DIY margarita setups that go from a solo glass to a gallon for 18-20; order tacos and Ranchwater punch from modern icehouse Eight Row Flint; and get stellar wine selections delivered from Camerata.
Cost: Varies by delivery service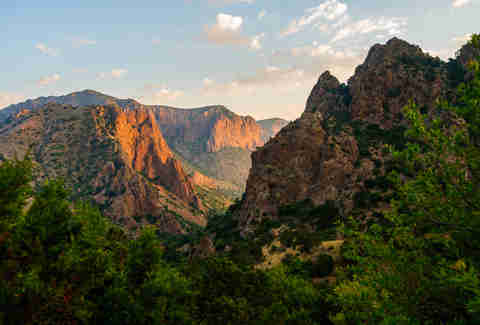 All weekend long
Anywhere
So you had to postpone your trip to Big Bend for the time being. Not a problem: Google Earth has set up a tour featuring interactive images and views of its peaks and valleys, alongside a whole list of America's greatest National Parks. Find the winding Santa Elena Canyon that separates the US and Mexico, head over to swamp through the wetlands of the Everglades, get lost under the towering sequoias at Yosemite, marvel at the gushing geysers of Yellowstone and the mountains of Glacier National Park, or see if you can catch any weirdness going down at Joshua Tree.
All weekend long
Anywhere
#MFAHatHOME is a new, super cool virtual museum experience from the The Museum of Fine Arts Houston. Just follow along on its Facebook, Instagram, or Twitter accounts to tune into virtual tours of art installations like "Cloud Column," sit down with the head of landscape and gardening, and see what's on its gallery walls. You can also find art exhibits, film screenings, artist talks and lectures, and more available via Google Arts & Culture.
Cost: Free to view, but donations are always welcome
Saturday, April 4
Heights
Houston's Well Done Cooking Classes have launched a series of virtual cooking classes, and this Saturday it's offering two. Join the French Macarons class at 12pm and learn to make basin and chocolate macaron; or the 6:30pm Date Night: You Don't Eat Meat? That's Okay, I Make Lamb class that covers tasty stuff like roasted leg of lamb, roasted red pepper hummus and spanakopita. Each comes with a cooking class kit featuring all of the food items that you'll need for the class, with delivery up to a 30-mile radius from its Well Done location in The Heights or pick-up available up to two hours before the scheduled class.
Cost: $69 per person for the Macarons, and $158 per couple for the Date Night
Order from a fancy restaurant and have a date night in
All weekend long
Multiple locations
We've already covered where you should be ordering takeout and delivery in Houston right now, so consult the list and pick out your favorite date night eats to enjoy with your isolation partner. That includes red oil dumplings & sweet and sour funky stick chicken from Mala Sichuan, Nonno's pasta from Nobie's, and Coltivare's famous black pepper spaghetti, and the colossal porterhouse for two a la Doris Metropolitan.
Cost: Varies by restaurant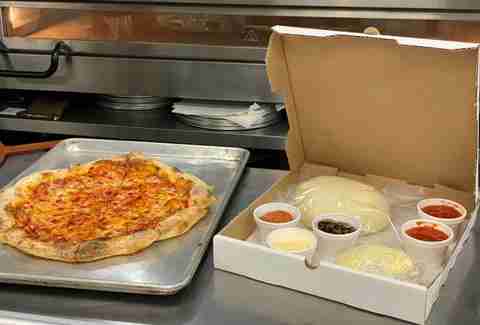 All weekend long
Montrose (& Memorial)
Neapolitan pizzeria favorite Pizaro's is now offering takeout and delivery make-your-own pizza meal kits at both locations, meaning you can live out your pizzaiolo fantasies in the comfort of your own kitchen. Throw an apron over the pajamas you've been wearing all week and follow their video tutorial to best perfect your pie. Each 16" DIY pizza kit comes with a dough ball, tomato sauce, cheese, cornmeal and parchment paper, plus your choice of add-ons like truffle oil, crimini mushrooms, and ghost pepper sausage. Want dessert? There are cannoli kits, too.
Cost: Pizza kits are $13.99+ (check Facebook for discount codes on delivery orders)
All weekend long
Anywhere
Thanks to group chatting services like FaceTime, and House Party, and Zoom (which we all probably should have bought stock in), social distancing does not mean you have to turn into a hermit. You can still hunker down and hang with friends at a virtual game night, and both Apple and Google Play Stores have just the apps to make that happen. If you love Balderdash, try Psych!, a game that encourages you to lie -- which, now that we think about it, might cause you to lose some of these friends IRL. No worries, we've got a ton of suggestions.
Cost: Varies by app
Sunday, April 5
Anywhere
Snooze has been keeping the party brunch alive by throwing virtual brunch parties every weekend, and this weekend is no different. Order from the pancake-slinging favorite and check out Snooze's live-streamed DJ set on Twitch.tv at 10am. Then eat, drink, and jam out, and tag @snoozeameatery and #snoozevirtualbrunch to be featured on its IG stories.
Cost: A la carte
Sign up here for our daily Houston email and be the first to get all the food/drink/fun in town.