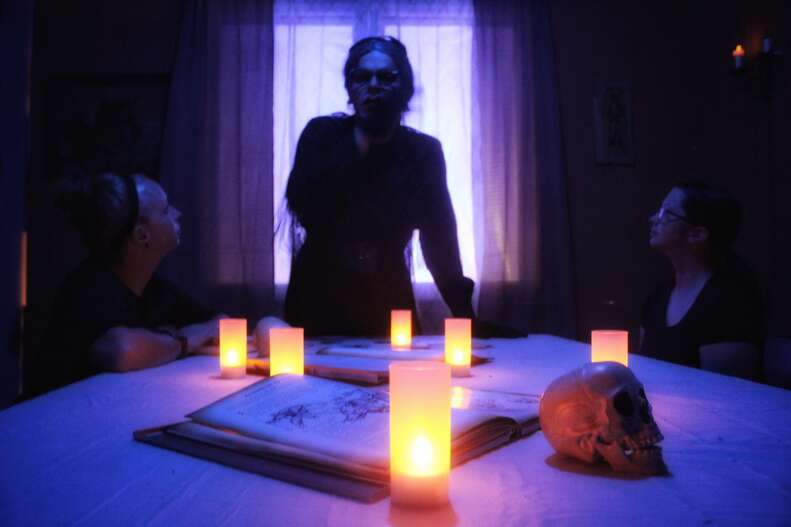 The Most Terrifying Haunted Houses & Spooky Attractions in Indianapolis
Thanksgiving is all about eating, and Christmas is all about presents. Halloween, on the other hand, is all about getting jump scared by guys wearing hockey masks and carrying chainsaws. Indianapolis has more of these places to do that than a corpse has flies -- and plenty of other chilling options too. If your ideal Halloween experience doesn't include nervously feeling your way down a fog-filled, strobe-lit hallway, you can instead take a 5K run (while dodging zombies), tackle a nighttime zipline course (while dodging zombies) or even attend a costumed dance party (while, most likely, also dodging zombies). Seriously, around these parts, zombies are to October what mosquitoes are to August. And if all this sounds slightly too spooky for you, you can always just check out our list of all the fun stuff in Indianapolis this fall.
Near Southside
The doings at this sprawling horror complex, which features three different indoor attractions (House of Trepidations, Crossroads of Carnage, and Condemned) are definitely not "family friendly." Kids under 13 are strongly discouraged from attending, as are pregnant women. The management keeps things R-rated (or at least hard PG) by using a crew of 110 cast members who infest extremely elaborate rooms that each take about 300 hours to put together. Be warned that the hideously garbed staffers might look you right in the eye and call you by your name. Management patrols the wait line, eavesdropping on conversations. If they pick up your name, they radio it inside so the evil clowns and chainsaw killers can taunt you personally.
Cost:
General admission is $25-$30
Fishers
Conner Prairie Pioneer Settlement has offered this family-friendly after-hours extravaganza since, well, forever. There's pumpkin bowling, a 12-acre corn maze, graveyard mini-golf, and the featured attraction, the Haunted Hayride. You trundle around the dark, heavily wooded grounds in a hay wagon, while a Headless Horseman repeatedly charges out of the gloaming and threatens you with his sword. It's frightening to watch, because what you're basically seeing is a fragile, breakable human riding a horse over uneven ground in pitch darkness, wearing a vision-obscuring costume. On one occasion, the horseman's antics actually elicited a loud "be careful!" from one of the hayriders.
Cost:
$13-$21 for advance tickets. Prices vary depending on the date.
Speedway
Some people will only run if something's chasing them, which is pretty much the entire business model for this 5K run/walk through downtown Speedway and its nearby wooded environs. Participants get three flags, which the dozens of zombies lurking along the path will try to grab, a la flag football. If the undead get all three, you're officially infected. The race starts and ends on Main Street in front of the Big Woods Speedway restaurant, where you can enjoy some post-run craft whiskey and pulled-pork nachos.
Cost:
Varies, depending on the size of your group and how far in advance you order.
Courtesy of Christopher Brielmaier/Rogues Hollow Productions, LLC
Jamestown
For 18 years, scare junkies have traveled to Jamestown for this bloody slice of country carnage, which includes a Slaughter Barn packed to the rafters with "performers" itching to get in your face. Or, if you'd prefer that the thrills come to you, try the Haunted Hayride, a 20-minute wagon excursion through the farm's ill-lit hinterlands, where you'll be lunged at by everything from cannibal hillbillies to, well, more cannibal hillbillies. Did we mention this place has a sort of "country" theme?
Cost:
$13-$24
Downtown
Wear your Halloween costume to this over-21 party at downtown's Rathskeller on Saturday, October 26. Enjoy appetizers, drinks, dancing, games, and music by Liquid Groove and emcee KJ OnAir. In case you're wondering about the party's name, it's not because they play hair metal. The event raises money for Spay-Neuter Services of Indiana, so the hair ball is probably a reference to the stuff cats cough up. But who cares, really? If it helps out the good boys, that's all that matters.
Cost:
$50-$75
Anderson
Though it's a bit out of town, this 120-acre attraction is well worth the trip. The park features
five
different haunted attractions, two of which are fully "interactive." Which means that (if you consent in advance), the ghosts and ghouls you meet along the way may not just grab you, but separate you from your group and toss you into various hidden rooms that most patrons don't get to see. There's also a Monster Midway featuring food, drinks (alcoholic and otherwise), a gift shop and, most welcome of all, fire pits.
Cost:
Varies, depending on night
Eastside
This is definitely one of the city's smaller haunted houses, but it's also less crowded and hectic, with management actually stating that their wait lines are "usually not unbearable." There are three main attractions, including Hell Town and Village of the Damned. Special note: Angelus House actually has an indoor waiting area, which is a pretty big deal on a 30-degree night.
Cost:
$22
Southport
This haunted house has been lurking around since
1982
, so it must do something right. The three separate attractions include the Portal to Hell; Mania (advertised as a guide to the maggot-ridden underbelly of Southport); and Deranged Deception, which is reportedly overrun with scary clowns.
Cost:
$20-$15
Southeast Side
This sprawling attraction draws almost as many visitors as a county fair -- a really, really
messed-up
county fair. Guests can partake in six different experiences, including the signature attraction, the Hanna Haunted Hayride. The other five carry extremely self-explanatory names: Blood Barn, Freakshow, Outbreak, and Descension. The biggest test of intestinal fortitude might be Descension, an underground passageway that's dark even by haunted house standards. You won't see the creatures waiting down there, but they'll make their presence felt.
Cost:
Varies depending on date
Noblesville
On a normal day, Edge Adventures Indianapolis - Koteewi Park offers daylight rides on five different zipline courses. But on Friday nights in October, they hand out headlamps and let guests careen off into the darkness, where (given the name of the event) they'll no doubt be pawed at by zombies.
Cost:
$42
Fountain Square
If you like to get your scares in a more intimate setting, this may be for you. Part theatrical production, part escape room, Indy Horror Story immerses guests (who attend each production in groups of eight) in an interactive horror story, with each member of the "audience" playing a character and trying to solve a mystery. Think of it as a mystery dinner, except with jump scares and no dinner. The plotline is called The Hell House of Prospect Street, and no one under 21 can attend.
Cost:
Tickets begin at $29.95
Eastside
Located in a sprawling, 45,000-square-foot former industrial building, Necropolis bills itself as the Midwest's largest indoor haunted house. Its five attractions include Sam Hain's Nightmare House; Lizzie Borden's Dead and Breakfast (which we're guessing is axe-themed); Baron Samedi's Cemetery of the Damned; St. Adrian's Outbreak Hospital (your one-stop shop for body horror); and Carnivale, which sounds like a great name for the next season of
American Horror Story
. There's also an escape room and some sort of virtual reality experience.
Cost:
Varies depending on the attraction(s)
Irvington
The neighborhood of Irvington takes Halloween very seriously. For more than 70 years it has celebrated with the Historical Irvington Halloween Festival, offering a full week of events, including (this year) a coffin race, zombie bike ride, the Pleasant Run Vampire Run, and the Historic Irvington Halloween Charity Ball. There's also a not-so-scary street fair. Clear your calendar from October 19 to the 26.
Cost:
Free admission
Near Southside
Be advised that, unlike almost every other attraction on this list, Edgewood is a "full contact" haunted house. Which means all those high school kids drenched in fake blood and carrying plastic machetes will have no qualms about touching you. There are four attractions, including The Cabin, Edgewood Sanitarium, the black light-intensive Dark Carnival, and a "3D audio sensory experience" called Shadow Escape. You and your friends enter a small room. The lights go out, and you're made to "face your fears." Not sure what happens after that.
Cost:
$20-$40
Fountain Square
This is definitely not the largest Indy-area haunted house, but it does possess a particularly unsettling vibe -- as if Ari Aster helped with the layout. It takes about 20 to 25 minutes to visit the three different experiences, which are named Cathedral of Souls, Reapers Hollow, and Mine No. 13. Expect to see lots of
scary nuns
. For $50 bucks you can also buy a "sacrifice experience" for one member of your group. However Thirteenth Hour website doesn't explain exactly what this entails. So caveat emptor.
Cost:
$15-$22
Sign up here for our daily Indianapolis email and be the first to get all the food/drink/fun in town.
Sam Stall is a contributing writer for Thrillist.