Everything You Must Do in Indianapolis This Holiday Season
The Indianapolis holiday season isn't just about Christmas carols, cookie swaps, and shopping mall gridlock. There's also a stocking full of over-the-top light shows, concerts, pub crawls, and out-of-control New Year's Eve parties. And you don't have to be a good boy or girl to get in on the goodies. Here's everything you must do this holiday season.
No, you can't turn a 230-mph lap, but you do get to drive your car (slowly) around this famed racecourse, all the while looking at more than 2.5 million
lights
incorporated into dozens of massive holiday displays. This year's exhibit features two miles of tiny bulbs lining a route that travels through the IMS infield and along the front stretch of the historic track.
Cost:
$25-$30 per car
If you'd like your holiday lighting displays to be a bit more highbrow (and 100% car-free), visit the Winterlights show at Newfields (formerly the Indianapolis Museum of Art). Guests can see more than a million lights while ambling the museum's fields, gardens, and woodlands. This is the event's first year, so we're not sure what Newfields means when it says there will be whimsy trees and a snowflake bridge, but we're sure it's
worth seeing
.
Cost:
$8-$20
Earn that second slice of pumpkin pie with this Thanksgiving morning run/walk through Broad Ripple. There's a 4.5-mile course and a 2.75-mile course, and you can show up in anything from state-of-the-art running gear to a Santa costume. You can register in advance and actually try to win, or forego all the paperwork and just fall in with the thousands of participants running/walking/skipping through the neighborhood. Proceeds benefit Wheeler Mission Ministries.
Cost: Registration is between $0-$35
This holiday season, the Phoenix Theatre serves up A Very Phoenix Christmas 12, a holiday pageant that's definitely not for kids -- or for easily offended adults. Expect music, weirdness, and a collection of greatest hits from previous editions of the annual spectacular. Some of the sketches include, "Tacobell Canon," "Don't Eat the Baby," and "The Things They Merried." Did we mention that this isn't for kids? Because it's definitely not.
Cost: $25-$35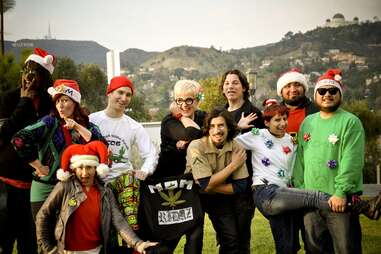 Scarlet Lane Brewing Company
in McCordsville is serving up Bob and Beer Night, a holiday salute to quick-painting PBS fixture
Bob "Happy Little Trees" Ross
. Participants get a canvas and all necessary painting supplies, then get to dab away until they're satisfied with the finished product -- which absolutely doesn't have to be a Ross-style landscape. Afterward, everybody votes on their favorite, which will be displayed in the Scarlet Lane Tap House. Each painter receives two beers for motivation.
Cost:
$12-$20
The city's only after-dark parade is the main event at Broad Ripple Lights Up!, the Broad Ripple neighborhood's annual yuletide festival. Dress in a costume (or an ugly sweater) and enjoy the area's long roster of bars and eateries before watching the 5:30pm parade -- a salute to quirkiness that can include anything from a women's roller derby team to Santa Claus riding on the back of an ATV. Follow Santa all the way to the Broad Ripple fire station for the parade's after party -- or just step back into the nearest drinking establishment.
Cost: Free
Broadway staple (and
Glee
fixture) Jane Lynch belts out kitschy-but-catchy versions of TV Christmas special staples, such as "Up On the Housetop," along with original tunes including "Sentimental Christmas" and "Winter's Never Cold (When You're Around)" at
The Cabaret
. She's joined onstage by Kate Flannery (
The Office
) and
Glee
's vocal arranger, Tim Davis. Expect lots of
tight, three-part harmonies
, along with a close-up look at the performers in the tiny confines of their intimate venue.
Cost:
$85-$115 (with a limited number of $20 student tickets)
Don your most tasteless Christmas sweater or holiday onesie for the 12 Bars of XMas Bar Crawl, a tour of a dozen Broad Ripple watering holes including Rock Lobster and Average Joe's Sports Pub. The first 500 participants partake in a lunch buffet, and everybody gets a stadium cup, Santa hat, and a wristband that gets you food and drink specials (and no cover charges) at participating establishments. Obviously you have to be 21 to participate, and the event takes place rain or shine or snow. But trust us, after a couple of bar visits, you wouldn't notice a meteor shower.
Cost: $17-$25
Mosey on over to
The Vogue
for Country Christmas with
Cowboy Jukebox
, featuring spot on covers of everyone from Florida Georgia Line to Dolly Parton -- all courtesy of Chicago's top country cover band. Joe Hess & The Wandering Cowboys rounds out the lineup.
Cost:
$7.50-$15
We're not quite sure what to expect from Merry Fringemas! A Holiday Spectacular at the Indy Fringe-Indy Eleven Theatre, but that's probably just how its planners want it. All we know for sure is that there's a different show each night, and that the lineup will include some sort of opera homage, plus storytelling, and at least one drag queen. So don't go expecting to see a scene from The Nutcracker or a homey rendition of "White Christmas."
Cost: $15
Pitch Perfect
fans (and folks who just love unaccompanied singing voices) are already talking about the upcoming concert from Straight No Chaser, the nationally famous male a cappella group formed more than two decades ago at Indiana University. Expect everything from Christmas carols to
mash-ups
of current tunes, all of them accompanied by exactly zero instrumental breaks. The group visits
Bloomington
on December 15, followed by four Indianapolis shows.
Cost:
$33 (students only)-$73 at Bloomington; $39-$226 (Indianapolis)
The Sixteen Candles Ugly Xmas Sweater Party puts a whole new spin on sweatin' to the oldies. Don your most loathsome woolen monstrosity and dance to '80s hits by
Sixteen Candles
-- but remember to stay hydrated.
Cost:
$15
Few have taken a career path as bizarre as that of Pat McAfee, who spent eight years as a punter for the Indianapolis Colts -- but now is more famous as a comedian. Get a taste of his jokes (and enjoy the after-party) at Pat McAfee Presents a Ridiculous New Year's Eve at Old National Centre.
Cost: $50-$205
Unless you're a big fan of frostbite (and maybe getting eaten by wolves), hanging around outside on New Year's Eve in Indianapolis isn't advisable. But you might want to make an exception for Downtown Indy Inc.'s 4th Annual New Year's Eve Celebration. It takes place on
Georgia Street
, offers multiple bands, food, and drink, and culminates not with a midnight ball drop, but with the (carefully controlled) descent of a full-sized
IndyCar
from high overhead, accompanied by fireworks.
Cost:
Free admission
Sign up here for our daily Indianapolis email and be the first to get all the food/drink/fun in town.
Sam Stall is a regular Thrillist contributor.