The Best Events to Celebrate Black History Month in Vegas
Black History Month in Vegas is a hotspot for celebrating Black Resistance in 2023.
Black History Month Festival

| Springs Preserve
Black History Month Festival

| Springs Preserve
The story of Las Vegas, Nevada is incomplete without the history of Black Americans in Las Vegas. From boundary-busting headliners like Lena Horne and Sammy Davis Jr. to history-making hotels like the Moulin Rouge, the history of Las Vegas is deeply intertwined with the history of Black American life and the Civil Rights Movement. The city's Historic Westside was once known as the "Black Las Vegas Strip," a Black business district and neighborhood that formed due to segregation and then thrived with its own businesses and rich social and cultural life that catered to Black clientele. When the Moulin Rouge opened as Sin City's first desegregated hotel, it did so in West Las Vegas.
Currently, plans are underway to develop an African American Museum and Cultural Arts Center in the Historic Westside to honor and celebrate the deep roots of African American history in Las Vegas and the legacy of Black business leaders, artists, architects, and activists here. But there are many other cultural institutions in Las Vegas where you can learn more about local Black history. Here are some events, exhibitions, and educational series happening around town this Black History Month.
Ongoing
The Neon Museum, Downtown Las Vegas
The Neon Museum is a hotbed of Black history in Las Vegas from the moment you arrive. The Neon Museum's Visitor's Center is located within the former lobby building of the La Concha Motel, an iconic shell-shaped building designed by pioneering African American architect Paul Revere Williams. He also designed Berkley Square, a housing development in West Las Vegas listed on the National Register of Historic Places.
Williams is also featured on the Neon Museum's Las Vegas Luminaires Mural, a 101-foot-long mural along the museum's North Gallery wall that features historical figures, performers, and leaders like Delcenia Boyd Jones, the first chorine dancer to work at the Moulin Rouge, and Sammy Davis Jr., Las Vegas performer and member of the famed Pat Rack. On Saturday, February 18, at 10 am, the museum's monthly STEAM Saturday hands-on family educational series will celebrate Williams's life and work.
Beyond the spotlight on the work of Paul Revere Williams, the Neon Museum is home to many other artifacts of particular significance to the history of Black Americans in Las Vegas. The Moulin Rouge Hotel was the first desegregated hotel in Las Vegas and one of the country's first desegregated hotels. It was also the site of a pivotal civil rights meeting in 1960 that marked the beginning of the end of segregation in hotels and casinos. It was a national sensation when it opened—Moulin Rouge dancers even graced the cover of Life magazine—and became a catalyst for civil rights reform in Las Vegas, a place where many people who would become prominent players in the civil rights movement first connected.
A later owner of the hotel, Sarann Knight-Preddy, was the first (and only) African American woman in Nevada to receive a gaming license. While the building itself is no longer standing, the fully restored Moulin Rouge sign located in the museum's Neon Boneyard continues to tell its story night after night, some 70 years later.
Other signs found in the Neon Museum with particular significance to Black history in Las Vegas include:
The Riviera Hotel: African American singer, actor, and activist Harry Belafonte headlined the Versailles Room; he became deeply involved in the civil rights movement and was one of Dr. Martin Luther King, Jr.'s closest confidants.
The Flamingo Las Vegas Hotel & Casino: Dancer, actress, and singer Lena Horne took her lounge act to Las Vegas in 1947, performing at the Flamingo. She is widely credited with integrating the dancers in the Flamingo chorus line. She was also the first Black performer to receive the SAG Lifetime Achievement Award and a high-profile civil rights activist.
Fitzgerald's Casino and Hotel: Owner Don Barden was one of the few Black casino owners in the country.
Silver Slipper Casino: This casino was the site of a 1950s NAACP program for Black History Month when it was almost impossible for a Black event to rent a room inside a Strip or Downtown casino.
Caesars Palace: The hotel was the home of D.D. Cotton, the first Black cocktail waitress on the Las Vegas Strip.
Cost: STEAM Saturdays are $5 for children ages 7 and older and adults; advance registration is required here. Tickets to the Neon Museum start at $20 for adults ($16 for Nevada residents).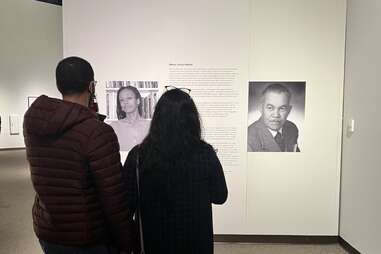 Friday, February 17, 2023 from 4 to 6 pm
Nevada State Museum, Springs Preserve
During this symposium, historians, curators, artists, and scholars will discuss the architectural legacy of Paul Revere Williams in Nevada. Guest speakers include Brooke Hodge, independent curator and former Director of Architecture and Design at the Palm Springs Art Museum; Nevada historians Dr. Alicia Barber and Claytee White; and contemporary photographer Janna Ireland, whose photography work documenting the architectural contributions of Williams is currently in exhibition at the Nevada State Museum through May 30, 2023.
Cost: Free; advanced registration is required here
Saturday, February 18, 2023 at 11:30 am
Berkeley Square, West Las Vegas
The Nevada Preservation Foundation will lead a walking tour celebrating Williams's residential architecture featured in Berkley Square, the first housing development on Las Vegas's Historic Westside.
Cost: $5; advance registration is required here.
Ongoing
Nevada State College, Henderson
Nevada State will celebrate Black History Month with films, panel discussions, talks, and cultural events held on campus throughout February. The Black History Month Kick-Off Event is on Tuesday, February 7. Other events include the Early Black Films Festival on February 20 and Gospel Fest on February 23. You can find a complete list of events here. Also on display at Nevada State College is the pictorial-essay installation "Obsidian & Neon: Building Black Life and Identity in Las Vegas," an annual traveling exhibition of Black leaders in culture, business, politics, and community outreach. This exhibition will be on display through June 30, 2023.
Cost: All events are free and open to the student body, faculty, and public.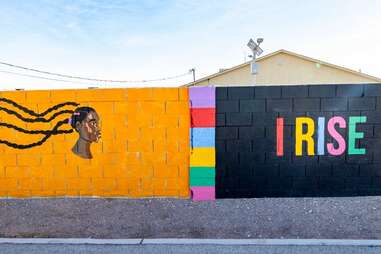 Check out the new murals on the city's Historic Westside
Ongoing
West Las Vegas
The City of Las Vegas has revealed the first three murals of its Historic Westside Mural Project, part of the city's significant investment efforts in this historic neighborhood that was once known as the "Black Las Vegas Strip." Led by multidisciplinary artist Chase McCurdy, artists landry Randriamandroso, X Darvi, and Michelle Graves contributed their work on the exterior wall of the West Las Vegas Arts Center, located at 947 W. Lake Mead Blvd. This mural project will continue at the Obodo Collective.
Cost: Free
Saturday, February 25, 2023 from 11 am to 4 pm
Fergusons Downtown, Downtown Las Vegas
BLACK OWNED is a market curated by Tofu Tees, a Black youth-owned business located in Fergusons Downtown. This market provides a safe space for local Black-owned businesses to blossom and connect with one another. Guests are invited to shop Black while enjoying activities, photo opportunities, food from local vendors, and more.
Cost: Free
Ongoing
Winchester Dondero Cultural Center, Winchester
Visit the Winchester Dondero Cultural Center, a Clark County Parks & Recreation division, for one of their Black History Month celebrations. First, on Saturday, February 18, Drum Master Harold Akyeampong will lead an open drum circle from 5 to 6 pm. Then, on Saturday, February 25, at 2 pm, the Eddy Sarabia Quintet will perform a variety of swing, mambo, and modern jazz music.
Cost: Participation in the open drum circle is free; tickets to the Eddy Sarabia Quintet are $10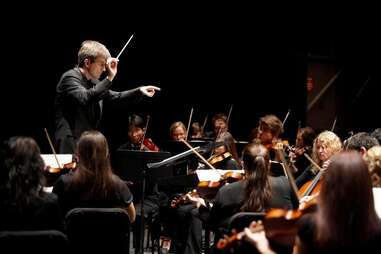 Saturday, February 11, 2023 at 7:30 pm
The Smith Center, Downtown Las Vegas
During Black History Month, the Las Vegas Philharmonic will perform the comedic Symphony No. 2 by Joseph Bologne, Chevalier De Saint-Georges, a Creole composer, concertmaster, and conductor who was a contemporary and friend of Mozart's. He is widely known as the first European musician and composer of African descent to receive widespread critical acclaim; a biopic called Chevalier will be released by Searchlight Pictures later this year with Kelvin Harrison Jr. in the title role.
Cost: Tickets start at $29
Friday, February 17 and Saturday, February 18, 2023 from 6:30 to 9:15 pm
West Las Vegas Library
The 10th Annual "Kemet In The Desert" (KITD) Black Weekend Lecture Series will be held at the Clark County West Las Vegas Library Theatre, where it all began. This year's series will include talks from researcher Sister Merira Kwesi, who studies female personas who have played an integral role in the history of Egypt, Ethiopia, Ghana, and the Ivory Coast; and Dr. Umar Johnson, a clinical psychologist, author, educator, and descendant of the great abolitionist Frederick Douglass. Each event will begin with a jazz set by the Kemet In The Desert Orchestra under the direction of Mr. Woody Woods.
Cost: Free
Sunday, February 26, 2023 from 1 to 4:30 pm
Paris Las Vegas
The Las Vegas Chapter of the National Coalition of 100 Black Women, Inc. presents the 5th annual African Fashion Showcase on Sunday, February 26, inside the Champagne Ballroom at Paris Las Vegas. The theme is "Celebrating the African American Image Through Education, History, and Fashion." The event will feature fashion boutique owners, African garb designers, and the latest trends in "glitz and glamor." Attendees are encouraged to come dressed in their finest African attire, and prizes will be awarded to the best-dressed male and female.
Cost: Tickets start at $75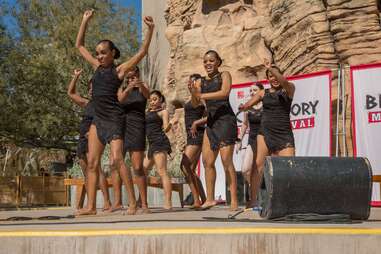 Saturday, February 18, 2023 from 10 am to 4 pm
Springs Preserve, Las Vegas
The 14th annual Black History Month Festival returns to the Springs Preserve with a family-friendly celebration of Black history and culture in Southern Nevada, including educational activities, live music and dance performances, arts and crafts, historic photo exhibits, and authentic African American cuisine. This year's theme is "Black Resistance."
Cost: Adult tickets start at $8; reservations are required in advance here
Saturday, February 18, 2023 3 to 4 pm
West Charleston Library
The Vegas City Opera will celebrate the first Black-owned-and-operated record companies and America's first historic classical record of Black classical artists through musical performances done "Radio Hour"-style.
Cost: Free
Friday, February 24, 2023 from 6 to 8 pm
Rotunda Gallery at the Government Center, Downtown Las Vegas
Clark County Public Arts has installed an exhibition called Reverence: Celebrating Black Cultural Heritage at the Government Center Rotunda Gallery, which will be on display until March 2. The catered reception will be held at the Rotunda on February 24 from 6 to 8 pm with live music.
Cost: Free
Nicole Rupersburg is a freelance writer covering food, travel, arts, culture, and what-have-you. She winters in Las Vegas and summers in Detroit, as does anybody who's anybody. Her favorite activities include drinking beer and quoting Fight Club.