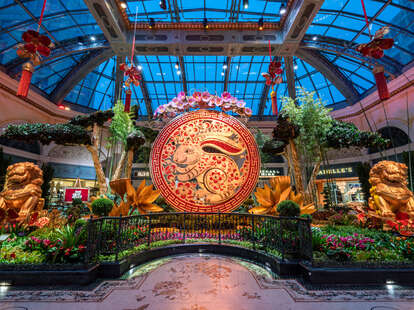 Lunar New Year is Sunday, January 22, falling within the Spring Festival (January 21-27). But don't worry about keeping track of dates. Las Vegas is already joining celebrations around the world for the holiday, which is also known as Chinese New Year, Tết (in Vietnam) and Seollal (in Korea). If you want authenticity, head to Chinatown to best experience the culture and cuisine of our city's diverse Asian community. For maximum spectacle, stick to the Strip, where virtually every hotel lobby is welcoming the Lunar New Year in one way or another. There's a lot going on, so use the following guide to keep track of the festivities, food and fun in Las Vegas.
Saturday, January 21 – Sunday, January 22
Chinatown
Chinatown Plaza, the shopping center where the modern-era of Vegas' Chinatown originated, hosts the 2023 Chinese New Year Festival over two days. Come by Saturday (January 21) 1-8pm or Sunday (January 22) 11 am-8pm for a variety of food trucks and vendors, ranging from traditional Asian favorites (like Pampanga for Filipino and Little Dings for Taiwanese) to nontraditional bites (like Custom Pizza Truck and I Luv Cotton Candy) or something in-between (Louie Louie for Japanese-Mexican fusion). You'll also be able to browse Chinatown's popular on-site restaurants (like Xiao Long Dumpling) and shops, while enjoying cultural performances, guest speakers and more.
Cost: Free admission.
Sunday, January 22
Summerlin
The Downtown Summerlin outdoor shopping plaza is celebrating Lunar New Year with fan dancers, stilt walkers and an oversized dragon presentation at 5pm, followed by a parade with floats and performers marching down Park Centre Drive. Pick up a free light stick before the parade (3:30-4:30pm) at the ONE Summerlin office building by downloading the Experience Pass on the Summerlin app. Keep your eyes peeled for samples from Kirin Ichiban in the restaurant district 4-7pm. Come back for holiday decorations, photo stations and red envelope giveaways (at ONE Summerlin) January 23-27.
Cost: Free.
January 28
Fremont East
Chinese New Year in the desert presents an annual tradition: the Las Vegas Spring Festival Parade, which runs down Fremont Street between 11th Street and 7th Street. Bleachers will be set up near 8th Street. Spectators can view floats, colorful costumes, lion dancers and other performers. The parade takes place 11am-1pm with an after-party at the Downtown Container Park 12-3:30pm.
Cost: Free admission.
Sunday, January 29
Spring Valley
Desert Breeze Park welcomes the 2nd Annual Spring Festival, east of Chinatown on Spring Mountain and Durango. The event aims to pack plenty of fun into just three hours (11am-2pm), beginning with a lion dance and continuing with live performances, arts and crafts, vendors, food trucks and playtime activities for the kids.
Cost: Free.
Ongoing through Sunday, February 5
The Strip
The Fashion Show mall presents lantern light shows, hanging from the ceiling to celebrate the Year of the Rabbit, set to music at the top of every hour in the Great Hall. Take advantage of a few holiday discounts at individual stores and pay a visit on January 22 for a lion parade and blessing 12-3pm.
Cost: Free to view.
Ongoing through Tuesday, February 28
Caesars Palace
Take a break from shopping at the Forum and look for an illuminated steel-framed dragon on the Fortuna Terrace near the casino entrance. The creature is 12 feet high and 22 feet long with 30,000 flickering red and amber lights. Surrounded by wooden pillars and gold fencing, it's the ultimate photo spot inside the busy mall.
Ongoing through March 4
Bellagio
The Conservatory and Botanical Gardens, a free attraction in the Bellagio lobby, has the largest holiday display on the Strip. Walk among a series of immersive floral arrangements, including a 32-foot-tall medallion, bonsai trees, cherry blossoms, Fu Dogs, and a pond with water lilies. Take the experience up a level with an exclusive meal at the Garden Table inside a tea house in the center of the exhibit with the choice of a dim sum lunch (1 or 3pm) or prix fixe Chinese dinner (6 or 8pm) by Noodles restaurant.
Cost: Exhibit is free. The Garden Table is $88 per person for lunch and $128 per person for dinner.
Ongoing
Venetian
A 16-foot tall, 700-pound, furry rabbit stands inside the Waterfall Atrium at the Venetian resort's Palazzo tower. It's the centerpiece of an elaborate Lunar New Year showcase, designed with feng shui in mind. The exhibit also includes bright greenery and gold coins to represent prosperity in the new year.
Cost: Free.
Sunday, January 22
The LINQ
The 550-foot-tall High Roller observation wheel will shine in red, yellow, and orange lights to welcome the Lunar New Year. The attraction stands tall at the east end of The LINQ outdoor promenade.
Cost: Rides on the High Roller run between $8.50 and $34.75.
Sunday, January 22
Paris Las Vegas
The Eiffel Tower replica on the Strip—half the size of the original in Paris—will be illuminated in red, yellow, and orange for the Year of the Rabbit. As usual, twinkling light shows will take place on the exterior every half hour after dark.
Cost: Rides to the top begin at $24.50.
Drinks and Dining
Tuesday, January 17 – Sunday, January 29
Wynn
Wing Lei is launching a limited-edition cocktail to match the restaurant's fine-dining interpretation of Chinese cuisine throughout the Lunar New Year season. The Year of the Rabbit cocktail by Wynn mixologist Mariena Mercer Boarini uses Bombay Sapphire East (featuring cubeb berries, Thai lemongrass, grains of paradise and Vietnamese black pepper in the botanicals) with a coconut-ginger cloud of egg white foam and an edible lucky rabbit decal.
Cost: $21.
Thursday, January 19 – Sunday, February 5
MGM Grand
One of the most romantic restaurants in Vegas is offering an elevated multi-course dinner of Cantonese-inspired cuisine to welcome the luck and prosperity associated with the Year of the Rabbit. Visit Hakkasan Restaurant for a crisp octopus salad, dim sum, cherrywood-smoked roasted duck, stir-fried wagyu, steamed John Dory with black bean butter sauce and a Lucky Rabbit dessert made with black sesame mousse. Make sure to add on a special Remy Martin cocktail and write down your wishes on a red and gold ribbon to hang in the restaurant. Lion Dances take place in the dining room at 9pm January 20-22.
Cost: The prix fixe dinner is $158 per person.
Friday, January 20 – Thursday, January 26
Sahara
The addition of the Noodle Den is one of the best things about the recent string of renovations at the Sahara resort. Chef Guoming Xin's restaurant has a few special dishes for Lunar New Year: black sesame rice balls, chicken with chili oil, poached chicken, stir-fried prawn, black pepper beef with asparagus, scallop and asparagus with XO sauce, steamed sea bass with soy sauce and abalone and shiitake mushroom on baby bok choy.
Cost: Holiday dishes are $6 to $58.
Friday, January 20 – Sunday, February 5
The Cosmopolitan
Jose Andres' China Poblano, which combines Asian and Mexican dishes on the same menu, is leaning towards the former with special limited-edition Year of the Rabbit recipes. Order the Songshu Yu (whole-fried fish with vegetables), Ha Cheung Fun (rice and noodle roll), Cha Nian Gao (rice cakes), and the Lucky 7 (pineapple and pomelo tart) for a full, festive meal. Don't forget the Pears of Prosperity cocktail—Dewars White Label Scotch with spiced pear and baijiu.
Cost: Special dishes are $13.88 to $37.88. The specialty cocktail is $18.
Friday, January 20 – Sunday, February 5
The Strat
The newly opened CHĪ Asian Kitchen at the Strat is rolling out some intriguing specials for its first-ever Lunar New Year. Come hungry for the Cantonese lobster with noodles and garlic sauce or the spicy prawns with fried noodles. The Lunar Moon Shadow cocktail mixes Remy Martin VSOP cognac with yuzu and raspberry marmalade with a rabbit design printed on top.
Cost: Lobster $59, prawns $32, and Lunar Moon Shadow $19.
Saturday, January 21 – Saturday, January 28
Venetian
Mott 32, a contemporary combination of elevated Chinese food in a stylish dining room, has a special à la carte lineup of holiday dishes by Chef Alan Ji. Mix and match a selection of lobster and abalone salad, crispy fried spring chicken, steamed sea bass with chopped red chili, pan-fried golden oysters with honey glaze and brown sugar sticky rice cakes. If you prefer a more casual environment, Hong Kong Cafe (on the other side of the casino floor) has some Chinese New Year specials of its own.
Cost: Mott 32 specials run between $18 and $138.
The Cocktail Collective
Sunday, January 22 – Sunday, February 5
Venetian
Each of the three lounges that make up the Venetian Cocktail Collective will have their own respective Lunar New Year drinks—all made with Remy Martin VSOP cognac. Rosina (one of the essential bucket-list bars in Vegas) has the Spicy Longevity, a fiery spin on a Moscow Mule. The Lunar Lantern at The Dorsey is like an Old Fashioned with a touch of sweet Benedictine, while the Lucky Red Rabbit at Electra provides a refreshing burst of muddled strawberries and lemon juice.
Cost: Cocktails are $18.
Saturday, January 28
West Valley
Any of the best restaurants in Vegas for dumplings and dim sum are worth your attention throughout the entire year. Most will continue to operate as usual during the Spring Festival holiday season. However, one of our faves, Dim Sum Cafe near Summerlin, is hosting a special Lunar New Year networking lunch 1-3pm in partnership with the Las Vegas chapter of the National Association of Asian American Professionals. Tickets are available online.
Cost: Tickets are $25, although the price may increase after January 21.
Roaring Lion Dances
You can never have too many lion-dance parades roaming the lobbies of Las Vegas resorts. Celebrate Lunar New Year with boisterous music, traditional costumes and energetic choreography at The Strat on the casino floor at 5pm January 22; the Venetian between the porte cochère and Waterfall Atrium at 3pm January 23; the Wynn Encore by the south valet entrance at 5:30pm on January 23; the Aria main valet at 6pm January 27; the Bellagio main valet at 1pm January 28, the MGM Grand porte cochère at 5pm January 28 and the Cosmopolitan by the east-side doors near Starbucks at 1pm on January 29. Take a break from shopping with lion dances throughout the Shops at Crystals Friday, January 27 at noon and at the Las Vegas North Premium Outlets 1-3pm January 29 (with special offers in lucky red envelopes offered at guest services).
Cost: Free to watch.
Rob Kachelriess
has been writing about Las Vegas in Thrillist for more than eight years. His work has also appeared in
Travel + Leisure
,
Trivago Magazine
,
Sophisticated Living
,
Modern Luxury
,
Leafly
,
Las Vegas Magazine
, and other publications. He was born in the Year of the Rabbit. Follow him on Twitter
@rkachelriess
.