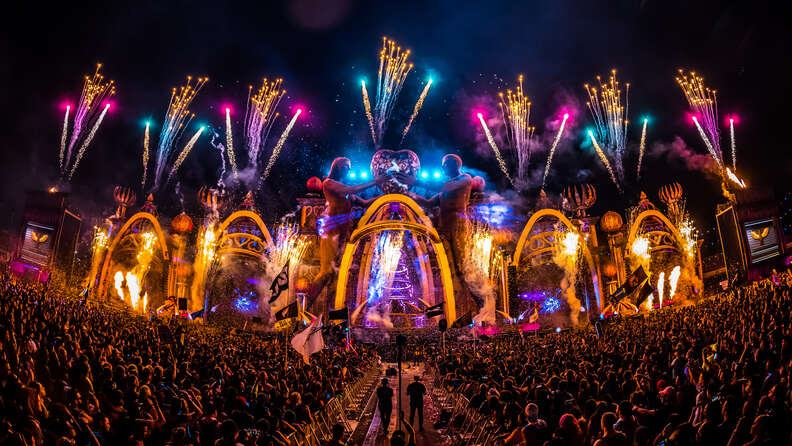 Electric Daisy Carnival

| Holy Mountain for Insomniac
Electric Daisy Carnival

| Holy Mountain for Insomniac
"Before there was Coachella, there were raves," says Pasquale Rotella, the founder of the Electric Daisy Carnival. And no matter how big the event becomes, he says, it will always be rooted in rave culture.
"It's the largest dance music festival in the world -- definitely in North America," says Rotella. "But it's also Mardi Gras, it's New Year's Eve, it's Carnival."
The Electric Daisy Carnival -- or EDC -- runs May 17-19 at the Las Vegas Motor Speedway. Like all good raves, it goes nonstop from dusk to dawn each night. General admission is sold out, although tickets remain for "GA+" and VIP options.
Rotella is the CEO of Insomniac Events, which not only promotes and operates EDC, but a global lineup of electronic dance music festivals. That includes additional EDC events in other cities, but the Las Vegas version is the flagship and "the culmination of everything we do throughout the year," says Rotella. For example, the massive Kinetic Field stage is annually unveiled in Vegas before being used elsewhere.
"People want to compare festivals like Tomorrowland and Ultra, but there's simply nothing else like EDC," says Armin Van Buuren, who plays festivals all over the world. "The atmosphere under the sky in Las Vegas is very unique."
The lineup features electronic acts big and small
More than 250 electronic dance music performers will be at EDC this year -- spread among eight different stages as well as futuristic "art cars" that roam the festival grounds. In addition to Van Buuren, the biggest names include Above & Beyond, Steve Aoki, Deadmau5, David Guetta, Kaskade, and Tiesto. The full lineup and set times are available on the official website.
"If you come to the main stages, obviously you're going to hear the big acts," says Van Buuren. "But you'll find new or obscure sounds on the smaller stages, which are equally as impressive."
The Stereo Bloom stage is a good spot for catching emerging artists, including some on Insomniac's own music label. The Discovery Project is another way Insomniac scouts new talent to play opening slots.
"If you're a bedroom producer, you can maybe play EDC next year," says Rotella. "All you have to do is submit your music online and our record team will listen to it. If they like it, we'll put you right up there. It can happen that quickly."
Zhu attended EDC as a fan years ago, and is now playing the festival for the first time with a set on the Cosmic Meadow stage. "EDC is the biggest electronic record store in the world," he says. "I think once in your lifetime, you have to experience it."
EDC is massive and operates round-the-clock
Insomniac is expecting to draw about 450,000 people to the Speedway this year -- a record for EDC -- which breaks down to about 150,000 each night. To prepare for the crowd, the layout is being modified to open up some areas that were a bit congested in the past. The Quantum Valley stage is in a new location, and the Neon Garden stage is doubling in size. A new concept called Downtown EDC is being introduced. It's where you'll find pop-up activations like a punk rock mini bar, silent disco, and wedding chapel -- as well as a booth for a quickie divorce just in case. As always, there will be art installation zones, carnival rides, and parades with street performers that look like they arrived straight from another planet.
For those who don't want to leave for a hotel, Camp EDC, located off Highway 15, debuted last year, drawing about 20,000 people to basically live onsite. It was such a success, the campground is twice as big this time around with a pool party and DJs playing all day long. Consider it an organic evolution in making EDC a round-the-clock event.
Of course, Las Vegas always has VIP perks and the Marquee SkyDeck traditionally boasts elevated views of the Kinetic Field. If you and 15 friends want to blow $50,000 on a VIP table with its own private hot tub, it's yours. At least you get air conditioning. Email edc@taogroup.com for more information.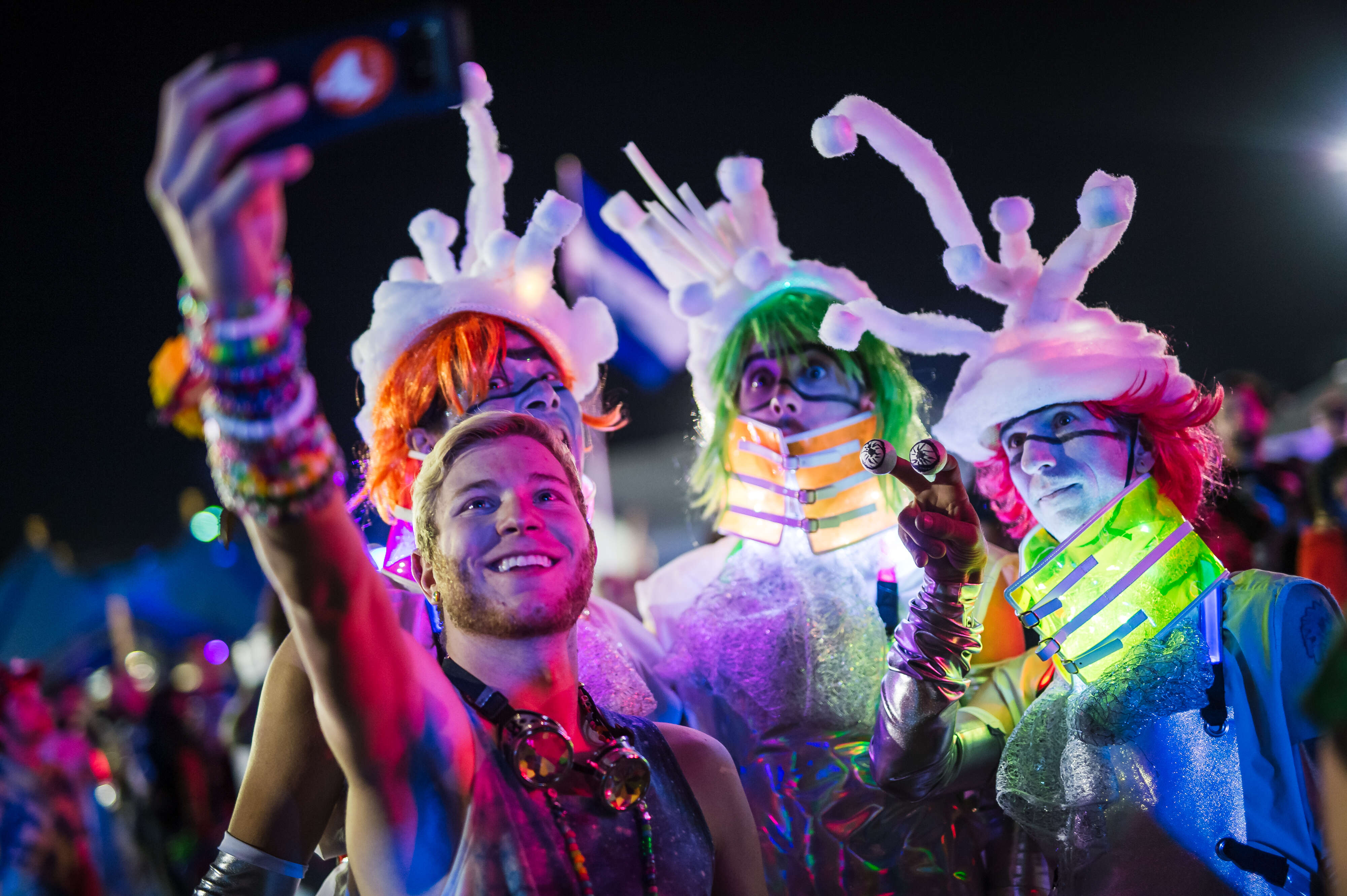 Overcoming Challenges
The first-ever Electric Daisy Carnival was in 1997 at the Shrine Auditorium in downtown Los Angeles. There were just three stages and about 5,000 people. The festival eventually grew large enough to fit inside the LA Coliseum, where it ran from 2007 to 2010. The final year in LA brought serious setbacks, including several medical incidents and the drug-related death of a minor.
"The Coliseum wasn't an option for us anymore," Rotella remembers. "We were still doing other festivals all over California, but none of the venues could accommodate the amount of people we were drawing for EDC."
Looking for a fresh start, Rotella turned to Las Vegas to host EDC. He says government officials were initially apprehensive due to crime and violence connected to the party scene surrounding the NBA All-Star Weekend in 2007. Rotella convinced them EDC had all the pieces in place to be a safe and secure environment.
"I invited people from government and the chief of police to our festivals in California that were happening at the time and made them feel very comfortable," he recalls. "They were blown away, actually. And then before you knew it, the mayor of Las Vegas [Oscar Goodman] had a martini glass in his hand and said, 'If LA doesn't know how to do it, then we'll show 'em how to do it here in Vegas.'"
The following eight years of EDC in Las Vegas have been relatively smooth, although drug-related deaths have been reported and dangerous winds caused the event to close early one night in 2012. Each year, Metro police release nightly statistics on crime and hospitalizations at EDC, which get routinely reported on local television news. However, considering EDC is virtually a pop-up city of 140,000-plus people, those statistics often compare well to populations of similar size.
"I'm very proud of what we do," says Rotella, noting the security, medical, and management professionals in place. "I have an amazing team and they work really hard. Everyone is doing everything at the highest level. It's really important to us."
How to get to EDC
The Speedway is about 15 miles northeast of the Strip. Driving to EDC on your own kinda sucks, but the benefit is that there's plenty of free parking. If you want to try ride sharing, Lyft Las Vegas users can receive $10 off two lux black rides with the code "EDCLUX2019" to get to and from EDC. (The code is active on a limited basis from May 16 at 12pm to May 20 at 11am.) Otherwise, continuous shuttle service runs from a few different locations on and near the Strip. The standard three-day pass for $99 is well worth it.
If you have a few extra bucks to spend, a helicopter service runs from the Strip all night long. Prices start at $550 per person (or $3,500 to charter the entire aircraft) for Maverick Helicopters direct to the Speedway. Papillon Grand Canyon Helicopters is also offering a one-way EDM Express for $450, which includes pick-up from your hotel. The flight arrives just outside the festival grounds with a ground shuttle to EDC. They may seem pricey, but the helicopter rides are just 10-15 minutes and include incredible views.
Follow these pro tips to get the most fun out of the weekend
Go late. The traffic outside the stadium is notoriously awful for EDC. It's not uncommon for a 20 or 30-minute drive from the Strip to take hours. So don't feel like you have to arrive as soon as the festival begins. Leave around 11pm and your odds for a quick drive increase dramatically.
Dress your best. Fashion is part of the fun at EDC, whether it's colorful wigs, furry boots, or strategically placed electrical tape. The best shop for last-minute costumes is the LUX Rave pop-up store by iHeartRaves in the Luxor casino. It's open May 15-19 and even offers free kandi bracelet-making parties.
Charge your phone. Cell phone reception at the Speedway has gotten better over the years, but is still spotty. When meeting up with friends, include a time with your text -- like "meet me at the ferris wheel at 2:15" -- to minimize confusion.
Get that rash checked out. The US government may not provide free healthcare, but EDC does. Whether you have a stubbed toe or a funny looking spot on your skin, the professionals inside the medial tents are ready for anything. So if you have a health issue that can wait a few days, hold off and get it checked out at EDC. (Disclaimer: Thrillist is not your doctor. If you have a pressing matter or unknown condition, discuss the best plan with your doctor immediately and directly.)
And one more thing. "Wear comfortable shoes and you'll have the best time of your life," says Rotella.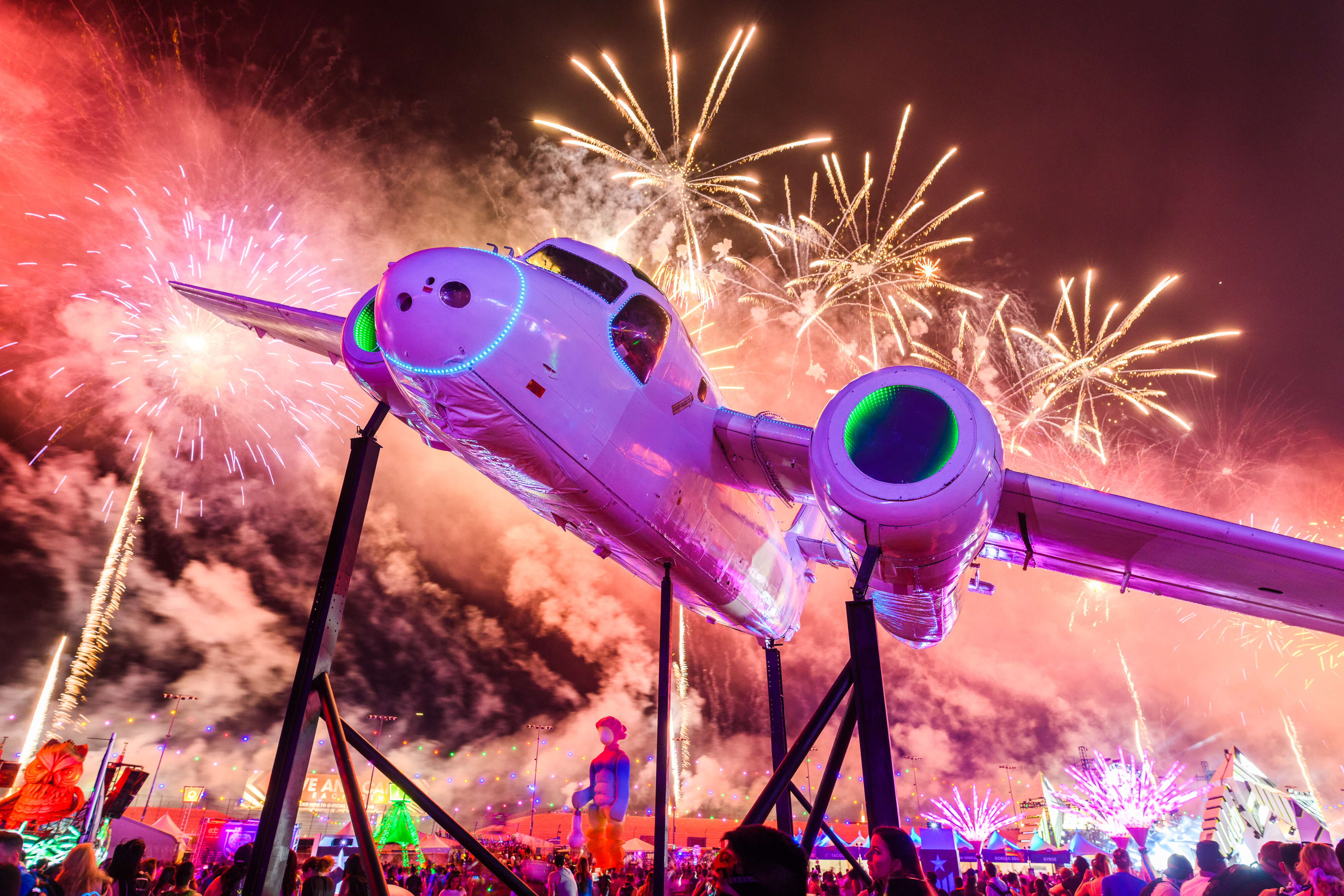 Watch out for potential surprise guests
While the lineup is dominated by DJs, quirky offbeat guest appearances show up here and there. Bill Nye is taking part in the opening ceremonies this year while A$AP Rocky will mark the rare appearance of a rapper on stage at EDC. Bryan Cranston appeared with Above & Beyond in 2015 to push the button during a performance of "Walter White."
Just last month, David Lee Roth joined Armin Van Buuren for a performance of "Jump" at the Ultra Music Festival in Miami. Their collaboration on the track is being released to stream and download on May 17, and it's confirmed that Roth will be in Vegas this week to promote it. When asked if the Van Halen singer plans to join Van Buuren for an encore performance at EDC, a representative denied it: "No, David will not be joining him onstage this time."
Hmmmmm.
Be sure to enjoy Vegas outside the festival
As EDC has grown as a festival, so has its presence in Las Vegas. The top nightclubs are packed with special events and concerts all week long. Acts like Zedd and Martin Garrix will play Omnia at Caesars Palace while Calvin Harris and Steve Aoki headline at Hakkasan inside the MGM Grand. Hakkasan is even choosing EDC Week for the unveiling of a new multimillion dollar high-tech overhead grid, which will be the largest permanent kinetic light installation in the United States.
"We heavily program our daylife and nightlife venues to capitalize on the EDC market," says Sal Wise, vice president of marketing for Hakkasan Group. "EDC Week is one of the busiest times of the year for us, and we plan for it well in advance."
Although Van Buuren plays EDC on Sunday, he will play sets at the Palms' new KAOS nightclub Thursday and Friday. "It's like two different types of sports," says the DJ, comparing clubs to stadiums. "When I'm playing clubs, I get a longer set time of two to three hours. So I have more space to actually build a set. It gives me more room to experiment and tell a story."
Yet EDC Week is about more than clubs. Beauty & Essex is doing a rainbow-colored EDC-themed version of its Wonder Wheel dessert, which combines cotton candy, kettle corn, chocolate, and other ingredients into a photogenic ferris wheel. It's available May 15-20 for $38. Meanwhile, The+Source is offering EDC Week deals on cannabis products, particularly for on-the-go edibles, May 14-19.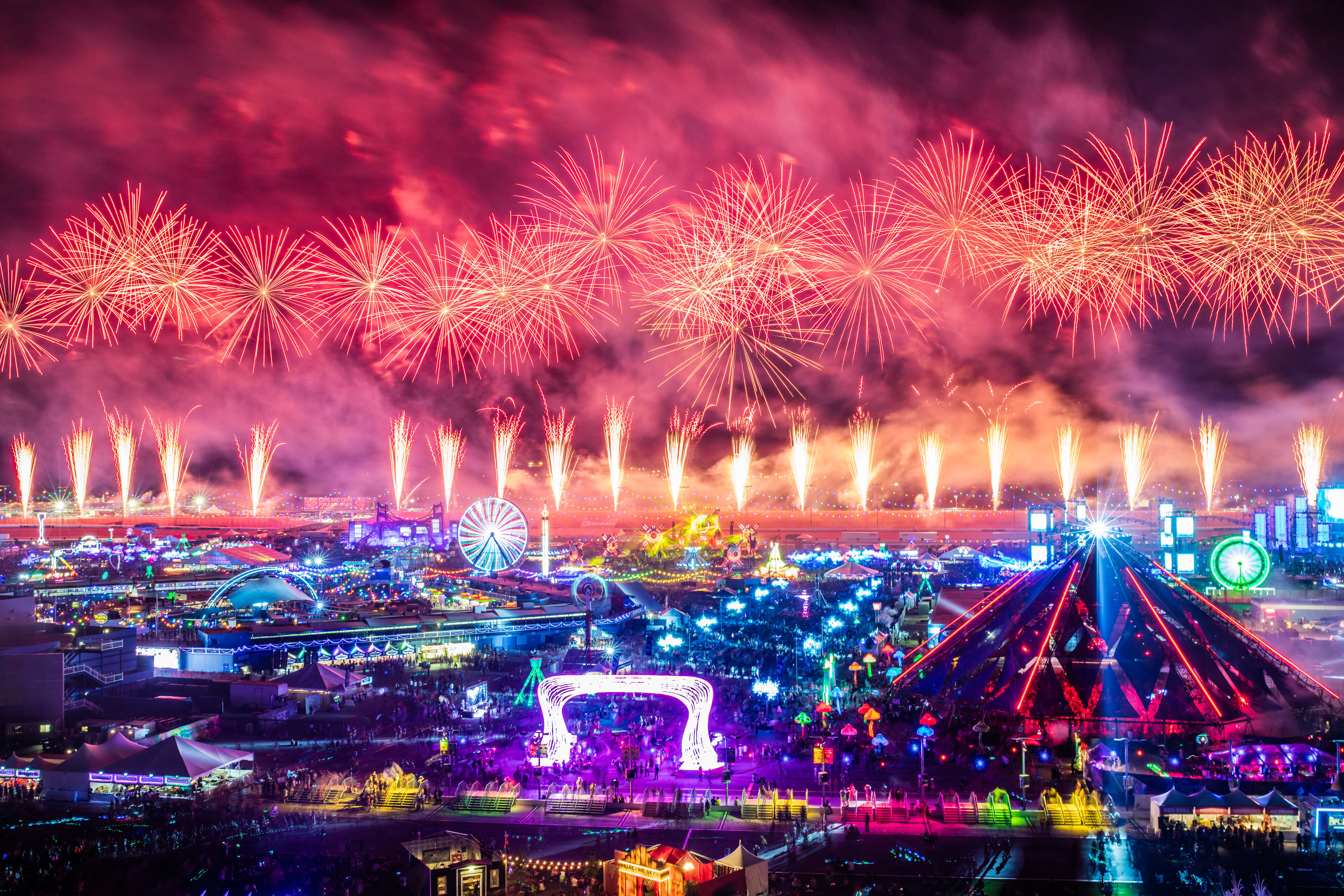 The festival is only going to get bigger
Next year will mark the 10th anniversary of EDC in Las Vegas, so expect the 2020 edition to be even bigger than ever. Meanwhile, between now and then, other versions of the festival will take place in Tokyo, Seoul, Shanghai, Mexico City, and Orlando.
"We're expanding EDC to different parts of the world," says Rotella. "There's been a lot of buzz and a lot of talk over the years about going to space. I want to do the first party in space and I want it to be EDC."
Sign up here for our daily Vegas email and be the first to get all the food/drink/fun in town.
Rob Kachelriess has been writing about Las Vegas in Thrillist for more than five years. His work has also appeared in Travel + Leisure, Modern Luxury, Leafly, and Luxury Estates International's seasonal publication. He usually goes to bed before EDC begins. Follow him on Twitter @rkachelries.