Ready for the biggest and baddest firework celebration in Las Vegas? Well, New Year's Eve is still about six months away, but the next best thing is almost here. The vast Vegas sky will light up for Independence Day with celebrations across the valley. From the Strip to the suburbs, we've got you covered with the biggest displays and viewing parties. We'll also answer the age-old question: "Is it okay to blow stuff up myself?"
The Best Firework Shows in Las Vegas
The Strip
Starts at: 9:15pm
While several casinos join together for one massive fireworks show on New Year's Eve, Caesars Palace does most of the heavy lifting on Independence Day. Take in the elaborate fireworks show from the Garden of the Gods pool deck. Aside from neighboring resorts, the best views will be from the Spanish Steps and other pedestrian areas near the front entrance of Caesars Palace. Keep in mind -- unlike on NYE, the Strip won't be closed to traffic, so expect the sidewalks to be packed.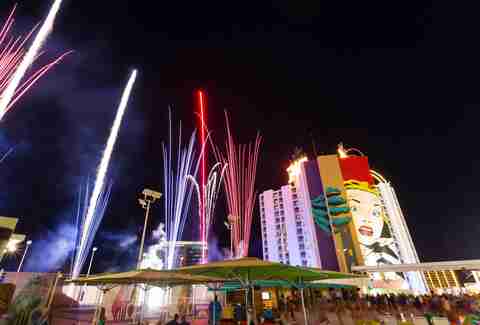 Downtown
Starts at: 5pm
Just like every year, the only Downtown fireworks show is at the Plaza hotel at the far west end of the Fremont Street Experience. The resort is promising its biggest exhibit yet, with fireworks shooting off from multiple towers. Guests can hang out in the water during a free pool party with burgers (Impossible and otherwise) and party grub served by a food truck. There will also be a Coney Island-style hotdog eating contest and $3 Jello shots (or three for $5 -- better deal!). If you happen to be hanging out on Fremont Street, you can also check out a free concert by the Eli Young Band from 9-10:30pm on the 3rd Street Stage.
Pahrump
Starts at: 9pm
It may be an hour-plus drive outside Las Vegas, but the Pahrump fireworks show is one of the best in Southern Nevada, traditionally clocking in at a hefty 22 minutes or so. With more than 20 acres of usable space, Petrack Park is the largest park in the city, allowing plenty of room to stretch out with a blanket and watch the rockets red glare overhead.
Henderson
Starts at: 10am
Cowabunga Bay usually shoots off fireworks every Saturday, but the Henderson water park will also have a Thursday night show for the Fourth of July. The day-long holiday celebration features free face-painting and balloon animals for kids, as well as a DJ and a food truck serving barbecue. Somewhere in the middle of all this, you can have fun with nine water slides, four surf and swim pools, and the largest lazy river in Nevada. Tickets are $39.99, but just $19.99 with a coupon from La Bonita supermarkets.
The Strip
Starts at: 9pm
Celebrate America with the island sounds of Jamaica. Reggae-pop band Mystic Roots will take the stage at Mandalay Bay Beach, leading up to a fireworks show at 10:30pm. Ticket holders can swim in the wave pool, lounge on the sand, and booze it up holiday-style. Aside Caesars Palace, this is the only fireworks show on the Strip, but due to the insular layout of the beach, the fireworks aren't quite as easy to view from outside the resort. In other words, just get a ticket and come hang out. Admission starts at $20.
Henderson
Starts at: 6pm
Bring the kids. If previous years are any indication, this family-focused event will have games, rides, face-painting, live music, and grilled food, with a roughly 18-minute firework display getting underway around 9pm. Bring a towel or chair so you can stretch out on the grass and relax. No charge for admission or parking.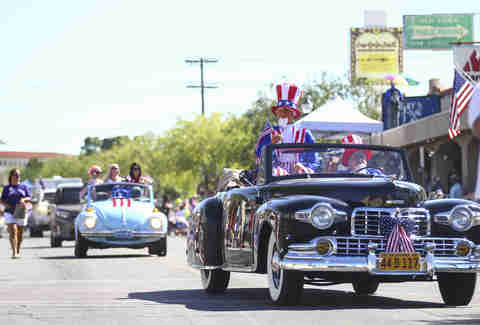 Boulder City
Starts at: 7am
For possibly the most patriotic Independence Day experience in Southern Nevada, head southeast to Boulder City. It doesn't have gambling, but it has Damboree: an all-day Fourth of July celebration that begins with a pancake breakfast in Centennial Park and ends with a long fireworks show over the city at 9pm. Along the way, you'll have the chance to watch a flyover, attend a parade through the center of town, and enjoy a busy day of music and food at both Broadbent Memorial Park and Veterans Memorial Park.
Summerlin
Starts at: 9pm
The Red Rock Resort will shoot off about 10 minutes of fireworks from its rooftop. Here's the funny thing: there are no public viewing areas on property (although hotel guests may be able to catch a glimpse from the pool deck). Your best bet is heading next store to the Downtown Summerlin, where guests are welcome to bring chairs and blankets to The Lawn, a grassy gathering spot on the northwest end of the outdoor shopping plaza.
Henderson
Starts at: 9pm
Just like its sister property Red Rock Resort, Green Valley Ranch will also show a 10-minute firework show from its rooftop. However, guests can view the display from the expansive backyard pool deck. Just purchase a pool pass wristband for $20 (or $10 for kids). You should also be able to catch great views from The District -- a neighboring outdoor dining and retail village.
Laughlin
Starts at: 9:30pm
If you need a good excuse to visit Laughlin, this is it. Located on the southern tip of Nevada by the Arizona state line, the small gaming town will host "Rockets Over the River" on both Saturday, June 29 and Thursday, July 4. Fireworks will erupt over the Colorado River -- creating a colorful reflection in the water -- while synchronized music plays from the Tropicana, Golden Nugget, Aquarius, and other casino resorts.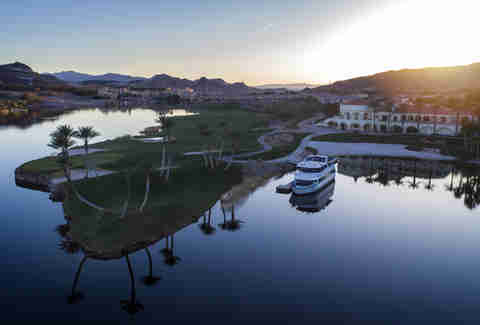 Henderson
Starts at: 8pm
Independence Day weekend is just getting started. Spend the evening of Friday, July 5, aboard La Contessa, a luxury yacht in Lake Las Vegas. Passengers will nosh down on hors d'oeuvres, listen to live entertainment, and take home party favors. Tickets for the sunset cruise are $50 per person. But, if you prefer to pilot yourself around the water while fireworks erupt overhead, paddle boards, kayaks, pedal boats, water bicycles, and electric boats can be rented from Lake Las Vegas water sports. Come early to The Village at Lake Las Vegas, where live music will be performed on a floating stage and barbecue will be served at Seasons Grocery.
The Best Viewing Parties for Watching Fireworks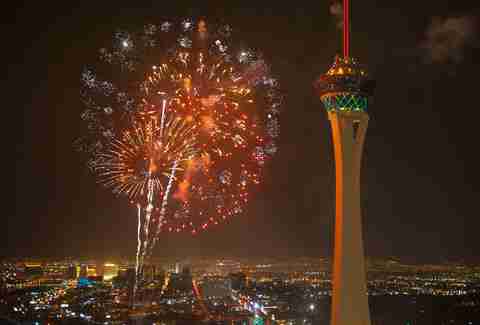 The Strat
Starts at: 9:15pm
The Strat won't be hosting its own fireworks show like it does on New Year's Eve, but the 1,149-foot-tall tower is probably the best vantage point for watching displays across the valley. Head to the recently renovated observation deck that circles the tower for a chance to see the valley from every angle. Admission is $25 for the holiday. You can also hop on sky-high thrill rides X-Scream, Insanity, and Big Shot July 4-7 with a one-day pass for $44.95.
The Flamingo
Starts at: 8pm
Margaritaville is throwing a viewing party directly across the street from Caesars Palace to view the fireworks. For $125, guests get an open bar, appetizers, and guaranteed seating on a third-floor viewing area. Chances are good you'll hear Jimmy Buffett at some point.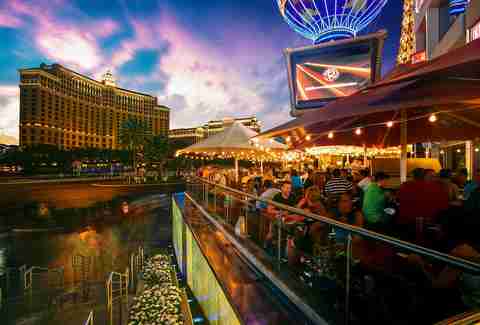 Miracle Mile Shops at Planet Hollywood
Starts at: 9:15pm
Squeeze onto the sure-to-be-packed patio at Cabo Wabo Cantina for ground-level sightlines of the Caesars Palace fireworks. The restaurant is also bringing back its red-white-and-blue "All American" cocktail, fueled with Absolut Citron and Blue Curaçao from July 1-7, for $13.
Springs Preserve
Starts at: 4pm
Divine Cafe at Springs Preserve is extending its happy hour to catch west-of-the-Strip views of the fireworks. Get there early. It's first come, first serve for deals on food and beer buckets. You'll also have games and the funky rock of Frankie Lee and the Infernos to keep you busy until the fireworks go off.
Forum Shops at Caesars
Starts at: 7pm
This new Forum Shops barbecue spot has an outdoor patio near the Trevi fountain at Caesars Palace -- a perfect location for checking out the fireworks overhead on July 4. The viewing party is free to attend and includes a DJ.  
Paris Las Vegas
Starts at: 11am
Beer Park is taking advantage of its rooftop location for a July Fourth fireworks viewing party. Beginning bright and early, guests can make the most of an American-themed food menu, a selection of 100-plus beers, and a roaming hot dog cart. Standing room is free, but if you don't want to chance it, reserved seats are available for $50 per person.
Off the Strip
Starts at: 1pm
A new CBD specialty store is getting in on the Fourth of July action. CBD Shop LV is throwing a grand opening party where guests can enjoy food trucks, a DJ, and an east-of-the-Strip view of the fireworks. The event is free to attend, but you may want to register in advance. The store is also offering free gifts and a 30% discount.
 
Multiple Locations
Starts at: 8:30pm
Sundance Helicopters has two options for maximizing the July Fourth experience in Las Vegas. For $269 per person, you can sip-down a champagne toast and take an aerial tour of the Strip and other parts of Vegas to check out fireworks from about 800 feet in the air. For something a bit more romantic, pay $299 per person and travel by helicopter to a private bluff near the Red Rock Conservation Area for a champagne picnic at sunset, followed by views of the fireworks going off throughout the valley.
Can you shoot off your own fireworks in Las Vegas?
Ok. Here's the deal. Las Vegas looks like a war zone on July Fourth with countless fireworks being shot off from parks, streets, and backyards all over the valley. It's quite the spectacle, especially if you're watching from an elevated vantage point or happen to be flying into McCarran at the time. Is this do-it-yourself approach legal? Well, kinda -- but barely.
Clark County (which includes Las Vegas, Henderson, Boulder City, and Laughlin) only approves the sale and use of certified "Safe and Sane" fireworks June 28-July 4. These are usually limited to sparklers and that kind of stuff. Booths selling these fireworks are easy to spot all over town, especially in grocery store, gas station, and shopping center parking lots. Their use is limited to private property.
More intense fireworks like Roman candles, cherry bombs, and bottle rockets are legally sold outside Clark County in Pahrump (Nye County) and on Native American reservations. Even though lots of people make the drive to buy these items only to return and set them off in Vegas, it's against the law to do so. (It's even against the law to set them off in Pahrump -- with the exception of a single fairground launch site.) It's also against the law in Clark County to set off fireworks of any kind after midnight. Does that stop it from happening? Not really.
So be smart, use your best judgment, and if nothing else -- PLEASE make sure your pets are in a safe, contained space. The Animal Foundation always reports a spike in stray dogs and cats who run away after getting spooked by firework noise.
Sign up here for our daily Vegas email and be the first to get all the food/drink/fun in town.