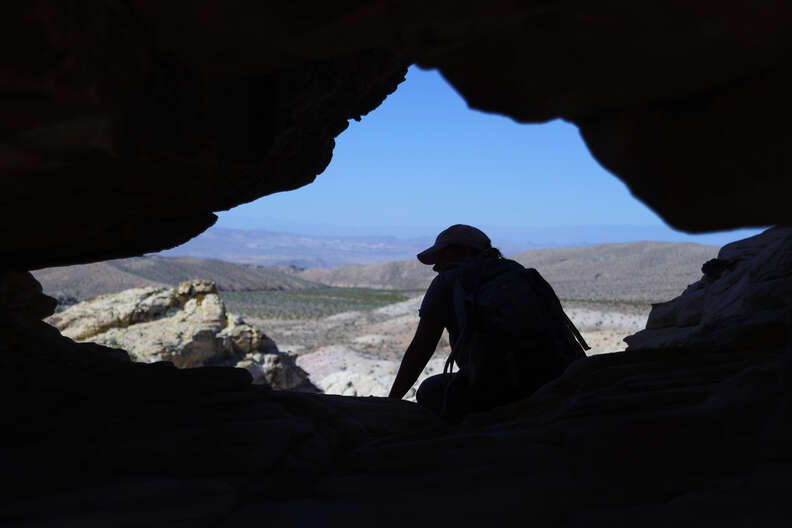 Sam Morris/Las Vegas News Bureau
It started with buffets -- and now the whole city is shut down. Under orders from the governor, all "non-essential" businesses in Nevada are closed for at least 30 days, while we're all encouraged to stay home and if possible, work from home. It's time to flatten the curve, and while Vegas is being hit especially hard by an economy on hold, it doesn't mean we can't celebrate our city in self-isolation. If you've got nothing to do until Murder House Flip debuts in a few weeks, check out some Vegas-centric ways to help the hours, days, and weeks in isolation go by a little more quickly.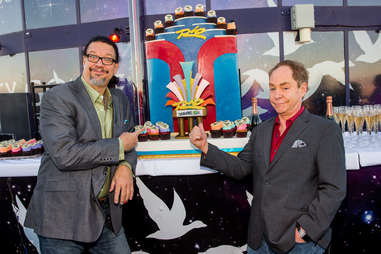 Penn & Teller have the longest-running show at a single hotel in Vegas history at the Rio, but like all other Strip productions, it's currently on hold. However, you can still get your fill of the magic and comedy duo, while learning a few behind-the-scenes secrets. Penn & Teller are part of the MasterClass online courses to "Teach the Art of Magic" in a series of 12-minute lessons for $15 a month (billed annually, so it's actually $180, but you do have a 30-day money-back guarantee). Even the trailer alone is worth watching just to hear Teller finally talk. You also get access to other celebrity experts, including Steve Martin teaching comedy and Gordon Ramsay (another Vegas favorite) teaching how to cook.
Start reading books again
We know you've been "getting around" to opening up a real book for about eight years now. Well, now that you've got some time on your hands, there's no excuse. Head to Amazon or your favorite online book seller, where there are plenty of great choices loaded with Vegas history. Easy reads include Elvis in Vegas by Richard Zoglin, which chronicles how the King pioneered the concept of the modern Strip residency, Area 51: An Uncensored History of America's Top Secret Military Base by Annie Jacobsen, which goes behind the scenes of the mysterious military compound north of Vegas and includes a controversial take on what really happened in Roswell, and Fireball by Robert Matzen, which looks back on the plane crash near Goodsprings that killed actress Carole Lombard in 1942. If you make it through those, move on to the best books to come out so far in 2020.
Order food from local Las Vegas restaurants
Our local restaurants are amazing, but they're among the businesses being hit hardest by the Vegas shutdown. Some are staying open, offering delivery and takeout, to feed customers and bring in whatever revenue they can during this difficult time. If drive-thru fast-food is your thing, that's fine, but also try to support local restaurants who are modifying their menus and services so you can eat quality food at home. We've put together a list of more than 40 suggestions to get you started. Keep in mind -- the situation is fluid and changing by the day, so contact restaurants directly for the latest hours, deals, and menus before placing an order. If you're still hesitant, check out some other ways you can support local restaurants.
Catch live sets by local casino performers online
Follow Stations Casinos on Facebook and Twitter to stay up to date on "At Home Sessions": a series of video-streamed live performances from local musicians. So far, Franky Perez, Brian Pollack, and Michael Johnson have taken part. They may not be household names, but their talent outweighs their marquee value. Turn up the volume, pour a drink, and imagine you're killing time in a casino lounge. Look out for new stripped-down sets Monday, Wednesday, and Friday at 4pm.
Play bartender at home
As you can imagine, the Vegas shutdown has likely led to a spike in day drinking -- as well as some Don Draper-style office drinking for those of us who work at home. Liquor stores like Lee's Discount Liquor, Total Wine, Liquor Outlet, Liquor World, and Khoury's Fine Wine & Spirits are temporarily closed, although Las Vegas, Henderson, and Clark County are all now allowing restaurants to include booze in delivery and curbside services.
Marche Bacchus is selling wine with takeout cheese and charcuterie orders, and Crafthaus Brewery is selling beer for pickup with a spent grain pretzel included. If that's not enough, PikFly will deliver alcohol straight to your home, but you can only place an order between 7am and 8:20pm. Prices are high and selection is limited, but you can get an online discount with the code PikflyFree. Otherwise, feel free to do a booze run while hunting for toilet paper at regular grocery stores. The buy-four discount at Smith's is one of the best deals around. Just keep your time in the store short and maintain six feet of distance from other customers. Once you've got your stock in order, download Cocktail Royale, an app designed by a former Apple employee here in Vegas that includes a ton of cocktail recipes and info.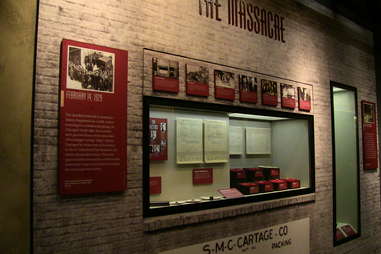 The Mob Museum is one of the coolest museums in Vegas but really, this town loves anything that has to do with the glory days of organized crime. It's not open during the shutdown, but the museum's website is full of cool information to help get your mob history fix, including blog posts, video interviews, a full digital archive, and microsites dedicated to Prohibition and the St. Valentine's Day Massacre. Go a step further and download the Mob Museum mobile app to take a virtual tour of exhibits and find your "Doppelgangster" lookalike.
Sweat to a quick workout
One of the biggest downsides to the Vegas shutdown is not being able to hit the gym. Most fitness centers, including EOS and Lifetime, are automatically freezing/prorating memberships so you aren't charged for gym time you aren't using. The Las Vegas Athletic Club is going the extra mile with a new series of online fitness classes that include 20-minute sessions for yoga, high intensity interval training, DanceFit, BodyCombat, and more. The classes can be viewed by the general public, not just LVAC members. It's a great way to stay fit, even if you only started worrying about your health a few weeks ago. Continue to keep in shape in the days ahead with more virtual workout classes from around the country.
Yeah, it seems like life has come to a halt, but people are still celebrating birthdays, anniversaries, and other milestones. Since you can't join them in person, send a gift via ItsOnMe. The Las Vegas-based service provides virtual gift cards that are sent directly by email or text to the recipient. Buy and give drinks, dinner, or even an outing at a golf course. It's a great way to support a local business now, while giving somebody something to enjoy later when the shutdown is over.
Getting your dry-cleaning done without talking to anyone was a good idea even before COVID-19 came around. Las Vegas' own Mint Locker has mastered the concept. Just drop off your clothes inside a locker at one of dozens of locations around the valley. The company will pick them up for cleaning and notify you by text when they're returned. No human interaction, whatsoever. Mint Locker will do whatever you need -- dry-cleaning, laundry, or even repairs. Until further notice, the company is also cleaning scrubs and lab coats for free to thank healthcare workers. Don't want to leave the house? Direct home pickup and dropoff is available. Email for details.
Feel the "love" of Cirque du Soleil
Cirque shows are kind of a staple in Las Vegas, and The Beatles LOVE at the Mirage is one of the best. While the production is on hiatus, flip the switch on your nearest lava lamp and get your hands on the official soundtrack album, featuring the same remixes and mashups of classic Beatles hits used in the show. The music was put together with the help of the band's own producer, the late Sir George Martin, so you know this is legit -- a sonic masterpiece that sounds even better with the volume turned up. If this leads to a deep dive into the Beatles catalog, the complete discography on vinyl is the way to go. Even the Fab Four's solo material seems to hit home right now, whether it's the lyrics of George Harrison ("all things must pass") or John Lennon ("strange days indeed… most peculiar, mama").
Cash in with online gambling
You may have heard: Vegas likes to gamble. With the casinos closed, online wagering is picking up the slack. While the annual World Series of Poker tournament is on hold at the Rio, the WSOP website is seeing more traffic than ever. Regulars say tournament fields are three times larger than usual. Unregulated offshore sites are seeing a jump in use too, but that's harder to measure. If you really get bored, you can always bet on the presidential election.
Spend a night at the virtual opera
Due to COVID-19, much of the Smith Center's spring schedule has been cancelled or postponed -- yet you can still get a taste of the fine arts online. Operas and symphonies from around the globe are posting performances for anyone to enjoy. You can also try out Marquee TV with a 30-day free trial to watch full-scale productions, from Swan Lake to Shakespeare, at the world's greatest theaters. It's not quite the same as having a seat in Reynolds Hall, but it will have to do for now.
Drink up on the best local coffee
You can take away our freedom. You can take away our toilet paper. Just don't take away our coffee. Fortunately, a few local favorites are continuing to bring a much-needed java fix to Las Vegas. Mothership, which roasts beans for itself as well as other coffeehouses in town, is taking orders by phone and online for pickup at its locations in Henderson and Downtown, as well as the affiliated Sunrise Coffee. (First-time web orders get 15% off.) The newly opened Founders Coffee in the southwest still has its drive-thru window open with a full drink and food menu available (including great avocado toast in a town sick of avocado toast) and free drip coffee to all EMS personnel and first responders. Sambalatte remains open during regular hours with delivery via Chownow. The Boca Park location has a pop-up in-house market with toilet paper, eggs, milk, and other supplies on a first-come, first-serve basis with discounts for first responders. Otherwise, reach out to your favorite coffee joints directly to see who is still open.
It's time to put that library card to good use. The Clark County Library District is part of Libby, an app that allows you to get your fill of ebooks, magazines, comic books, and audiobooks for free. Just sign up using your local library membership -- I swear that card is in your wallet somewhere. If not, Apple Books also has free stuff to help you out.
Step outside and enjoy the outdoors
Yes, this is possible. Take a walk, take a hike, visit a park. Just follow one rule -- avoid other people as much as possible. While the Red Rock Canyon National Conservation Area is closed to the public (big crowds ruined it for the rest of us), there are plenty of places to enjoy the great outdoors in and around Las Vegas. If that still sounds too risky, take advantage of Google Earth for a virtual tour of national parks, including nearby favorites like Grand Canyon, Death Valley, Joshua Tree, and Zion.
Have a Vegas-style buffet… kinda
Let's face it: Buffets being closed was the first sign of the COVID-19 crisis in Las Vegas, and they're not coming back anytime soon. The next best thing is at Whole Foods, where the highly underrated self-serve hot food section, which is almost like a mini-buffet, is looking different these days. Everything is now individually wrapped for safety, but still warm and just like always, you pay by the pound. Keep in mind, Whole Foods -- which has four locations in the Vegas valley -- is being very strict about the number of customers allowed inside. Long waits by the front door are the new norm.
Get high as a kite
Restaurants aren't the only businesses doing delivery. Recreational cannabis is legal in Nevada, and while dispensaries are closed to foot traffic, many of them are still offering products by delivery. Flower, edibles, tinctures -- your choice, brought directly to your doorstep. Planet 13 and The+Source are among our local favorites doing delivery and NuWu still has its 24-hour drive-thru window open. To help ease the burden right now, Thrive introduced a $20 value menu and is waiving delivery charges for orders of $40 and up. In general, be wary of advertisements for third-party delivery services; instead, contact your favorite dispensary directly to inquire about availability.
The Neon Museum is an outdoor exhibit that preserves and restores vintage signs and marquees in Las Vegas. While it remains closed, use the password NEON to download the official app and explore 25 artifacts and selections from Tim Burton's limited-run "Lost Vegas" exhibit. Continue the virtual tour with videos on the Neon Museum's YouTube channel, including a mini-doc on restoring the Hard Rock Cafe neon guitar, and a blog that documents the fascinating stories behind the signage.
Cook at home like a Vegas chef
Vegas is spoiled with amazing chefs on and off the Strip, but with time to spare, you can now try making some of their dishes at home. Clique Hospitality is posting recipes on Instagram from a couple of its restaurants at the Palms. Hit the kitchen and prepare a butternut squash ravioli by Joe Zanelli, executive chef of Greene St. Kitchen, or roll out the dough and put together your own pizza styled after the house recipe at Side Piece.
Las Vegas doesn't have a full-scale zoo, but it does have the Lion Habitat Ranch, home to more than 30 lions, a few exotic birds, and a giraffe who paints named Ozzie. The ranch now has "streaming safaris" to offer a bit of online education and a glimpse into the daily life of the residents. Check in with the Lion Habitat Ranch Facebook page to see the videos, which will continue to be posted in the days and weeks ahead.
Support specialty groceries
The big-chain grocery stores are doing the lord's work right now, navigating long lines, offering exclusive shopping hours to seniors, and placing limits on in-demand items. (Don't hoard. There's no reason to hoard right now.) Make sure to also shop at some of Las Vegas' best specialty grocers as well. Cured and Whey, which specializes in cheese, charcuterie, fruit boxes, and artisanal sandwiches, has contactless curbside pickup. Artisanal Foods (who enlisted Piff the Magic Dragon for a few video "Quarantine Snackdowns" on Facebook) can ship the same nutritious, flavor-rich specialty ingredients top Vegas restaurants use directly to your home. Meanwhile, Blackbox Meats by local boutique distributor Freedom Meats was so overwhelmed with recent delivery orders for high-end steaks, it had to "hit the pause button" on sales. Make sure to check back later when things have settled down. If you've ever dreamed of Foreman Grilling a slice of Japanese A5 Wagyu in your own kitchen, these guys can help make it happen.
Sign up here for our daily Vegas email and be the first to get all the food/drink/fun in town.
Rob Kachelriess has been writing about Las Vegas for Thrillist for more than six years. His work has also appeared in
Travel + Leisure
, Modern Luxury, Leafly, and Luxury Estates International's seasonal publication. His whiskey and steak supply is in good shape… for now. Follow him on Twitter @rkachelriess.