16 Things You Must Do in Las Vegas in November
The Jabbawockeez have relocated to the MGM Grand from the Luxor across the street and are opening up a new show inside a renovated theater that has most recently been the home for Beacher's Madhouse. The strange and silent dance group has switched up its show to fit the new venue. The first performance starts at 7pm.
Courtesy of RM Seafood
Rick Moonen's RM Seafood will host a five-course wine-pairing dinner at 7pm featuring six top selections from Napa Valley's Whitehall Lane vineyards. The menu is designed to welcome the autumn season and includes new takes on foie gras, pan roasted salmon, and braised beef short rib. Reservations should be booked in advance at
info@rmseafood.com
.
For one-night-only, CRAVE will present a four-course dinner with wine pairings from William Hill Estate Winery in Napa from 6pm-9pm. Wine expert Samantha Butler will host the dinner while sharing her knowledge about each glass.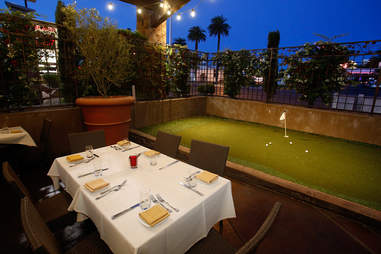 Courtesy of Ferraro's
To celebrate 30 years in Las Vegas, Ferraro's is serving up a special 4-course menu at the retro price of $30.30 for two weekends. It's a steal and a great way to check out one of the
best Italian joints in Vegas
without breaking the bank. Don't worry about a limited menu. There are 11 choices for the main course alone. Saturdays & Sundays.
Courtesy of Ghostbar Dayclub
Ghostbar Dayclub is kicking off the winter season with wild costumes, go go dancers, free cheeseburgers, and the infamous Unicorn Punch on the 55th floor of the Palms on Saturdays. Bottle service packages include not just booze, but also cans of Monster Energy and anti-hangover drinks... just to make sure you've got all your bases covered.
A "Stroll & Toast" will be held at The District outdoor promenade, which means you can wander around and stare into storefront windows while enjoying samples of wine, beer, and food.
Lee's Discount Liquor holds its 13th annual Wine Experience with more than a thousand wines from Italy, Argentina, and plenty of other countries that love alcohol as much as we do. Enjoy tastings from 3pm-7pm.
Courtesy of Ethel M Chocolates
For the 22nd year in a row, Ethel M Chocolate Factory will brighten up its outdoor Cactus Garden in holiday lights. The switch will be flipped with a big celebration from 5pm-8pm featuring entertainment from Human Nature, the Jabbawockeez, and Sin City Opera. Stop by Ethel M in advance with a new unwrapped toy or non-perishable food item to receive a free four-pack of tickets.
Courtesy of Sammy's
Save a few bucks on Veterans Day
Current and former service members with a military ID are in for some serious savings: Station Casinos offers a free buffet at all
Feast Buffet and Festival Buffet
locations; and you can get the same deal at the
Medley Buffet
inside the Aliante casino; while
Sammy's
in Henderson serves up a choice of complimentary hummus with grilled herb flatbread or garlic cheese bread with no other purchase necessary. The same offer can also be found at all Sammy's Woodfired Pizza & Grill locations.
Hear the Mayor dish about the mob over dinner
Former Mayor Oscar Goodman returns to his namesake steakhouse at the Plaza to spill more dirt about his days as a mob lawyer. A three-course dinner will include wine pairings and stories about former Stardust casino boss Frank Rosenthal and some of the most notorious crime figures in Vegas history. The dinner begins at 6:30pm, and you must book in advance by emailing
RSVP@playlv.com
.
Courtesy of Blue Ribbon Bacon Festival
The Blue Ribbon Bacon Festival brings its ninth annual event to Las Vegas for the first time with bites featuring your favorite slice of pork. The Bacon Bite Challenge will take over the former Rain nightclub with 10 chefs, an Elvis costume contest, and a bacon-infused wedding from 5pm-10pm.
Sushi Roku is celebrating its 11th anniversary in Las Vegas by offering 50% off all food during dinner hours for five days only. Here's the catch: you must mention the anniversary deal to get the discount. So don't forget!
Head to the Venetian where the Emeril Lagasse steakhouse will celebrate truffle season with eight new menu items. Both white and black truffles will be featured.
Courtesy of The Cosmopolitan
"Cheers to Chocolate" is back for the fifth year with sweet bites and samples of wine outdoors at The District from 6pm-9pm. Different restaurants around the valley will be represented, and there will also be entertainment from former Strip headliners MO5AIC and 90s tribute band Empire Records.
Ice skating returns to the Cosmo for the fourth year in a row as the Boulevard Pool transforms into an outdoor ice rink. That also means the return of boozy winter drinks and fire pits where you can roast marshmallows and make your own s'mores. There will even be a light snowfall every 30 minutes to help you forget you're actually in Las Vegas.
Courtesy of B. Helm Photo
The Motor Trend Auto Show hits Las Vegas for three days with more than 300 of the newest cars and trucks from more than 20 automakers. Scope out the newest models for 2016 (and take 'em for a spin) while getting a first look at the latest technology.