The 20 All-Time Greatest Things to Do in Las Vegas
See the Sphere, cheer on the Knights, and discover a world of diverse cuisine with the ultimate Sin City bucket list.
The Achtung Baby "Baby" On Sphere Exosphere on 9.29.23 Opening Night

| Photo coutesy of @FlyByChicago
The Achtung Baby "Baby" On Sphere Exosphere on 9.29.23 Opening Night

| Photo coutesy of @FlyByChicago
Things to Do in Las Vegas in Fall and Winter
The Strip
Or, as the locals call it, "eff one." After months of construction, paving, traffic delays, and questionable decisions (among them, missing trees in front of the Bellagio), we're going to find out if this race is worth the hassle. Maybe. Maybe not. But you might as well roll with it. Race Week will be loaded with big events, entertainment, and practice sessions, culminating with a nighttime race on the Strip that wraps around Harmon, Koval, and Sands. Grandstand tickets aren't cheap—and neither are viewing parties with celebrity guests—but who knows, you may score a deal closer to event time. J Balvin, Keith Urban, Journey, Steve Aoki, and Thirty Seconds to Mars headline the opening ceremony.
Holiday Events in Vegas
Multiple Locations
Las Vegas is a great place to celebrate the winter holidays. Drive through more than 5 million colorful lights on a 2.5-mile course at the Las Vegas Motor Speedway as part of Glittering Lights from November 9 to January 7. Take a spin on the Ice Rink at the Cosmopolitan, surrounded by the lights of the Strip on the Boulevard Pool Deck with themed cocktails and fire pits throughout the season. Enchant returns to Las Vegas for the third year in a row, sticking to just one location this year—the Las Vegas Ballpark at Downtown Summerlin—with a light maze, holiday village, and holiday treats by local favorites from November 24 to December 31. The Magical Forest at Opportunity Village operates on select dates from late November to December 31 with a train, food, lights, and games in a winter carnival atmosphere for a good cause. Of course, the biggest party of all takes place on New Year's Eve, when fireworks erupt from the rooftops of Vegas Strip resorts.
New Casino Resorts
Multiple Locations
It's always a big deal when a big casino resort opens in Las Vegas—and we have two showing up within weeks of each other. Durango is already the most identifiable landmark in the Southwest Valley and is expected to make a grand impression when it officially welcomes guests on November 20 with 200 rooms, an 83,000-square-foot casino, and outdoor tree-lined patios. Fill up on food at new restaurants like Summer House and Nicco's Prime Cuts & Fresh Fish with Eat Your Heart Out joining the growing list of food halls throughout Las Vegas. The long-delayed Fontainebleau finally opens on the Strip on December 13. The 67-story skyscraper has more than 3,600 rooms (including ultra-premium Fleur de Lis suites), a 150,000-square-foot casino floor, and an ambitious culinary program that includes two steakhouses (Don's Prime and Papi Steak), six Asian concepts (including Ito for 12-seat Japanese omakase tastings), and a tasting room dedicated to Casa Dragones tequila.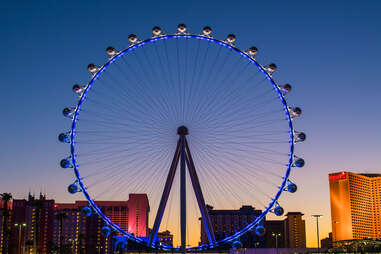 Where to Eat and Drink in Las Vegas
North Las Vegas
There's a reason Broadacres Marketplace draws long lines by the front gate every weekend. The 22-acre park is an outdoor market, street fair, and carnival in one, featuring some of the most authentic Mexican food in Las Vegas. Sip away on a Michelada or Tejuino (masa, lime, ice, and sherbert in a weirdly addictive drink) while ordering food from various food stands and food courts. Carnitas El Cunado slow-cooks pork all morning to serve incredible carnitas with the meat, stomach, and skin all available. Mr. Papas fries potatoes in various forms while Machetes serves quesadillas straight off a large flat-top grill. Maris-Coco chops open fresh coconuts and stuffs fresh seafood inside, and Coco Loco has stands throughout the park, serving fruit platters, scratch-made horchata, and agua frescas with no sugar added.
Chinatown
Chinatown
The Las Vegas version of Chinatown is a beautifully congested collection of Asian dining, whether it's dim sum or dumplings by restaurants like ShangHai Taste, China Mama, and Hong Kong Garden, the robata-grilled meats of Aburiya Raku, Thai and wine at Lamaii, or incredible Japanese omakase menus at Kabuto, Yui Edomae, and Kame. But the diversity of flavors covers all corners of the globe, so try the modern French of Partage, Spanish tapas of EDO, street tacos of Mas Por Favor, progressive Neapolitan pizza at 00 Pie & Pub, and the eclectic wood-fired combinations at Sparrow + Wolf. Chinatown has something for everyone—except easy parking—and the food is prepared by some of the best chefs in the city.
Classic Steakhouses
Multiple Locations
Las Vegas has lots of great steakhouses, with Bazaar Meat, Jean Georges, Stripsteak, Scotch 80 Prime, Carverstreak, and Barry's Downtown Prime among the more contemporary favorites. Yet sometimes, it's more fun (and more "Vegas") to dine at a steakhouse with history and old-school charm. Golden Steer has been around 65 years and is only growing in stature with an expansion to a next-door space this year. Book a seat at Frank Sinatra's favorite booth and order a feast of wet-aged steaks and stiff cocktails. The Steak House at Circus Circus is like an old hunting lodge with a dry-aging room and open-flame mesquite grill in the center of the dining room. The restaurant just introduced a new hanging Tomahawk with torched butter running down the cut and dripping into a side of potatoes for extra flavor. Beyond the Strip, there's Hugo's Cellar (where every lady receives a rose, making it one of the most romantic spots in town) and Bob Taylor's Ranch House, once a private home in the 1950s that threw wild parties in the Northwest Valley during a time when there was just desert and little else around it.
Downtown Arts District
Downtown
A small pocket of Downtown known for second-hand shops and art galleries is now one of the fastest-growing neighborhoods for dining and drinks in Las Vegas—without a major corporate chain in sight. James Trees' Esther's Kitchen helped raise the profile of the Downtown Arts District with seasonally driven, farm-fresh Italian and is getting ready to expand to a larger space next door around the end of the year. You'll also want to try the steaks at Main St. Provisions, barbecue at SoulBelly, sushi at Yu-or-Mi, pizza at Good Pie, pastries and bread at 1228 Main, wine at Garagiste and cocktails at Velveteen Rabbit. There's even Bjork, a caviar bar for sit-down tastings. The Arts District overlaps with Brewery Row, with local beer makers and taprooms on almost every corner.
The LINQ
The High Roller observation wheel is one of the best ways to soak in the scenery of Las Vegas, with large standing-room cabins that reach 550 feet in the air while taking a good 30 to 40 minutes for a full rotation. Don't spend all that time without a drink in your hand. Guests are welcome to book a private bartender and open bar in advance with special Happy Half Hour tickets, which begin at $60.
Multiple Locations
Lip Smacking Foodie Tours knows how to do culinary crawls the right way. The company teams up with top restaurants to offer the dishes and drinks you really want to try—all at one price without a wait for tables. Guided tours include the Venetian/Wynn (Afternoon Culinary Adventures), Aria/Park MGM (Savors of the Strip), Downtown (Fremont East or the Arts District), and an indulgent Ultimate Steakhouse Tour at properties on the Strip. Along the way, you'll see a few sights and receive some info and fun facts about each destination. You can even include a helicopter tour to cap off a meal. The company also operates Finger Licking Foodie Tours with more casual, self-guided excursions at Tivoli Village, Green Valley Ranch, Chinatown, and other locations. Keep your eyes peeled for sporadic, special-event tours that focus on one style of food, such as BBQ restaurants or pizza joints.
Things to Do Outdoors in Las Vegas
The Fremont Street Experience remains an always fun and sometimes weird Downtown tourist destination, combining bright neon lights and iconic imagery (like the Vegas Vic smoking cowboy marquee) with popular attractions like the Slotzilla zipline and overhead high-def Viva Vision video canopy. At some point, grab a beer at Hennessey's Tavern, play the only Sigma Derby horse racing game at The D casino, and sit down for dinner at Vic & Anthony's. Step inside Circa, the largest resort in Downtown Vegas (if you're 21 or older—no kids allowed), and check out the world's largest sportsbook, Barry's Downtown Prime steakhouse, or The Legacy Club, a rooftop lounge with views of both the Strip and Downtown. Drink your way down Fremont Street (and check out live music on multiple stages) with the Royal Crawl, an app that guides participants to six different bars at three different casinos with beer, wine, or a cocktail included at each stop.
Bellagio
The Bellagio fountains are one of the most iconic sights in Las Vegas, and once the F1 grandstands are taken down, we'll be able to enjoy the spectacle in its full glory once again. More than a thousand nozzles shoot water up to 460 feet in the air in a fascinating display of light and sound. Shows occur every half hour (or every 15 minutes at night). Walk over to the resort lobby and check out another free attraction, the Bellagio Conservatory & Botanical Gardens, with a seasonal autumn exhibit through November 26 and a winter holiday exhibit from December 2 to January 7.
Mt. Charleston
It's been a rough year for Mt. Charleston, with rain from Hurricane Hilary causing extensive damage throughout Clark County's tallest peak. Fortunately, Lee Canyon Road is back open, allowing the Lee Canyon Ski & Snowboard Resort to open on schedule for the winter season in early- to mid-December. New this year: a Ponderosa quad chairlift on the mountain's southeast side with easier access to three intermediate runs, expanded parking and a conveyor lift for the Rabbit Peak bunny hill, and the Power Pass, which also offers access to Utah's Brian Head and the Arizona Snowbowl, two ski resorts within driving distance from Las Vegas.
Nye County
The place formerly known as the Nevada Test Site isn't your ordinary tourist spot. It's a fully operational military base north of Las Vegas that unleashed nearly a thousand atomic bomb tests in the desert between 1951 and 1992 and still conducts plenty of secretive stuff with the latest drones and weapons. Tours are only available once a month (and get snatched up quickly) but are a fascinating look at Nevada's role in Cold War history. The all-day bus tour includes stops at abandoned equipment; houses, bridges, and bunkers built to see how they'd hold up to a nuclear blast; and a surprising number of craters from underground tests, including the largest manufactured crater in the United States. If you have trouble booking online, become a member of the Atomic Museum and get a shot at signing up for a less competitive VIP tour.
Downtown
There are lots of weird museums in Las Vegas, but the Neon Museum is the only one that's almost entirely outdoors. Roam the grounds of the Neon Boneyard and North Gallery for a look into Vegas history with preserved and restored signs and marquees from Vegas casinos, resorts, and other businesses. Come at night for Brilliant!, a sound and projection mapping show that appears to bring featured items in the collection back to life.
Moapa Valley
When it comes to hiking and rock climbing in Las Vegas, there's usually one problem: it's too damn hot. So take advantage of the mild fall and winter temperatures to thoroughly explore Valley of Fire, a state park famous for its dramatic red, white, and pink sandstone rock formations. You'll see the Mars-like terrain of Rainbow Vista, ancient petroglyphs at Mouse's Tank, and a leftover Western movie set near White Domes.
Art and Culture Events in Las Vegas
Off the Strip
What a long, strange trip it's been. AREA15 debuted in 2020 as a beautifully bizarre warehouse of art installations and attractions, anchored by Meow Wolf's Omega Mart, best described as a grocery store on acid with a company tour of the fictional corporation behind it. Over three years, AREA15 has grown beyond its initial space to include Illuminarium (where outer space and African safaris come to life with video-projection walls and 4D effects), the Lost Spirits Distillery and its bucket-list dinner experience, and the Liftoff cocktail lounge, which elevates guests 130 feet in the air for 365-degree Vegas views. AREA15 is only getting bigger in the new year with a 20-acre expansion that includes a year-round horror-themed attraction by Universal Studios.
Downtown
The Beverly Theater is a mixed-use space for independent film, music, and other art-focused events. The main attraction is a high-tech 146-seat theater that's fully sound-insulated and adaptable for multiple purposes with retractable seats and a 360-square-foot screen that can adjust for fun stuff like specialty aspect ratios. Movies are usually just $10, ranging from the latest independent films to cult-classic favorites. Picks are often seasonal. (October, for example, saw classic horror films all month long leading up to Halloween.) Hang out in the courtyard or enjoy live open-air jazz on the upstairs terrace. The Beverly Theater operates as a nonprofit under the Rogers Foundation and is a companion piece to the neighboring Writer's Block bookstore.
The Strip
FlyOver Las Vegas takes customers on simulated hang-glide rides over the Wild West, Iceland, and the Canadian Rockies. High-def images come to life on towering big screens, capitalizing on motion, sound, wind, and scent for an indulgent multi-sensory experience. The attraction was created by the same engineering team behind Soarin' at Walt Disney parks and is a dramatic improvement on the concept with enhanced effects and a smoother, expanded axis of mobility in the seats. In a newly introduced deal, fans attending Vegas Golden Knights home games at T-Mobile Arena can park for free at FlyOver with a purchase of at least one flight ride.
The Strip
Yes, the Sphere. Of course, the Sphere. It's always great when new attractions over-promise and then over-deliver in Las Vegas. The Sphere completely changed the game for entertainment in Las Vegas after making its debut this year, whether viewing Darren Aronofsky's Postcard from Earth (with discounts for late-night screenings) or rocking out to U2, who recently added new dates for their residency in 2024. The Irish rock band is still in top form, basing much of the setlist around their 1991 album Achtung Baby with a rousing greatest-hits encore and series of immersive 16K worlds on a massive wraparound backdrop. Even if you can't afford to go inside, the venue's 580,000-square-foot digital exosphere is a show all by itself.
The Strip
Yeah, Wayne Newton has a special place in our hearts, but the Golden Knights are the most endearing hometown "residency" for locals in Las Vegas. Unlike the Raiders, the A's knocking on our door, or even the Aces, the Knights were born and bred here, giving the community a special sense of pride that couldn't come at a better time. There's nothing like the atmosphere of a home game at the T-Mobile Arena, with the new season already off to a great start for the defending Stanley Cup champions.
Rob Kachelriess
is a full-time freelance writer who covers travel, dining, entertainment, and other fun stuff for Thrillist. He's based in Las Vegas but enjoys exploring destinations throughout the world, especially in the Southwest United States. Otherwise, he's happy to hang out at home with his wife Mary and their family of doggies. Follow him on Twitter
@rkachelriess
.