Everything Fun You Can Do in ‌Las‌ ‌Vegas‌ This Weekend
A new Italian restaurant, Oktoberfest at the Orleans, haunted houses, wine events, and more this weekend.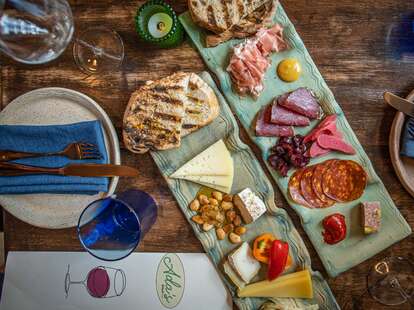 This weekend is loaded with lots of fun events, but take a moment to remember and honor those no longer with us. Saturday marks five years since a deadly mass shooting took place on the Las Vegas Strip at the Harvest 91 country music festival. Survivor and executive producer Ashley Hoff is paying tribute to the victims with this week's release of 11 Minutes, a four-part docu-series on the tragedy that's now streaming on Paramount+, focusing on the stories of those directly affected. There is also a new retrospective exhibit, "5 Years Later: Remembering 1 October & Becoming Vegas Stronger," on display at the Clark County Museum. Find time to pay a visit in between the other events and activities taking place this week. We're all part of a better community as we continue to find strength and inspiration in each other while moving forward. On that note, we also encourage you to donate to Puerto Rico as they recover from devastating floods and other damage as a result of Hurricane Fiona.
Thursday, September 29-Sunday, October 2
The Orleans
The season is here to drink beer. The first-ever Seven Oh Brew Oktoberfest runs four straight days at the Orleans Arena Festival Grounds. The event celebrates German culture with authentic dishes by chef Dennis Hicks, featuring brats, schnitzel, and strudel, as well as a lineup of food trucks. But you're really here for the beer, especially the festival's signature Seven Oh Brew by local favorites Tenaya Creek. Bars will serve wine, whiskey, and Jägermeister as well. Have a sip and check out the carnival rides, German market, live entertainment, and activities, including stein hoisting competitions and a keg-pushing relay race.
Cost: Tickets begin at $12 in advance and $15 at the door.
Thursday, September 29-Sunday, October 2
West Valley
It isn't too soon to start thinking about Halloween. A pair of attractions by Las Vegas Haunts returns to the parking lot of Meadows Mall to put a fright into your weekend. If you dare, step inside the Asylum and Hotel Fear, which share an intertwined storyline. The attractions have been a seasonal favorite for 24 years in Las Vegas. A portion of ticket sales benefit the Paradise Ranch Foundation.
Cost: Opening weekend has the lowest prices of the year, beginning at $20 for access to both attractions.
See a concert this weekend
Thursday, September 29–Sunday, October 2
Multiple Locations
Music festival season continues in Las Vegas with Lost in Dreams, an electronic dance music party Friday and Saturday at the Downtown Las Vegas Events Center. Demi Lovato (at the Venetian) and original yacht-rocker Christopher Cross (at the Pearl) perform Friday night, while Roger Waters brings Pink Floyd classics to the T-Mobile Arena Saturday (hopefully avoiding discussion of Russia and Ukraine). The same night, you can catch St. Vincent at the Pearl, guitarist Steve Vai at the House of Blues, and Jeffrey Osborne at the Orleans. Aerosmith wraps up their latest run of shows at the Park MGM (Thursday, Sunday, and Wednesday) before returning in November.
Cost: Tickets begin at $64.95 for Lost in Dreams, $82 for Demi Lovato, $32 for Christopher Cross, $41 for St. Vincent, $55 for Roger Waters, $35 for Steve Vai, $49.95 for Jeffrey Osborne, and $75 for Aerosmith.
Thursday, September 29–Sunday, October 2
Paris Las Vegas
It's the first official weekend of Bat Out of Hell-The Musical at the Paris casino. The stage production, initially a hit in London's West End, features the music of Meat Loaf and Jim Steinman, whose creative partnership produced the mega-selling Bat Out of Hell album series. Hear anthems like "You Took the Words Right Out of My Mouth" and "Paradise by the Dashboard Light" performed by a tight rock band and 26-member ensemble. Travis Cormier, a finalist on the Canadian version of The Voice, plays the lead role of Strat.
Cost: Tickets begin at $49.
Friday, September 30
Downtown
The Vegas Test Kitchen presents "Glou-Glou:: 10 Wines, 2 Hours, Thirty-Five Bucks." The name says it all. The price of admission covers 10 pours of carefully selected low-intervention wines between 5 and 7 pm. Food will be available from Vegas Test Kitchen regulars for an additional charge, with live music in the alley next door.
Cost: Tickets $35.
Friday, September 30–Saturday, October 1
Resorts World
There's a new headliner in Vegas. David Blaine performs the first two shows of his Resorts World residency. The magician is known for headline-generating stunts that test the limits of human will, while mixing in mind-bending illusions that are bound to impress—even in Vegas, a town already full of magic shows. Performances begin at 9 pm both nights.
Cost: Tickets start at $59.
Saturday, October 1
The Strip
The Sugar Factory American Brasserie on Harmon Corner is debuting two new milkshakes, available throughout October. The E.T. Insane Milkshake pays tribute to the 40th anniversary of E.T. The Extra-Terrestrial with an indulgent blend of cookies and cream ice cream and Reese's Pieces in a blue chocolate mug with candied stars and planets, topped with whipped cream, Reese's peanut butter cups, sprinkles, rock candy, and an ice cream bar. The Think Pink Insane Milkshake blends strawberry ice cream with vanilla soft serve in a light pink ganache-dipped mug, topped with whipped cream, pink pearls, a candy necklace, and whirly pop. The whole thing is laced with a Hubba Bubba tape ribbon and a portion of sales will be donated to breast cancer research.
Cost: Each milkshake is $21.
Saturday, October 1-Sunday, October 2
Resorts World
Star athletes throw the biggest parties in Vegas, and that's especially true this weekend. Rob Gronkowski is hosting a "Gronk Family Reunion" with events throughout Resorts World, including brunch at Fuhu on Saturday, Tiesto at Zouk Nightclub on Saturday night, and a game-day viewing party at Redtail on Sunday with "Gronk Trivia" prizes between quarters. No surprise—Gronk merchandise will be on sale outside Redtail throughout the weekend.
Cost: Prices vary. Book reservations online.
Sunday, October 2
Summerlin
La Neta Cocina y Lounge at Downtown Summerlin is throwing a "Basic B*#ch Brunch" with guests encouraged to wear Lulu leggings, UGG footwear, and flannel—because you never want to get too fancy while wolfing down Pumpkin Spice Pancakes, Cookie Butter Cakes, and brown sugar espresso martinis. Brunch runs 11 am to 3 pm. Book a reservation online.
Cost: Prices vary. Bottomless mimosas are $25.
Sunday, October 2
Tivoli Village
"Somm Sundays" returns to Ada's Wine Bar, one of the best places to enjoy a sip of vino in Vegas. Guest sommelier Jeffrey Bencus of Picasso (a restaurant with an acclaimed wine program) will offer carefully chosen selections, designed to complement dishes by Chef de Cuisine Jackson Stamper. Bencus will be available at each table to discuss each wine. The best thing you can do: order them all as a flight and take your favorite bottle home at a 25% discount. Somm Sunday runs 3-6 pm.
Cost: Prices vary.
Wednesday, October 5-Thursday, October 6
The Strip
The one thing Vegas doesn't have right now is a professional basketball team, but we can borrow somebody else's for a couple days. The Los Angeles Lakers come to the T-Mobile Arena—call it a residency—to play the Phoenix Suns October 5 and the Minnesota Timberwolves October 6. LeBron James says he wants to own a Vegas team one day. Maybe he'll get a feel for the place. Both games begin at 7 pm.
Cost: Tickets begin at $34.
Rob Kachelriess has been writing about Las Vegas in Thrillist for more than eight years. In addition, his work has appeared in
Travel + Leisure, Leafly, Supercall, Modern Luxury, and
Luxury Estates International's seasonal publication. Follow him on Twitter @rkachelriess.