Thrillist Weekend Guides
Presented By
10 Actually Fun Things to Do in ‌Las‌ ‌Vegas‌ ‌This‌ ‌Weekend‌
‌‌An 80s brunch, a free rock show, and a Strip lounge closes its doors.
Presented By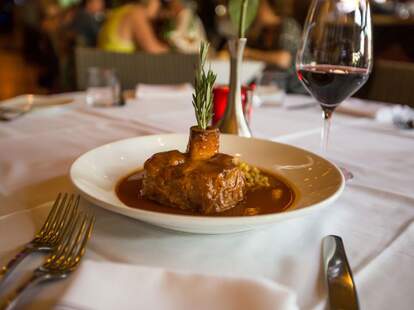 Not vaccinated? Don't come to Vegas. We don't want you here. Might sound harsh, but this city has been through too much over the past year to let things fall apart again because a few entitled tourists think they're above getting a vaccine before traveling. Are things as bad as they were at the depths of the pandemic? No. But after making much-needed progress the past few months, we're heading back in the wrong direction. However "bad" you think the vaccine is, it's nowhere near as bad as coming down with COVID-19, especially the Delta variant. So if you're jabbed… great! Have fun with all the cool stuff to do this weekend, including a classic hotel's anniversary party, the grand opening of a new donut shop, an exotic wine tasting, and more. If you haven't been vaccinated yet, sorry (not sorry), but please stay home.
Thursday, July 22–Saturday, July 24
Chinatown
The Sand Dollar Lounge is celebrating 46 years in Las Vegas (and six under the current ownership) with three nights of live music, including the Jimmy Carpenter Band on Thursday, Chris Tofield with the Moanin' Blacksnakes on Friday, and Carlos Guerro on Saturday. On Friday, the bar will also officially re-dedicate the stage in honor of the late Art Groom, who played organ for the Moanin' Blacksnakes. This weekend is a great opportunity to try the Sand Dollar's cocktails and pizza—and look ahead to a recently announced second location, set to open at the Plaza near Fremont Street this fall.
Cost: Free admission.
Friday, July 23
Centennial Hills
A donut isn't just a donut anymore. After making a splash in Florida, Yonutz arrives in Las Vegas with a grand opening celebration for its new location in Northwest Las Vegas. Doors open at 10 am and the first 50 people in line will receive a free SMASH donut (a decadent dessert in which ice cream makes an appearance). Guests also have the chance to clobber a pinata and win free SMASH Donuts for a year. Yonutz was featured on Shark Tank and is a two-time winner of the Dessert Wars festival. So come by and see what the fuss is all about.
Cost: Prices vary
Friday, July 23
Off the Strip
The Stirling Club hosts a party to celebrate the opening ceremony of the Olympics at 6 pm. Get into the spirit of competition with tug-of-war, jumbo-sized beer pong, and other lawn games. Tickets include a free beer. Continue to stay up to date with the Summer Games the next few weeks at the best places in Las Vegas for watching the Olympics.
Cost: Tickets for non-members are $25.
Friday, July 23
Harrah's
Here's yet another sign that entertainment is back in Las Vegas. Tape Face is moving his Strip residency from Harrah's Showroom to the larger Harrah's Cabaret. Performances begin at 6 pm. Tape Face, the alter ego of New Zealand comic Sam Wills, reached the finals of America's Got Talent back in 2016 with an act that mixes quirky mime routines with music and special effects.
Cost: Tickets begin at $39.
Friday, July 23
Downtown
If you're old enough to remember that Dokken came up with the theme song for A Nightmare on Elm Street 3, you're old enough to care about the on-stage reunion of Don Dokken and estranged guitar hero George Lynch. The two are back together for a free show at the Fremont Street Experience at 9 pm on the 3rd Street stage. It's the latest performance for the Downtown Rocks concert series—one of the big music events in Las Vegas this year.
Cost: Free
Friday, July 23
Downtown Arts District
The Garden, one of the top gay bars in Las Vegas, is holding a red carpet celebration for Kataluna Enriquez, who's not only the newly crowned Miss Nevada, but also the first transgender pageant winner in Miss USA competition history. The event gets underway at 9 pm with champagne toasts, drag performances, and other fun all night long. Alexis Mateo of Rupaul's Drag Race is also expected to make an appearance.
Cost: Free admission
Saturday, July 24
Off the Strip
The latest "Taste & Learn'' wine pairing dinner at Ferraro's combines the food of Chef Mimmo Ferraro with selections from Azelia, a boutique vineyard dating back more than a century in Italy's Langhe of Barolo. Dolcetto, Barbera, and Nebbiolo wines will be featured alongside seared scallop risotto, ricotta flan with black truffle, nduja rigatoni, and other dishes. The dinner begins at 6 pm.
Cost: $90 (all-inclusive) per person.
Saturday, July 24
Summerlin
Who's better at softball? Hockey players or football players? Time to find out. The Las Vegas Ballpark hosts the "Battle for Vegas," a charity softball game that pits current and former members of the Golden Knights against current and former members of the Raiders. The first pitch is 7:30 pm, following a celebrity Home Run Derby at 6:30 pm.
Cost: Tickets begin at $40.
Sunday, July 25
Spring Valley
Travel back in time to an 80's Brunch at DW Bistro with reservations beginning at 10 am. The event features the spicy, bold flavors of the restaurant's regular brunch menu plus Aperol Spritz cocktails and a costume contest. So dig out your leg warmers and skinny ties. While you're at it, mark your calendar for DW Bistro's 90s Brunch on August 29.
Cost: Prices vary
Sunday, July 25
The Mirage
After a long run of 12 years, it's the last day of operation for Rhumbar. The lounge didn't change much over the course of its run, mixing Latin-inspired cocktails with stogies and Strip views on a large outdoor patio. So come by for one last weekend to puff on cigars and sip on Mojitos.
Cost: Prices vary.
Rob Kachelriess has been writing about Las Vegas in Thrillist for more than five years. In addition, his work has appeared in
Travel + Leisure, Leafly, Supercall, Modern Luxury, and
Luxury Estates International's seasonal publication. Follow him on Twitter @rkachelriess.