Quick question: Why is MGM Resorts bragging about matching a million-dollar check from Bruno Mars for its own employee fund when its CEO just quit the company with a $32 million parting gift? Hopefully, there's an answer out there somewhere that's good for the soul. At least MGM Resorts joined Wynn, Sands, Caesars Entertainment, and others to donate thousands of supplies (including much-needed items for healthcare workers) throughout Las Vegas in recent days.
This past week also saw the Strip shine a bit brighter with a few adjustments to the skyline, including red, white, and blue lighting on the High Roller observation wheel, a nightly 8pm twinkling light show at the Eiffel Tower, a show of unity with Italy by the Venetian, and even a few illuminated messages of hope here and there. Vegas isn't going to roll over for COVID-19 quietly, so continue to stay inside, practice social isolation, and keep the following activities in mind while trying to avoid the stir-craziness of it all.
Get a virtual library card
A few days ago, we suggested using your library card to sign up for Libby, an app that gives away tons of free reading material, as one of 21 things to do while social distancing. Well, the Las Vegas-Clark County Library District wants you to also know that locals can register online for a temporary digital eCard, effective from now until at least June 30. Use it to access anything in the library system's own digital archives, including ebooks, audio books, magazines, and music. Better yet -- read comics, watch movies, or learn a new language with Rosetta Stone. You might actually emerge from this quarantine a smarter, better version of yourself. 
Experience the magic of Las Vegas
With Las Vegas shows on hiatus, a few magicians are going online to entertain the rest of us stuck at home. Matt Franco is doing a scaled-down version of his show at The LINQ with a new series of videos on Facebook Live. If that's not enough, in the inaugural edition of the "Vegas at Home" YouTube series by Greenspun Media Group, Jen Kramer, who has a show at the Westgate, performed a few tricks from the refuge of her living room. 
Continue to support local restaurants
One of the best things you can do right now for the community is support our local dining spots. The remaining delivery restaurants in town were given a major shot in the arm in recent days, when the City of Las Vegas, Henderson, and Clark County approved the temporary sale of booze with takeaway food orders. However, new closures continue by the day, so always check with restaurants directly for the latest on available services. 
If you need a few more suggestions, try ordering a meal from Market Grille Cafe, a wonderful family-owned restaurant in the northwest valley that mixes Italian and Mediterranean cuisine on the same menu. Another locals favorite, Rachel's Kitchen, has an easy online ordering system for five of its locations. Make sure to add the $25 Farm Box -- a fresh selection of fruits and vegetables to last a few days. Mint Indian Bistro is now serving wine and beer to go, and giving a 10% discount with the code LUVMINT when ordering online. Gabi Cafe in Chinatown just launched delivery with Uber Eats to sell coffee and bakery items, although customers get a 20% discount when picking up curbside. Honey Salt is introducing a $130 Passover dinner to go April 8-16 with matzo ball soup, potato kugel, and other dishes. Evel Pie is returning in pop-up form on April 4, temporarily running out of Ada's in Tivoli Village Tuesdays-Saturdays 4-8pm with a limited menu, beer, and wine for pickup or by Postmates delivery. Ready to drink? Nacho Daddy has "margarita survival kits" for $30 and $60. For those in Henderson, the historic Water Street District has a full list of restaurants offering services.
Order (and share) fresh New York-style bagels
Here's a fun way to shake up the morning routine. One of our favorite new restaurants of 2019, Valencian Gold (which closed for renovations before the words "Vegas Shutdown" became a thing) is using the downtime to shift away from its signature paella and bake fresh New York-style bagels daily. They're available in plain, everything, sesame, and egg from 9am to 2pm or until the bagels run out. Each one is $2.50, and spreads like Amish butter or scallion cream cheese are a dollar extra. Call 702-776-7707 or email the restaurant to place an order. Pay the flavors forward by ordering a dozen bagels with two spreads for $26 to be donated to first responders the following day.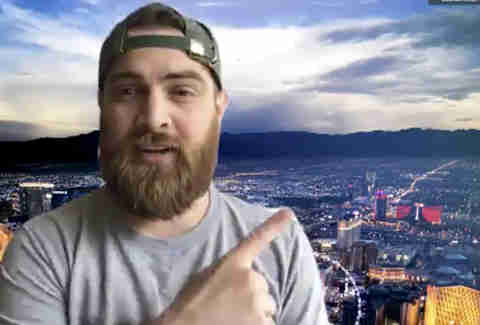 Add some Vegas attitude to your Zoom meeting
Since working at home is the thing to do these days, chances are you're using Zoom to virtually attend those same old pointless, redundant meetings. The Las Vegas Convention & Visitors Authority now has official photos and videos to add to your Zoom backgrounds. Just download the Bellagio fountains, Fremont Street Experience, or another slice of Sin City scenery to jazz up your online image while discussing the latest spreadsheets. 
Learn how to code from home
If the kids are driving you crazy during the quarantine, sit them down in front of the computer and let Amazon teach 'em how to code. The online retailer is offering a couple free classes through its Amazon Future Engineer program. A virtual robotics course utilizes block-based or text-based coding. Meanwhile, EarSketch shows you how to code while remixing songs by artists like Common and Ciara. All you have to do is sign up online.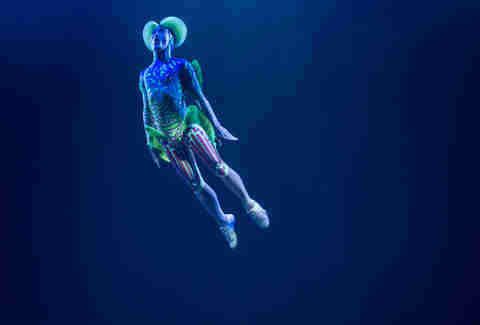 Take an online deep dive into the world of Cirque du Soleil
Not counting R.U.N. (which was cancelled right before the Vegas shutdown), six Cirque du Soleil shows are currently on hold in Las Vegas. Feed your withdrawals with CirqueConnect, a new digital hub with all kinds of content by the Montreal production company. Watch a 60-minute special with classic performances, take behind-the-scenes tours, and rock out to a Spotify playlist full of Cirque music. There's even CirqueFit, a video series for getting in shape like a Cirque performer. You'll be showing off those post-quarantine abs in no time. 
Talk it out with free therapy sessions
Trying to navigate your way through a global pandemic can come with its share of stress and anxiety. United Citizens Foundation, a nonprofit dedicated to emotional and mental wellbeing, is offering therapy sessions with no out-of-pocket costs to Nevadans during the COVID-19 crisis. There are two locations reserved for appointments in Las Vegas, but we recommend sticking to a TeleHealth video conference to keep your social distance. Call 702-888-6300 to schedule a session.     
Host a dance party in your living room
After the weekend wraps up, have some fun with a mid-week dance party in your own home. On the Record, one of the top nightclubs in Vegas, now has a virtual version of its Industry Night parties. Tune in to the Park MGM's Instagram account every Wednesday at 7pm for three straight hours of electronic dance music by DJs representing different venues at the resort. Use the hashtag #VegasFromHome to engage with others watching the performances -- but we think you'd probably rather dance than type. 
Sign up here for our daily Vegas email and be the first to get all the food/drink/fun in town.