Everything You Can Do in Las Vegas This Weekend
Enter the mysterious AREA15.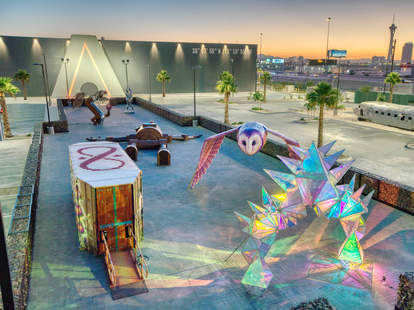 This week, Vegas goes from being a hockey town to a football town. The Golden Knights were eliminated from the NHL playoffs, leaving us to cheer for the Raiders from behind the safety of our TV screens. After winning their first game of the NFL season, the Raiders take the field Monday for their official debut at the brand-new Allegiant Stadium. The seats will be empty, but you can catch the action on Monday Night Football. It's a great way to wrap up a busy weekend -- especially with The Killers performing the halftime show from the roof of Caesars Palace. Just get all of this other stuff out of the way first. 
Friday, September 18
Off the Strip
After a long wait, AREA15 celebrates its first weekend open to the public. The art, dining, retail, and entertainment space is definitely a spectacle. Attractions include the Birdly flight simulator, Haley's Comet (which is kinda like zip-lining under a roller coaster track), Art Island, and the colorful Oddwood bar with more to come over the next few months. The biggest draw at AREA15 will likely be the new interactive Meow Wolf art installation, scheduled to open next year. 
Cost: Prices vary per experience, but admission is free with an online reservation
Friday, September 18
Desert Shores   
As the COVID-19 pandemic continues, Rooster Boy Cafe remains open for phone orders and contactless pickup. It's the final day to pick out some bites from a special Rosh Hashanah menu that includes matzo ball soup, slow-roasted beef brisket, and sweet and savory takes on kugel. The dishes are designed to be enjoyed family-style. Pickup is available through Saturday. 
Cost: $16-130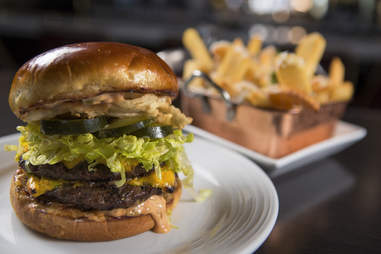 Oscar's Steakhouse
Sink your teeth into juicy cheeseburger deals
Friday, September 18
Multiple locations
Check out these deals around town for National Cheeseburger Day. Oscar's Steakhouse has a black angus burger for $14 (a big discount from the regular $21) in the lounge 5pm-close. Black Tap has a virtual spin-to-win contest with a grand prize of free burgers for a year. Slater's 50/50 is giving guests the option to upgrade to a "Juicy Lucy" cheese-stuffed patty when ordering the Best Damn Bacon Cheeseburger. And all Las Vegas Farmer Boys locations are serving Big Cheese burgers for $2 each from 2-5pm.
Cost: Prices vary   
Friday, September 18 - Sunday, September 20
Henderson
After something of a quiet soft opening last week, the brand-new Biscuits and Bourbon is moving full speed ahead with regular hours 3-9pm every Wednesday-Sunday. The restaurant, next to Mojave Brewing in a renovated Bank of America building, is the latest example of the Water Street district's ongoing revitalization. The beef brisket, Old Fashioned cocktail on tap, and biscuits with butter and jam flights are already earning rave reviews. 
Cost: Prices vary
Saturday, September 19
Online
How hard can you rock out in front of your laptop? CraftHaus Brewery is celebrating its 6th anniversary with a "Rock the Haus" party -- entirely online. It includes music from the Dirty Hooks and a beer tasting guided by CraftHaus brewers. Just order your beer and pick up the package in advance from one of two taprooms in either Henderson or the Downtown Arts District. A pint glass and bandana is included. Upgrade and add on a trio of spent grain pretzel rolls with beer cheese. 
Cost: Packages begin at $30
Carson Kitchen
Sunday, September 20
Downtown
One of our favorite restaurants in Las Vegas is introducing a new Sunday brunch. Stop by Carson Kitchen between 11am-4pm for a fresh, inventive lineup of dishes like Oatmeal Brulee, Spam Benedict, Oxtail Hash, and Sopaipilla French Toast. Ask about the new cocktails, including a Bloody Mary made with bacon jam vodka. 
Cost: New brunch dishes are $10-15, cocktails are $12 
Sign up here for our daily Vegas email and be the first to get all the food/drink/fun in town.
FYI: We've also got you covered with comprehensive guides to NYC, LA, SF, Miami, DC, Austin, Boston, Denver, Dallas, Atlanta, Phoenix, and San Diego -- just in case you're ever out of town.
Rob Kachelriess has been writing about Las Vegas in Thrillist for more than five years. In addition, his work has appeared in
Travel + Leisure, Leafly, Supercall, Modern Luxury, and
Luxury Estates International's seasonal publication. Follow him on Twitter @rkachelriess.