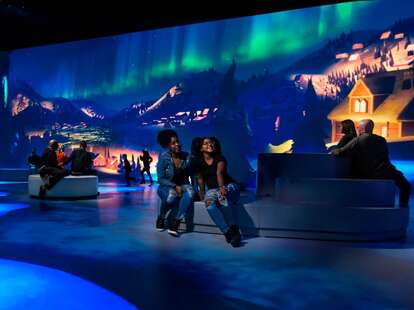 Photo courtesy of Illuminarium Las Vegas
Photo courtesy of Illuminarium Las Vegas
December is here and most of the fun surrounds the winter holiday season with festive events happening all over Las Vegas. Make sure to spread the cheer at Glittering Lights at the Las Vegas Motor Speedway, the Magical Forest at Opportunity Village, Enchant at the Las Vegas Ballpark, and the Ice Rink at the Cosmopolitan. Adults will tuck the little ones in bed and enjoy boozy holiday pop-ups like Bad Elf at the Silverton, Miracle on Spring Mountain at the Sand Dollar Lounge, and Sippin' Santa on Main at the Sand Dollar Downtown.
More than ever, Las Vegas is a thriving sports town. We're celebrating the Aces, who just became champions of the WNBA for the second year in a row and cheering on the Vegas Golden Knights (the defending Stanley Cup champions) and the Las Vegas Raiders, who are in a restructuring phase with a new temporary coach and fill-in quarterback. At least we don't have the chaos of Formula 1 to worry about for another year.
As 2023 winds down, we're saying goodbye to "Streetmosphere" performers at the Grand Canal Shoppes (wrapping up December 6) and OPM, a saucy variety show, with final performances December 31 inside the Cosmopolitan.
In case you didn't notice, that's New Year's Eve, one of the biggest party nights of the year in Las Vegas. Ring in 2024 as fireworks erupt from the rooftops of seven Strip resorts. You can also catch New Year's Eve concerts by the likes of Post Malone at the all-new Fontainebleau, Bruno Mars at Park MGM, Kelly Clarkson at Planet Hollywood, Christina Aguilera at the Venetian, and Demi Lovato at the Cosmopolitan.
It's also a great time to check out awesome new restaurants, including recent openings like Luchini for Italian at the MGM Grand, Leoncito for Mexican at the Red Rock Resort, Winnie & Ethel's diner in the historic Huntridge neighborhood, the flavors of the French Riviera at LPM at the Cosmopolitan, Roy Ellamar's Fine Company (which just introduced a dinner menu to complement farm-fresh breakfast and lunch options) at Downtown Summerlin, and Lady M for sweet treats at Resorts World, which also welcomes a redesigned winter-friendly enclosed patio at Carversteak.
It's been a momentous year for Las Vegas with new attractions like the Sphere and Arte Museum to keep things interesting. Continue to enjoy all the fun stuff happening throughout Vegas, from shows and slot machines to weird museums and even a few free things to do, and use the following itinerary as a guide to a busy December in Las Vegas.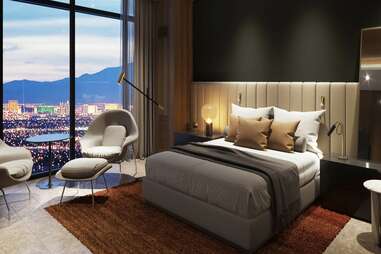 Where to Visit New Hotels in Las Vegas
December 5
Southwest Valley, Prices vary
The newly built Durango resort is finally open. That means booking a room or suite, testing your luck on the casino floor, and checking out the lineup of dining options. Nicco's Prime Cuts & Fresh Fish appears to be the most formal option with dry-aged steaks and stiff martinis. Mijo is serving a modern take on Mexican food with a secret speakeasy, Wax Rabbit, for Mexican spirits and creative cocktails. The George Sportsman's Lounge is a new kind of sports bar with a refined image and elevated food options, while Summer House is promising California-fresh, seasonally driven cuisine. Eat Your Heart Out is the latest food hall in Las Vegas, featuring imports like New York's Prince Street Pizza and Los Angeles' Irv's Burgers plus new editions of local favorites like Yu-or-Mi sushi and Vesta Coffee, which has big plans for scratch-made pastries. Ai Pono Café could be the sleeper breakout hit, featuring Hawaiian street food by former Top Chef contestant and Vegas native Gene Villiatora.
December 13
The Strip, Prices vary
The Fontainebleau was originally supposed to open in 2009, but a recession hit and the resort stayed vacant for nearly 15 years. After a few ownership changes, the Fontainebleau finally opens to the public with more than 3,600 hotel rooms, a 150,000-square-foot casino, LIV Nightclub (featuring John Summit as the first resident headliner) and the 3,800-seat BleauLive Theater, debuting with a pair of performances by Post Malone on New Year's Eve weekend. The food and dining options are exceptional with three steakhouses and a welcome emphasis on Asian cuisine, including Ito for a 12-seat omakase experience. If you're looking for a stiff drink, try the Casa Dragones Tasting Room for tequila or Nowhere, a secluded speakeasy with live jazz and cocktails by Juyoung Kang, one of the best mixologists in Vegas.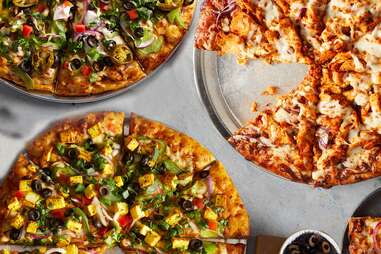 Where to Eat and Drink in Las Vegas
December 1
Industrial Corridor, Prices vary
After a management change and grand reopening about a year ago, the Hard Hat Lounge closed down, reassessed some things and underwent a thorough renovation. The iconic dive bar is now ready to give this another shot, reopening yet again with a block party running all night long from 7 pm to 4 am. There will be carnival games, raffles, and a stage for live music with owner Frank Sidoris (a touring guitarist for Slash) and a few special guests expected to perform. The Hard Hat Lounge is now home to Stay Tuned Burgers, formerly of the Vegas Test Kitchen.
December 1–31
Downtown Arts District, Prices vary
Main St. Provisions continues to be one of the most reliable places for a good dinner in the up-and-coming Downtown Arts District. Try some of the newer seasonal dishes like a juicy Steelhead Trout, served with potatoes, braised fennel, and a seafood broth that's almost like a bisque (simmered in the kitchen with lobster and shrimp shells) and a hearty risotto, prepared with pumpkin, toasted spiced pepitas, balsamic reduction, and seared sage. Wash it all down with a choice of new cocktails, including Val-Hella made with aquavit, a Scandinavian spirit with dill overtones.
December 1–January 31
Chinatown, Prices vary
Kura Sushi in Chinatown's Shanghai Plaza has a new Bikkura Pon prize collection featuring Snoopy, Charlie Brown, and other Peanuts favorites. Enjoy a meal throughout December and January at the revolving conveyor-belt sushi restaurant and receive a special prize (like a keychain or figurine) for every 15 plates ordered. Kura Sushi Rewards Members can receive a three-piece Peanuts-inspired cup set for every $70 spent at the restaurant.
December 2
University District, Prices vary
Want to make Indian food even better? Put it on top of a pizza. Curry Pizza House comes to Las Vegas for the first time with a grand opening near UNLV on Maryland Parkway. The first 200 guests who show up at noon will receive a free personal pizza with toppings like Butter Chicken, Curry Chicken Masala, Palak Paneer, and Aloo Chaat. Enter a raffle for a chance at prizes throughout the afternoon, including free pizza for a year, sports tickets, a 75-inch flatscreen TV, and more.
December 2
Downtown, $15 cocktails; other prices vary
Repeal Day, a holiday that's almost more important than Nevada Day in Las Vegas, marks 90 years since Prohibition was repealed. It actually falls on December 5, but the Underground at the Mob Museum (one of the best speakeasies in Sin City) is celebrating a few days early with a party from 8 pm to midnight. Come dressed in your best attire of the era—like flapper dresses and pinstripe suits—and enjoy light bites, live music, specialty cocktails, and the launch of a new flavored moonshine distilled on-site. Entry is free when giving the secret phrase "Dry No More" at the door.
December 13
Chinatown, $50 per person
Double Zero Pie & Pub's Michael Vakneen collaborates with fellow chef Gina Marinelli of Harlo Steakhouse and La Strega for a special one-night-only menu from 6 to 8 pm. The meal includes seafood charcuterie; a Clam Diavola pizza with dill panna, Calabrian chilis, and preserved lime; and a Nutella tart dessert. Beer from Berkley, California's Trumer Pils will also be available to buy with guests receiving a welcome brew inside a custom glass. Reservations are recommended.
Where to Enjoy Festivals in Las Vegas
December 1
Downtown Arts District, Free admission; other prices vary
The final First Friday of 2023 is diving head-first into the holiday season with a "Wrap It Up" theme. The monthly art walk and block party in the Arts District invites guests to shop for local art and goods (in and around the festival) with a gift-wrapping station 5-11 pm. As always, the event will have food trucks, a plant-based plaza, drink areas, and live art demonstrations. This month's featured artist is painter and sketch artist Steven Horlock.
December 2
Downtown, Free admission; other prices vary
The Tamales and Mariachi Festival runs 10 am to 4 pm at the Historic Fifth Street School's Centennial Plaza. Enjoy music from five different mariachi bands while wolfing down tamales made fresh on the spot. The recipes will represent a variety of regions from throughout Latin America. Activities are available for the kids. Beer is available for the adults, courtesy of the SerVehZah tap room.
December 2
Lake Mead, Free, but park entry fees apply
Holiday lights are everywhere you look—even on the water. More than 20 boats will participate in the 45th annual Parade of Lights at the Lake Mead National Recreation Area, covered in colorful lights and other holiday decorations. Each one will be on display at the Las Vegas Boat Harbor and Lake Mead Marina from 3:30 to 6:30 pm. Then, the boats will depart and travel across Boulder Basin. Watch from the marinas or Boulder Beach. Marina restaurants will have extended hours with holiday drinks and food specials.
December 2
Resorts World, $295 and up
Have a designated driver or rideshare app on standby. The Whisky Advocate is bringing WhiskyFest to Las Vegas with the opportunity to sample hundreds of brown spirits from around the world. Everything from single-malt Scotch to Tennessee bourbon will be showcased with representatives and master distillers sharing details about their respective distillery's history and production methods. You may even try a whisky from India. Each ticket includes a Glencairn crystal glass, booklet, gift bag, and admission to educational seminars (on a "first come" basis). The event begins at 6:30 pm (with one-hour early entry for VIP ticket holders) on the ballroom level of Resorts World.
Where to see Arts and Entertainment in Las Vegas
December 1–31
Off the Strip, $25 and up
Illuminarium transforms into a Winter Wonderland Spectacular at AREA15, using immersive projection mapping and other special effects to create a holiday landscape of candy canes, jingle bells, snowstorms, and even the Northern Lights. The experience includes "Spectacular Factory: The Holiday Multiverse" by ARTECHOUSE Studio, which takes visitors to Santa's gift factory and other interactive environments.
December 1–January 6
The Strip, $39 and up
Shaq's Fantasy Lab (recently renamed after enlisting Shaquille O'Neal as "Chief Fantasy Officer") enters the holiday season with "A Christmas Dream" at the Fashion Show mall. Enter a series of themed rooms with exhibits and endless photo opportunities for making your winter merry and bright. Reservations are available online.
December 3
Tropicana, Free admission; other prices vary
Spend the afternoon at the historic Tropicana resort, getting into the spirit of the season with Ribbon of Life, an annual fundraiser for Golden Rainbow's mission to assist those living with AIDS/HIV. The event brings together singers, dancers, and other Strip performers together for "Holiday Spectacular," an all-original production that gets underway in the showroom at 1 pm. Doors open at 11 am with a silent auction.
December 11
Palms, $20 and up
Mondays are when Las Vegas shows traditionally go dark, opening up a night when performers can give their time and talent to a good cause. That's the idea behind Mondays Dark, a bi-weekly variety show, featuring a rotating lineup of local singers, dancers, musicians, comedians, and actors, who've now collectively raised $1.8 million for at least 180 local charities since 2013. Mondays Dark celebrates its 10th anniversary with a big show at The Pearl inside the Palms at 8 pm, featuring a loaded lineup of special surprise guests.
December 21
The Orleans, $69.95 and up
Jersey Boys is one of the best shows to ever hit Las Vegas, mixing the soaring vocals and hit songs of Frankie Valli & the Four Seasons with a gritty Behind the Music-style story about the band's rise to the top. The previous production on the Strip covered nearly 3,000 performances and eight years, making it the longest-running Broadway show in Vegas history before closing in 2016. Jersey Boys makes a welcome return, this time at the 850-seat Orleans Showroom with preview performances running Wednesday-Sunday at 7:30 pm until the schedule expands with the official opening January 17.
Where to See Sports in Las Vegas
December 7–9
The Strip, $83 and up
As Vegas cements its status as a sports town, the one thing it doesn't have is an NBA team. Well, until that happens, we'll make do with the NBA In-Season Tournament, which whittles down to the East Semifinal and West Semifinal on December 7 at the T-Mobile Arena with the finals in the same venue just two days later. You can argue the whole thing doesn't really count, but the wins and losses factor into the regular season and offer a glimpse of who may be the team to beat heading into the NBA Finals next year.
December 7–16
Thomas & Mack Center, Free admission to Cowboy Christmas; other prices vary
The 2023 Wrangler National Finals Rodeo comes to Las Vegas for 10 days of cowboy madness. The competition gets underway at 5:45 pm at the Thomas & Mack Center each night, featuring roping, bull riding, and other events. NFR basically takes over Las Vegas with autograph sessions, parties and nightlife, and Cowboy Christmas, a shopping extravaganza inside the Las Vegas Convention Center. Check out Downtown Hoedown, a free concert on Fremont Street, featuring Eli Young Band and other country music acts on December 6.
December 16
The Strip, Prices vary
The UFC closes out another year with a loaded night of fights at the T-Mobile Arena. Welterweight champ Leon Edwards headlines UFC 296, taking on the challenge of former interim champ Colby Covington, while Alexandre Pantoja defends the flyweight championship against Brandon Royval. Things will only pick up in 2024 as the fight organization gears up for the landmark UFC 300 event, expected to take place in April.
Rob Kachelriess
is a full-time freelance writer who covers travel, dining, entertainment, and other fun stuff for Thrillist. He's based in Las Vegas but enjoys exploring destinations throughout the world, especially in the Southwest United States. Otherwise, he's happy to hang out at home with his wife Mary and their family of doggies. Follow him on Twitter
@rkachelriess
.