Photo courtesy of RPM Italian
Photo courtesy of RPM Italian
Welcome to a sudden blast of freezing cold weather. That's November in Las Vegas, a month that brings about mixed emotions. We're saying goodbye to Katy Perry's PLAY at Resorts World (with the star having the time of her life while in town) but welcoming a new residency by Kylie Minogue at Voltaire, where intimacy comes at a premium.
As the season continues, we're beginning to see the return of winter holiday events, including Glittering Lights at the Las Vegas Motor Speedway (November 9), the Magical Forest at Opportunity Village (November 24), and Enchant at the Las Vegas Ballpark (November 24). The Ice Rink at the Cosmopolitan is also promising to return this year, with dates to be announced. Adults will tuck the little ones in bed and enjoy boozy holiday pop-ups like Bad Elf at the Silverton (November 4), Miracle on Spring Mountain at the Sand Dollar Lounge (November 20), and Sippin' Santa on Main at the Sand Dollar Downtown (November 20).
More than ever, Las Vegas is a sports town beyond bets at sportsbooks and viewing parties at sports bars. We're celebrating the Aces, who just became champions of the WNBA for the second year in a row, and cheering on the Vegas Golden Knights, with the defending Stanley Cup champions already off to a great start this season. The Raiders… well, we're just happy if they can find a new coach and get Jimmy Garoppolo back on the field. However, the biggest sports news this month is the debut of the Formula 1 Grand Prix on the Las Vegas Strip, an event that brings worldwide attention and excitement but also extensive traffic and construction headaches in a months-long setup.
These are the growing pains that come as Sin City continues to evolve in 2023. It's a season to check out new resorts like Fontainebleau and The Queen, an LGBTQ-friendly boutique hotel and party spot. As always, you've got great new restaurants, hot bars (hidden or otherwise), and other fun stuff happening throughout Vegas, from shows and slot machines to weird museums and even a few free things to do. So, use the following itinerary as a guide to a busy November in Las Vegas.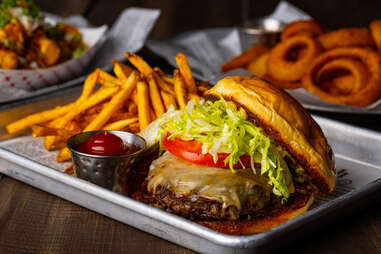 Where to Eat and Drink in Las Vegas
November 3–24
Palace Station, Free admission
Tailgate Social is hosting Latin Nights every Friday throughout November. Improve your dance skills with free salsa lessons until 10 pm, featuring live music by Puro Vicente Space to Pace. The night includes $8 specials on Casamigos Blanco tequila shots with the sports bar's full menu of food and drinks available.
November 16
Downtown, Membership begins at $80 per month
Eureka! is best known for burgers, but the restaurant has a rejuvenated Whiskey Club, featuring the likes of Buffalo Trace, WhistlePig, Four Roses Single Barrel, Frey Ranch, and more. Curated gift boxes are available for pickup on the third Thursday of each month for those who subscribe in advance.
November 17
Valleywide, $16
PT's Taverns is launching a limited-edition Holiday Hoagie in anticipation of Thanksgiving. Available exclusively at SG Bar and Sierra Gold locations, the sandwich is like a full meal stuffed between a roll with turkey, black forest ham, cornbread stuffing, provolone, and cranberry aioli combined together in a single holiday-worthy bite. Sweet potato fries come on the side. The meal is dine-in only.
November 17
Southwest, $89
Cult ice cream favorite Salt & Straw recently unveiled ice cream cakes for the first time, featuring two flavors designed in collaboration with Dwayne "the Rock" Johnson. The bad news: they sold out in just hours online. The good news: You have a second chance to pick one up in person on a first-come, first-serve basis at Salt & Straw at UnCommons. Doors open at 11 am. Choose between "Naughty" (chocolate, peanut butter, caramel, and coffee) or "Nice" (coconut, rum, banana, and peanut butter). Each cake feeds up to 20 people with a portion of sales benefitting World Central Kitchen.
November 17–8, 23–24, 30
Downtown, $55
Stone crabs are back in season. So visit Seigel's 1941 inside the historic El Cortez casino on Fremont Street Friday and Saturday nights, where a pound of Florida stone crabs are $55 with coleslaw and cottage potatoes.
Drinksgiving on Fremont Street
November 22
Downtown, Great Onesie Crawl $99, The Block $45
The night before Thanksgiving is unofficially Drinksgiving—a time when bars and restaurants are especially busy with few patrons worried about getting up early for work the next morning. The Fremont Street Experience is welcoming Shaggy for a free concert on the 3rd Street Stage at 8 pm. Those taking part in the Great Onesie Bar Crawl, which begins at 4 pm, get access to a VIP Party Pit. New this year: the Electric Vinyl DJ series on the 1st Street Stage between 6 pm and 2 am. Head across Las Vegas Boulevard to Fremont East for The Block Bar Crawl by Corner Street with drinks at Park on Fremont, La Mona Rosa, Lucky Day, Commonwealth, and We All Scream included with your wristband. If that's not enough, The Gold Spike has a "Turnt-giving" party with drink specials, DJs, and turkey bowling (yes, with real frozen turkeys) with two turkeys donated to charity for every one bowled.
Thanksgiving
November 23
Multiple Locations, prices vary
Eat, drink, sleep, repeat. That's what Thanksgiving is all about. Most of your favorite restaurants in Las Vegas, including some of the all-time greats, will have special menus for the holiday. You can't go wrong with a great steakhouse like Barry's Downtown Prime, which has butternut squash soup ($17), an organic turkey dinner with sides ($79), roasted prime rib with a black pepper popover ($89), and Red Velvet Christmas Cheesecake ($19) or a contemporary Strip destination like RPM Italian, which has a pick-your-own three-course dinner (featuring turkey breast, ribeye, branzino, and eggplant parm among your main entree options for $98 per person). If great BBQ is more your speed, Bruce Kalman has two take-home feasts: one from his original SoulBelly in the Arts District ($140 for 2-4 people, $210 for 4-6 people, $360 for 8-10 people, order required by noon November 18) and another at the Sundry at UnCommons ($210, 4-6 people, orders required by noon November 20) with pickup November 22 at both locations.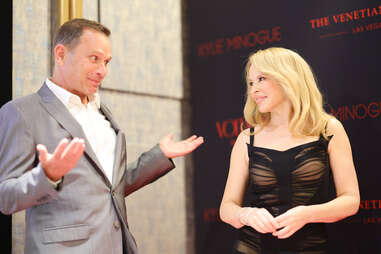 Where to see Arts and Entertainment in Las Vegas
November 3–18
Venetian, Prices vary
Voltaire is reinventing the classic Las Vegas showroom, bringing some of the biggest entertainers in the world to a venue of just 1,000 seats at the Venetian. The layout combines a standing-room general admission area with private tables that included minimum spending requirements. Kylie Minogue kicks things off with the first four shows of a 16-date residency (plus a Formula 1 Amber Lounge after-party on Nov. 16). Tickets to see the international megastar sold out quickly, but some travel packages remain available. Nile Rodgers & Chic perform November 16-17 and Christina Aguilera kicks off a residency of her own New Year's Eve weekend.
November 16
Downtown/Online, Free
This month marks 60 years since President Kennedy was assassinated, and it's about time we figured out the real story behind that fateful date in Dallas. The Mob Museum is hosting an online panel of six experts to dive deep into the topic with discussions about Lee Harvey Oswald (who some believe assassinated Kennedy), Jack Ruby (who definitely assassinated Oswald), and others involved in the historic moment, including secret service members and hospital workers who have varying accounts about what happened to the president.
November 22
Excalibur, Tickets begin at $51. 86
In a sign that winter is nearly upon us, Tournament of Kings transforms into "'Twas the Knight," a holiday-themed edition of the long-running dinner and show at the Excalibur. As always, you'll cheer on knights who joust, fight, swing chains, and play with fire. This time around, however, there's a greater emphasis on maidens dancing, holiday imagery, and a finale of falling snow while King Arthur and Merlin make appearances. A full meal is included, featuring a Roasted Cornish Hen you can rip apart with your hands medieval-style. A cherry hand pie is served as dessert.
Where to See Sports in Las Vegas
November 16–18
The Strip
Get ready. It's gonna be loud. Formula 1 comes to Las Vegas for the first Grand Prix of an announced 10-year partnership. The race itself takes place on November 18 at 10 pm (with practice laps the prior two evenings) on a 3.4-mile track that runs down Las Vegas Boulevard, Harmon, Koval, and Sands; past iconic Vegas landmarks, including the brand new Sphere. The best views of the race are from various grandstands, catered premium clubs (including in front of the Bellagio and newly constructed Paddock Club), and Vista Las Vegas, a viewing party with the McLaren F1 Racing Team on the rooftop of the Cromwell at Drai's with guest host Mark Wahlberg. Keith Urban, Journey, and Thirty Seconds to Mars headline the opening ceremony.
November 10–11
Downtown, Free admission with online RSVP
The Plaza hotel welcomes the Las Vegas Days Rodeo for two straight nights at the outdoor CORE Arena. See the best in the business compete in bull riding, roping, barrel racing, and other events with $40,000 and championship belt buckles at stake. The rodeo also celebrates Nevada culture and history with photo exhibits and kids activities. Whiskerino, which (unfortunately) has nothing to do with whiskey, is actually a beard contest with a variety of categories. Feel free to dress in Old West attire or early 1900s period costumes.
Rob Kachelriess
is a full-time freelance writer who covers travel, dining, entertainment, and other fun stuff for Thrillist. He's based in Las Vegas but enjoys exploring destinations throughout the world, especially in the Southwest United States. Otherwise, he's happy to hang out at home with his wife Mary and their family of doggies. Follow him on Twitter
@rkachelriess
.