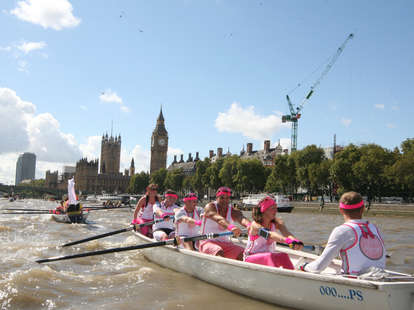 Totally Thames

| Ray Little/Courtesy of Totally Thames
Totally Thames

| Ray Little/Courtesy of Totally Thames
Although it might feel like you blinked and summer was suddenly over, these shorter days bring with them a cornucopia of super-fun events totally worth abandoning your bed for. Fill your days with everything from a three-day meat festival to a celebration of American football to one of the biggest cocktail celebrations in the world -- trust us, these events are totally worth the seasonal London hassle of carrying an umbrella and sunglasses at all times.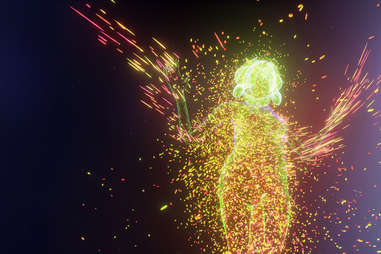 Taking place along the Thames' entire 42-mile stretch of water, this free festival is filled with outdoor concerts, seminars, markets, regattas, races, and more. Aimed to encourage Londoners to make better use of the River, each day is jam-packed with different things to experience.
Aiming to "capture the emotional landscape" of her work, eccentric Icelandic singer Björk offers an interactive exhibit filled with digital technology and virtual reality videos.
Culinary wizards Bompas & Parr have teamed up with the creators of last year's immersive hit Alice Underground to bring Roald Dahl's famously twisted dining duo to life. Aimed at the more adult audience, this gruesome -- and surprisingly tasty -- feast will test the power of what your eyes and hands experience, as opposed to what these items actually taste like.
Calling all carnivores: this three-day celebration of meat has grown from a collection of pitmasters to a huge gathering of the best meat chefs in the world showcasing their finesse at smoking, curing, basting, searing, grilling, carving, and more. Throw in live bands and plenty of booze, and you're in for a seriously good time.
On-screen nemeses and IRL BFFs Ian McKellen & Patrick Stewart return to the stage with Harold Pinter's 1974 absurdist play about two drunk writers. Filled with unbelievable stories and subtle power plays across all characters, this is one of the season's most anticipated productions.
Bringing a solid two months of music to a close, this final blowout gig is filled with fireworks, big names, and a chance to embrace being British (even if you're not). This year's lineup features Frankie Valli, Rick Astley, All Saints, and more.
Back again for another year, this family-friendly festival is filled with most of the best things in life: plenty of music and food. Catch top bands like Belle & Sebastian, Hot Chip, and Primal Scream, while refueling with food at the Chef's Banquet with chef Theo Randall, and the John Lewis Food Village.
Watch as the world's billboards come to life on London streets, and the top-down trickle of fashion starts on the catwalk, soon to be seen in a much cheaper version at Primark. With all the top designers bringing their A-game, this is one beautiful week to be around.
This citywide affair brings to light the grace and beauty of nearly every aspect of design, with massive art installations, small gallery pop-ups, and unique creations with over 400 works on display from architects, fashion designers, textile makers, retailers, and more. Many of the events are free... and frequently involve food/booze, so there's that.
While the Jetsons' life might still be a few years off, it's always fun to theorize about how we'll be living in the years to come. This year features talks by musician and producer Brian Eno, novelist Will Self, and games guru Rhianna Pratchett, and focuses on how we love, work, play, and thrive in the future.
Ever wanted to check out the inside of some of the most beautiful historic buildings around town? Well, for these two days, get up close and personal with the design and architecture of that gorgeous skyline.
One of the great inventions of the colonies, American football comes over to the motherland for a day of extra testosterone, cheerleaders, mini pitches to play around in, and even a few real live NFL players on hand. Wander around a traffic-free Regent Street, drink beer, and practice your best 'Murica! exclamation.
While eating out has become a basic London pastime, all this month you've got an extra excuse. Sponsored by American Express, this festival sees 350 London restaurants offering up special menus and highlighting their best work for prices that are much friendlier on the old bank account than normal. Get pulled into eating adventures like a four-course tasting menu at Trullo for under 60 quid, or go for a Champagne pairing restaurant crawl -- each course served in a different place.
In case you didn't know, London is the cocktail capital of the world.
Fact
. This week brings all that amazingness together in an easy-to-sip concoction of seminars, drink specials, parties, and pop-ups. Get a wristband and enjoy discounted fun times all week.
As the printed word threatens to become obsolete, how are writers embracing the new digital medium? Looking back at stories of our history along with thoughts on how civilization will continue to chronicle our progress, this wordy festival pulls in big-name writers and up-and-comers alike.
From the crew who brought you Cherry Cola Club, this two-dayer shows that festivals can exist outside of just summertime. Spread across five Hackney venues, catch artists like We Are Scientists, Lucy Rose, and Mystery Jets.
Back again for its second year, this micro fest is all about having the best bits of an awesome music festival and cutting out the parts that suck. Think of your favorite summertime fest, then subtract the mud, port-a-loos, and the inability to go home and sleep in your own bed at night. Ahh. Spread out between three venues all within walking distance, catch bands like Bat for Lashes, Allah-Las, and Starling.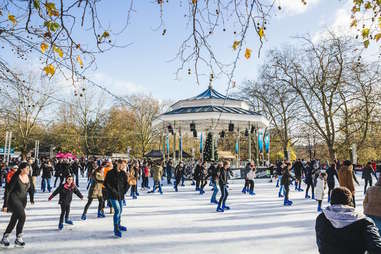 With summer behind us, thoughts of Christmas lights, egg nog, and chestnuts are only around the corner. Helping to ease the transition towards winter, this epic playland is back for its 10th year of ice skating, carnival rides, games, ice sculptures, food, and plenty of beer.
Sign up here for our daily London email and be the first to get all the food/drink/fun in the capital.
Haley Forest wants to know about every London event that's happening, but she's most excited about those that involve good cocktails. Follow her on all things social @HCForest.