Events
Sponsored By
Everything We Did at The Genesis Invitational in LA
Sponsored By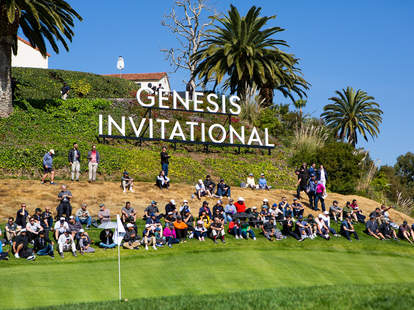 It can be hard to feel special in a city like LA. Odds are definitely not stacked in your favor, because there's a good chance you're spending your time a) sitting in tons of traffic, b) waiting in a 43-person line at Sqirl, or c) fighting off a horde of bros for a beach volleyball spot in Venice. But on Presidents' Day weekend, a local event made sure every guest felt catered-to, exceptional, and maybe even a little glamorous: The Genesis Invitational. We went to check it out, and found all the best things to eat, drink, and see -- all of which should make you want to add this annual event to your 2021 social calendar, stat.
Tucked away in the Pacific Palisades, The Riviera Country Club, host to The Genesis Invitational, is a prestigious course that's otherwise closed to the public. The Clubhouse is steeped in history, but even if you're not a golf buff, you'll love wandering around the rooms and seeing memorabilia (like a weirdly cute collapsible golf set from the 1983 PGA Championship) and mementos (like a photo of then-16-year-old Tiger Woods, who played his first PGA TOUR event here). There are plenty of non-vintage amenities, too, from shuffleboard to a virtual golf booth to food and bars (serving coffee and spirits alike).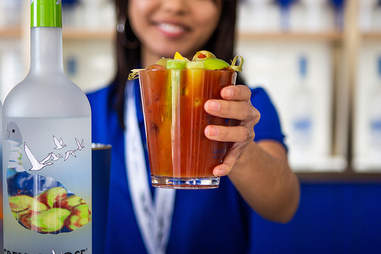 Mimi Palmore/Thrillist
Outside of the Clubhouse, you're instantly greeted by a stunning vista, featuring acres of perfectly manicured greens, bright pops of blooming flowers, and glimpses of quintessential LA mansions that hug the edges of the course. And since it's LA, your chances of it being a perfect 68 degrees and sunny (like it was this year) are high. Just steps away from the Clubhouse, you'll find the practice green, where pros warm up before teeing off. And all of this happens so close to spectators that you truly have a front-row view of the best athletes the sport has to offer. (At one point I looked up and was suddenly 5 feet away from Tiger Woods.)
Although the atmosphere on the course is quiet (because, duh, it's golf), it's also convivial. You could barely walk to the next hole without running into a food stand, swag shop, or bar, like the Grey Goose 19th Hole. It's a welcomed, quick respite from the sun and crowds, where bartenders whip up signature cocktails and send you on your way to enjoy them while watching the action. (Our favorite this year: the Le Citron Bloody Mary, a refreshingly smooth rendition made with Le Citron Grey Goose.) If liquor's not your style, fear not: just across the way is the Ultra Club, a Michelob-sponsored stand with pourings of your favorite beer and wine.
Mimi Palmore/Thrillist
Of course, because it's The Genesis Invitational, there were luxury cars displayed all across the grounds. And they weren't just there to look pretty: Guests could actually get into each model to get a sense of the thoughtful details, space, and overall high-end feel of the cars. Of course, the most exciting option this year was the first-ever SUV from Genesis, the GV80. It's not available until this summer, but guests at the Invitational got a sneak peek at its roomy interior and striking exterior design. 
With such a grand course and so much to do, one might feel momentarily lost. Genesis Invitational volunteers are stationed pretty much everywhere to point you in the right direction, though, whether it's your 10th PGA TOUR event or you're just learning what it means to hear "FORE!" When I was hungry after following a few groups around the course, volunteers helpfully directed me toward the gourmet food trucks stationed near the 14th hole, where the array of eats was so vast, I needed a moment to seriously plan how to maximize the real estate in my stomach.
Mimi Palmore/Thrillist
First up were the chicken sandwiches from Fuku, Momofuku's famed spinoff, where you could go classic with a spicy chicken sandwich, served on a buttered & toasted bun with pickles, or try a variation with ranch dressing & bacon (insert drool emoji here). At the Grilled Cheese Truck, we opted for a caprese and a pulled pork barbecue mac & cheese -- although vastly different on the inside, both were high-quality with perfectly crunchy, lightly toasted bread. For a lighter option, there was the Jogasaki truck, where the show stopper was the 4A, which had spicy tuna, avocado, cucumber, shrimp tempura, and barbecue eel wrapped with soy paper. It tasted as good as it looks, and yes -- would look amazing on your Instagram story.
One of the best features of The Genesis Invitational is that although mouth-watering bites were everywhere, there was so much to do that there was basically no chance of falling into a food coma. At the Genesis Performance Lab, a quick stroll away from the food trucks, guests could take a swing at the TrackMan Golf Monitor, which uses a radar to track how you hit the ball, then get real-time tips on how to perfect their putt from the golf instructors. Throughout the day, guests also joined in on Genesis' "Juggle Challenge" -- a social-driven cause where fans were encouraged to post videos of themselves juggling golf balls, with each video earning donations from Genesis to a charitable organization. Even for non-jugglers, the whole day was designed to be perfect Instagram bait, from a giant golf ball on display to the luxury views from the Skybox.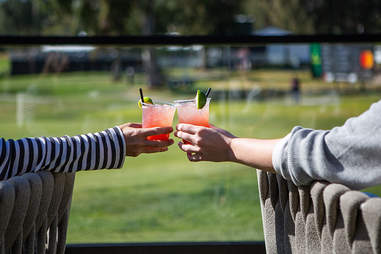 Mimi Palmore/Thrillist
In sum, The Genesis Invitational delivered:
Incredible views and scenery 
Unparalleled proximity to pro golfers at the top of their game 
Insane eats and drinks 
Opportunity to brush shoulders with LA's fanciest (and most famous) 
Activities for the whole squad, from your jock BFF from college to your weekend warrior brunch buddy 
...all in an exclusive setting that's closed to the public pretty much the entire rest of the year. It's one of the best events LA has to offer, whether you're a huge golf fan or mostly stick to mini golf -- and with a track record this good, the 2021 Genesis Invitational deserves a check mark on your favorite calendar app. Learn more about next year's event here.