Way back in 2008, Will Ferrell's Step Brothers established the idea of the fucking Catalina Wine Mixer -- the ultimate (and ultimately fictional) posh retreat for the movie's Adam Scott-bashing finale. Anyone who'd ever been to Catalina knew that the wine mixer wasn't real, but last year the island threw a small, actual Step Brothers-themed event -- and this year, it's back, it's twice as long, and going to it will be like masturbating to a time machine... er, being super-nostalgic for a minor decade-old comedy.
Tickets are on-sale now; the event takes place on the island Sep 23rd-25th, and the breakdown's like this:
Friday, September 23rd
A surely audience-participatory screening of the movie in Catalina's famous casino movie theater, a gorgeous '20s-era art-deco auditorium with beautiful murals and a pipe organ (no word on whether they'll play an instrumental version of "Boats 'n' Hoes"). Attendance is limited at the moment to VIP ticket-holders (who also get access to a themed DJ afterparty), but organizers say they may open it up to GA as well.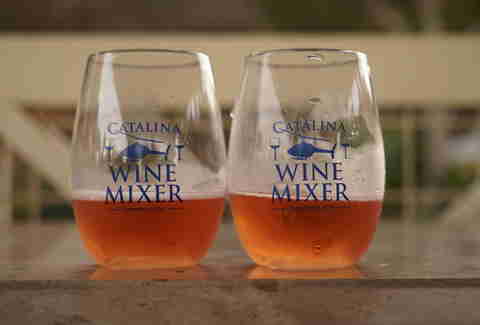 Saturday, September 24th
An evening party with entertainment still TBA, on the cabana-laden Descanso beach -- with plenty of wine from still-to-be-named wineries.
Sunday, September 25th
An all-day wine party at Descanso Beach, with DJs, bands, and tastings throughout the day, and a headlining performance from the Dan Band, who you probably know as the guys who sing "Total Eclipse of the Heart" in Old School, another nostalgia-laden movie long overdue for a mini-fest of its own.
There are also a ton of add-ons, including helicopter rides to the island and beachside cabana rentals, plus talent meet-and-greets and more, with tickets for all of it available now -- buy it now for you, and of course, for your best friend.
Sign up here for our daily LA email and be the first to get all the food/drink/fun Los Angeles has to offer.