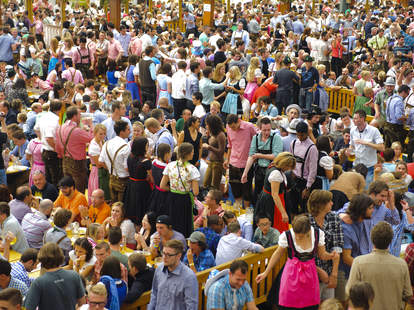 Every Great LA-Area Oktoberfest Event, Now in One Calendar
Time to dust off your finest lederhosen and polish your best stein -- Oktoberfest celebrations are upon us once again. While we'll take any excuse to clink large mugs of beer, consume obscene amounts of pretzels and brats, and dance like a chicken to oompah bands, it's far more fun to do all of that at places where such behavior is encouraged.
To help you navigate the next two months of German-themed festivities, we've rounded up every great Oktoberfest celebration in the LA-area worth its weight in sauerkraut.
Oktoberfest Foods at The Phoenix Club

| The Phoenix Club in Anaheim
This massive Oktoberfest blowout takes place every Friday, Saturday, and Sunday through the end of October and is one of the oldest and biggest Oktoberfests in SoCal. Hike up your lederhosen and get ready for plenty of chicken dances, stein-holding competitions, oompah bands, delicious German eats, and, of course, continuously flowing beer. They also have an after-party that goes until 1:30am on Fridays and Saturdays at the restaurant which includes a tater tot bar. Yes, that is a thing.
This long-running festival is totally worth taking a road trip up into the mountains for a weekend of beers, brats, and polka. There you'll find bands that are straight outta Germany, as well as folk dancing and log-sawing, stein-holding and beer-ponging contests. They'll also have plenty of German brews, traditional Oktoberfest eats like sausages, dumplings, and strudel, and not-so-traditional ones like the awesome-sounding bacon brat burrito.
Eat, drink, and chicken dance your way through eight acres of a Bavarian Village (designed by the same guy who built Alpine Village) at this huge fest that takes place every Wed-Sun. The second oldest celebration in the area (since 1977), Old World Oktoberfest features beer gardens, halls for festivities, German food and beer, and the famous dirndl-wearing shot girls. Friday and Saturday night are reserved for the 21+ crowd, and Sundays feature dachshund races, which are infinitely more exciting to watch after a stein of beer.
Head to one of our favorite German-themed
places to drink outdoors
for their annual Oktoberfest bonanza. Stop by for a commemorative Oktoberfest stein, three special German Oktoberfest beers on tap, special food menus, and stein-holding competitions on the weekends where the winner goes to Vegas. And, on October 16th, stop by for the return of Heino, the legendary German singer.
Every weekend (Fri-Sun) through October this 55-year-old Oktoberfest bash features plenty of excellent German food and beer, German bands and folk dancers, and more. You'll also find sausage-eating and beer-drinking competitions, an air rifle shooting gallery (hopefully before the drinking competition) and a Sunday brunch through October from 11am to 2pm with a special menu of German treats.
The annual celebration returns with live music on Friday and Saturday nights, rotating food and beer specials, giveaways, and more. The staff will be sporting dirndls and lederhosen, and should you feel so inclined (and you should) there will be costume contests every weekend, as well as stein-holding competitions. The restaurant will tap the first keg at the opening ceremony at 3pm on September 17th and if you're seated and eating, you can drink from the keg until it's kicked.
This new German-focused South Bay spot from the Wirtshaus team will be celebrating Oktoberfest in much the same way its sister restaurant will; the restaurant won't have live music, but it will still play traditional German tunes, have staff dressed for the occasion, host costume and stein-holding contests, and offer the same sweet first keg deal if you're there for the opening ceremony at 3pm on September 17th.
Celebrate the opening of this new German-themed spot from the Wirtshaus team with a raucous Oktoberfest bash. Similar to the other locations, you'll find German brews and bites, staff sporting their best dirndls and lederhosen, contests, a live band, and more.
This music-focused Oktoberfest for the hipster-set will feature bands and DJs curated by dublab, including Andy Clockwise, Peaking Lights, The Bolos, Jackson Tanner, and more. There will also be magic from some legit Magic Castle folks, as well as beer from several California breweries. You'll also want to stick around for the Jeff Ellis Worldwide Freestyle Competition, which we suspect is probably the modern day equivalent of a oompah band showdown.
The brewery's third annual Oktoberfest will feature two special Märzen-style German brews, Oktoberfest and Imperial Oktoberfest, as well as sausages from Tomski Sausage and Seoul Sausage Co., plus plenty o' pretzels. There will also be sauerkraut eating, stein hoisting, and yodeling contests, which will you'll definitely have a better chance of winning if you wear your finest lederhosen; there's also music from the excellently named The Munich Boom-Steiners and others.
Oktoberfest at Fairplex

| Fairplex
This all-ages fest celebrates its 39th year with four stages of entertainment, including live music from the German American Brass Band and the D'Oberlander Dancers. You can also get your fill of German beers, bratwurst, sauerkraut, strudel, and other tasty Bavarian treats, compete in a hot dog eating contest, and even sign up for the dunk tank.
The sprawling fairgrounds will transform into a Bavarian wonderland on Fridays and Saturdays. Get your fill of German beers, brats, pretzels, and more, plus plenty of games, prizes, and chicken dances. There will be oompah bands, DJs, and, of course, Led Zeppelin, Journey, Queen, and KISS tribute bands, which is totally a big tradition in Germany (right?).
Veganism may not be the first thing you associate with Oktoberfest, but once you start sampling over 50 beers and ciders, chowing down on German-themed vegan bites, dancing to oompah bands and competing in stein-holding and yodeling contests, you'll probably have a change of heart.
This Oktoberfest-adjacent festival isn't particularly German-inspired, but with 85 beers on tap, food from local spots, live music, and more, we'd say it captures the spirit pretty well.
This second annual fest will feature $5 pours of craft and German beers, German-themed food trucks, oompah bands and local acts, plus giant beer pong, Jenga, and other giant games. Also: test your skills at the stein-holding and sauerkraut hot dog-eating competitions.
The annual celebration (now in a new location) will feature a bounty of German brews, food, live music, and dirndl-clad beer maidens. While GA tickets score you a glass stein and a pour of beer with more to purchase, the
four-hour VIP pass
hooks you up with unlimited pours for your stein. The choice seems pretty clear.
Admission is free to this Pershing Square Oktoberfest celebration, where there'll be a beer garden, German eats, including sausages, and pretzels, plus live music and dancing.
OK, this one really isn't an Oktoberfest celebration, but there's beer(!) and pirates(!!), and it's the right time of year, so we give it a thumbs up. There'll be unlimited craft beer tastings, "pirate fun food," and BBQ, live music, games, and more. Costumes and bad pirate jokes are strongly encouraged.
Sign up here for our daily LA email and be the first to get all the food/drink/fun Los Angeles has to offer.
Danny Jensen is a regular Thrillist contributor who you will most likely find sporting lederhosen and practicing his stein-holding over the next two months. Yodel at him on Twitter and Instagram.