Holiday Events in LA to Get You in the Spirit Without Any Cold or Snow
From dazzling light displays to ice skating, holiday flicks, bar crawls, and more.
Photo courtesy of Nights of the Jack
Photo courtesy of Nights of the Jack
Since we're never going to have an actual white Christmas in LA, it takes inventive and creative people to make sure those cozy holiday vibes still hit the southland. Thankfully, every year plenty step up to the plate, from holiday markets to seasonal shows, and from movie screenings to menorah lightings. Here's a list of the best holiday events to get you into the spirit of the season in Los Angeles.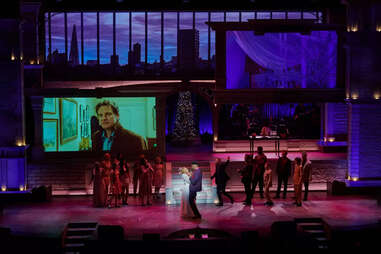 Holiday Shows in LA
November 17 and November 19
Hollywood, $99.95+
If you hate "All I Want For Christmas Is You," well, you're out of luck: 'tis the season for Mariah Carey's undeniable holiday classic (which, objectively, is one of the best pop songs ever written). If you want to hear it and her other holiday songs performed live by the diva herself, here's your chance. Not only is Mariah playing these two shows at the Bowl, she's also at Yaamava Casino in a much smaller showroom on November 15, though tickets for that one start at $700—which may mean way fewer presents underneath that Christmas tree.
November 22–December 30
Beverly Hills, $69-$139
Somehow the classic holiday rom-com Love Actually is already 20 years old. To celebrate the major anniversary in style, check out this full-on, live-band-and-singers production at the Wallis Theater. It features a star-studded cast that includes finalists from American Idol and The Voice, Emmy award winners, and Broadway vets.
December 14–December 23
Pasadena, $34.99-$39.99
This Street Food Cinema screening series of holiday classics drops different films and themes each night, starting with a 20th anniversary showing of the Will Ferrell classic "Elf," with everything from "Die Hard" to "Harry Potter" in the mix. There's also a bar, photo popups, singalongs, and all sorts of holiday cheer throughout.
December 21–December 26
Hollywood, $50-$183
Tchaikovsky's ballet classic is back, but this time it's got an LA twist—set pieces featuring the Venice Canals and views of the Pacific Ocean. And the LA Ballet's year-end rendition of the iconic ballet is being performed with a live orchestra, for an extra bit of holiday magic.
Holiday Festivals in LA
November 18
Riverside, free
Tens of thousands of people come through Riverside for the switch-on ceremony for the Mission Inn's Festival of Lights, a display of zillions of lights decorating the historic, sprawling hotel. This year's Switch-On includes a concert featuring Sugar Ray's Mark McGrath and Jason Scheff from Chicago, with special guest Cheech Marin onboard as well; the event also marks the opening of an ice skating rink next door to the property.
November 21–December 31
DTLA, $25
LA Live's seasonal Kings-branded ice rink is back and open for free skate and special events for the next month-and-change. The price includes skate rentals, and private rentals are available.
November 24–December 27
Calabasas, $29.99-$34.99
The folks at King Gillette Ranch are going all out for their "immersive holiday experience" this year. The massive light installation is on a picturesque walking trail with photo ops including massive gingerbread men, Mr. and Mrs. Claus, giant nutcrackers, and much more. There are also food trucks serving wintery snacks and holiday bars set up on the property for a little extra good cheer.
Thursdays–Sundays from December 1–25
DTLA, prices vary
Every weekend in December, Hotel Figueroa is hosting a holiday market with a bunch of different vendors. Participants include companies selling sustainable jewelry, luxury candles, flower arrangements, and more. It looks like just the right mix of gift options to suit anyone on your list.
December 10
Bel Air, $18
The Skirball Cultural Center's annual Hanukkah celebration takes on a bit of added weight this year, which means Jewish festivities should be at their all-time biggest and most enthusiastic: expect live klezmer music from Mostly Kosher, dublab DJ Callie Ryan, a retelling of the Hanukkah story, shamash-making, and a family candle lighting.
December 13–17
Newport Beach, $36
This annual holiday tradition is exactly what it sounds like: a parade of boats in the Newport bay and canals all dolled up in their holiday best, with increasingly extravagant light displays decorating the vessels. Though the parade only lasts for four nights, there are lit-up rentals and rides available all month to get into the spirit of the season yourself.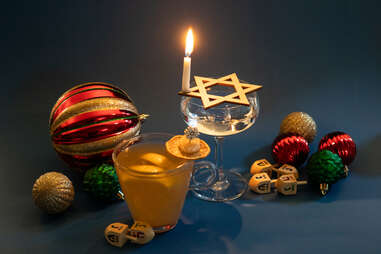 Holiday Drinks and Bar Crawls in LA
November 24–December 30
Mid-City, $55+
This adults-only immersive theater meets Instagram popup meets speakeasy experience takes visitors down a path filled with gingerbread girls and burly lumberjacks until finally ending up in two pop-up bars to grab a drink before a cabaret-style variety show featuring burlesque dancers, ballet, and more. Costumes are encouraged, and there are also food add-ons if you want to make a whole night of it.
November 30–December 1
Beverly Hills, Free
If you've ever wanted to have a tequila toast with The Rock, this is your chance (sort of): Dwayne Johnson's agave-based spirit company Teremana is putting on this pop-up party, with tastings, snacks, cocktail classes, holiday menu ideas, giveaways, and more surprises.
December 1–December 30
Santa Monica, prices vary
Jeremy Fox's lauded Jewish-ish Santa Monica restaurant is bedecking its bar area in Christmas and Hanukkah decorations and dropping seasonal drinks like "Don't Knock The Nog," with four types of rum as well as cloves, cinnamon, vanilla bean, and a candy cane rim. The real appeal, though, may be walk-in access to the restaurant's guest chef dinner series, 8 Nights of Birdie G's. The series always sells out, and this year should be no different, with menus from world renowned chefs like Sean Brock, Mei Lin, and Dave Beran.
December 16
Santa Monica, $20+
This massive, costumes-encouraged bar crawl on the westside hits over 20 drinking establishments, with $6–$9 food specials throughout and free drinks for the first 500 revelers. There are three different routes, but if you really want to get housed, get a route-hopper ticket to just obliterate your way through every bar in SaMo; proceeds go to feeding those in need in LA.
December 24
Hollywood, $50+
The Original Matzoball bills itself as the "#1 Holiday Party In The US," and the multi-city Christmas Eve bar event is basically a rager for anyone who's not committed to spending time with their family on December 24, for any reason. It was started over 35 years ago as a fun event to get people who don't celebrate Christmas out of the house, away from the endless TV and radio specials, and into the rare bar that happens to be open on Christmas Eve. This year's party is at Bootsy Bellows; admission can be bought individually or by table.
Jeff Miller is the founding editor of Thrillist LA. You can follow him at
@jeffmillerla
on Instagram.