You Can Pay To Crash This Couple's Wedding
Imagine being able to go to a wedding and only doing the fun parts -- the getting dressed up, the drinking the booze, the dancing with the bride and groom -- without all that dumb ceremony/in-love-forever/who's-on-the-last-shuttle-out BS. That's what Chad and Jessica want you to be able to do at their wedding, which's why they've made it possible to buy tickets to crash it (seriously), at Boulevard 3, on June 27. Sound ridiculous? That's because it is. But it's true. Here's what you need to know: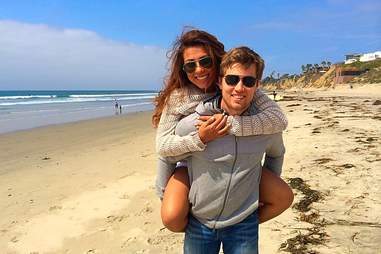 Chanda Lyons
The couple
Of course you want to know SOMETHING about the couple, so you can totally fake it when they come up to you and ask what you're doing there while you look guiltily into your Crown & Coke, right?? That's them, above (awwwww!!!); they met in a ballroom-dancing class at USC, and Jess is a real estate developer on mega-million dollar homes, while Chad is a digital marketing consultant, which totally explains why their website, RiddersenWedding.com, looks so damn good.
 
Are they serious?
Apparently, yes (and we were skeptical too).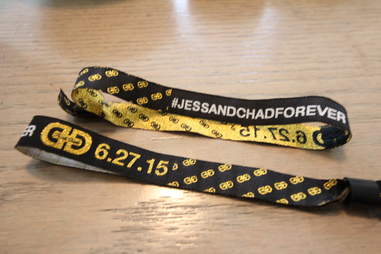 Jeff Miller/Thrillist
Okay, so I can skip the ceremony?
Yeah, your "invite" (which is actually a pretty sweet Coachella-style wristband, pictured above) is actually good for the black-tie reception, from 10pm-2am, which means you're gonna get a garter toss and bouquet throw, but you won't have to sit in a stuffy church, or have to listen to a lengthy, inside joke-laden best man toast.
But I get drinks, right?
Yep: four top-shelf drinks per person are included. Because weddings without drinks are definitely not worth crashing.
 
And food? Seems like it's after dinner...
They're gonna have great late-night wedding-food carts (tacos!!), plus desert "including a model handing out chocolate-covered strawberries" according to Chad. Nice work Chad.
 
Is there a DJ or a band?
Don't want to dance to another terrible version of "Ain't Too Proud To Beg," eh? You won't have to: they've mined Boulevard3's roster of top LA DJs, which means hip-hop and electro stuff rather than having to fake your way through "Ain't That a Kick in the Head."
Important question: are any of the bridesmaids single?
Yes, and groomsmen too. And if you want to be a grade-A creep, their photos are on the website, and the single ones are Mariela, Kim, Lupita, and Ashlee on the bride's side, and Jason, Tom, and Kyle on the groom's. We'll wait for you right here. Welcome back.
 
Okay, what's the catch?
The catch is you gotta pay to get in: $85 for a single, or $150 for a couple. But you don't need to bring a gift, so... cheapest wedding ever??
Jeff Miller once crashed a wedding with his girlfriend in Ojai; somewhere there's a picture of the best man threatening to fight him if he didn't leave. Was that you? A) Sorry (notsorry) and B) share that photo with him on Twitter at @ThrillistLA or on Instagram at @JeffMillerLA.