How to Celebrate Día De Los Muertos in LA This Year
Arriving on the heels of Halloween, LA's Day of the Dead celebrations range from the classic Hollywood Forever takeover to museum parties, arts festivals, and more.
Arriving on the heels of Halloween on November 1 and November 2, Día De Los Muertos, or Day of the Dead, is a holiday originating in Mexico that celebrates and honors those who have passed on, inviting them to visit our earthly dimension by decorating their graves and creating ofrendas, or altars, that are decked out with candles, photos, cempasúchil (marigold) flowers, and victuals like pan de muerto, a sweet egg bread. It is not out of the ordinary to hear the music of mariachi bands serenading tombstones. Participants often paint their faces like calaveras, or skulls, and parades are held in which Catrins and Catrinas, large, lively skeletal figures outfitted in vibrant floppy hats and traditional outfits, joyfully dance down the streets.
While the holiday has been observed in Mexico and other Latin American countries for centuries, it's recently gained international attention, in part due to the popular Disney movie Coco which weaves these traditions into a stunning animated tale. Here in LA, we have a tradition of celebrating Día de Los Muertos that extends decades back, with Boyle Heights' Self Help Graphics & Art holding one of the city's first celebrations almost 50 years ago.
Whether you're familiar with the holiday or are joining celebrations for the first time, there are plenty of ways to observe Día De Los Muertos in the City of Angels, from beloved annual events to fancy, one-night-only dinners, with many events being free. Here are some of your best options:
Saturday, October 29
Hollywood Forever
The iconic Hollywood Forever cemetery is a sight to behold each year as it transforms into one of LA's largest Día De Los Muertos festivals. During the day is the kid-friendly Día De Los Muertos, featuring a children's plaza, altars, crafts, and food vendors, as well as live music and other activities from 9 am to 3 pm.
The fun continues with Noche De Los Muertos from 5 pm to midnight, including altars, food, arts and crafts vendors, food, and more. Known for its musical performances, the night will include main stage sets by Ed Maverick, Hermanos Gutiérrez, Son Rompe Pera, and Thee Sacred Souls.
Cost: $35 for Día De Los Muertos GA; $55 for Noche De Los Muertos GA; VIP $150-250
Saturday, October 29
8435 Firestone Boulevard (Downey)
Head to Downey for a family-friendly day with folkloric dance performances, an art gallery, bilingual puppet shows, face painting, community altars, and an altar competition. That's not all—Mariachi Herencia de México will be there with special guest Lupita Infante for a performance that will end the night.
Cost: Free to attend
Wednesday, November 2
Self Help Graphics (Boyle Heights)
Self Help Graphics' Noche de Ofrenda returns with a night of poetry and music honoring ancestors. Admire altars made by artists and SHG community partners—a special community altar will be open for guests to place their late loved ones' photos. Seasonal festivities also include the Canciones De Ti exhibit on display until Wednesday, November 23 and the 49th annual Día de los Muertos Exhibition & Celebration on Friday, November 5 where guests can dress in their best Día de los Muertos fits and become part of a community procession led by Aztec dancers.
Cost: Free
On view through Wednesday, November 2
Figat7th (Downtown)
Last year FIGat7th invited the women-led, grassroots activist organization Mujeres de Maiz to create a Día De Los Muertos altar honoring life and death. This year they are featuring an altar from first-generation indigenous Central American and queer artist Dalila Paola Mendez on the lower level of the shopping hub. Along with paying tribute to the victims of the Uvalde, Texas school shooting and LA community members, Mendez's altar brings awareness to water issues affecting the world.
Cost: Free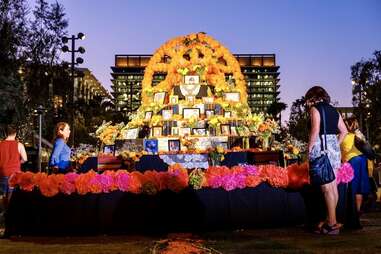 Ongoing through Wednesday, November 2
Grand Park (Downtown)
From October 22 through November 2, Downtown's Grand Park is transformed with colorful and vibrant altars from community organizations and artists, dedicated to recently passed loved ones and ancestors. It's the perfect way to add a little peace and contemplation to your Downtown adventures, offering a moment to appreciate your life and reflect on your own mortality. Anyone is invited to contribute to a community altar made in partnership with Self-Help Graphics.
Cost: Free
Sunday, October 30
Museum of Latin American Art (Long Beach)
Long Beach's Museum of Latin American Art (MOLAA) is celebrating Day of the Dead with a full slate of festivities, including a symphonic orchestra from Baja California, a Catrin/Catrina costume contest with a $500 prize, face painting, a children's sugar skull workshop, a printmaking workshop, and a screening of the animated movie The Book of Life, plus a Q&A with director Jorge Gutierrez. Before the screening check out performances from DJ Caveman, Ballet Folklorico Aztlan de CSUN, and Danza Azteca Xochipilli.
Cost: Free; on-site parking is $15.
On view Friday, October 28 through Wednesday, November 2
Third Street Promenade (Santa Monica)
On the Westside, Downtown Santa Monica is paying tribute to the late satire cartoonist José Guadalupe Posada's Catrina, the iconic Mexican skeletal figure donning an elegant hat with flowers and ostrich feathers that the artist created in 1910 to poke fun at women who denied their indigenous roots and claimed to be European. You'll find the colorful, up-to-14-feet-tall sculptures by LA-based artist Ricardo Soltero on display throughout three blocks of the Third Street Promenade from 10 am to 8 pm until Wednesday, November 2. Visit the 1300 block of the Promenade on Saturday, October 30 at 6 pm for a performance from the Santa Monica Ballet Folklorico.
Cost: Free
Sunday, October 30
Mercado La Paloma (South Central)
South LA's Mercado La Paloma is home to an array of restaurants, including seafood haven Holbox and Yucatecan restaurant Chichen Itza. On Sunday from noon to 4 pm, it will host an afternoon of free festivities, including altar installations, flower and sugar skulls workshops, and a storytelling booth, plus performances from Los Elegidos de Asís, Nueva Antequera Folk Ballet, Maqueos Youth Philharmonic, and Iztec Cuauhtli Aztec Dance throughout the day.
Cost: Free to attend, food costs vary.
Tuesday, November 1 and Wednesday, November 2
Ka'TEEN (Hollywood)
Chef Wes Avila's Día De Los Muertos celebration will pay homage through food at his tropical and spacious Hollywood restaurant that's inspired by Yucatanean cuisine. On November 1 and 2, Ka'TEEN will feature specialty dishes, tequila and mezcal cocktails, as well as music from DJ Eda and fire dancers.
Cost: Varies
Ongoing through Wednesday, November 2
Olvera Street (Downtown LA)
LA's historic district continues its traditional Día De Los Muertos celebrations for the 35th year, with events and activities that incorporate pre-columbian, indigenous, and Catholic customs, including the traditional Mayan Blessing and soul cleansing that takes place before and after the Novenario procession led by indigenous Aztec dancers, with participants dressed up as skeletons and free sweet bread and beverages given to all in attendance. The procession occurs nightly at 7 pm through Wednesday, November 2.
If you're looking to learn the history of Día De Los Muertos, leave it to Teatro Del Barrio, whose theatrical performances will tell the story behind the holiday's indigenous roots and how it's transformed into the holiday we know today, with performances every night at 6 pm through Wednesday, November 2. Altars will be on display from Saturday, October 29-November 2. The annual Los Muertos 5k race will take place on the morning of Saturday, October 29.