How to Celebrate Dia de los Muertos in LA This Year
The traditional Mexican holiday falls on November 1 and 2.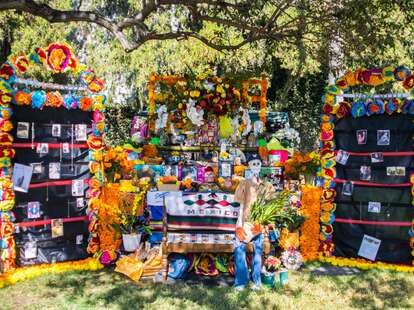 Dia de los Muertos, or Day of the Dead as it's known in the US, is a celebration that honors loved ones who have passed away. The Mexican belief is that every year on November 1 and 2, these departed souls come back to reunite with their beloved relatives and friends, who welcome them with ofrendas, or altars adorned with photos, foods, and personal items. Cempasuchil, or Mexican marigolds, are placed on altars to guide spirits to their shrine. Portraits and calaveras (sugar skulls) are symbolically arranged; candies and dishes including mole and pan de muerto (sweet bread that's traditionally spiced with ground anise and brushed with an orange glaze) are laid on altars for visiting spirits to eat.
The annual tradition is a jubilant way of honoring ancestors and often uses humor to welcome back the dead. La Catrina, a feminine skeleton outfitted in colorful clothing and a hat full of feathers, is one of the holiday's most well-known icons, stemming from a satirical illustration by political cartoonist José Guadalupe Posada, and lightheartedly brings death to life at Dia de los Muertos festivities.
Here in Los Angeles, Dia de los Muertos celebrations have been part of the cultural landscape for almost 50 years. In 1972, Sister Karen Boccalero, the founder of Self-Help Graphics, held a public commemoration that acted as one of the first in Los Angeles and across the US—and the Boyle Heights-based arts center's celebrations are still going strong, drawing over 10,000 attendees to its annual celebrations. These days, the holiday has become more mainstream thanks to the popularity of films like Disney's Coco, and skeletal iconography along with marigold bouquets have become commonplace on grocery store shelves next to pumpkins and decorative gourds.
While many Dia de los Muertos celebrations were put on pause or converted to a virtual format last year, the holiday is returning in full force this year, with events across the city and beyond. Here are 14 events to help you celebrate Dia de los Muertos this year:
Editor's note: Many events and businesses now require proof of vaccination or a recent negative COVID test for entry. It's recommended to check the requirements of each event before purchasing tickets.
Grand Park, Downtown LA
Friday, October 22–Tuesday, November 2
This almost-two-week-long celebration in Downtown LA is now in its ninth year, offering a family-friendly program that's free for anyone to attend. Presented in partnership with Self Help Graphics, attendees are invited to contribute to a community altar created by 2018 NEA National Heritage Fellow Ofelia Esparza. Stroll through the park and marvel at 20 more altars created by professional artists and local community organizations like the East Los Angeles Women's Center, Community Power Collective, and Eastside LEADS, that are personally and culturally significant to Los Angeles. The artistic altars are spaced to encourage social distancing.
Historic Olvera Street, Downtown LA
Saturday, October 30
What better way to honor the past than taking in the sights of one of LA's oldest neighborhoods? Set an early alarm and walk or run this 5k course that takes you through historic Olvera Street, with live music and performances to enjoy along the way. Participants will receive a t-shirt and finishers medal upon completion, and a post-race festival will commence at 10 am. Still not comfortable with crowds? There's also the option to compete virtually and receive your race goods in the mail.
Self-Help Graphics, Boyle Heights
Saturday, October 30
At Self-Help Graphics, home to LA's longest running Dia de los Muertos celebrations, Dia de los Muertos isn't just a two-day event, it's an entire season. The main event happens on Saturday, October 30, beginning with a decked-out car caravan starting at East Los Angeles Civic Center at 3 pm and followed by a walking procession from Mariachi Plaza at 4 pm. From 4–10 pm, you can enjoy live performances curated by The Paramount, shop the Muertos Market for art and crafts by local artists and artisans, browse the altars, and eat food from local street vendors. The community art center's annual Dia de los Muertos exhibition is on view through November 24, with a theme of Everything Connected: Land, Body, Cosmos, and art curated by the 2021 Commemorative Print Artist, Miyo Stevens-Gandara. On November 6, artist Sandra de la Loza will lead a mobile ofrenda workshop followed by an eight-mile bike ride where participants will become mobile altars as they bike around the neighborhood.
Hollywood Forever Ceremony
Saturday, October 30
One of LA's most beloved Dia De Los Muertos traditions returns this year after a one-year absence, with celebrations separated into day (9 am–3 pm) and night (5 pm–9 pm) events in an attempt to keep it intimate for all attendees. The theme for this year's festival is The Return of Quetzalcoatl, The Feathered Serpent, an homage to the Mayan and Aztec deity who returns to earth to bring new life. Both the day and the already-sold-out night program will feature altar and costume contests for cash prizes and will play host to art exhibitions, folklorico dancers, and a children's plaza with a plant decorating activity by Latinx With Plants. But, of course, it wouldn't be Dia De Los Muertos without stellar live music performances. From Banda Las Angelinas, the all-female banda group performing during the day, to Latinx indie darlings, Mon Laferte,Y La Bamba, Little Jesus, and Marinero, as part of the evening celebration. The evening will also feature a stellar taco lineup curated by L.A. Taco, featuring Tacos Don Cuco, Pablitos Tacos, Coni Seafood, and Carnitas El Artista. Proceeds from each ticket will be donated to indigenous rights organization Cielo.
SPARC, Venice
Saturday, October 30
Now in its 19th year, SPARC (Social and Public Art Resource Center) will lead a Dia de Los Muertos celebration that begins at 5:30 pm, with an invocation ritual led by Professor Ramirez-Oropeza in Nahuatl, Spanish, and English to invite spirits to join the celebration, followed by a brief Q&A. Candy Angel will lead a workshop, local vendors will be selling their wares, and guests are invited to bring a photograph of a loved one for the community altar.The center will stay open late for a timed-entry talk with Martha Ramirez-Oropeza on the significance of the Dia de los Muertos ritual. The Durón Gallery will be open for browsing, featuring work from artist and SPARC co-founder Judith F. Baca and hot chocolate and Oaxacan treats will help keep attendees full and warm all night. Visit the check-in table upon entry to receive a color-coded wristband and entry time.
Downey Theatre
Saturday, October 30
The city of Downey, located in the beating heart of Southeast LA, will host its Dia de los Muertos art festival after a two-year hiatus. Taking place across two stages from 11 am to 8 pm, the event will feature Latin jazz, rock en Espanol, ballet folklorico, and Aztec dance performances, plus a trunk altar show, shopping, food trucks, arts and crafts, a children's art exhibit, and more. Guests are invited to contribute to the community altar and a beer and wine garden will be available for adults.
Pine Ave between 4th Street and 6th Street, Long Beach
Saturday, October 30
This free, all-ages celebration in downtown Long Beach is back for its sixth annual event after taking a hiatus last year. Things will get underway at 2 pm with a performance by DJ Las Chicas Tristes, who will also be performing at 3:45 pm and in between sets. Catch Mariachi Angelitas at 3 pm, the Jenni Rivera Tribute Band at 5 pm, and a Selena tribute by Como La Flor Band at 6:30 pm. A screening of the Disney movie Coco is scheduled for 7 pm, and make sure you stay afterwards for a headline performance by Poncho Sanchez and his Latin jazz band. The celebration will end with a performance by Aztec Dancers at 9:15 pm. Food and drinks will be available, and proof of vaccination or a negative COVID test are required for entry.
Nativo, Highland Park
Tuesday, November 2
This recently opened eatery and bar that represents modern Guadalajara cuisine on Highland Park's York Blvd will be hosting its first-ever Dia de los Muertos celebration with live music by neo-romantico trio Tres Souls and DJ Boo from Sonido del Valle, face painting, and a paint and sip led by Noelle Reyes of Mi Vida boutique. A menu with traditional foods such as pan de muerto and tamales will be on offer along with tequila and mezcal flights. Copal incense and marigold flowers will also be available for and attendees are invited to contribute to an altar. Two ticket types are available: $40 includes access to the event, a tequila or mezcal flight, special performances, and pan de muerto, while a $65 ticket grants access to the event, a guided sip and paint experience with a special Mi Vida tote to take home, tequila or mezcal flight, special performances, and pan de muerto.
Cha Cha Cha, Arts District
Tuesday, November 2
This stylish restaurant expanded from Mexico City to a bustling section of the Downtown Arts District, boasting one of the largest, plant-filled rooftops in the area. Stop by between 5–10 pm on November 2, for a lowkey Dia de los Muertos celebration, with guests invited to bring candles or photos of loved ones to display on a special altar. The modern Mexican menu will be available all night, so order up some tacos and cocktails to toast your ancestors in style. Reservations can be made on OpenTable.
The Resident, DTLA
Tuesday, November 2
Two of LA's most prized local musicians are coming together for an evening of absolute magic, with Chrisol and Elyzr both performing their newly released EPs. The evening will feature an altar installation, a catered taco menu, and of course, plenty of drinks. Afterward, the pair will come together to play a party set to help guests keep grooving throughout the night.
The Hawk and Roxanne's Bar, Long Beach
Monday, November 1; Friday, November 5; Saturday, November 6
Roving pop-up tiki maestro, Chuntikis continues to showcase its talents with not one but two Dia de los Muertos pop-ups at local Long Beach bars. If you're anywhere near the LBC, head over to get a taste of Chuntikis' Dia de Los Tikis drink made with small-batch Mexican spiced rum, mezcal joven espadin, and Tepache sherbert—the perfect drink to honor the past. Chunkitis will be at The Hawk on Monday, November 1, and Roxanne's Bar on November 5-6.
Uptown Provisions, Whittier
Wednesday, November 3
If you find yourself in the quaint area of Uptown Whittier, make sure to stop by newly opened neighborhood hot spot/deli counter Uptown Provisions between 4–8 pm for a festive evening featuring sourdough fermented birria pizza and other limited edition pies from pizza pop-up Speak Cheezy. Wash your pizza down with a complimentary bubbly prebiotic soda from Mayawell. The evening celebration will also feature free face painting for adults and children, a special ofrenda, other treats, and live music.
Downtown Santa Ana
Saturday, November 6
One of Orange County's most prominent Dia de los Muertos celebrations is now in its seventh year, located in the heart of Santa Ana's historic downtown area. Organized by the Santa Ana-based nonprofit Viva La Vida which seeks to highlight the area's vibrant Latino communities and cultures, the event will run from noon to 10 pm and include space for community members to create their own altars, along with a dusk appearance from the satirical La Catrina character who will come and light the first candle to kick off the festivities. There will also be plenty of live music, food and craft vendors, and more.
Sherman Way between Topanga Canyon Blvd and Canoga Ave, Canoga Park
Sunday, November 7
For those looking to celebrate in the SFV, head over to Sherman Way between Topanga Canyon Blvd and Canoga Ave from 10 am–5 pm to take part in this family-friendly celebration that includes live music, a classic car show, and more. Folklorico and Aztec dancers will be on site, in addition to sugar skulls and ofrenda workshops and other arts and crafts for the whole family.