How to Support LA's LGBTQ Community During Pride Month
Including actual, in-person events!
The bad news is that most in-person events surrounding the fun, fabulous, and fabled LA Pride festival are canceled yet again this year (we were so close!), but the good news is there are still plenty of ways to celebrate (more on that in a moment). Pride Month's roots run deep. The nonprofit Christopher Street West put on the planet's first-ever permitted parade advocating for gay rights right here in our City of Angels in June of 1970, just a year after the police raid of Greenwich Village gay bar the Stonewall Inn, which led to days of escalating violence, protests, riots, and—as the LGBTQ+ community began fighting longtime, widespread discrimination—the formation of the gay liberation movement. Today, Pride events take place around the world (when COVID isn't ruining everything) to help raise awareness about equality and inclusion, because while times have changed, we can definitely do better.
While the usual WeHo extravaganza filled with parties, parades, music, and revelry may be on hiatus, you can still celebrate and support our local LGBTQ+ community with plenty of LA Pride virtual happenings, a couple of actual in-person events, and a plethora of LGBTQ-owned businesses and nonprofits. Here's how:
Watch one of LA Pride's

Thrive with Pride

-themed events online or on TV
As we land on the other side of COVID, LA Pride is highlighting health and wellness to promote the idea that thriving is an act of social justice within the LGBTQ+ community, especially for underserved and overlooked members. The virtual festivities will kick off Thursday, June 10, with a free concert by Charli XCX live streamed on TikTok. Then on Saturday, June 12, at 9 pm, ABC7/KABC-TV Los Angeles will air a Thrive with Pride Celebration, slated to highlight members of LA Pride's LGBTQ+ community with profiles of trans activists and spotlights on LA Pride's 2021 honorees, along with a special Pride performance by the Gay Men's Chorus of Los Angeles from the Getty Center.
Attend an IRL LA Pride event and clink glasses at your fave LGBTQ haunts
The always-a-good-time LGBTQ+ Pride Night at Dodger Stadium will take place on Friday, June 11, becoming LA Pride's first in-person event in more than two years. (Hooray!) Expect a queer artist singing the national anthem, recognition for LGBTQ+ first responders, and post-game fireworks on the field. Fully vaccinated fans can pick up a package that includes a game ticket and Pride-themed T-shirt here. LA Pride has also partnered with SoCal outdoor movie event company Cinespia, for a LGBTQ+ Pride Movie Night at the Hollywood Forever Cemetery on Saturday, June 26th. Flick TBD.
And since LA will be fully reopening halfway through Pride Month on June 15, you can also visit one of your favorite gay bars and raise a glass to finally being able to gather with your extended LGBTQ+ family once again. In Silverlake, Akbar has a couple of Pride celebrations on their calendar, including an LA Pride party on Sunday, June 13 from 5–10 pm, and Grindr Party: LA Pride Edition with guest DJs and special guest performers on Saturday, June 26 from 5–10 pm. Just down the street, The Black Cat, became the site of one of the first demonstrations to protest police brutality against the LGBTQ community in America in 1967, two whole years before the Stonewall riots. Head there before or after Akbar and toast with friends over how far we've come. In Mid-city, the first disco club in America owned by a Black woman, Catch One (formerly Jewel's Catch One) has a slew of dance parties happening throughout June, including the three year anniversary of Afro GoGo on Saturday, June 19, from 9 pm–2 am, and the Return of Rhondavous, a raucous pansexual party that goes from 10 pm–4 am on Saturday, June 26.
Support LGBTQ+ organizations and nonprofits
LA Pride is making it easy this month by organizing 30 days' worth of ways for Angelenos (that means you) to volunteer by partnering with nonprofit Big Sunday, in addition to donating money and goods. Check the calendar and sign up for do-good events like filling food bags to feed the hungry and cleaning up the LA River. The Los Angeles LGBT Center provides healthcare, social services, housing, and more to members of the LGBT community in need, in addition to doing advocacy work. Check out its site to learn how to get involved and note that the org needs help with a range of programs and also needs volunteers with special skills like lawyers and photographers. You can also explore becoming a mentor via Lifeworks Youth Development and Mentoring Program, which provides one-on-one, peer, and group mentoring opportunities for LGBTQ+ youth and allies to help them achieve their goals in a safe space.
Equality California, the state's largest LGBTQ+ civil rights organization, has a plethora of ways to help, from making a financial donation, to volunteering at events, to advocating for LGBTQ+ candidates and policies, to simply buying swag on its site, which, right now, is all 10% off throughout June using the code PRIDE21.
Dine out at LGBTQ-owned restaurants
With the return of indoor dining, the impending demise of capacity restrictions, and many venues still managing to keep their expanded COVID-era outdoor seating areas, there are an endless array of options for your restaurant-going pleasure, many owned and operated by members of the queer community.
Restaurateur Marie Petulla, who owns Pasadena's long-standing upscale Italian eatery Union, recently opened sibling restaurant, U Street Pizza, serving NY-style artisanal pies topped with West Coast ingredients. Think a simple pie with Petaluma mozzarella and California olive oil, or a vodka sauce-covered pizza with pepperoni and Fresno chiles.
Go for a post-pandemic splurge with the memorable kaiseki menu at Michelin-starred n/naka, where chef Niki Nakayama and her wife and sous chef Carole Iida-Nakayama put out a parade of 13 Japanese-inspired plates artfully created from seasonal ingredients. And be on the lookout for the opening of n/soto, the duo's soon-to-be-opened izakaya joint that's currently offering bento boxes to-go.
Sibling Thai restaurants, Luv2Eat Thai, in Hollywood and Noree Thai on Beverly Blvd are both owned by chefs and partners Fern Kewathatip and Noree Pla. Both serve killer curries, an array of noodle dishes, and refreshing papaya salads.
For caffeine for a cause, grab a cup at Liberation Coffee House, adjacent to WeHo's LGBT Center, with a staff made up of LGBTQ youth and seniors from the center's Culinary Arts program.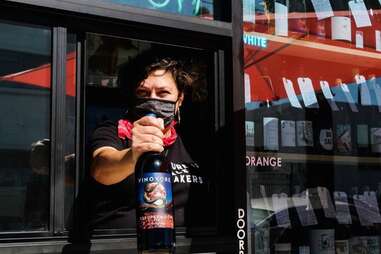 Many small businesses were hit hard over the last year, but that was especially true for independently owned retailers who were forced to stay shuttered during the first part of the pandemic (while big box operators got to remain open, grrrr). Support some local faves now with both in-person and online shopping.
Huntees, a QPOC-owned LA boutique, known for its pop culture-inspired tees, mugs, and home furnishings, has also been offering quirky and colorful face masks—stamped with caricatures of beloved famous faces like the Golden Girls and Cher—via its online shop. At celebrity choreographer Jamal Sims's LA-based ready-to-wear tuxedo lounge GROOM, you'll find everything from poppy kimono capes to couture face coverings. Playfully subversive ready-to-wear label Lockwood51, famous for its "Stay Queer as F*ck" casual wear, is still offering T-shirts, hoodies, hats, swimwear, and more through its online retail platform.
To toast kicking quarantine to the curb, pick up a few celebratory bottles at Vinovore, a wine shop owned by Coly Den Haan, one of LA's first female sommeliers. Inside, she focuses on natural wines made exclusively by women winemakers, also highlighting wines made by women of color and members of the LGBTQ community.
At Highland Park's The Juicy Leaf, which sells unique terrariums, plant and flower arrangements, pottery, and furniture, husbands Felix and Felipe are also offering Insta live workshops, succulent kits, and mobile planting parties. Silver Lake's The Plant Provocateur, owned by author and horticulture expert and speaker Hank Jenkins, morphed into a virtual store during COVID and has kept its online-only offerings, selling plants, pottery, art, books, and more, available for delivery or curbside pickup.
Lizbeth Scordo
is a food and lifestyle writer who hates every parade except for Pride parades. Follow her on Instagram
@modlizbeth
.