How to Celebrate Indigenous Peoples' Day Across Southern California
Street murals, nature hikes, ancient pictographs, and Native art exhibitions.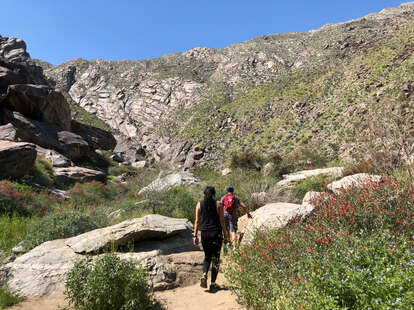 Every year, more cities and states across the U.S. are swapping out Columbus Day for Indigenous Peoples' Day. The reimagined holiday, which seeks to redirect attention away from the violent exploits of Christopher Columbus to focus on the original Indigenous histories of America, was first introduced in 1977 in Geneva, Switzerland, at an international conference hosted by the United Nations on discrimination against Indigenous populations in America. South Dakota became the first state to recognize the day in 1989 (although their holiday is known as Native American Day), and Berkeley, California, followed suit in 1992, on the 500th anniversary of Christopher Columbus' voyage. In 2013, the state of California considered a bill that would introduce a statewide Indigenous Peoples Day, but unfortunately it did not pass.
The campaign to celebrate Indigenous Peoples' Day began gaining broader national attention in 2014, and today, 14 states and countless cities have adopted the change. In 2017, Los Angeles County voted in favor of a measure to observe the new holiday. It's worth noting that while cities like San Francisco and Davis have followed suit, we're still waiting for neighbors like San Diego, Palm Springs, and cities in the Inland Empire and Orange County to take the same action.
This slow progress towards recognizing the undeniable impact of our country's Indigenous communities, as well as the many struggles they've faced on their own lands, is indicative of how far we still have to go to ensure that these communities receive the support and acknowledgement they deserve. Indigenous Peoples' Day is an opportunity not just to highlight histories that often go untold, but to learn more about and connect with our local Indigenous communities.
Prior to the arrival of Spanish in the late 18th century, LA County was home to three Indigenous American tribes: the Tongva, Tataviam, and Chumash, who were renamed the Gabrieleño, Fernandeño, and Ventureño, respectively, by Spanish settlers. At the time of colonization, an estimated 350,000 Indigenous people belonging to over 200 tribes lived across the state. Within 100 years, that number dropped to just 30,000 Indigenous people as many died from disease, violence, poverty, assimilation, and other factors.
California's Indigenous tribes and communities have persevered in spite of those tragedies and today our state boasts more residents with Indigenous heritage than any other state in America. With the inclusion of Pacific Islander and Latin American Indigenous diasporas, LA calls itself home to the largest Indigenous population of any city in the United States.
Here are just a few ways to celebrate Indigenous Peoples' Day in and around LA, as well as from the comfort of your own home:
Support Indigenous-led nonprofits, organizations, and campaigns
One of the most effective ways to show support for Indigenous communities is to give directly to Native-led organizations and campaigns. The California Native Vote Program was launched ahead of the 2016 Presidential Election to educate Native American voters, and in the years since has expanded its programs to include integrated voter engagement and census advocacy and research. Check their "Take Action" page for their latest campaigns, which currently includes a petition to demand educational justice for Indigenous and Native students in LAUSD.
Headquartered in Imperial Beach, San Diego, Native Live Water aims to prepare Indigenous youth and adults in "science, outdoor education, conservation, wellness, and cultural self-exploration," with programming that works towards conservation and sustainability solutions. Support their work by donating via their website.
Landback is a national movement that seeks to reclaim everything that was stolen from original Indigenous communities, including land, language, and medicines. Their cornerstone battle is for the closure of Mount Rushmore, with the intent to return that land and all public land in the sacred Black Hills to its original inhabitants. You can support their work through donations.
Admire public art that highlights local Indigenous history
Take a drive around LA to learn some of our local Indigenous history through public street murals and sculptures. The legacy of Toypurina, a Tongva medicine woman who gained notoriety for her opposition to colonial rule by Spanish missionaries and for her involvement in the planned 1785 rebellion against the San Gabriel Mission, is celebrated in several murals across LA. In Boyle Heights you'll find a 60-by-20-foot mural that adorns the main wall of the Ramona Gardens public housing complex, with Toypurina's youthful face pictured alongside scenes of the neighborhood.
Further east in Baldwin Park Metro Station, LA artist Judy Baca sought to reinsert memory in the land with her 1993 installation "Danza Indigenas" ("Indigenous Dance"). The 20-foot arch and 100-foot plaza is an artistic recreation of the San Gabriel Mission archway, with floor plans of the four closest missions and the steps of traditional Indigenous dances etched into the platform below. A stone mound within the installation is meant to replicate one that the Gabrielinos would have used as a place of prayer and acts as a tribute to Toypurina.
Across the city in northeast SFV, "Mural Mile" along Van Nuys Blvd boasts a 12-by-64-foot mural created by the all-women art crew HOODSisters, featuring Toypurina surrounded by mountains and California flora. The mural also contains a brief summary of who Toypurina was in both English and Spanish. There are plenty of murals to admire if you'd like to create an impromptu art walk, or head directly to 12959 Van Nuys Blvd., Pacoima, CA, to see the "Honoring Our Origins" mural.
Finally, tucked down a nondescript backstreet in Skid Row is Indian Alley, which once served as a gathering place for homeless Native Americans in the area. In 1974, the building adjacent to the alley became the location for the United American Indian Involvement (UAII) outreach center, which provided health, housing, and other support services to the city's Indigenous residents. In the 1990s, the center moved to 1125 West 6th Street and the significance of its location might have been lost were it not for artist Stephen Zeigler, who moved into the building with his wife in 2008. In 2011, after researching the significance of the alley, Zeigler recruited local artists to decorate it with paintings and sculptures that highlighted Native American history and activism, thus transforming it into a noteworthy site for street art in the city. Here you'll find portraits of Lakota-Sioux activist Robert Sundance as well as Tongva rebellion leader, Toypurina. Contributors to the ongoing project include Maya/Nahuatl artist Votan, Jemez Pueblo artist Jaque Fragua, and local artists WildLife and Shepard Fairey.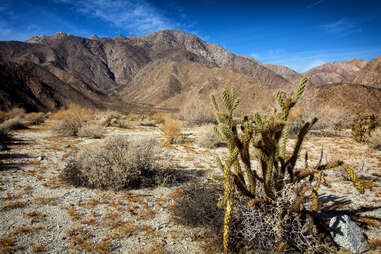 Explore the Indigenous history of state parks and other natural areas
Given that we're all living on Indigenous land, there are countless ways to explore the history and learn about the original people wherever you are. For example, on the grounds of Santa Monica's University High School are the Kuruvungna Springs, which once served as a significant village for the Tongva. Learn more about the springs and the people who once inhabited them during open house events hosted by the Gabrielino Tongva Springs Foundation on the first Saturday of each month from 10 am–3 pm.
If you're in the mood for an adventure, you can set about finding the ancient Native Californian pictographs in Anza-Borrego Desert State Park outside of San Diego.The almost two-mile Pictograph Trail features a collection of red drawings on a large isolated boulder. You can also hike the nearby Morteros Trail to see the morteros, or grinding bowls that were carved into large boulders and used to grind nuts and seeds by the Kumeyaay Indians who have inhabited the area for 10,000 years.
Another day trip option involves a visit to Palm Springs where you can get to know the sacred lands of the Agua Caliente Band of Cahuilla Indians by visiting Tahquitz and Indian Canyons, where they've thrived for thousands of years. Tahquitz Canyon is home to a 60-foot waterfall, rock art, ancient irrigation systems, and hikes to explore the native fauna and flora. The 15-mile long Palms Canyon is notable for its abundance of California fan palm plants and rock gorges that contrast against the desert landscape. At Andreas Canyon, more than 150 species of plants live along Andreas Creek, where fresh springs continue to flow and ancient rock formations color the trail, while centuries-old bedrock mortars and metates give a glimpse into ancient food preparation techniques. While the creek at Murray Canyon is dry during summer and fall, the easy-to-moderate hike is the least-frequented within Indian Canyon and hikers occasionally get lucky spotting endangered species like the Peninsular Bighorn Sheep and Least Bell's Vireo bird. Entry to the canyons costs $9 for adults, $7 for students and seniors, $5 for children, and is free for military personnel.
Marvel at the religious drawings in a sandstone cave at Chumash Painted Cave State Historic Park. Located in a steep canyon above Santa Barbara, the site features pictographs created by the Chumash people and represents some of the best painted rock art you'll find in California.
Just south of Downtown LA is Heritage Park, a 19th-century ranch with a vintage steam train and in-depth exhibit that honors the culture of the Tongva people who've lived in the area for thousands of years and once had a village near Heritage Park. The exhibit includes a Tongva dwelling, sweat lodge, granary, and life-size sculpture of a reed canoe, all built by volunteers of the San Gabriel Band of Tongva Indians.
Visit a museum dedicated to Indigenous history and artifacts
For a more formal introduction to Southern California's Indigenous history, visit one of the many museums and exhibits that are collecting, preserving, and educating on this multilayered subject. In Santa Ana, there's the Bowers Museum, which has a permanent First Californians exhibit that focuses on Southern California's Indigenous history and includes Native American art and artifacts in stone, shell, plant fiber, and feathers. You'll also find 24,000 Indigenous American objects including basketry, pottery, beadwork, stone and shell tools, weapons, and jewelry, with most of their collection from the southwest region of the US.
The Agua Caliente Cultural Museum holds the title of being the first Native American museum included in the Smithsonian Institution Affiliations Program. Located in Palm Springs, it aims to inspire learning about the Agua Caliente Band of Cahuilla Indians and other Native cultures through exhibitions, collections, research, and educational programs.
You can make a day of museum hopping and learning about Native American culture in San Diego, where you'll find the Barona Cultural Center & Museum, the city's only museum on a Native American reservation is dedicated to preserving and highlighting local Indigenous culture, with handmade pottery, reed baskets, paintings, arrowheads, and other artifacts that date as far back as 10,000 years on display. Also in San Diego is the Museum of Us (formerly known as the Museum of Man, it's since undergone a name change), a cultural anthropology museum in Balboa Park (the traditional homeland of Kumeyaay Nation), with a Kumeyaay exhibit that explores their way of life through a traditional and contemporary lens, including the art of pottery and basket making, food gathering techniques, dress and adornment, traditional medicine, games, and ceremonies. The museum also offers background on Kumeyaay's cosmological belief system in a dome that acts as the first-ever museum exhibit about Kumeyaay astronomy.
In the San Diego suburb of El Cajon, there's the Heritage of the Americas Museum, with four museums addressing subjects of natural history, archeology, anthropology, and fine art housed under one roof. It's a great place for parents to take their kids to begin learning about their local Indigenous history. In the same neighborhood, located in the prehistoric Kumeyaay village of Matamo, is the Sycuan Cultural Resource Center and Museum, with exhibits, programs, research, and educational materials available for browsing by tribe members as well as the general public.
Take a trip out to Lancaster to visit the Antelope Valley Indian Museum that highlights California's Indigenous cultures of the Western Great Basin, and East and Southeast of the Sierra Nevada Mountains. Listed on the National Register of Historic Places, the museum's holdings include 8,000 Native American artifacts, including those from the Kitanemuk, Mojave, Halchidhoma, Quechhan, Kawaiisu, Southern Paiutes, California, and Arizona tribes. The museum will host its annual American Indian Celebration event on October 16 and 17 from 11 am–4 pm, with outdoor vendors and storytellers Ted and Dennis Garcia sharing Chumash stories and songs on Sunday, October 17. The museum will also sell beverages and prepackaged snacks, but attendees are encouraged to bring their own picnic.
Support contemporary Indigenous filmmakers and cinema
The 46th Annual American Indian Film Festival returns from November 5–November 13 for another virtual streaming edition. Hosted by the American Indian Film Institute with a mission to encourage understanding and appreciation of the cultures, traditions, and issues of contemporary Native Americans while providing a platform for filmmakers to create work that expresses Native voices, viewpoints, and stories that are historically excluded from mainstream media, you can watch films like Brother I Cry, a drama by director Jessie Anthony that follows a First Nations man as he struggles with drug addiction, and Run Woman Run, a magical anti-rom com by director Zoe Hopkins about a single woman who has lost her passion for life. Browse the film catalog and purchase tickets for any screening online.
UCLA's Mapping Indigenous LA project uses digital and oral storytelling from community leaders, youth and elders to create a city map that illuminates the various Indigenous histories. This interactive map charts the movements of the Tongva-Gabrieleño people prior to Spanish colonization, the history of Native Americans in LA, as well as background on Pacific Islander and Latin American Indigenous Diasporas.