Krampuses are horned and hairy beasts in Alpine folklore who work as agents of St. Nicholas, prowling the countryside with him on Krampusnacht, which is every December 5th -- and if you think you know Krampuses (Krampi??) because you watched the movie with Adam Scott, then you're wrong. You can sort of think of them as much-scarier-looking-Santas: creatures who signal their approach by the jangle of their bells, and though they may be fearsome, those who have been good will find them merciful. But if you've been bad, a Krampus may swat you with a switch. And if you've been very bad, he may shove you in his basket and drag you to hell or throw you in a frozen lake. So be good, for goodness' sake.
Though the Krampus is a central figure in Austrian and Bavarian tradition, he's seen a newfound popularity among Americans, and especially among Angelenos, thanks to horror flicks and local events. Al Ridenour, author of The Krampus and the Old, Dark Christmas: Roots and Rebirth of the Folkloric Devil (2016), resides in Pasadena and each year produces a host of seasonal local Krampus fêtes, including balls, a parade, and a night of Krampus-themed cover bands, such as Krammpstein and Marilyn Krampson.
Los Angeles' events in particular strongly convey the true origins of the Krampus, not just the schlocky horror side, and maintain connections with authentic Austrian groups. To explain Los Angeles' inclination to warmly embrace the toothy beast, Ridenour said it's just in our nature to love all things weird.
"We don't have much of an indigenous tradition for Christmas or anything that goes back very far, and I think the West Coast has always attracted people who want to live a little differently or who are eccentric," he said. "There's also the film industry and the idea that L.A. was built as this sort of a Lotusland for people who like to explore fantasy."
Ridenour first became aware of the Krampus while studying German literature -- in Germany, the Krampus' counterpart is known as the Knecht Ruprecht. Ridenour would later become enchanted by lithographs of the devilish figure while living in Berlin, and in the early 2000s, he would encounter the Krampus again, this time via images being circulated on the Internet. When he learned that many towns still held the Krampuslauf (or, Krampus Run), he decided he wanted to go to Austria and experience the festivities for himself. So in 2012, he visited the Austrian town of Bad Gastein, which he chose because he'd heard their Krampus Run, unlike those in other towns, was the most "unruly."
"It's been civilized a bit over the years, but in that town, the Krampus Run doesn't take the form of a parade going down a linear route," he said. "You never know where you're going to see them. You hear the bells and they show up."
These Krampuses, typically young men in frightful costumes, burst into bars and restaurants, snatch passersby's hats clean off their heads, and they even do home visits -- an old tradition, wherein St. Nicholas and his terrifying minions will show up at residences to appraise those inside. Traditionally, during judgement, St. Nicholas would ask everyone if they'd been good, and would test them, perhaps by quizzing them on Catechism or other holy studies. Though not mentioned in the Bible, Ridenour describes the Krampus as a kind of "folk-Catholicism," a cautionary tale to encourage piety among the youth.
A typical grouping for a home visit is one St. Nicholas, two angels, six Krampuses and an additional party who carries a basket containing treats for those deemed to have been good. The addition of St. Nicholas provides not only a chaperone, but "a moral purpose," Ridenour said, offering the townspeople a chance to prove their sanctity and be rewarded for it, rather than just forcing them to deal with the rampaging Krampuses. Despite their horrifying appearances, the Krampuses, at their worst, could be described as disruptive, offering a playful swat or, perhaps, attempting to wrestle a piece of the family's furniture out into the snow. They bear a strong similarity to trick-or-treaters, as a resident can beguile them into quieting down by offering them a treat, be it a snack, alcohol, or some coins.
These home visits are vestiges, Ridenour said, of the Nicholas Plays, which contained various scenes involving the pious St. Nicholas and his brutish devils. These contain some of the earliest references to the Krampus and if you're very curious about them, there is one happening next month featuring select scenes from an 18th-century work that has been translated into English for the occasion.
When Ridenour returned home from Austria, he found he had a message from an old friend, Al Guerrero, suggesting they form a Krampus group in Los Angeles. The pair had both previously been involved with LA's Cacophony Society, which Ridenour had run in the '90s. As such, they'd participated in early SantaCon events before they deteriorated into the drunken free-for-all they are today. Ridenour had also worked with a morbid arts group known as The Art of Bleeding, a performance troupe that poked fun at mid-century health and wellness literature. The Krampus thing just feels like a natural extension of Ridenour's Yuletide and macabre interests. In 2013, the pair produced the first Krampus LA event, and it's been going strong each year since, with many going all out on original costumes.
So, if you want to get out your horns and get into the Krampus spirit, here's how: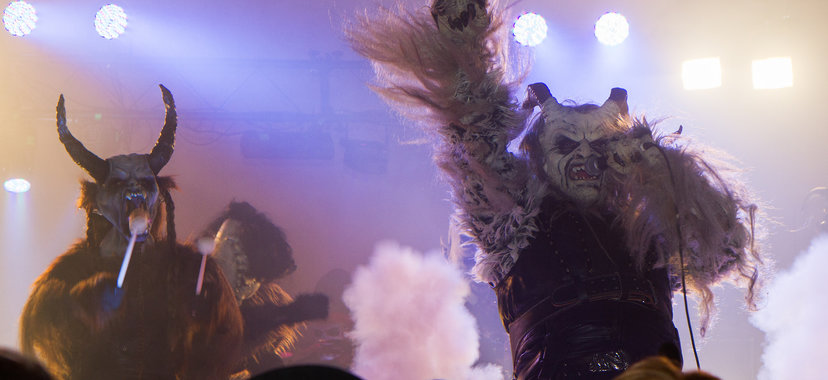 Sign up here for our daily LA email and be the first to get all the food/drink/fun Los Angeles has to offer.