The Most Festive Things to do in LA This Holiday Season
Celebrate the end of the longest year ever.
There's never been a year that we've all collectively wanted to end as much as 2020, but we finally made it. Unless you're The Grinch, the holidays always carry some magic—even in LA, where the only snow you'll see is on TV. And though we'll be spending another month wishing we could be out partying with our friends, at least winter is the best time to stay warm and cozy inside. Or go to a drive-thru light show. Or do virtual pub trivia. You get the idea: here are the most festive things to do in LA this holiday season.
Throughout December
Little Tokyo
We've probably all given Jeff Bezos enough of our money this year, so instead of trolling Amazon day and night for deals, take a stroll through a local neighborhood and support the small businesses you find; Little Tokyo is a great place for it. With options like ceremonial grade matcha from Midori Matcha, pro-level Japanese knives from Anzen Hardware, and the unbeatable pastry boxes from Yamazaki Bakery, you'll be doing some good all around.
Cost: Varies
How to order: Contact specific businesses for more information.
Throughout December
Arts District
There are few bars in LA that do it up for Christmas in a more magical way than Here & Now, and this year you can bring some of that magic home with you. The hidden-in-plain-sight Arts District cocktail spot (which also boasts one of the city's best and most slept-on burgers) will be firing up its annual "Blitzen" event via the internet this year, so you can get your themed cocktails going from the couch. You'll want to invest in some kitschy drinkware for this one.
Cost: Varies
How to order:Pickup or delivery through the bar.
December 5, 12, and 19
DTLA
If you want to drown the end of your year in holiday-themed cinna-donuts and gingerbread cake bars, we get it. The good news is, on Saturdays throughout December, you can support a local WOC-owned bakeshop while doing just that. Flouring LA will be popping up at Hotel Figueroa, and trust us, you'll want to pre-order one of their eight-piece $44 holiday boxes with gingerbread cake bars, peppermint meringue topped brownies, cinna-sugar donuts, and Belgian sea salt chocolate chip cookies.
Cost: $44 per holiday box
How to order: Pre-orders can be placed by emailing flouringla@gmail.com and pickup is every Saturday from 1–3 pm.

December 13
Beverly Hills
Save your steps and gas up your engine to celebrate light, unity, and liberty with the JEM Community Center of Beverly Hills' Chanukah Car Parade and Grand Menorah Lighting which, given the neighborhood, will likely double as a luxury car show. Family-fun festivities start at the community center on Santa Monica Blvd and will include free Chanukah donuts and menorahs, music, and more.
Cost: Free
How to book: Register online or by calling (310) 772-0000.

December 19
Your House
No matter what you think of pub crawls, there's no denying that it hardly feels like winter in LA without the Santa Monica Pub Crawl. Though a virtual version won't have the same energy (at least, not with that attitude), you can simulate the experience pretty well with takeout discounts at participating spots and a virtual bingo party. Oh, and 15 extra bucks gets you four cocktails plus chips and dip from Lanea, so you'll be doing that.
Cost: $20–$55
How to book: Purchase tickets on the Santa Monica Pub Crawl website.
December 24
Your house
The signature Christmas Eve celebration normally hosted at the Dorothy Chandler Pavilion will be live streamed this year, which means it's the perfect Christmas Eve show to put on in the background of your celebrations. Twenty-two performers will be spreading the cheer during the free show, and it's A+ family time to counteract the booze-soaked debauchery you'll be filling the rest of your season with.
Cost: Free
How to watch: Watch the broadcast on PBS SoCal 1 or stream online on the Music Center's website from 3-6pm PST on December 24.

Through December 24
Dodger Stadium
It's the first Dodgers championship in 32 years, and we've all been robbed of proper celebrations. If you want to head to Dodger Stadium for something besides a COVID test, this drive-thru experience is a great way to (safely) immerse yourself in Dodger festivities—we're talking lights, LED and interactive displays, fake snow, and more.
Cost: Tickets start at $55
How to book: Purchase tickets through the Dodgers website.
December 31
Your House
You probably can't wait to say goodbye to this rotten year. We don't blame ya. It will be hard to go party-less, but if you want something more interesting than watching the ball drop in Times Square, Grand Park's annual celebration will be live streamed via Fuse TV. Keep an eye on their page as more info surfaces. At least you won't have to worry about getting an Uber this year!
Cost: Free
How to watch: Check local TV listings.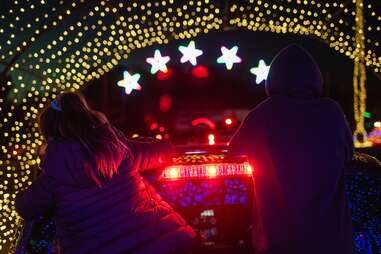 Through January 3
San Dimas
At long last: a way to experience Raging Waters without getting that nasty titular raging water all over you. With over a million different lights, their socially safe "Christmas in Color" animated light show will most certainly be a spectacle. Christmas overload is never a bad thing.
Cost: $35
How to book: Purchase tickets on Christmas in Color's website.

Through January 3
Valencia
The Christmas-lights-in-a-theme-park situation doesn't stop at Raging Waters—Six Flags is also putting on an impressive, albeit tamer experience. Millions of lights and holiday music set the stage for this event, and though you won't be screaming for your life on a roller coaster, it's still a pretty magical way to spend an evening.
Cost: $25–$35
How to book: Purchase tickets on Six Flag's website.

Through January 10
Costa Mesa
Another light show? Yeah, it's that kind of year. The OC Fair & Events Center is behind this one, with a full mile of lights and music. You'll be able to add your favorite fairground food to the celebrations here too, so that means you can chomp down on some cookies, tamales, or chicken tenders while you take it all in.
Cost: $39–$59
Through January 10
Century City
If you've been to the Happy Place before and you're tired of all that lame walking, they've got just the thing for you. The immersive experience that you've seen in the background of hundreds of Instagram photos has returned in the form of, you guessed it, a drive-thru. It might be harder for you to get a selfie for the 'gram this time, but we have no doubt you and your influencer heart will figure it out.
Cost: $50
How to book: Purchase tickets on the Happy Place's website.
Through January 10
Palos Verdes
LA's signature light shows, like all outdoor events, have taken a pretty substantial hit this year. Thankfully there's still an outdoor stroll you can take, and it's down in Palos Verdes at the South Coast Botanic Garden. GLOW will hit you in all the right light-loving places, with thousands of lights coming together to create an ocean-themed winter experience. The soundtrack is curated, the lights are bright, and the air is fresh—so grab a ticket (and a mask).
Cost: $35
How to book: Purchase tickets on South Coast Botanic Garden's website.
Sign up here for our daily LA email and be the first to get all the food/drink/fun Los Angeles has to offer.
Wilder Shaw misses bars so much he would even go to the nightmare that is SantaCon if he could. Check out his festivities on Instagram and Twitter.