Everything You Need to Know About the LA Marathon This Weekend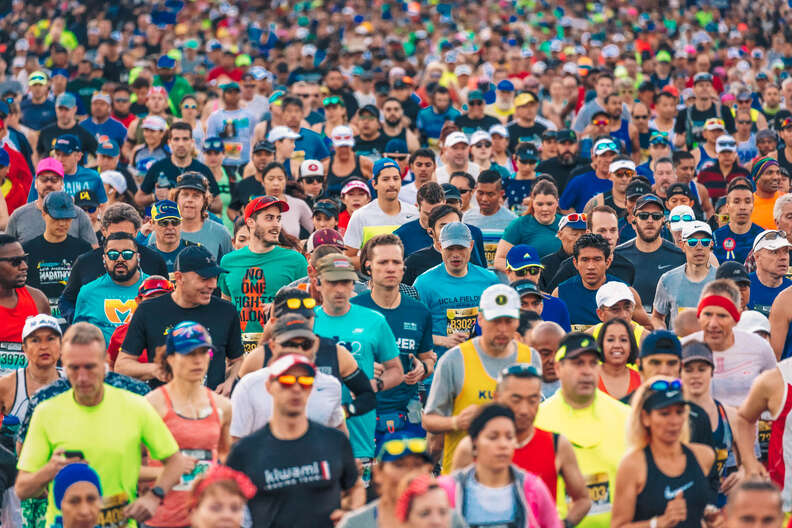 Break out the goo packs and nipple tape, because it's the one day of the year where LA traffic is horrendous but for a good cause: the LA Marathon. This year, more than 24,000 athletes from across the US and 67 countries will be pounding pavement from Dodger Stadium down to Santa Monica, raising money for charity and burning off street dog calories along the way.

Also happening this year, brave and doughy Thrillist correspondent Sean Cooley is running his first LA Marathon. As someone who once ate a bacon bomb, the process has been daunting; I've been training for 6 months and I have a Theragun and a load of CBD stashed away for recovery (send thoughts and prayers). Whether you're running the race, cheering someone on, or just now wondering why your drive to brunch is gridlocked, here's your race day survival guide.

When is the 2020 Los Angeles Marathon?
Sunday, March 8, 2020.

What time does it start?
The race begins at 6:30am, with the waves of runners taking off in order of wheelchairs at 6:30am, handcycles at 6:42am, elite women runners at 6:45am, and elite male runners along with the full field at 6:55am.
Where's the LA Marathon starting line?
The race starts at Dodger Stadium, 2000 Academy Rd. Los Angeles, CA 90012, home to Hall of Fame outfielder Mookie Betts. The starting line will have seeded runners' corrals for the fastest participants based on recent marathon times, and an open corral for participants to queue up by their anticipated finish time.

For those of you wise enough to spring for Start Line Hospitality, you'll find perks like an outdoor tent with heaters, private gear check, private bathrooms and a stretching area with yoga mats and foam rollers.

What's the best way to access Dodger Stadium?
For runners who've made reservations in advance, pre-race shuttles will be available from Union Station's Bay 9 at Patsaouras Transit Plaza at 5am, 5:30am, and 6am, as well as Santa Monica City Hall every half hour between 3am and 5:30am. Shuttles will also be available from DTLA and Beverly Hills hotels for participants who booked through the LA Marathon's Hotel Reservation Center.

If you're driving, there are 10,000 paid parking spaces for runners in Santa Monica and limited parking at Dodger Stadium; keep in mind the Golden State Gate is the only gate that will be open for parking and drop off, and cars parked at Dodger Stadium can be retrieved until 8pm Sunday or on Monday after 7am. The gear check is in Parking Lot K at Dodger Stadium and stays open until 6:30am. All gear checked in the clear plastic event-issued participant bag at the start line will be transported to the finish line for pick-up after the race.

What's happening pre-race?
In the lead up to the 2020 Marathon, the Health & Fitness Expo will be held Friday, March 6 from 10 am to 7pm and Saturday, March 8 from 9am to 5pm at the Los Angeles Convention Center. It's the largest marathon expo in the world with free seminars and 120 exhibitors showcasing running gear, shoes, tech, and fitness and nutrition products. All participants in the LA Marathon must pick up their bibs and goodie bags at the expo.

For ambitious runners looking to knock out a pre-run run, the LA Big 5K is a 3.1-mile loop from Dodger Stadium through the Elysian Park neighborhood around the stadium held on Saturday, March 7.

What is the Marathon route?
The race map passes through some of LA's most iconic landmarks and neighborhoods: Downtown, Silver Lake, Hollywood, WeHo, Beverly Hills, Westwood, West LA, and Santa Monica. Each mile checkpoint corresponds with a notable LA attraction such as Disney Concert Hall, the Hollywood Walk of Fame, and Rodeo Drive. There are 22 aid stations along the course, providing water and Nuun Hydration to all runners.
Where are the best places to watch the race?
If you're an observer rather than a runner, there are a number of viewing spots at landmarks along the course where you can catch a glimpse of the marathon in progress. A few key vantage points include:

- Dorothy Chandler Pavilion Downtown past mile marker 4
- Echo Park Lake in Echo Park, near mile marker 6
- TCL Chinese Theatre in Hollywood, near mile marker 11
- Rodeo Drive in Beverly Hills, near mile marker 16
- Palisades Park in Santa Monica, mile marker 25
- Ocean Avenue, north of Washington Avenue, in Santa Monica, near the finish line.
What street closures will be in effect?
To avoid getting stuck in traffic on marathon day, be sure to check out specific street closures and times along the route. Keep in mind that some freeway ramps will also be closed, so you'll have to plan alternative routes, especially around Downtown.
Closures between Downtown and Hollywood will start around 4am and be reopened between 10am and noon, while those between West Hollywood and the beach will start at 5am and reopen between 12:45pm and 2pm. Ocean Avenue between San Vicente and Pico will close at midnight the night before the race and stay off-limits to drivers through 5pm on Sunday, while San Vicente between Ocean Avenue and Wilshire will be closed from 5am to 5pm.
What is the weather forecast for race day?
According to Accuweather, it'll be mostly sunny with a high of 69 and low of 52 in Dodgertown at the start of the race, and a high of 66 and low of 51 in Santa Monica at the finish line. The chance of precipitation is 10%.
What time does the LA Marathon End?
After the full field begins at 6:55am, there's a time limit of six hours and 30 minutes for official finishers, meaning race officials will reopen streets to vehicles on a rolling basis at a 15-minute per mile pace. Participants still on the course at this time will be required to move to the sidewalks and obey all traffic signals. Participants who cross the finish line after 6:30:00 mark are not guaranteed to be recognized as official finishers, and are not guaranteed a medal or finishing time. Course support stations and water stations continue to operate until 3pm.
Where's the LA Marathon finish line?
The race ends in Santa Monica on Ocean Avenue at the intersection of Ocean Avenue and California Avenue.
What's happening post-race?
Free beer and free massages, naturally! Pick up your gear and mosey over to the "Family Reunion" stations set up at the finish line to reconnect with your crew. From there, participants are entitled to a complimentary rubdown at the Ocean Avenue massage tent, as well as a free Michelob Ultra at the beer garden from 10am to 2pm. Never will you have deserved a beer and a backrub more.
Sign up here for our daily LA email and be the first to get all the food/drink/fun Los Angeles has to offer.
Sean Cooley has yet to post about running on social media. Applaud his restraint and follow his sedentary lifestyle on Instagram @SeanCoolish.