The LA Summer Festival Master Calendar
Now that you've made plans for which outdoor movie screenings you're going to hit this summer (so, all of them?), it's time to make plans for which festivals you're going to hit this summer (so... all of them, too?). Especially now that you've got this list of EVERY SINGLE FESTIVAL in one place.
FYI: we'll be updating throughout the summer, so eventually it WILL have every single one. So, go ahead and bookmark... now.
Uh, a pop-up underground art show in a warehouse filled with booze and all-you-can-eat pancakes? Suck it, IHOP.
Sure, they've got live music, burgers, and beer, but where's the bocce ball you might be asking? Well stop asking, 'cause they've got that, too.
Wanna see U2, The Beatles, Journey, Bob Marley, Elton John, The Police, Queen, and The Rolling Stones all on the same day? Never gonna happen, ever, but you can almost sort of see them at this tribute band blowout show.
Arcadia's biggest Asian-themed night market finally makes its way to OC, again. Check out more than 200 vendors, complete with food, beer, art, and music.
Missed the LA event in April? Head down to the OC and get your drink on.
$180 for four days of music in the middle of the desert. Camp there, 'cause duh.
Greek Fest brings you three days of live music, authentic Greek food, and tours of the church. Opa!
Even if "vegan" is a trigger word for you, this festival blasts out actually-good, non-animal food, plus beer, which is double-good. Added bonus: great bands, including recent Coachella Americana-rockers Jamestown Revival.
Contests, live music, strawberry beer, and an estimated 1.5 million strawberries. If y'all like strawberries, this seems like a reasonable event to attend.
Storm the beach for a day of food, craft beer, and live music. And pssst -- it helps charity, so you're pretty much a terrible person if you don't go.
All-day free music festival with music from members of Fishbone, Country Joe and the Fish, and many other bands without fish in their names.
Unlimited wine pours (beer too!), food trucks, and free crackers. And even discounted tickets for your DD!
It's amazing that this giant festival's still free: main-stage performers include nationally-touring bands like Sir Sly, The Moth & The Flame, and Nick Waterhouse.
More than 80 taco vendors fill the streets of Downtown for this event, which's already sold out (bummer!) but you can probably find tickets on the FB page or Stubhub as it gets closer (not-bummer!).
An open-to-the-public benefit food fest with lauded chefs including Susan Feniger, Bruce Kalman, and Kris Morningstar.
LA's preeminent film fest will be full of premieres and both great indie and great mainstream films.
The annual LGBT pride fest is a great excuse for all sexual orientations to party. Also: Kesha, yo!
Major chefs (including Susan Feniger and Phillip Franklin Lee) are doling out samples and pairings.
There isn't a more boisterous audience than the one at Playboy Jazz Fest, nor one that's better to people watch at. And the music's pretty great, too.
The eight-day-long week (who's counting?) kicks off with 75 craft breweries, two stages of live music, and, of course, food trucks.
It sounds ridiculous, but the chalk artists here will blow. You. Away.
An all-Rose wine festival? Yeah. It's a thing.
Raise money for local schools while you taste food, wine, and beer over the course of two weekends (June 26-27 and July 10-11).
Like, a billion 1-2-3-4 bands including the Angry Samoans and Agent Orange
The OG Night Market has three weekends this year (July 3-5, Aug 7-9, and Sept 4-6), so you have no excuse to miss it. (And on Sept 6 it'll be open 'til 1am).
All-you-can-eat samples from award-winning chefs, trucks, carts, and pop-ups. Oh, and beer, too.
Crazy-ass performance art troupe Lucent Dossier, plus tons of DJs and heady EDM
Maybe in 10 years you can be all like, "I saw their film at the DFFLA before they were famous!" Maybe.
You either love reggae or you don't. If you do... yeah, this is for you.
Pok Pok's Andy Ricker hosts a major asian-themed fest, with bites from Badmaash and Katsuya among many others.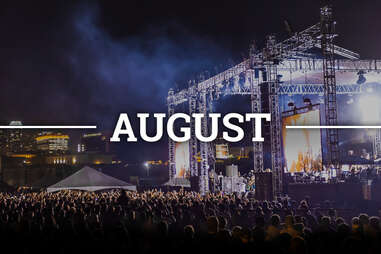 Uh, there's a ton of bacon and a ton of beer. Do you need any more info? You do not.
The Weeknd and Jack U, as well as Chromeo and Ratatat, make this The Best Lineup Ever for the annual oontz-fest.
Up and coming bands are matched with up and coming movies. Yeah!
All the best underground hip hop and DJs, including Flying Lotus, Earl Sweatshirt, and many, many more
35+ burgers. 30+ beers. You.
Keith Sweat AND K-Ci and Jo Jo? Yeah. That's right.
The Eastside's totally taken over by this free, three-day music festival, with hundreds of TBA local bands (and thousands and thousands of local hipsters).
A week-long celebration of Japanese culture and community. And a parade, obviously.
KCRW DJs break down beats for free outside in SaMo
Coachella's indie rock cousin's lineup this year features topliners like Morrissey and Frank Ocean, as well as deep-cut picks including garage rockers BRONCHO and electro legends Spiritualized.
LA's biggest food festival will once again have internationally acclaimed chefs cooking at tons of high-end events all over town.
So. Many. Deep. Fried. Things.
A gigantic celebration of Hawaiian culture, complete with food, music, and Hula/chant competitions.
Three days of high-end food and seminars from notables like Jonathan Gold
Podcasters are still TBD for the fourth annual LA Podfest
Bar-rockers Deer Tick headline this Americana-and-more music fest
Three days of lobster, music, and pirates. Seriously, there are always pirates.
Four stages of music and spoken word, three beer gardens, and tons of food. Duh, duh, and duh.