Everything You Need to Know About the 2015 Great Horror Campout
The Great Horror Campout is back (and more fucking terrifying than ever), ready to again take over Griffith Park for an all-night event that's essentially a horror movie that you're the star of, with kidnappings, beheadings, and all sorts of shit-your-pants creatures that are ALLOWED TO TOUCH YOU (seriously, you sign your rights away).
Whether you're already like "nope!" or "where do I sign up?", here's everything you need to know about this year's event, which goes down June 5-6.
 
The basics are the same
It's still all-night (8pm-8am), there's still an included tent to crash in, and the main event is still what's called a "Hellhunt" -- a multi-game scavenger hunt in which the object is to collect as much "S.C.A.G." (that's "Shit Campers All Get") while dumping yourself in vats of blood, jamming your hand into suspect chest cavities, and doing all sorts of other unspeakable acts. Oh, right, and you try to do it while avoiding crazy hillbillies, murderous goat-ghouls, horrific giant wildebeests, and everything else that's ever haunted your nightmares -- all of which are totally able to tie you up, throw you in a van, and kidnap you. Yes. It happens.
Great Horror Campout
This year, there's an added personal twist
For the first time, each camper will be issued a horror-movie trope upon check-in, with a special skill that will help you through the night, like Nerd (which gives you a TBA "intellectual advantage"), or Cheerleader (the ability to distract monsters), or Jock (physical advantage), or Virgin (survival skill).
You're encouraged to team up
In the past, it was every-man for himself, but the addition of the character archetypes means that you're best with a team... of cheerleaders.
The games are all different
GHC's dropping insane new mini-games like Ram Ball, in which you'll be in a Wayne Coyne-like bubble while goat demons chase you; the Kontiki Cave, where you'll be body-painted to look like a monster yourself; and Mass Grave, which the organizers promise "will send campers into a claustrophobic hell." Fun times!
The organizers have fixed a couple of major, major problems
In the past, the most-valuable S.C.A.G. was often scooped up early, leaving later-night players to pick up scraps. This year, organizers promise refreshes over the course of the night -- with over 50,000 collectable items -- so everyone has a chance to win if they use their wits. Also fixed: the sort of not-good vegan food, which is totally gone this year in favor of camper-brought picnics and a couple of snack vendors.
Great Horror Campout
The campgrounds are now divided into separate, themed zones
The zones are called totally-unscary things like "feathers" and "unicorns." JUST KIDDING -- THEY'RE CALLED THINGS LIKE FEAR OF BLOOD AND FEAR OF DEATH!!! Also, they're not safe zones. So, yeah. Monster break-ins are common. Sleep well!
Great Horror Campout
It's only happening in LA
Last year there was a tour, but this year the organizers decided that touring watered down the experience -- so they've concentrated 100% of their efforts on making the Los Angeles GHC next-level rather than taking it on the road.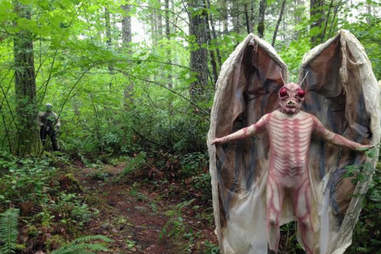 Great Horror Campout
You can get a $25 discount with the code THRILLIST*
Seriously, you're gonna want to do this.
Sign up here for our daily LA email and be the first to get all the food/drink/fun Los Angeles has to offer.
Jeff Miller is a Senior City Editor at Thrillist and has been to both the last GHCs but hasn't even gotten close to Hellmaster. Let him know if you want to join his team anyways on Twitter at @ThrillistLA or Instagram at @jeffmillerla.
*GHC's lawyers want us to say this: "Code THRILLIST is valid for $25.00 off of any Great Horror Campout Los Angeles ticket for Friday, June 5th only. May be used for all tent sections including the 2 person tent 'Black Zone'. Discount is per ticket and valid on multiple ticket purchases. Expires June 2nd at 11:59pm PST. Not valid with any other discounts or promotions. Must be 18 years of age to attend the Great Horror Campout. Visit www.GreatHorrorCampout.com or email GHC@TenThirtyOneProductions.com for more details."