All the Outdoor Concerts Happening in LA This Summer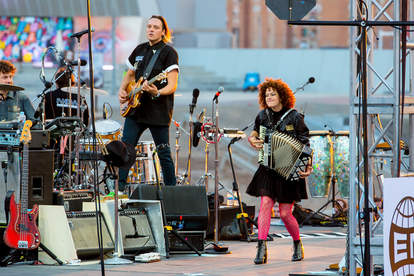 Whether you're after multi-day music festivals, massive stadium shows, or free, low-key performances around town, LA is a great place to take in a summer concert. There are so many opportunities to catch live music in the open air, you could easily fill your calendar with nothing but live music events from now till September. In case you want to keep a day free here and there, though, we've rounded up the top options for getting funky in open-air locations across LA (and across musical genres) this season.
Every Friday through August 31
The Original Farmers Market
Friday evening acts will range from Latin jazz, to swing, to Brazilian, and take place on the Market's west patio.
Price: Free
Every Friday through August 31
LACMA
Catch jazz at the museum's BP Grand Entrance every Friday, with performances by heavyweights like jazz trumpeter director of The Count Basie Orchestra Scotty Barnhart (July 13); guitarist Tom Rizzo and his quartet (August 3); and vocalist Sarah Gazarek (August 31)
Price: Free
Friday, July 7
California Plaza, DTLA
Dance, dance, dance to this funk and soul master's top tracks, part of Downtown's Grand Performances series.
Price: Free
Friday, July 7
Dodger Stadium
John Mayer does an impressive job jamming alongside the legendary band's original members Bob Weir, Mickey Hart, and Bill Kreutzman with help from Allman Brothers bassist Oteil Burbridge and Fare Thee Well keyboardist Jeff Chiment.
Price: $20-399
Friday, July 13
California Plaza, DTLA
"Now more than ever" is right, and if you're worried you don't know the words to these particular tunes, lyrics will be projected onto a screen behind the musicians. Expect special guests at this show, which is part of Downtown's Grand Performances series.
Price: Free
Saturday, July 14
The Getty Center
The annual Off the 405 summer concert series hosts this female-fronted LA psych rock band in the museum courtyard.
Price: Free
Friday July 13 and Saturday July 14
Hollywood Bowl
Don your favorite ascot and sail away with these fabled yacht rock dudes backed by an orchestra.
Price: $19-202
Saturday, July 21
The Greek Theatre
You've seen shows before featuring artists whose careers peaked decades ago, but this one's filled with a random, rag-tag mix for the ages, including Salt n Pepa, The Village People, Lisa Lisa, Brenda K Starr, and Pretty Poison.
Price: $50-225
Saturday, July 28
The Getty Center
The annual Off the 405 summer concert series does a bonus second July show with this indie songstress you might recognize from Mozart in the Jungle.
Price: Free
Beach House

| Christian Bertrand/Shutterstock.com
Friday, August 3 and Saturday, August 4
Hollywood Forever Cemetery
The cemetery is famous for its summer movie screenings, but this weekend it hosts the dream-pop duo for two nights of shows.
Price: $45
Tuesday, August 7 and Friday, August 10 
Hollywood Bowl
The Los Angeles Philharmonic plays John Williams' famous score live-to-picture, as the world's most famous sci-fi flick is played on the big screen. Superfans can catch the Phil do the same thing for The Empire Strikes Back the same week.
Price: $24-159
Thursday, August 9
Burton Chace Park, Marina del Rey
The American Idol runner-up will perform at the waterfront park backed by the Marina del Rey Symphony, part of the Marina's Symphonic Thursdays series.
Price: Free
Saturday, August 11
The Greek Theatre
If this '70s rock group isn't onstage somewhere singing the "The Joker," is it really summer? Pal Peter Frampton will do his own set, in addition to jamming with Steve.
Price: $50-125
Thursday, August 16 to Sunday, August 19
Echo Park
A four-day summer fest with food trucks, art vendors, and multiple stages for musical performances. Stay tuned for the lineup.
Price: Free
Saturday, August 18
Rose Bowl
The English singer-songwriter will be crooning a bunch of hits you know the words to, whether you like it or not.
Price: $108 and up
Saturday, August 18 and Sunday, August 19
ROW DTLA
Catch three stages of hip-hop, dance, and R&B acts -- many of whom participated in an awesome Golden Girls-themed promo you should watch right now -- with headliners Gucci Mane and RL Grime on Saturday and M.I.A. and Jamie XX on Sunday.
Price: $79 to $249
Saturday, August 25
The Getty Center
If you don't know what "tropical futurism" is, find out with a performance by this New York band with roots in Colombia -- part of the Off the 405 summer concert series.
Price: Free
Friday, September 7, Saturday, September 8, and Sunday, September 9
Hollywood Bowl
The New Orleans native pays tribute to his hometown in honor of its 300th birthday with a Big Easy-themed evening, special guests and a fireworks show. 
Price: $14-76
Saturday, September 15
The Greek Theatre
Hear some of New Orleans' most legendary living musicians, including Preservation Hall Jazz Band, Trombone Shorty, and New Breed Bass Band, and then announce to all of your friends you're going to learn how to play an instrument. OODOO
Price: $39.50-85
Saturday, September 15
The Getty Center
Catch the final Off the 405 summer concert of the season, featuring the indie-pop project of Laetitia Tamko.
Price: Free
Sunday, September 16
Hollywood Bowl
The not-as-famous-as-they-should be Philadelphia-born indie rock band makes their final U.S. stop on their summer tour.
Price: $15 to $119
Tuesday, September 18
Hollywood Bowl
The bad news is, you'll feel old when you realize that The Miseducation of Lauryn Hill came out 20 years ago. The good news is, you'll get to see the legend perform the album while on tour with Dave Chappelle and De La Soul.
Price: $49-600
Thursday, September 20
The Greek Theatre
See the Grammy-winning Canadian group at one of LA's favorite outdoor venues.
Price: $59.50-125
Saturday, September 22 and Sunday, September 23
Rose Bowl
Come out and support this up-and-coming husband-and-wife duo, struggling to make a name for themselves in today's cutthroat music industry.
Price: $49.50-1,850 (seriously)
Saturday, September 29 and Sunday, September 30
Marina Green Park, Long Beach
As you may have surmised, it's just as much about the food as the music at this two-day fest featuring chefs like Nancy Leon of Tijuana's Chan's Bistro and Galaxy Taco's Christine Rivera along with headlining acts New Order and James Blake.
Price: $85-300
Sign up here for our daily LA email and be the first to get all the food/drink/fun Los Angeles has to offer.