Every Event Worth Driving to This Fall in California
It's hard not to love fall in California since it's... kinda like summer in California! Oh, right, but with one obvious difference: this extensive list of road trip-worthy, autumn-only events that will take place all over the state, from beer fests to something called "Video Game Sundance" to the launch of Disneyland's first new Star Wars thing in a long-ass time.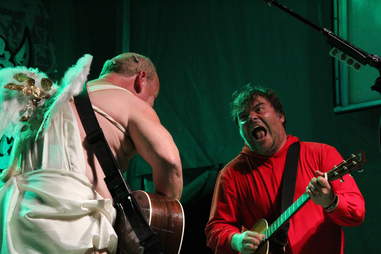 Jeff Miller/Thrillist
The Dan Band -- the Adam Sandler faves who are the reason you insert "fuckin''" every time you sing "Total Eclipse of the Heart" at karaoke -- are the headliners of Fleet Week's first-ever/best-ever country music fest.
LA's biggest comedy-and-musical-comedy-and-some-music fest returns, with reunions of Kids in the Hall and the cast of MST3K (!!), music from Rocket from the Crypt and Die Antwoord, and curators Tenacious D playing... jazz? Yep.
Mamma mia! It's the biggest Italian festival in the country!
There are also livestock expositions and horse shows at this 70-year-old Bay Area event (taking place the 16th-17th and 23rd-24rd), but let's be honest: you're there for the lassos.
The clam festival is a Pismo tradition, with a wine walk, a clam chowder competition, and a clam dig.
The Bay Area's festival on an island in the middle of the Bay returns, this time with The National and Deadmau5 topping a bill that also includes noodly guitar rockers The War On Drugs and hip-hop super-duo Run The Jewels.
It's all you can drink for four hours at this annual beerfest, which has dozens of top brewers on board.
Live music and a beer-and-wine garden are the highlights of this annual fall festival in Yosemite.
Barbecue. Beer. Palm Springs adjacent. Do you need more info? No. You don't.
If you leave this soul-food extravaganza on the streets of South LA with even a smidgeon of stomach space left, you're doing something completely wrong.
There's not an enormous amount of info about this Victorian-meets-sci-fi fest, except that there will be a costume contest, vendors, fashion shows, and lots of people wearing goggles for no reason(/some reason?).
This celebration of the most hipster hoods in LA has (no surprise) tons of artisan food vendors dropping samples of their most-bomb dishes.
This annual motorcycle rally/benefit concert next-leveled by booking Foo Fighters for its final (announced) show of the year.
This 10th annual fancy-eating event has top LA restos like Birch and AOC plating, as well as demos from Top Chef Masters cheftestants like Neal Fraser.
They call this festival "Video Game Sundance," which means it's where independent game designers show off their projects.
Neil Young's acoustic-only benefit show returns, this year featuring St. Vincent and Ryan Adams, in some of his first shows post-1989 buzz.
LA goes nuts for this Day of the Dead fest, which includes live music, parades, and thousands (and thousands) (and thousands!) of people in selfie-ready traditional face makeup.
Forty breweries are committed to bringing a rare or "special" brew to this costume-basically-required Halloween party/beer fest.
There will be tons of craft beer (and tons of food trucks) at this second annual, uh, coast-side beer fest at Half Moon Bay.
Palm Springs' Spa Resort and Casino had a great idea: take a BBQ & beer festival, and add Robbie Knievel doing a death-defying jump.
This EDM fest is 21+ only, meaning full-on raging venuewide, which'll come in handy while fist-pumping to Nero, Skrillex, and Flying Lotus.
Danny Elfman's gonna be playing Jack Skellington at this sure-to-be-a-blast screening/performance of the Tim Burton classic, outdoors at the Hollywood Bowl.
It's the world's biggest Halloween party, and it's in your state. You want to go.
One of the biggest film festivals on the West Coast strikes again, with premieres, Q&As, and parties all week.
One of the biggest LGBT fests in the US means live music from bands like 10,000 Maniacs, plus parades, parties, and more all over the desert.
SD has one of the most exciting brewing scenes in the US, so it's no surprise that its beer week activities are slammed with parties, tap takeovers, festivals, and more.
This is a killer combo: watch a death-defying air show while sipping on top-level brews and wine.
There's already snow up there and they're expecting a ton more before the official opening day, which includes a beer-toast, music, and sweet deals on skiing and snowboarding.
This SoCal band festival is headlined by local heroes Cold War Kids and curated by their friends Delta Spirit, and local beer and food promised as well.
If your taste in SoCal music veers more hip-hop, this Odd Future-curated event returns with headliners Snoop Dogg and Tyler, The Creator
Seventy restaurants and 200 wineries band together for this epic culinary festival each year.
Disneyland is blowing out Star Wars stuff in anticipation of the new movie opening, with updates to Space Mountain and Star Tours (as well as shows and other goodies) starting today.
This SF tradition's basically an orgy of Christmas lights and other holiday goodness, designed to get you into the spirit... hopefully.
If you didn't make it to Mammoth in November, its neighbor June Mountain opens today, giving you even more reason to dust off your winter coat.