It's winter in LA, which means it's time to break out your hoodies that have been gathering dust in the back of your closet before heading out to one of these great events -- which include everything from beer-and-cheese-pairing nights to the best comedy you'll see all year.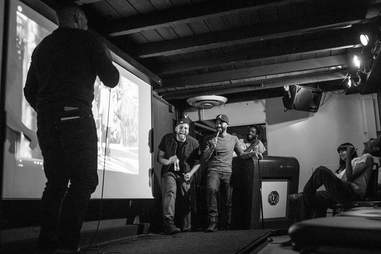 Can I Kick it

| Matt Misisco
The organizers of this musical-comedy show describe it as "Biz Markie meets MST3K," which should sound great to any old-school hip-hop fan who's also a comedy nerd; expect a panel of comics from Chelsea Lately and Inside Amy Schumer riffing on classic music videos.
If you're the type of person who thinks an all-mac-&-cheese festival sounds like a great way to spend your day, then, uh, hit this mac & cheese festival. And if you're not, let's be honest -- what kind of person are you, anyways?
Yep, it's been 20 years since the horror-comedy Scream came out -- so celebrate/get really torn up about how old you are/figure out finally what your favorite scary movie is at this screening, which is drinking-encouraged (each ticket purchase includes a beer!) and includes a post-show Q&A with guests TBA.
Just because it isn't summer anymore, it doesn't mean it's not beer fest season: This annual ode-to-brews has dozens of tastes from tons of breweries including Pizza Port and Ska Brew, as well as food and live music.
This formal-attire-required ode to Ol' Blue Eyes is an annual tradition at this Hollywood haunt, which means a sell-out for sure of dapper Dans (and Danielles).
This cabaret-style show at the tiny Showbox theater at Clifton's is a sexy sendup of X-mas villains, with everyone from Jack Skellington to the misfit toys from Pinocchio making an appearance.
Vagabond cheese has partnered with Angel City for a combo of two of your absolute favorite things: beer and cheese. This event includes five of each, as well as a tour of the Angel City brewhouse and a seminar on fermentation.
If you're feeling lonely this holiday season, this maybe for you: a G-rated cuddle party with no NSFW stuff, just a bunch of people in pajamas, led by a "Master of Touch," snuggling up with each other. Yeah, it's a little strange, but may give you that personal touch you've been missing. Or... not. Either way, it's worth a shot.
The music-and-food lineup is still TBA but Grand Park has become the city's unofficial gathering place for NYE, and this year will be no different: The massive celebration is totally free and super-accessible by public transit, although there's no alcohol officially allowed... but, c'mon, you're crafty, right?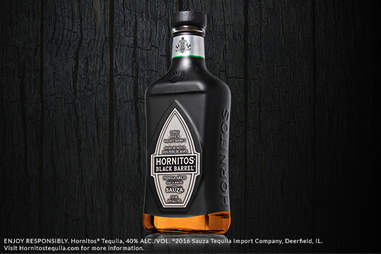 Courtesy of Hornitos
Try Hornitos® Black Barrel® Tequila
No matter what you do this winter, shake up your cold-weather cocktail game with this premium aged Añejo that's been further matured in deep charred oak barrels for four months to get a rich smoky flavor, and another two months in specially toasted barrels that add more depth and distinct complexity.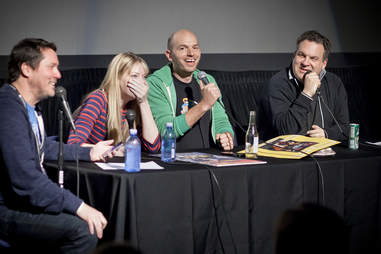 Riot LA

| Leizel Espinoza/Riot LA
According to myth, Pasadena's where the cheeseburger was invented; celebrate the genius at Cheeseburger Week, with restaurants all over the city offering specials TBA and cheeseburger crawls sponsored by the city.
It seems like The Event Formerly Known As Restaurant Week happens, like, nearly constantly these days, but that's not a complaint: the winter edition is actually two weeks of specially-priced menus at many of the best restaurants in town, which means if you've been putting off going to some of the best new spots in your city until you can afford them, here's your chance.
The annual alt-comedy fest is back with an INSANE lineup, which includes legend Mel Brooks (Young Frankenstein! Spaceballs!) hosting a screening of his classic Blazing Saddles, as well as younger comics like Ali Wong and Felipe Esparza doing stand-up sets.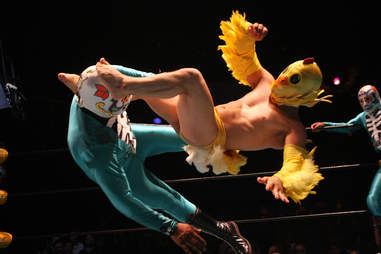 Lucha Va Voom

| Courtesy of Lucha Va Voom
The beloved, insane Mexican-wrestling-meets-burlesque (with a hint of comedy) show returns for their annual Valentine's-themed shows: Expect insane wrestling antics and amazing above-the-audience performances -- basically, if this doesn't blow you away, you're dead inside.
If you're going through Coachella withdrawal, rest easy knowing Air & Style's coming up soon: The annual music-and-skateboarding fest is like a mini 'Chella, with Flume, Major Lazer, and Chromeo (as well as an insane snowboard ramp) all at the top of the lineup.
It's the West Coast's biggest baking, pastry, and decorating convention, which really should be enough to get you in the door, but just in case dessert celebrities are what'll push you over the edge, Duff Goldman, Rosanna Pansino, and Elise Strachan will all be there too. And if those names don't do anything for you, these three words will: tons of samples.
February 26th is the awards this year, so consider this notice in advance: Avoid Hollywood and Highland at all costs for a few days before the event, but -- if you don't care who wins -- enjoy a seemingly completely car-less city all evening on that day. Need to make a trip from Pasadena to SaMo? Schedule it then.
Sign up here for our daily LA email and be the first to get all the food/drink/fun Los Angeles has to offer.