10 Very LA Things We Can't Wait to Do When Quarantine is Over
From strolling the Venice boardwalk to concerts at Hollywood Bowl.
LA Mayor Eric Garcetti's "safer at home" directive and increasingly limited outdoor options have everybody feeling pent up, both physically and emotionally. On good days, we can still daydream about plans for after we finally kick COVID-19. We recently reached out to an array of creative Angelenos who work in different mediums to ask what LA things they're fantasizing about for their "first day back" after the pandemic passes. Learn which places they miss and what they can't wait to do and see on the first day LA reopens in full, whenever that may be.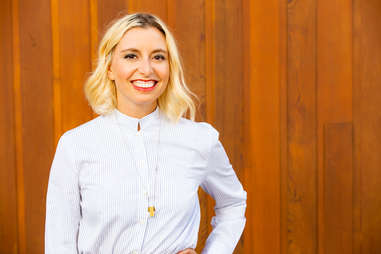 "The weather has been so great - I really miss LA's magical, outdoor venues like The Hollywood Bowl on warm spring/summer nights like we've been having (not to mention they offer Coolhaus at their kiosks!). I'd love to get a table with friends at All Day Baby and eat that delicious breakfast sandwich... and lastly take my son, Remy, for a visit to the Natural History Museum with his friends (he misses his friends so much!!)."
-Natasha Case, Founder/CEO of (Coolhaus)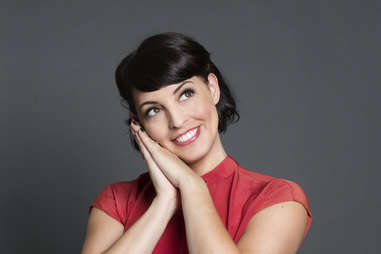 Head to El Coyote for margaritas and tamales, and also hit the Fairfax flea
"I can't wait to get back into a cozy booth at El Coyote and sip a Cadillac margarita. It's my family's favorite spot for birthday lunches so I have many, many years of good memories there. Plus the green corn tamales are the freaking best (especially with the secret warm salsa). Ideally, it'll be a Sunday so we can then head over to Fairfax flea market. Man, I miss flea markets. "
-Actress/Writer/Podcaster Georgia Hardstark (My Favorite Murder)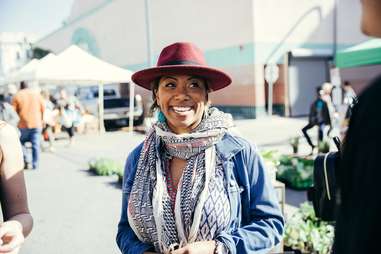 Take a spin class, head to the dog park and walk the Venice beaches
"The perfect LA day for me would start by waking up around 6 a.m., going to the gym and taking back-to-back spin/weight lifting classes. Pre- 'safer at home,' gym-time for me was at least four times a week and I really miss it! After working out I will pick up my mom, give her a big hug, take her to lunch and we will get mani-pedis. Then I am going to take my dog Ginger to the dog park; she misses going there so much. I plan to round out my day by heading to the beach, jumping in the ocean and watching the sunset while sipping a delicious Arnold Palmer."
-Chef Nyesha Arrington (Formerly of Native and Leona restaurants, and Top Chef )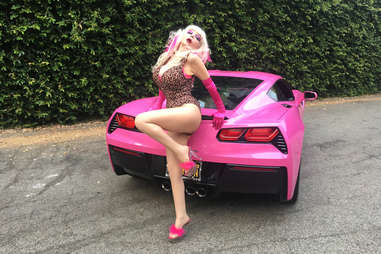 Ride down PCH in my pink Corvette (with friends!)
"The thing I really miss is giving people rides that win rides in my car [a signature pink Corvette]. I haven't been able to give anybody a ride…You have no idea the array of people I meet. I've given hundreds of rides and only had three-and-a-half strange ones… I bring lots of people in my car. I think when they start seeing my car again, they'll be in a much better mood…."
-Singer, actress and local personality, Angelyne
"The places I miss most are comedy clubs. The Improv, The Comedy Store, the Laugh Factory -- LA has some of the best comedy clubs in the country and it breaks my heart to see them all closed. I miss green rooms, handshakes, the wait staff, and of course seeing other comics on a nightly basis. I miss writing jokes in coffee shops and meeting up with friends to work on bits over lunch at Joan's on Third. I miss wandering around the Huntington Gardens in Pasadena on days that I feel creatively blocked. I miss feeling like part of the LA comedy scene."
-Comedian Taylor Tomlinson of Netflix's "Quarter-Life Crisis"
Eat at taco stands and street carts
"Taco stands, street food, and carts. I miss the taco stands with string lights and tubs of salsa and groups of families hanging out in a parking lot or on a corner. Many of the vendors have had to lay low while being unfairly targeted. Cannot wait to see their faces and smiles again."
-Chef Roy Choi (Kogi, Best Friend, Chego, LocoL/Chewbox, Alibi Room, Broken Bread, The Chef Show, L.A. Son)
"My first day back in LA will consist of picking up a matcha latte from Maru Coffee in Los Feliz, getting my nails done at Color Camp (because one of the many revelations of quarantine is that manicurists are true artists), sharing a butterscotch pudding with friends at All Time restaurant, purchasing something meaningless from The Grove, grabbing a glass of wine at Covell wine bar, getting a massage at The Raven Spa and if I'm being real- getting a bikini wax from Stark Waxing Studio. All the while sharing many hugs and maskless smiles along the way (expect probably not during the bikini wax. That sh*t hurts). What a day. I'll be exhausted. I can't wait.".
-Actress/Podcaster Monica Padman (Armchair Expert, Monica & Jess Love Boys)
Eating IRL in LA restaurants and shopping on Melrose
Missing and reflecting on all my wild late nights with my closest friends; I regret nothing. Impromptu Hollywood Boulevard photo shoots, after midnight Bossa Nova meals, browsing Melrose Avenue, stuffing a go-go boy's crotch with dollars, hunting down the perfect sunset spot. Cannot wait to order from a menu and not have to do the dishes.
-Naomi Smalls (RuPaul's Drag Race, RuPaul's Drag Race All Stars)
Head to concerts at The Echo and special nights like Airplane Mode (at The Hi Hat) and RESPECT (at Station1640)
"I just want to go to my favorite musical events to see my longtime peers rock the night like Cut Chemist, Gaslamp Killer, Thundercat, Flying Lotus, and Monopoly at some of my favorite venues like The Echo, but something tells me there is much more in store for us before this is all over."
-Artist Mear One
Eat at my favorite neighborhood spot and sit on the outdoor patio
"The day LA reopens in full, you bet I'm going to be skeptical about leaving my house. But let's say everything's looking real good--I'd go to Edendale Restaurant & Bar for a drink. I've been going there for a few years now and have gotten to know the staff who are all super lovely. Plus, I love how chill it is on weeknights, love their outdoor patio, love their happy hour (all night every Monday). And! I live a walkable distance from the bar so I can always run home if I forget my wallet or something (although that would probably never happen. Me, running)."
-Comedian/Actress/Writer Atsuko Okatsuka
Sign up here for our daily LA email and be the first to get all the food/drink/fun Los Angeles has to offer.