Everything You Can Still Do in LA This Weekend
Stock up on supplies (i.e. meat, cheese, alcohol) and join a Jurassic World viewing party.
We're starting to see the relaxing of shelter-at-home guidelines around LA with shops in town reopening with social distance guidelines in place. Until you can get into an actual restaurant or bar - it's going to feel so good once brunch is back - you've got some time to burn and we've got some great ideas for what to do. Assuming you're not too busy watching the SpaceX Dragon launch, this weekend, check out some pop-up BBQ, virtual escape rooms, and timeless comedy among other indoor activities.
If you would have spent the day at Universal Studios...
Watch:  The official Jurassic World viewing party
Friday, May 29, 5pm
$3.99 on streaming services
Drink: Isla Nu-Bar tiki drinks
Chris Pratt makes everything better, right? In honor of National Dinosaur Day, Universal Studios Hollywood is throwing a Jurassic World viewing party. Rent Jurassic World in time for Friday's synchronized viewing at 5pm and follow Universal's Twitter feed for factoids and commentary throughout the movie. There's also some tiki cocktail recipes from the park's Isla Nu-Bar should you have a hankering for a Bird of Paradise or Tiki Tai.
If you would have gone out for omakase sushi...
Eat:  Weekend sushi to-go from Hamasaku
Fridays and Saturdays
$40-$60
Good news for sushi aficionados (a-fish-ionados?) on the West side of town, Hamasaku has just reopened with Friday and Saturday pick-up options via Tock. Choose from the omakase package (assorted sashimi, nigiri, hand rolls and cucumber sunomono salad) at $40 or the favorites package (albacore with crispy onion, yellowtail with shishito peppers, Charlize Theron tacos, spicy tuna crispy rice, and hamasaku specialty rolls) at $60.
If you would have gotten a nice dose of nature...
Visit:  Descanso Gardens 
Ongoing
$15
Beloved nature retreat Descanso Gardens has reopened with limited visitors and a number of social distancing measures in place. With new extended hours, tour Descanso's five acres of California native plants and flowers as well as the Japanese tea house. Note that the Kitchen at Descanso will be open for limited hours to purchase drinks, which can be taken into the garden, or food, which must be eaten in the picnic area. Make sure to reserve in advance.
If you would have binge-watched Christopher Guest movies in honor of Fred Willard...
Watch:  Kaufmania - A Streamie Tribute to Fred Willard
Friday, May 29
$8-$25 suggested donation
Eat:  the original #19 from Langer's
The late Fred Willard was undeniably a master of deadpan comedy having handed in all-time performances in Best in Show and This is Spinal Tap. So, it's fitting that his last film appearance comes in the newly-released comedy Kaufmania, available for a limited digital run this week via Dynasty Typewriter. Willard presides over a series of independent mockumentary vignettes centering around the influence of the life and career of the late television star and experimental comedian, Andy Kaufman. A scene-stealing acting performance calls for a scene-stealing sandwich, so be sure to pick up some pastrami from nearby MacArthur Park institution, Langer's.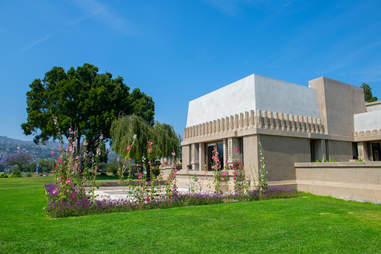 Hollyhock House

| Wangkun Jia / Shutterstock
If you would have taken an architectural tour of LA...
Take:  A virtual tour of one of Frank Lloyd Wright-designed homes 
Ongoing
Free 
Eat/drink:  Board at Home's Stay-at-home Survival Kit
After a complete restoration a few years back, the 5,000-square-foot Mayan Revival-style Hollyhock House, known for its seamless indoor-outdoor flow, massive hearth, and flower details used to be open to the public for tours. Until those get going again, Hollyhock is now offering virtual tours online, complete with 360-degree views outside and in and info and details about the house's history. Truly nail your day of sophistication with a curated wine, meat, and cheese kit from Board at Home, a same-day delivery service created to benefit California's artisan cheesemakers and restaurants. Choose from either "The Little Guy" kit at $65 or "The Big Fella" at $125 with an assortment of premium cheese wedges, charcuterie, crackers, and wine, all with no-contact delivery available.
If you would have visited the Paley Center…
Watch:  Paley Center for Media's Front Row series
Ongoing
Free
Eat/Drink:  A meal kit and to-go cocktails from Madre
While the early days of the quarantine squashed the always-electric PaleyFest TV festival this year, the center has some great digital offerings to tide you over. The recently released Westworld: A Conversation with the Stars and Creators from HBO features a panel discussion with all of the key players from the hit show including Evan Rachel Wood, Thandie Newton, Jeffrey Wright, Tessa Thompson, Ed Harris, executive producer Denise Thé, and creators Jonathan Nolan and Lisa Joy. To accompany your viewing, grab some newly-launched Oaxacan offerings from Madre including mole, barbacoa, and chilaquiles to pair with their perfectly curated roster of mezcal.
Courtesy of Gold Land BBQ
If you would have waited in line for some good BBQ…
Eat:  Gold Land BBQ's pop-up offerings
Sunday, May 31
$29
Providing a much-needed fresh take on Central Coast BBQ, Gold Land is popping up for a pre-order pickup service this Sunday at Stanley's Wet Goods in Culver City. For $29 per person, you'll get a red oak grilled tri-tip sandwich on a Martin's potato bun, linguica sausage, two Jidori wings, and two classic sides with sauces and pickles. Be sure to pre-order and browse Stanley's special selection of Central Coast wines to perfectly pair with all those tasty smoked meats.
Sign up here for our daily LA email and be the first to get all the food/drink/fun Los Angeles has to offer.
Sean Cooley is still amazed that RBI Baseball 3 gave Dennis Eckersley his own special throwing animation. Follow his half-baked food festivities on Instagram @SeanCoolish.