Work Out a Win at the New Ice Cream Gym and More Things to Do in LA This Weekend
Looking for fun this weekend? We've got you covered!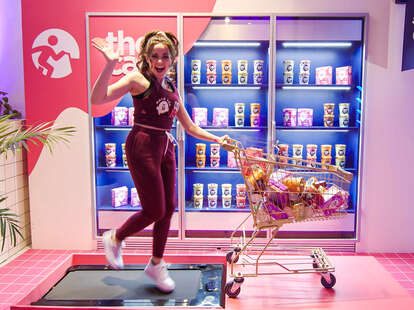 Photo courtesy of Halo Top
It's Memorial Day weekend, so if you're reading this, there's a good chance you're procrastinating packing your bag for a long weekend out of town. If you're staying in LA, though, there's plenty to do, including the return of Cinespia screenings, a bunch of festivals, and an Ice Cream Gym.
Wednesday, May 24–Monday, May 29
Buena Vista Lake (Kern County)
Arguably SoCal's closest cousin to Burning Man, LIB is a music-and-art-and-yoga-and-all-sorts-of-weirdness fest open to all sorts of freakiness and a hardcore party spirit. The music lineup's almost secondary to the vibe, but this year it includes Sofi Tukker, Ozomatli, Diplo, and many more.
Cost: Tickets start at $449.
Now-Friday, June 30
City Club LA (Downtown)
The usually-closed-to-the-public City Club has just opened up its rooftop with sweeping views of the whole city as "Secret Garden," a pop-up restaurant now open to everyone (well, at certain times, at least). They're doing a ton of different kinds of experiences over the next month, all of which are in a beautiful garden oasis; to find out more, here's the link.
Cost: Prices vary.
Friday, May 26, through the rest of the summer
LA State Historic Park (DTLA)
LA's most revered outdoor summer screenings series is back, and though the movies at Hollywood Forever don't start for a couple of weeks, they're taking over Downtown's LA State Historic park for a couple of showings this weekend. First up on Friday is the Robin Williams classic Mrs. Doubtfire, followed by 10 Things I Hate About You on Saturday. And, of course, there are also DJ sets, photo opps, and plenty of food (and hopefully no run-by fruitings).
Cost: Tickets are $22.
Friday, May 26
The Lodge Room (Highland Park)
The local yacht-rock tribute band Harbor Party's been dancing on the ceiling forever, but this is the first time you can come sail away with them at a spot as large as the Lodge Room. The band features a slew of the best musicians in LA playing classics from folks like Kenny Loggins, Steely Dan, and many more.
Cost: Tickets are $25.
Friday, May 26–Sunday, May 28
Balboa Bay Resort
The gorgeous Balboa Bay Resort hosts this annual wine party this weekend, with over 60 vineyards pouring samples as well as live music, food vendors, and a Macallan whiskey pop-up bar. There's also a four-course welcome dinner on Friday if you're making a weekend of it.
Cost: Tickets start at $125.

To experience the weekend to the fullest, you need an SUV that is capable of big things. The new Kia Seltos SX is equipped with advanced all-wheel drive and 195 horsepower, so it's ready for anything you are. Learn more.
2024 Kia Seltos SX shown with optional features. Some features may vary. Limited inventory available.
Friday, May 26–Monday, May 29
Santa Monica Place
The kinda healthy-ish ice cream brand Halo Top is popping up with a totally wild concept: a non-gym workout they call the "No Work Workout" that involves mechanical bull riding, pillow fights, a shopping cart rally, and more. Of course, the prize at the end is ice cream, but isn't the journey the destination?
Cost: Admission is free.
Saturday, May 27
Ghisallo (Santa Monica)
The insane geniuses at Biite Club are behind this one-day-only drop of the Tre Mani, which you need to buy and reserve now before picking it up on Saturday. The monster is a sandwich from Gjusta baker Jyan Issac and Tasting Kitchen's Travis Passerotti, stacked (like, super-stacked) with roast beef, crema, caramelized onions, and radicchio, all on a sourdough flatbread so big it's named "Three Hands" for the extra limb you'll have to grow to hold it.
Cost: Sandwiches are $20.
Saturday, May 27
1057 S San Pedro (Downtown)
The only 21+ Nightmarket in LA is back with a massive group of vendors representing the best street food in LA. Check out bites from Boon Ramen, Cocodealers, Birreria El Patron 818, and many more while enjoying tunes from artists like Drewbyrd and 143 Radio. VIP tickets are also available, which include access to an open bar.
Cost: Tickets start at $29.
Saturday, May 27
Main St (Santa Monica)
This live-action reimaging of Monopoly is also sort of a choose-your-own-adventure food festival. Attendees will get "MAINopoly Dollars" that they can spend at participating vendors of their choosing over the day, with 20-plus main street standbys, including Holey Grail, Alfalfa, Moonshine, and more. There's also an official gameboard with over $1000 in prizes for the winners.
Cost: Tickets start at $15.
Sunday, May 28
Junior High (Glendale)
TikTok star Sam Reece is hosting this what-have-you, in which attendees will make, well, a shitty craft, for the sake of just doing something creative. On the docket: a "year round wreath," with all supplies and good vibes included.
Cost: Admission is $20.