Los Angeles
Presented By
11 Actually Fun Things to Do in LA This Weekend
It's beginning to look a lot like 2019.
Presented By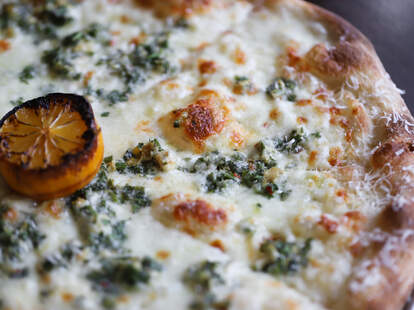 Photo by Sydney Yorkshire, courtesy of U Street
In a normal year, LA would be packing up to go out to the desert for Coachella this weekend, but, hey, we're still a little bit away from the moment when we can safely put 120,000 people in a field again—but thankfully there's still a ton going on this weekend, including new restaurant openings, outdoor concerts, and an all-day excuse to chill-the-F-out.
And if you're wondering how the City of Angels is celebrating every stoner's favorite holiday next week,
we've got a guide for that too
. But first things first, here's everything you can eat, drink, and do in LA this weekend:
Ongoing starting this week
33 E Union St, Pasadena
The old "LA doesn't have good pizza" argument hasn't held water for a couple years at this point, but here's the most recent proof: the team behind the critically-acclaimed Pasadena staple UNION has just opened U-Street, serving up upstate-NY-inspired pies with two-day fermented dough, produce from local farms, and 18-month-aged Fiscalini cheese in place of the traditional Parmesan.
Cost: Varies
Ongoing starting April 16
1610 Ventura Blvd, Encino
The latest offering from the team behind Scratch|Bar and Sushi|Bar is the just-opened Pasta|Bar serving...can you guess? Yep: pasta—well, at least four courses of it, amid the 13 courses served at a tiny eight-person counter, with the rest of the menu seasonal offerings inspired by the LA farmer's market. Reservations are, of course, required.
Cost: $125+
Friday, April 16–Tuesday, April 20
Multiple Locations
This five-day film fest features filmmakers and stories in the QTBIPOC (Queer, Trans, Black, Indigenous, and People of Color) communities, which means everything from a Sundance-favestory about two formerly polyamorous lovers reconvening, to a feature about 25 Angelenos intersecting over the course of one night. There are also workshops, live performances, competitions, and more, with some screenings at-home and others at drive-in theaters.
Cost: $10+
Advertisement
Tanqueray
Weekend plans change fast, so grab a drink that's ready when you are. Tanqueray's Crafted Gin Cocktails come ready to drink and are the perfect addition to any occasion. Made with real Tanqueray gin and natural flavors, they deliver premium, bar-quality cocktails whenever you want. Grab a can and enjoy.
Ongoing starting Friday, April 16
Universal City
Yep, it's true: theme parks can reopen in our current COVID tier, and Universal's next up, with limited capacity for California residents only and reservations required in order to both hit the classic backlot tour and ride the two brand-new attractions: The Secret Life Of Pets: Off The Leash and Jurassic World, both of which were supposed to open just before the pandemic sidelined them.
Cost: $99-$279
Saturday, April 17
Various locations throughout LA
The women-founded Gather For Good organization (who Thrillist honored as 2020 heroes, btw) is hosting a fundraiser to combat hate crimes against the AAPI community and end gun violence, with some of LA's favorite chefs and restaurants participating by raffling off food items and/or donating the proceeds from specific menu items. All proceeds will be split between Asian Americans Advancing Justice LA and Brady United. Some of the offerings include a Tehachapi Grain Project Sonora wheat pound cake with honeycomb, honey labneh, and sumac-roasted strawberries from Botanica, Baco Mercat's famous fried chicken meal for two, and blood orange hibiscus cream pies at Huckleberry Cafe. Each chef/restaurant has their own rules for participation, so check the website for details and cobble together a food tour that will fill your heart and your stomach.
Cost: Varies
Saturday, April 17
High Fidelity Records, 4765 West Adams
Local legend singer-songwriter Mia Doi Todd is one of the first independent artists to have a real show in a looooooong time, with the music scene getting not-quite-jump-started via this "outstore" appearance in the back patio at High Fidelity Records. She'll be playing as a duo with percussionist Andres Renteria to promote her new record "Music Life."
Cost: Free

Ongoing beginning Saturday, April 17
JuneShine, Santa Monica
San Diego-based hard kombucha brand JuneShine will open their first taproom in Santa Monica this weekend, serving better-for-you brews that are organic, gluten-free, low-sugar, and made with real fruit that promises to deliver a bright and refreshing buzz. Flavors include Chili Mango, Honey Ginger Lemon, Acai Berry, Iced Tea Lemonade, and Blood Orange Mint, each clocking in about 6% ABV. A menu of light bites including empanadas, "Haute Pockets" (available in pizza, vegan pizza, tikka mushroom vegan, and tikka chicken, all gluten-free), a Cobb salad, charcuterie board, and crudites is also available. Still not comfortable consuming in public? You can also order online and have the cans shipped to you.
Cost: Varies
Saturday, April 17-Saturday, May 1
Pikunico (The Row, DTLA)
For a limited time, Pikunico's serving up Chicken Dunbap—a collab between Pikunico's Top Chef alum Kuniko Yagi and banchan pop-up phenom Jihee Kim of Perilla. Their bowl contains Chef Jihee's one-year aged kimchi, marinated kombu seaweed, sesame shishito peppers, Pikunico chicken tenders, and seasoned egg, all served over ginger rice, with a limited amount available daily —so get there early or risk missing out.
Cost: $15
Sunday, April 18
Your House
Kogi founder/Chef Show star and all-around great dude Roy Choi is partnering with John Gourley from Portugal. The Man (the band behind the inescapable hit "Feel it Still") for a Zoom-based cooking lesson to raise money to both help the music industry and pay to feed a community in need. Guests are encouraged to buy ingredients from a list on the website ahead of time or order from Impastiamo, the event's sponsor, for delivery.
Cost: Cost of ingredients and/or delivery, with donations encouraged
Sunday, April 18
Your House
If you need a break from anxiety, overthinking, and out-of-control thoughts —and let's be honest, that sounds F*CKING AMAZING—tune into this all-day, totally free Zoom from KCRW, who are programming literally an entire day of the chillest, most zen, self-helpiest vibes of all time. Kitten cams, guided meditations, art classes, and chill-out music are all on the agenda and available from your couch, making this literally the most mellow festival of all time.
Cost: Free
Sunday, April 18
Palm Springs Cultural Center
It's Modernism Week in Palm Springs right now, which isn't just an excuse to get tours of some of the coolest houses in the desert, but also dive into this celebration of all things tiki, including craft-made Zombies and Mai Tais, island music, hula dancers, a marketplace where you can pick up some tiki threads, an art show, and more.
Cost: $5
Jeff Miller thinks that Luminex reminds him of Glow, a one-off Santa Monica event that was one of his favorite this-is-why-LA-is-great moments ever. Will it live up to that? Let him know at
@jeffmillerla
on Insta.