Everything Fun to Do in LA This Weekend, from Mucho Gusto Fest to The Other Art Fair
And don't miss out on the Taste of South Park and more fun things to do in Los Angeles this weekend.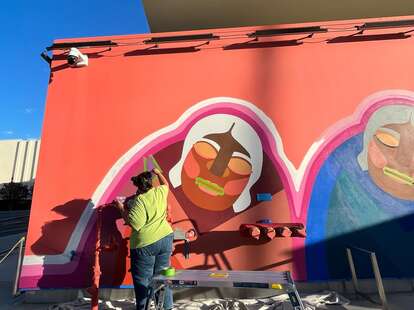 Denise Silva painting a mural as part of Mucho Gusto Fest.

| Photo courtesy of Mucho Gusto Fest
Denise Silva painting a mural as part of Mucho Gusto Fest.

| Photo courtesy of Mucho Gusto Fest
Los Angeles in fall isn't that different than Los Angeles in summer: Other than a few more leaves on the ground and an earlier and earlier sundown, you can still eat dinner and watch a movie outside on a rooftop, go stargazing at night, or hit Centerfield Plaza before a Dodgers game. But if you're having a hard time deciding what to do this weekend, we've got you covered, with all the greatest things to do in Los Angeles—and if you need even more options, we've got plenty, like hitting a bunny museum, grabbing a bite at one of LA's best new restaurants, or taking a short(ish) drive to one of LA's great suburbs…er, other parts of town.
Food & Drink in Los Angeles
Opens this week
Beverly Hills, Prices vary
This new restaurant promises to blend classic techniques with modern flavors in dishes like Crispy Chicken Skin Chiccharones in Korean sweet-and-spicy sauce and Brisket Dumplings in a miso parmesan broth. The grand opening is this week, so look out for surprise giveaways and more this weekend.
Friday, September 22
Century City, $95 and up
For one night only, Eataly's offering a night market-style experience, with late-night bites across the store and craft beer. The VIP upgrade gets you access to an after-hours party at Terra on the roof with a DJ and exclusive cocktail.
Discounts for SAG, WGA, and AFTRA members
Ongoing
Various locations, Prices vary
The ongoing strikes may have shut down Hollywood, but some of the city's best eateries are ensuring picketers have the energy to keep going until the studios back down. Show your card, and Akasha will drop its prices by 10% on the whole menu; AOC will give you a 20% discount on dinner and glasses of wine; Mo's will drop 50% off axe-throwing and 40% off selected menu items, Barbrix will drop 10% from all retail and restaurant orders, The Roguelike Tavern will drop 10% off orders, and Granville will knock off 20% of parties of four or less who show their union, guild, or MPI insurance card. Additionally, Hamasaku is showing that it's Union Strong with a $25 sushi lunch special, and for those who want to take their minds off the strike, Westwood's Sweet Flower dispensary is dropping 10% off its prices, and Artist Tree is offering 25% off the whole store of cannabis products for card-carrying members.
Festivals in Los Angeles
Friday, September 22–Sunday, September 23
Hermosa Beach, $189 and up
Thanks to feet-in-the-sand stages and blissed-out music, the vibes at Beachlife are always spectacular, and the lineup for this edition of Beachlife Ranch—the roots sibling to the Spring's more rock fest—is also spectacular. Friday boasts all-groove singer-songwriter Jack Johnson as well as alt-country kings The Avett Brothers and Shakey Graves, Saturday's got legends like The Doobie Brothers and Wynonna Judd, and Sunday has hitmaker Brad Paisley as well as the incredible up-and-coming artist Yola.
Saturday, September 23
Westwood, $255 and up
This beloved LA food festival returns with a literal all-star slate of incredible chefs, including Adam Perry Lang, Sherry Yard, Michael Cimarusti, and many more. There's also always an enormous amount of celebrities hanging around, and even if you can't come to the event, you can bid on the auction at the website; the proceeds all go to charity.
Saturday, September 23
Riverside, $30 and up
Billing itself as "a music festival without borders," Mucho Gusto is a super-affordable festival with a ton of talent from around the world, including Columbia's La Perla, the Dominican Republic's Mediopicky, and Orchestra Gold from Mali, Africa.
Saturday, September 23
Downtown, Free and up
This food-and-music neighborhood festival has everything from sushi to Brazilian BBQ to Taiwanese food, with live music, crafts, coffee, raffles, and more.
Other fun things to do in Los Angeles
Thursday, September 21–Sunday, September 24
Santa Monica, Prices vary
This arts festival/gallery showing/multi-day party democratizes and takes the stuffiness out of art with DJs, drinks, fun events, and a wide variety of art for sale. There's also the opportunity to sit for a portrait with artist Charles Michael Davis; book now as times are limited.
Friday, September 22
Beverly Hills, $29 and up
Former Saturday Night Live star Tim Meadows rarely does standup, so this is a once-in-a-blue-moon chance to see him live for one night only at the Annenberg Center in Beverly Hills. If you don't remember him from the show, you definitely know him from newer stuff like Mean Girls, The Goldbergs, Poker Face, and The Mandalorian.
Saturday, September 23
Downtown, $67.98
There was a moment in time in the late '90s when Fatboy Slim was the biggest DJ in the world; if you want to get retro with it, make your way down to Pershing Square, where he'll be dropping Big Beat records alongside Francis Mercier and DJ Holographic.
Saturday, September 23
Los Feliz, $15
This comedy event takes the app Meme Fighter and makes it into a stage show, with comedians coming up with memes on the spot to best each other—and the audience.
Jeff Miller is the founding editor of Thrillist LA. You can follow him at
@jeffmillerla
on Instagram.