9 Actually Fun Things to Do This Weekend in LA
Vegan food fests, horror flicks, and so many great openings.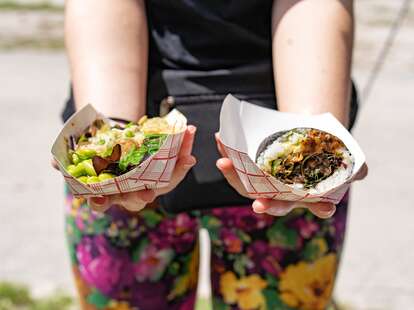 Photo courtesy of Vegandale Festival
As we head deeper into bonafide sweater weather in LA, it's understandable that your apartment is now inexplicably filled with pumpkins, cinnamon brooms, scented pinecones, and maybe even a Halloween wreath. While most Halloween events were canceled or converted to a drive-thru format last year, we couldn't be more thrilled that most of our favorites have returned, with many of them even bigger and better than they were before. So try to sneak away from your pumpkin spice-scented palace this weekend to take part in everything our city has to offer, including a fried chicken fest from Smorgasburg, a vegan fest at LA Historic Park, plus a slew of classic horror movie screenings and restaurant openings. Be sure to double-check COVID-19 protocols and vaccination status requirements for all events you plan to hit up and stay safe out there.
Saturday, October 23
Santa Anita Park (Arcadia)
Smorgasburg is back at Santa Anita Park for a themed fried chicken pop-up with vendors like BOLO, Two Wings, Hanchic, and Picnic Sandwich. Craft beer and a full bar will also be available as you watch the horses race by. Spring for VIP tickets and get a reserved table, fried chicken, craft beer, and track admission with a betting voucher and tip sheet.
Cost: $36-$46
Sunday October 24
Wisdome LA (Downtown)
Join the Love Serve Remember Foundation to honor spiritual teacher Ram Dass and celebrate the 50th Anniversary of his book Be Here Now with an immersive experience and concert at Downtown's trippiest venue, Wisdome LA. The day's activities include a summit with insightful conversations, featured films including Journey (a VR Ram Dass-inspired Psychedelic Voyage produced by TRIPP), meditation, and performances from Krishna Das, John Forté, East Forest, Justin Boreta, and Superposition with Nailah, and Nina Rao.
Cost: $50-$75
Saturday, October 23
Los Angeles State Historic Park (Chinatown)
Vegandale started in Toronto as a hub for people living a cruelty-free lifestyle, and now they're hitting the road with the Vegandale Festival. The fest features more than 100 vendors, 40 of them from out-of-town, including Kale My Name from Illinois, Snackrilege from Oregon, and Rio Good from Texas.
Cost: $7-$30
Friday, October 22- Sunday October 24
Fixins Soul Kitchen (Downtown)
LA Live has a new soul food restaurant by way of NorCal in Fixins Soul Kitchen, owned by NBA legend and former Sacramento Mayor Kevin Johnson. Culling from Johnson's family recipes, the menu features chicken and waffles, catfish nuggets, pimento cheese dips, shrimp and grits, and peach cobbler. The restaurant has also partnered with The Ron Finley Project, teaching communities how to transform food deserts into food sanctuaries.
Cost: Varies
Saturday, October 23-Sunday, October 31
The Academy Museum of Motion Pictures (Miracle Mile)
The new Academy Museum of Motion Pictures is hosting an Oscar Frights film series through the end of the month with screenings of Get Out, Psycho, Pan's Labyrinth, and more fan favorites. This weekend you can catch The Fly remake at 9:30 pm on Saturday and Bram Stoker's Dracula on Sunday at 9:30 pm in the new 1,000-seat David Geffen Theater.
Cost: $5 for students; $7 for seniors; $10 GA.
Friday, October 22-Sunday, October 31
Scottish Rite Event Center (Long Beach)
In honor of the the world's largest volksfest Oktoberfest, The Scottish Rite Event Center is hosting an outdoor Biergarten-style set up and large stage for entertainment over the next two weekends. Food and beverage selections include wine, German beers like Paulaner Festbier and Hofbrau Oktoberfestbier, bratwurst, sauerkraut, potato salad, cabbage, soft pretzels, and Bavarian-inspired vegan options.
Cost: $20
Friday, October 22- Sunday October 24
Todo Bien (Hollywood)
A heritage-driven Mexican street food concept with Southern California roots, Todo Bien has opened its first brick and mortar on the corner of La Brea and Sunset. Todo Bien's menu focuses on Tijuana-style birria, complemented by traditional sides such as elote and consomme, along with vegetarian options like a cauliflower taco. If you're craving seafood and want to feed the entire fam, make sure you stop by on Sunday, the only day their four-person, 32-ounce aguachile and ceviche kit is available.
Cost: Varies
Friday, October 22- Sunday October 24
Superba Food + Bread (Hollywood)
After postponing its initial March 2020 launch, expansive indoor-outdoor Superba Food + Bread has finally opened its doors, giving new life to the former home of The Cat & Fiddle Pub. Executive chef Nigel Stephens is at the helm, with brunch, lunch, and dinner service offered seven days a week, including a raw oyster bar and a separate dining room, as well as a walk-up coffee counter featuring daily breads for sale from Superba's Bakehouse.
Cost: Varies
Friday, October 22- Saturday October 23
YouTube Theater (Inglewood)
Indie-folk mainstays Bon Iver are returning to the stage with two shows at the new YouTube Theater in Inglewood. The special, immersive-sounding show incorporates L-ISA technology via L-Acoustics who have outfitted the theater and will amplify hits like "Skinny Love" and "Flume."
Cost: $70 – $250.
Sean Cooley
is still amazed that RBI Baseball 3 gave Dennis Eckersley his own special throwing animation. Follow his half-baked food festivities on Instagram
@SeanCoolish
.