Now that you've survived that mini heatwave smack in the middle of June gloom season, it's onward and upward for summer fun. It's that feeling of your first visit to the Hollywood Bowl of the season, or even just a full whiff of jacaranda flowers. So, this weekend in LA, treat yourself to some tacos, an unorthodox art tour, and a few brewskis with dear old dad.
Friday, June 14th-Saturday, June 15th
Bao Hiroo (Arts District)
Your "wandering aimlessly around the Arts District after-hours" cravings have been resolved thanks to the late night menu at Bao Hiroo. Chinese steamed and stuffed buns with roasted lamb, katsu chicken, and BBQ brisket are on offer, along with canned sake, beer, wine, and cocktails. Don't miss the PB&J bun for dessert.
Cost: Varies
Friday, June 14th-Sunday, June 16th
Salt & Straw (Multiple Locations)
You've had their legendary sea salt with caramel ribbons flavor, now try Salt & Straw's latest batch of seasonal flavors themed around camping -- the good parts, not the "sleeping on the ground" parts. With options full of foraged ingredients like Campfire S'mores, a pancakes/bacon and eggs combo, and Mushroom Muddy Buddies, the run is a partnership with Oregon-based Pendleton Woolen Mills to raise funds for the National Park Foundation
Cost: Varies
Saturday, June 15th
Row DTLA
James Beard Award-winning journalist and Mexican food expert Bill Esparza is hosting his inaugural, all-you-can-eat Taqueando festival Downtown on Saturday, uniting 50 top taqueros and taqueras together from SoCal and Mexico. Look for unbelievably tasty tortillas from spots like La Guerrerense from Ensenada, Pangea from Monterrey, Tacos Aaron from Tijuana, and locals like Mariscos Jalisco and Guerilla Tacos.
Cost: $45
Advertisement
You can't face the weekend head-on if you're not taking care of your face. Bulldog Skincare for Men products are formulated to help you look and feel your best, wherever your plans may take you -- whether that's busting a move at an outdoor concert or eating your way through the city's tastiest food trucks.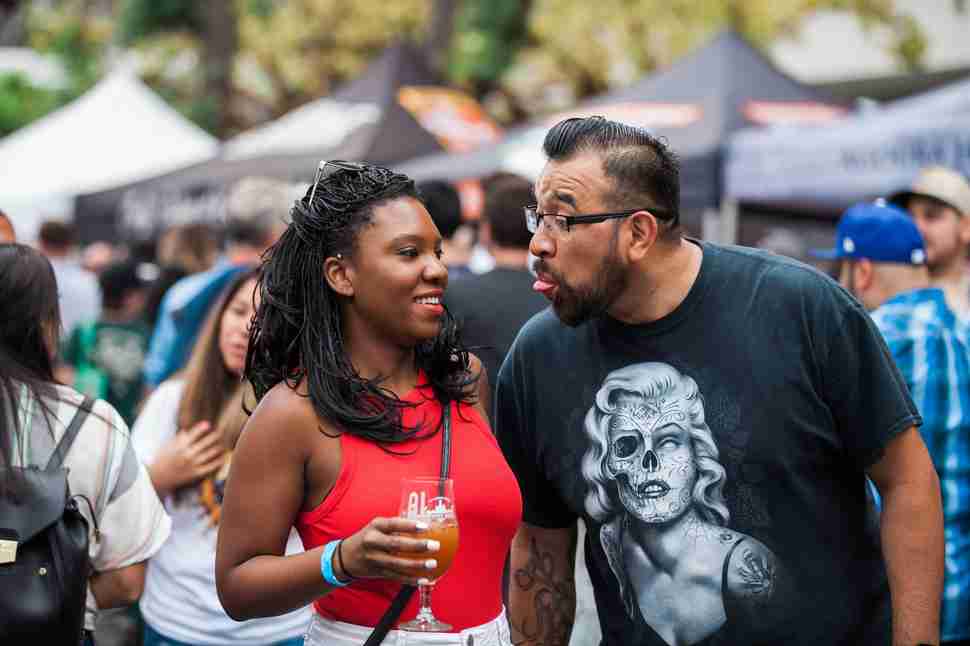 Saturday, June 15th
Los Angeles Center Studios (Downtown)
Beer Week goes up to 11 this summer with the dawning of the 11th annual LA Beer Week Kickoff Festival. Los Angeles Center Studios hosts a day packed with 200 unique craft beers from 90+ independent breweries. Hosted by the Los Angeles County Brewers Guild, this year's lineup will feature over 70 Guild breweries in addition to a dozen hand-selected guests.
Cost: $25-$75
Saturday, June 15th
Grand Central Market (Downtown)
If you're a fan of bread, then this weekend you'll want to challah at ya boy at Grand Central Market's free, one-day tribute to all things dough. The fest includes demos and workshops led by GCM stalwarts like Olio Wood-Fired Pizzeria chef Brad Kent along with workshops led by guest bakers help you learn how to make focaccia, pita, biscuits, and more.
Cost: Free
Saturday, June 15th-Sunday, June 16th
The Getty Center (Brentwood)
For the uninitiated, Museum Hack is the officially unofficial tour of The Getty you didn't know you've been missing. With an Un-highlights tour filled with quirky facts and a Badass Bitches tour covering the women responsible for many art pieces, a renegade docent will lead you through the many collections on a fast-paced, two-hour walkthrough.
Cost: $50
Sunday, June 16th
Brouwerij West (San Pedro)
It's not too often you find yourself drinking in a brewery built out from a WWII-era Navy warehouse, but such is the case at Brouwerij West, nestled in the Port of LA. Rock out at the brewery's free summer event series, Popfuji, starring up-and-comers like Otto, XYZPDQ, Good Vibe, The Dropoffs, and DJ Wizard Paul E Wog.
Cost: Free
Sunday, June 16th
Boomtown Brewery (Downtown)
What brunch is to Mother's Day, brewery-hopping is to Father's Day, so why not start off the holiday strong with a stop at Boomtown. Expect craft beer on tap, along with food, a bounce house, games, raffles, face painting, and even a special tie-making craft station to make a last minute gift for pops.
Cost: Free
Sign up here for our daily LA email and be the first to get all the food/drink/fun Los Angeles has to offer.