Before we get into the best stuff to do this weekend, a public service announcement is in order: the voting system in LA has changed for this primary election, which means that even though the official election is this Tuesday, you can vote RIGHT NOW, at any voting center in LA. That means if you want to complain about whatever decisions our government makes, you've got to get out and play a part in the process -- so make a plan today, or tomorrow, or Monday, or Tuesday, to let your voice be heard. OK? OK. And also, here's a bunch of great stuff to do this weekend, including an unexpected weed-and-food collab, an excuse to hit the slopes, and a brand new brunch from a Michelin-starred chef. Get out there. And vote!
Friday, February 28-The end of the year
Connie & Ted's (West Hollywood)
If you'd heard a few years ago that one of the most famous, Michelin-starred chefs in LA would be giving his diners a discount for smoking some of the sticky-icky before going to eat at his restaurants, you'd have called whomever told you that news totally crazy. Well, it's crazy no more: Michael Cimarusti is discounting 10% off your bill at his New England-ish seafood restaurant Connie & Ted's all year if you present your server with a same-day receipt from the Med Men dispensary right across the street from his restaurant. The future is now.
Cost: Varies
Saturday, February 29
South Bay Pavillion (Carson)
Vendors like Hawkins' Burgers, All Flavor No Grease, and Mr Fries Man will be on-hand at this Black History Month-inspired food-and-craft market, which aims to highlight "amazing minority businesses, especially those that sell delicious, unique food." Seems like they hit the nail on the head.
Cost: Free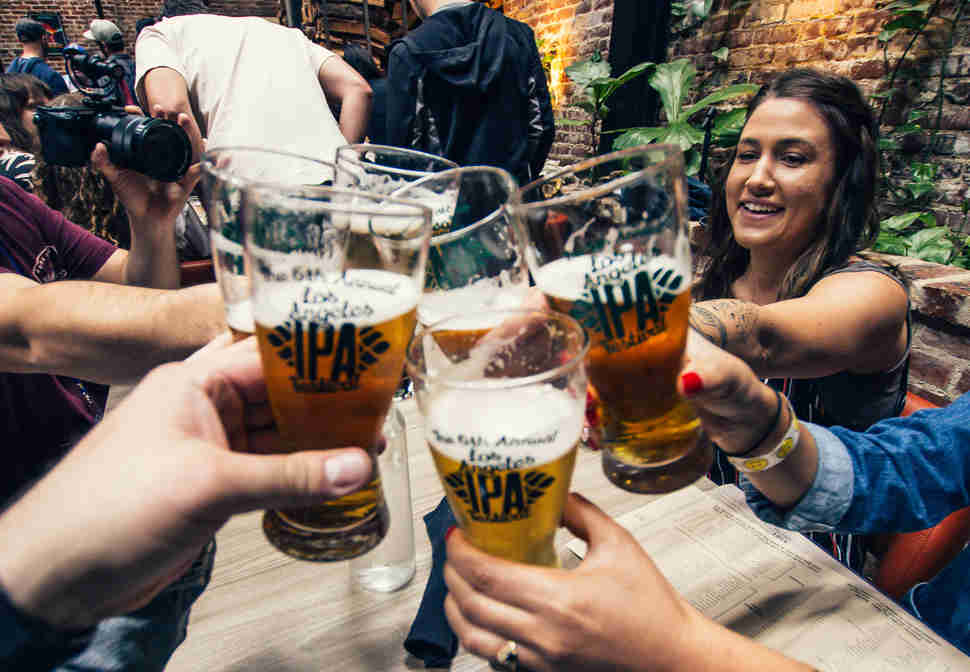 Saturday, February 29
Mohawk Bend (Echo Park)
For the seventh year running, Mohawk Bend is throwing down a massive ode to hops, with over 60 California breweries tapping their best IPAs for judges and customers alike. There's also a new-for-this-year five-pour wristband, as well as a raffle and door prizes.
Cost: Free; 5-pour band $28 for five 8-ounce glasses
Saturday, February 29
Bear Mountain
lovelytheband -- who you definitely know from that "I like that you're broken/broken like me" song you've heard over and over again for the past couple years -- is playing a free show on the slopes at Bear Mountain courtesy of KROQ, with Nicole Alvarez hosting the day, DJ Jeremiah Red on the ones-and-twos, and contests from the station all day.
Cost: Free
Saturday, February 29
The Row (Downtown)
This one-day event is basically a smorgasbord of wellness activities in the same location as Smorgasburg (but on a different day), with everything from yoga to entrepreneurship seminars to product tastings. Speakers and presenters include acupuncturists, spiritual coaches, ayurvedic practitioners, and more. 
Cost: $99-150
Sunday, March 1
Bar Avalon (Echo Park)
This five-course, wine-paired dinner from Water Grill's chef Tara Pivaroff and Faith & Flower wine director Jared Hooper is entirely to raise money for fire relief efforts in Australia. There'll be a silent auction on the menu, along with Hama Hama oysters dressed with pearls and filet mignon with potato pave and roasted carrots.
Cost: $150
Show up for your day with new Coca-Cola Energy -- it has the same delicious Coke taste with a boost to help you enjoy all of life's most fun moments. Coke Energy has the energy you want, with the taste you love.
Sunday, March 1
530 Molino St (Downtown)
This two-hour class is made for straight-up wine beginners to start figuring out what they like and don't like, with experts covering everything from how wine is made to how to read labels. Of course, there's a bunch of tasting as well, with seven pours included with your ticket.
Cost: $75
Sunday, March 1
1020 S Robertson (Beverly Hills)
"420 influencer and entertainer" Koala Puff is hosting this painting party at a house in Beverly Hills. Basically the gist is: Smoke or ingest or whatever you wanna do, then hang and paint all day with other people feeling similarly laid back. Sweet.
Cost: $15-100
Sign up here for our daily LA email and be the first to get all the food/drink/fun Los Angeles has to offer.