How to Experience LA's Arts Scene Right Now
There's still plenty to see.
While Pfizer and Moderna are racing for a vaccine, we're still stuck at home wondering when this will all be over and we can get back to seeing people and going places. If you're like us, you miss experiencing LA's rich art scene, seeing performances—hell, we even miss drinking cheap wine from plastic cups at gallery openings. While nothing can compare to art in the Before Times, there's still plenty to see online and by appointment at galleries. You can check out online exhibitions, watch a performance, or create your own work of art at home with help from local experts. As for the cheap glasses of wine, buy yourself a bottle of two-buck Chuck and pretend you're in a gallery, you deserve it.
Museum @ Home
Museum lovers may not be able to visit their favorite spaces IRL, but we can visit some of LA's museums from the comfort of our own homes for free, and pants are optional! Go on an audio tour of the Broad's collection led by collection artists talking about artworks by other artists also in the collection. Hear from greats like Barbara Kruger on Kara Walker's African't, John Baldessari on Sherrie Levine's Fountain (Buddha), and Sterling Ruby on Christopher Wool's Untitled, 1990, among many others. On the Getty's site, you can browse online exhibitions including Michelangelo: Mind of the Master, which shares background, history, and anecdotes about the Renaissance artist, or go on a 360-virtual tour of the museum's permanent collections via Google Art and Culture. The Autry Museum of the American West has released When I Remember I See Red, an exhibition featuring the work of Native California artists who use their work to address Native identity, history, and activism, online, including more than 60 works by over 40 California Indigenous artists like Rick Bartow, Harry Fonseca, Frank LaPena, Judith Lowry, and James Luna. In June, the Annenberg Space for Photography announced that it will not reopen. However, you can still access their audio tours including CONTACT HIGH: A Visual History of Hip-Hop, featuring the work of photographers who have played a critical role in bringing hip hop's visual culture to the global stage.
Make an appointment for a gallery visit
Galleries across the city are beginning to offer visits by appointment only. Head to Band of Vices to see Kangs, a group show featuring work by Andrew Gray, Idris Habib, Tommy Mitchell, and Khari Turner on view through December 12. Explore the young artists' journeys as they contemplate their own personal history, confronting notions of ideal beauty, what it means to be a Black man in America, all against the backdrop of police brutality, the visibility/invisibility trope, systemic racism, and the canon of art history. On display through December 23, Steve Turner presents Triple Play, a three-person exhibition featuring new abstract works by Paolo Arao, Rhys Coren, and Erin O'Keefe. Bold in color and composition, made of atypical materials and using innovative processes, their works convey joy, play, and experimentation while presenting visual conundrums that are not easily solved.
Zoom in on an artist discussion
The California African American Art Museum is offering a few online talks, including monthly evening Zooms with artists and experts like authors of Black Future, Jenna Wortham and Kimberly Drew, on December 10 (RSVP for Zoom instructions). The Skirball is bringing intimate conversations with artists to your home with LA Reflections: Shifting Culture. Creative voices from around the city share how they are shifting their practices and connecting with audiences through the pandemic.

The show must go on...line
Stream Gaze presented by The Fountain Theatre and Tell Me A Story Productions through December 11, Larry Powell's adaptation of his original dramatic satire The Gaze…No Homo, an exploration of how Black queer artists navigate historically white spaces, into a free 12-part series. Watch The Greek Trilogy of Luis Alfaro, a series of Chicano-themed versions of classic tragedies. Available online for free through January 20 and presented by The Getty and the Center Theatre Group.
Watch a pre-recorded talk
Museums are a great place for discussions. When you can't gather in person, online is the next best thing. Experience pre-recorded lectures from the city's top cultural organizations like the Hammer, whose archives include conversations with icons like Jane Fonda and Roxane Gay. Building on their long-running film series, and on their diverse collections related to the West, the Autry presents What Is a Western? an interview series that asks experts to share their knowledge about the many sides to Western storytelling, imagery, and other media.
Create art projects courtesy of LA museums that could rival their collections
LACMA has created a Make Art @ Home video series where some of its teaching artists walk viewers through how to make collages with stuff you're about to recycle (we're looking at you, to-go boxes), mini-stained glass windows with Ziploc bags and nail polish, and a paper city made with, well, you know. Norton Simon Museum is sharing art projects and coloring sheets inspired by the Museum's collection.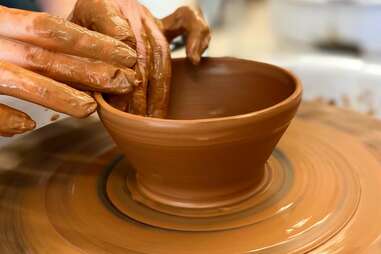 Get dirty with clay
Still Life Ceramics and POT are both offering in-person classes and taking all necessary precautions. If you would prefer to take your clay to go, Still Life is offering clay kits for $45. Receive all the necessary tools, follow along with their videos, choose glazes, and drop off your pieces to be fired at their DTLA or Santa Monica studios.
Go inside a Frank Lloyd Wright
Perched on a 36-acre hilltop in East Hollywood, the Hollyhock house is Wright's first and most widely known West Coast design. Created for an oil heiress nearly a century ago, the property defies categorization and has been described as Mayan, Aztec, Asian, Egyptian, and as a "California Romanza" by the architect himself. However you want to define it, it's gorgeous and you can take a virtual tour of the home and dream that you're sheltering in place there.
Sign up here for our daily LA email and be the first to get all the food/drink/fun Los Angeles has to offer.
Keisha Raines is a freelance writer in L.A. who misses museums and drinking wine from plastic cups in galleries.