Everything You Need to Know About the Women's March in LA This Weekend
It'd be nice if we could say we've solved all of the country's problems since last year's Women's March, but unfortunately, you know that's far from the case -- so back at it, everyone! The 3rd Annual Women's March LA will take place this Saturday, the same day as hundreds of others around the country and world (including the mother of them all in DC).
As usual, the goals of the Women's Marches are many, including bringing awareness to issues like protecting reproductive freedom; equal pay for equal work; LGBTQ, civil, and immigrant rights; and ending violence against women in addition to registering and educating voters and empowering women to run for office. That's not to say there haven't been huge successes since the first march. In LA alone, the march drew more than a million and a half people over the last two years and those voices are clearly being heard: A record-breaking 100-plus women were elected to Congress last fall, helping to give Democrats control of the house. Despite a news cycle that can feel dismal on a daily basis, who knows what more will be accomplished in the coming year?
First things first, though: Here's everything you know to hit the ground marching this weekend.
When and where does the march start?
The 3rd Annual Women's March LA is happening this Saturday, January 19, with marchers gathering at Pershing Square at 532 South Olive Street in Downtown LA. The demonstration kicks off at 8:30am with a Tongva Nation Blessing, followed by speakers at 9am for around an hour. At 10am, the march will kick off with participants walking from Pershing Square to City Hall where programming on that stage will start at 11am. The whole event concludes around 2pm, and while you don't need a ticket or anything, organizers are asking attendees to register in advance to give them an idea of how many people to expect.
How to get there
Security will be tight and plenty of roads will be blocked off as per usual, so take one of the many rail lines to the 7th Street/Metro Center Station if you can, which is just a third of a mile from Pershing Square. Keep in mind, however, that in previous years the trains were packed and it took much longer to get Downtown than usual, so allow extra time. Parking will be close to impossible, but a Lyft or Uber should be able to drop you off a short walk from the starting point.
What's the lineup of speakers and performers?
Organizers will most likely be making additions to the speaker lineup until the last minute, but for now, confirmed presenters include celebs, government officials and public advocates like LA Mayor Eric Garcetti; first partner and filmmaker Jennifer Siebel Newsom; actors Connie Britton, Laura Dern, Ricki Lake, and Laverne Cox; women's rights attorney Gloria Allred; Hector Villagara, Executive Director, ACLU Southern California; U.S. Representative Katie Hill; State Senator Maria Elena Durazo; and LA City Councilmembers Nury Martinez and Monica Rodriguez. Look for plenty of musicians to take the stage, too, Right now MILCK, Raja Kumari, Ingrid Michaelson, Aloe Blacc, Lauren Jauregui, and Maya Jupiter along with the Trans Chorus of Los Angeles are set to appear.
What else to expect
The first year's message was "Hear our voice," and last year's calls to action (with the midterm election less than 10 months away at the time) were "Hear our vote" and "Power to the polls." This year, Women's March LA is all about "Truth to Power," focused (according to organizers) on showing elected representatives that they're being held accountable and to encourage officials to speak truth to power at all levels of government. Look for community partner booths at the end of the route in and around City Hall, where you'll be able to do everything from register to vote to support non-profits and grassroots organizations.
Oh, and you remember that Fearless Girl statue that made news a while back when she went head to head with the Charging Bull statue in Lower Manhattan? Well you can get an up-close look at her when she's on display in Grand Park right next to City Hall; Kristen Visbal, the artist who sculpted it, will also appear as a special guest.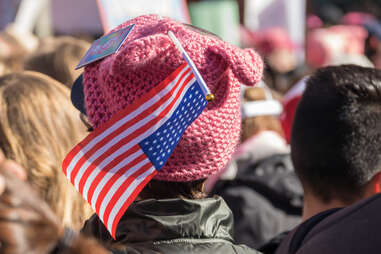 Where to get Women's March merch
If you order online now, you won't get any of the items in time for the march, but 100 percent of the proceeds from sales of official merchandise (all of which is designed by local artisans and produced in the area) go to the Women's March LA Foundation, which organizes the march. It's a big part of how the group raises funds to pull the whole thing off, so buy something online anyway and/or make a purchase from one of the vendor stands on Saturday. In addition to Truth to Power and Women's March LA-branded hats and T-shirts, there's some great Ruth Bader Ginsburg stuff available including a hoodie that reads "You Can't Spell Truth Without Ruth." Amen.
If you need last-minute poster ideas
You can find inspiration on Pinterest, but if you're not the DIY type, you can purchase downloadable templates on Amazon. That said, we're sure you can come up with something fresh and witty on your own -- let the Putin/government shutdown/build a wall puns begin...
Sign up here for our daily LA email and be the first to get all the food/drink/fun Los Angeles has to offer.