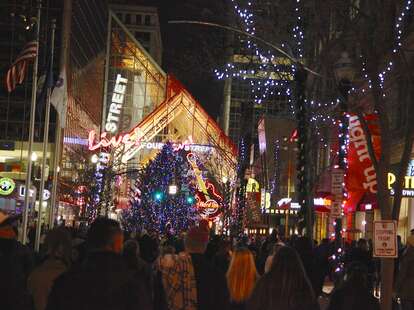 Everything You Must Do in Louisville This Holiday Season
It's hard to believe 2017 is inching slowly toward its inevitable end, but there's still an entire holiday season to go, and Louisville has plenty to do, from family-oriented events with Santa to live performances of The Nutcracker, A Charlie Brown Christmas, and more. And you can finish it all off with a blowout Downtown at 4th Street Live.
For most of the year, Louisville Mega Cavern is focused on ziplining, cycling, and ropes courses, but when the holiday season rolls around, it becomes Lights Under Louisville, the world's largest fully-underground Christmas lights show, with more than 3 million points of light in 85 light displays. It only comes around once per year, so load up the car and make the most of it.
Cost: $27 per standard vehicle
For years, it has been a tradition at Actors Theatre of Louisville to present A Christmas Carol, Charles Dickens' timeless holiday classic. Familiar characters like Ebenezer Scrooge, Tiny Tim, and the spirits of Christmas Past, Present and Future will surely get your holiday spirit humming as ATL's award-winning theater company brings these characters to life in the Pamela Brown Auditorium.
Cost: Tickets start at $25
Schimpff's Confectionery is a historic spot in Jeffersonville, just across the Big Four Bridge, known for its red hots, soda fountain, candy museum (one of the only ones in America!), and more. While you can stop in anytime to watch candy being made, two days are set aside for special Christmas candy-making and ribbon-making demonstrations. Don't wrap a single gift until you check it out -- and bring your sweet tooth.
Cost: Free
You've heard the song -- now you can experience My Old Kentucky Home as it was in Christmases past with a Victorian Christmas tour. You'll encounter a 12-foot-tall Christmas tree, women in Victorian-era hoop skirts, and Kentucky-at-Christmas themes in every room of the late 18th-century mansion, complete with garlands, mistletoe, stockings full of toys, the annual gingerbread model of the historic mansion made by the pastry chef, and nutcrackers.
Cost: $12
Who doesn't love Dr. Seuss's classic tale about the Grinch and how his heart was forever changed at Christmas? This unforgettable cartoon is now a musical presented at the Kentucky Center for the Performing Arts, featuring songs like "You're a Mean One, Mr. Grinch" and "Welcome, Christmas." Max the Dog narrates this theatrical production conceived by three-time Tony Award-winning director Jack O'Brien.
Cost: Tickets start at $33
Louisville Ballet's holiday performance of The Nutcracker, the magical story of a child's Christmas toys coming to life, will be celebrated with a special exhibit of performance artifacts like original costumes and designs, stage props and set pieces, photographs, and more. Included in this special exhibit will be the Sugar Plum Fairy's tutu, the King Rat's cape, the Snow Queen's tiara, and the original bowing nutcracker doll from the first Nutcracker was staged in the Kentucky Center for the Arts in 1983.
Cost: Admission is $8-$12
Locust Grove, a late 18th-century farmhouse, is where the Croghan family lived and enjoyed the holidays for many decades, and this year, you can enjoy it with them. Join a cast of interpreters who will welcome you as the Croghans into their home for a circa-1816 Christmas celebration with music, dancing, cooking and craft demonstrations of the era, and lots of activities for the kids.
Cost: $6 adults, $3 children (under 6 admitted free)
At any other time of year you'd go to the Gheens Science Center and Planetarium, expecting to swirl into a Beatles laser show, or get lost with some Pink Floyd. But once a year, the Gheens center plays host to its annual holiday party, featuring refreshments, holiday-themed games for the kids, and of course, a Christmas music laser show.
Cost: $5 per person
Louisville is home to the largest neighborhood of Victorian architecture in the United States, with a wide variety of architectural styles sprinkled amongst the many mansions there. Named one of the great places in America last year by the American Planning Association, the neighborhood becomes even more grand when done up for the holidays, featuring antiquated tea parties, holiday treats like those enjoyed in the Victorian era, and a bourbon tasting.
Cost: Tickets start at $25
Bring the entire family to the annual Festival of the Nativities at the Crestwood Stake of the Church of Jesus Christ of Latter-day Saints. The annual display features 600+ nativity scenes in all shapes, sizes, and styles, and from all over the world. In addition, there are children's activities, food/drinks on hand, a family photo booth, Nativity art, live Nativity scenes, music, and readings in both English and Spanish.
Cost: Free
Shop till You Drop at the Christmas Gift & Decor Show
Billing itself as one of the nation's finest Christmas shows, the Christmas Gift & Decor Show will fill up the South Wing of the Kentucky Expo Center with 750 vendors with booths packed to the gills with Christmas goodies. The annual event draws more than 50,000 people every season, so don't be left behind. And on top of it all, kids get a free photo with Santa Claus as a reward for following mom and dad around all day.
Cost: Free
Another cartoon Christmas classic will come to life with A Charlie Brown Christmas Live at the Brown Theatre. The Emmy- and Peabody Award-winning story by Charles Schulz is fun for the entire family, with a warming message about what the spirit of Christmas is all about. Join Charlie Brown, Snoopy, Lucy, Linus, and the entire Peanuts gang, backed by Vince Guaraldi's timeless score.
Cost: Tickets start at $25
OK, so sure, there are no safaris at the North Pole, but the Louisville Zoo's annual event will come close. The family will get to hang out with Santa Claus, Mrs. Claus, and Frosty the Snowman for photos, treats, and sing-alongs, followed by a turn at helping Santa's elves create holiday crafts. From there, it's a tour of the zoo's heated buildings for animal demonstrations with zoo educators.
Cost: $20.95 for adults, $11 for children (non-members); $15.95 for adults, $8.50 for children (members)
It stands to reason that if Santa Claus is a portly fellow, he probably doesn't miss many opportunities for a good brunch. So it makes sense that Santa and Mrs. Claus will be present during this two-hour, Christmas-themed cruise on the Mary M. Miller, a sister riverboat to the Belle of Louisville. A DJ will spin tunes, the two enclosed decks will make sure the entire family is snug and secure, and an all-you-can-eat brunch buffet will guarantee your belly will shake like a bowl full of jelly.
Cost: $42 for adults ($41 for seniors), $32 for children
Dubbed as the original Toy Story, the Louisville Ballet once again will stage The Nutcracker, this year at Whitney Hall within the Kentucky Center for the Performing Arts. With choreography by Val Caniparoli and music by Pytor Ilyich Tchaikovsky, the timeless story of Marie and her magical journey with the Nutcracker prince will come to life in dance. And if you manage to snag orchestra seats near the stage, you'll even get snowed on at no extra charge.
Cost: Tickets start at $35.50
The holiday season can be exhausting, especially with children's excitement ramping up with each passing day. Fear not, for the Louisville Nature Center has a reprieve planned just for weary parents. From 5pm-9pm, you can drop off the kids at the center for an evening of games, Christmas crafting, holiday music, refreshments, and a visit from Jolly Old Saint Nick himself. Meanwhile, you can finish the shopping, have a quiet dinner, take in a movie, or whatever floats your boat.
Cost: $15 for members, $10 for non-members
Well, it's all come down to this, and you're looking for one grandiose way to kiss 2017 goodbye and welcome 2018 with open arms. Some might say it's touristy, but 4th Street Live is as close as you'll get to Times Square in Louisville on New Year's Eve. Your ticket gets you access to a New York-style ball drop, live music, and VIP access to food and drink via unlimited access to four different venues. Let the good times roll.
Cost: $65 for singles, $120 for couples.
Sign up here for our daily Louisville email and be the first to get all the food/drink/fun in town.