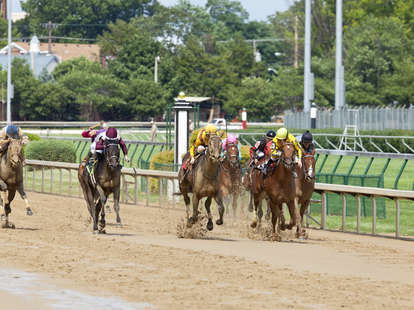 Everything You Should Absolutely Do in Louisville This Fall, in One Calendar
It's always sad to close the curtain on summer, but at least we're lucky enough in Kentucky, where we actually see all four seasons every year... and fall is easily at the top of our list. The humidity finally wanes, the trees take on a kaleidoscope of colors, and there are more outdoor activities than we can count. This year, that includes multiple bourbon festivals, special sneaker exhibits, and kicking back with a cold one while watching the Ironman athletes perform their little hearts out.
Editor's Note: We'll be updating this throughout the season, so keep checking back to stay up-to-date on all the best summer happenings.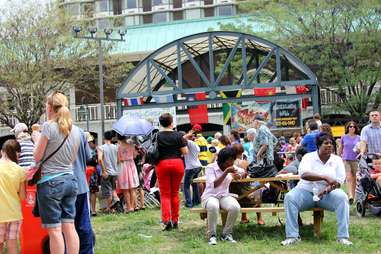 WorldFest is an annual Labor Day festival that shines a light on the various cultures of the world that call Louisville home. The food is authentic (and oh-so-good) at this four-day festival, and is rivaled only by the plethora of traditional dances and performances showcased throughout the event.
The sibling event to July's Blues, Brews, & BBQ event, the Kentucky Bluegrass & Bourbon Experience celebrates our state's finest assets: bourbon and bluegrass music. The common thread tying them together? Barbecue, of course.
Each year, Louisvillians flock to Waterfront Park on Labor Day, ready to hit the pavement and the river while taking part in the city's Hike, Bike & Paddle event.
Kentucky born and bred, Chris Stapleton has been dominating the country music world ever since he dropped his first album, Traveller, in 2015. There is no question that Kentuckians will come out in droves to support this local crooner.
It's OK, you can admit you're a fan of R. Kelly… you'll be in good company when he brings his "Buffet Tour 2016" to the KFC Yum! Center on September 10th!
Whether you take part in the poker rally, run in the Gaslight 5K, or puff your way through the pipe-smoking contest, the J-Town Gaslight Festival has a little something for everyone.
Every September, throngs of Louisvillians set their sights on the city of Bardstown, making the 45-mile journey to take part in up to six days of bourbon-fueled celebrations. Bourbon is the name of the game from morning 'til night during this festival, leaving little doubt in tourists' minds that Kentucky truly is the Bourbon Capital of the World.
Believe it or not, Louisville isn't all about bourbon. Our beer is damn good, too -- and there is no better time to sample the creative brews crafted by local favorites like Monnik, Goodwood, and Great Flood than at this signature event.
For dynamite local snacks and tons of vendors, come to NuLu Fest. Show up early for the shopping and dining, and stay late for the musical lineup, which promises to be better than ever this year.
Encouraging us all to think freely and open our minds to the power of new ideas, the IdeaFestival draws some of the world's greatest innovators to Louisville every fall, hosting four days of events sure to inspire you to come up with the next big thing.
Celebrating its 60th year, the St. James Court Art Show has long been a favorite way for locals to kick off the first weekend in October. The show takes over the gorgeous St. James Court in Old Louisville for three days, and will see over 30,000 visitors.
Those familiar with this now-annual event know that the performers -- think Korn, Slipknot, and Anthrax -- live up to the festival's name.
A pumpkin patch, pony rides, and a fleet of local food trucks are just some of the reasons to head out of the city and to the beautiful fields of Foxhollow Farm on October 8th. In its ninth year, Foxhollow Farm's Fall Festival will again be raising funds for Maryhurst, a residential program for abused women.
Our favorite way to take part in this race that consists of a 2.4-mile swim, 112-mile bike ride, and 26.2-mile run? By snagging a table at one of Downtown's many bars and swilling beers while these truly incredible (and probably insane) athletes head toward the finish line.
Every month, the Speed Museum hosts an after-hours event as a part of its Social Speed series. October will welcome an exhibition entitled "Out of the Box: The Rise of Sneaker Culture" to the museum. Guests are encouraged to don their very best tennies, and for the general admission fee of $15, will be treated to dope jams and a "funkifying sneaker bar."
This is an art exhibition unlike any you've ever seen. Over 5,000 pumpkins decorate Iroquois Park, each one more elaborately carved than the next. It's open from dusk until 11pm Sunday through Thursday, and until midnight on the weekends. Be sure to arrive early, as this has proven to be one of the most popular events of the season.
The Bourbon Chase paints a 200-mile path throughout Kentucky's incomparable horse country, taking runners through historic distilleries and the various small towns along the way. Don't worry: this is a team event, with runners taking on different legs throughout the two-day race. You may not sleep much over that time frame, but this race charts a course unlike any other.
The inaugural Wine on the River event was hosted in 2015 and is back for round two on October 15th. Wines from all over the world will be poured beneath the Big Four Bridge, with beer and food available as well.
If you're less "swim, bike, run," and more "walk, yoga, meditate," then this one's for you. This decidedly mellow take on a triathlon encourages participants to tune into their mind, body, and soul. A variety of additional activities will be available throughout the day as well, like slackline fundamentals and hooping.
Given the beautiful weather generally bestowed upon Louisville during the month of October, there really isn't a better time to take part in a 13.1-mile jog through Downtown and Cherokee Park than now.
The man, the myth, the legend will be performing with his band at the Kentucky Center on Tuesday, November 1st, at 8pm.
Ready your beards: Band of Horses will be taking the stage at The Palace on November 7th.
Actors Theatre's annual performance of A Christmas Carol has long been a Louisville tradition. Welcome the Christmas season early (before Thanksgiving, even!) when this year's run opens on November 22nd.
Only in Kentucky does the race track remain open on Thanksgiving Day.
Be it red or blue, the annual matchup between the University of Kentucky CATS and the University of Louisville CARDS is always an exciting affair, although the CARDS tend to have it in the bag when it comes to football. Now, when it comes to basketball…
Sign up here for our daily Louisville email and be the first to get all the food/drink/fun in town.