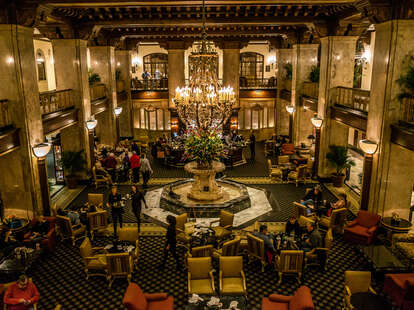 Peabody Hotel Lobby

| Flickr/Heath Cajandig
Peabody Hotel Lobby

| Flickr/Heath Cajandig
Remember when winter's unofficial motto was shop till you drop? Well, we want so much more for you this holiday season. And that includes drinking in a onesie, riding a big wheel, and hanging out with a sexy Santa. There's also artist markets galore -- if you are in the giving spirit -- and no shortage of music either, from intimate listening parties with up-and-comers to full blown yard parties featuring local rock gods and drag queens. Three new restaurant concepts open on the same day in the same place, thanks to the magic of our new food hall. Hell, we even threw in a few cool things you can take children to, just because.
8pm Thursday to 2am Friday
You ate all the turkey, had all the fights, and have absolutely no interest in the mall. Escape to BAILgarten for live music, a few drinks, and a whole lot of fun. The yard will be open and the fire pits blazing, so grab one of the many lawn chairs and settle in. Thursday night they've got DJ WITNESSE spinning at 8pm and Friday there's incredible live music all day starting around 3pm (including Me & Leah, The Late Greats, Tommy Wright lll, and Lord T & Eloise). If that not enough, there's also a midnight drag show featuring Moth Moth Moth!
Cost: Free
Various times
Hattiloo presents plays that reveal the inner-soul of the black community. For some, they are a means of self-examination, and for others they are eye-openers. Take the Soul Train to Christmas, written and directed by Ekundayo Bandele, has been reworked from last year's successful run. Hop on the magic soul train with Granddad and dance and sing along as you travel through time from slavery to hip hop.
Cost: $26-35
11am-6:30pm
It's always fun to visit our grand hotel, but this day is the very best day since no one does it up quite like the Peabody. Lasting all day, this 35-year tradition begins with the morning Duck March, followed by local choirs singing holiday classics and ending with a special performance by the Memphis Symphony Orchestra. After the evening Duck March, Santa and Mrs. Claus light the Peabody Christmas Tree and pass out holiday candy.
Cost: Free
12pm-4pm
Move over bike night, the big wheels are coming to Beale. The Beale Street Merchants Association is once again hosting the Big Wheel Relay Race on our city's best known street. Big wheels are provided, but spaces are limited so sign up ASAP. You definitely don't want to let down your inner kid this holiday season! You'll also be helping real kids as all proceeds benefit the Salvation Army Angel Tree Program. And spectators are encouraged to bring an unwrapped toy to any venue on Beale Street.
Cost: $100 per team; free to watch
8am-10am
Add Sunday in the Park to your to do list. The 44th edition of Memphis' oldest footrace, The Overton Park 5 Mile Classic, not only takes you through roads, grass, and trails in historic Overton Park, but it also gives you the opportunity to meet Bill Rodgers (four-time Boston Marathon and four-time New York City Marathon winner) who'll be handing out awards. T-shirts will be given to all runners, as will awards to the top three finishers in each age group, plus Masters and GrandMasters divisions.
Cost: $25
11am-4pm
There are more artist markets than we can list here, but the annual Tsunami Holiday Artist Market is a standout, as it has a full bar at your disposal while you shop and Chef Ben Smith providing free small bites from his Pacific Rim kitchen. Vendors this year include babycreep, Bridgman Pottery, Caleb Sweazy Woodwork, Colbymade, heart | string | hand | stitch, Insectsy, and more.
Cost: Free
5pm-7pm
The third annual Female Warriors: Armed and Delicious unites restaurateurs, purveyors, and culinary thought leaders to benefit the Women's Foundation at Felicia Suzanne's restaurant on Giving Tuesday. The event features live music from Southside Supper Club, fun cocktails, and delicious food from local female culinary warriors. Weather permitting, this event spills out onto the best patio in Memphis (and since this is Memphis, odds are it'll be in the 70s).
Cost: $40 per person; $75 per couple
7am-2pm
It's probably a little late to start training for the marathon, but you can still volunteer in an official capacity or just cheer the runners on. Chances are that if you live within the parkways, you'll be surrounded by runners and unable to go anywhere else anyway. Check the website for the route… and then check the internet for cheeky things to write on your poster board.
Cost: $140 to run; free to cheer
8am-8pm
The South Main Market -- our version of a good hall designed to incubate new restaurant concepts --will have seven vendors come December 2. Java Cabana (coffee), A Civil Pour (drinks!), and City East Bagel (breakfast & Jewish deli) have all been quietly selling their offerings for a few weeks. Local up-and-coming chef Cole Jeanes (of Acre, Hog & Hominy, and Porcellino's) will be launching three brand spanking new concepts: Coco (vegetarian), Kinfolk (elevated country), and Magnolia (Asian-inspired small plates). The final vendor, Wallflower, will offer (wait for it) flowers and potted plants. At capacity, the space will have 14 vendors.
Cost: That depends on what you want to eat
10am-5pm
Remember riding the circa 1909 carousel at Libertyland as a kid? Well, it's all fixed up and back in business at The Children's Museum. Celebrate as the ribbon is cut and the doors are opened to the better than ever Memphis Grand Carousel. Be among the first to ride the carousel in its new home.
Cost: $3 Non-members; members free
6:30pm-8:45pm
Sneaking into the cemetery at night just got real easy thanks to Elmwood's movie night. On December 8 from 6:30pm to 8:45pm, Elmwood Cemetery presents a special showing of It's A Wonderful Life. And is there really a better place to appreciate life than in a cemetery? The film will be projected onto the roof of the historic Elmwood Cottage. Lawn chairs and coolers welcome. Hot cocoa for sale. Tickets must be purchased in advance.
Cost: $15 in advance
7:30pm
Come see the Stax Academy talent on display at the annual holiday show. The Stax Music Academy Holiday Show features all ensembles of the Stax Music Academy. This year's theme is Merry Christmas Baby, a soulful celebration of Christmas classics, New Year nods, and much more.
Cost: $10 in advance; $15 at the door; $5 for children under 12
6pm-9pm
Forget the jolly old elf descriptor for A Night in Lapland (benefiting Planned Parenthood), where the City's sexiest Santa is saving you a seat. It doesn't matter if you've been naughty or nice: Give yourself a treat this holiday season and come tell Memphis' own sexy Santa what you want. The incomparable Jamie Harmon will be snapping photos and printing them on site. Offbeat holiday tunes and drink specials will help set the mood. Plus: free condoms and candy canes!
Cost: $5 suggested donation at the door; $10 per photo
7pm
There's an event in the Rec Room called Drunk in Onesies, and everyone should be there whether they drink or not. There'll be alcohol, video & arcade games, and grown people who will need to undo a lot of snaps in order to use that bathroom -- what's not to love?
Cost: Free
Doors open at 7pm; music begins at 7:30pm
Folk All Y'all specializes in house shows, but they're taking this one to the streets. It's the perfect opportunity to get a taste of this typically exclusive event. The first ever Folk All Y'All-La-La-La-La Holiday Show features Carson McHone, who Rolling Stone just named one of 10 new country artists you should know. She was a standout at Americanafest, and she just tore up the Austin City Limits Music Festival. Best of all, 100% of ticket sales for this event go to the artist. This show is part of the Listening Room series, so it'll be in an intimate but public location that'll allow guests to BYOB (responsibly).
Cost: $20
Various times
We all know that Cerrito trivia is the best in all the land, which is why the Christmas Vacation edition is being held at four different locations. Yes, it's going to be that awesome. And it's going to fill up. Bust out the white shoes and register your team now at Dan McGuinness Southaven (6:30pm-8:30pm), Pizza Social (6:30pm-8:30pm), Midtown Crossing Grill (7pm-9pm), or Rec Room (8pm-10pm (18+)).
Cost: Free
10pm-1am
It's a holiday tradition here to get all the gifts and then come to the late night party at DKDC. All your friends will be huddled inside the coziest venue in town, so don't even think about staying in. And don't forget to squeeze a few of them into the vintage photo booth. Tunes come courtesy of Jack O & The Sheiks, and the one and only Michael Donahue will get things started.
Cost: $7 at the door
10pm-3am
The New Orleans duo Quintron & Miss Pussycat, who've been called the weirdest band in the world, are coming to make sure we get rid of 2017 -- and that we do it right. They only play here maybe once a year, so don't even think about catching them next time. With special guest, Jack O (who clearly loves a holiday), this one is sure to last well into the wee hours of 2018. Grab your noisemakers and party hats!
Cost: $15-$20
Sign up here for our daily Memphis email and be the first to get all the food/drink/fun in the Blues City.