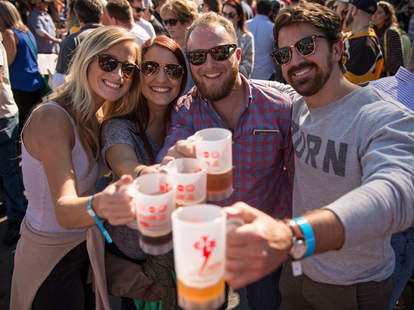 Everything You Need to Do in Memphis This Fall
Cooler temps usually mean one thing in Memphis: festival time! We've got Cooper-Young Fest, Goner Fest, Japan Fest, Pride Fest, Beer Fest -- you name it, we'll be outside celebrating it. We've also got a nice selection of park and patio parties for you, can't miss music, an over the top brunch, and a showing of a cinematic classic (for free). Get out your phones, and mark your calendars.
Memphis Japan Festival

| Daikin Taco
4-6pm
Now there's a reason to stop and enjoy the cute little pocket park on Madison. The Madison Avenue Pocket Park Fall Music Series kicked off on 9/8 and continues every Friday afternoon in September. Catch Marcella Simien 9/15, Josh & Jeremy of Star & Micey 9/22, and Tonya Dyson & Thomas Crivens 9/29. MeMPops will be on site and the Brass Door (across the street) will have food and beer specials. Best part? It's all free.
11am-6pm
CJ's is just on the other side of the Big River Crossing, about a block further than Pancho's. Whether you ride your bike or drive your car, CJ wants you to stop by and have a drink on the patio. He's doing specials throughout the weekend while the weather is nice and is offering BBQ, live music, and a very chill place to enjoy some West Memphis vibes
9am-7pm
The Cooper Young Festival, also known as "Cooper Young Christmas," now in its 30th year, is a homegrown, local led and community raised event for the whole family. (However, with 135,000 people expected, you will want to leave your dogs at home, and good luck getting a stroller through the crowd.) It's free to wander and you're sure to find some good food, cool crafts, and great music.
Various times
Do you have a stash of broken jewelry or maybe a vintage espresso maker that just won't work right? Well The Metal Museum's Repair Days might be just what you need. This annual fundraiser brings nearly 200 metalsmiths from across the country for the sole purpose of making repairs on metal objects brought in by the community. Even if you don't have anything broken, it's fun to go and watch them work.

10am-5pm
Your admission ($5 for adults and $2.50 for kids) to the Garden gets you full access to the Japan Festival. Kids will love the Sumo suit wrestling and Pokémon Go lures, PokéStops, and Gyms. Adults can enjoy cultural lectures on subjects such as ikebana, tea ceremony, and kimono. Everyone can experience the music, dance, and martial arts. Word is there will also be a roving Japanese Candyman.
Gonerfest 14 has over 30 bands hailing from Memphis, the US, and all over the World. Even our pals in Australia and New Zealand! You may want to start training now for this jam-packed four-day festival of nonstop rock. Day shows (Cooper-Young Gazebo, Murphy's, Memphis Made) are free and individual night shows (Hi Tone) are $25. Go ahead and get a golden pass for $75.
10am-5pm
Every year over 9,000 people gather in downtown Memphis for the largest Pride Fest in the tri-state area. Memphis Pride Festival and Parade is a diverse -- and family friendly -- event, which brings the LGBTQIA community and its allies together to celebrate unity and strength. The festival will have two stages with live entertainment, a kids' area with games and activities, tons of food options, and over 125 vendors. Also, the fabulous parade will go down historic Beale Street starting at 1pm. Dress up, have fun, and come show your support.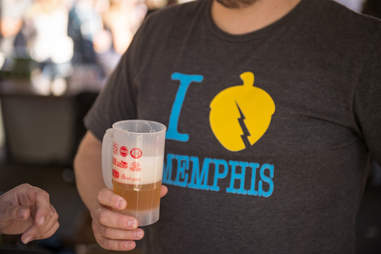 Cooper-Young Beerfest

| Brandon Dill
9am-4:30pm
The Monks and Nuns of Magnolia Grove, Blue Cliff, Deer Park, and Plum Village present an opportunity for all to cultivate peace through A Day of Mindfulness. The day's activities include mindful walking, meditation, a Dharma talk, lunch, deep relaxation, and Q&A with the monks and nuns. There is no charge for the day, but donation is greatly appreciated. Registration is required. Please bring your own vegan/vegetarian lunch and yoga mat if you have one.
6-11pm

Trae Crowder (The Liberal Redneck), Drew Morgan, and Corey Ryan Forrester are stand-up comedy and writing partners. The trio has been touring nationally in support of their best-selling book, The Liberal Redneck Manifesto: Draggin' Dixie Outta the Dark. This year's tour, wellRED: From Dixie With Love, is about celebrating everything great about the South and telling stories from a place of love. It is about leaving behind bigotry, but remembering the fried okra. Who could forget fried okra?!


11am-8pm
MEMFix: Madison Heights is a one-day, community-driven effort to imagine a re-invigorated two block stretch around the Medical District, Crosstown, and the Madison Avenue corridor. From pop-up shops, public art, pedestrian friendly streets, food, entertainment and more, MEMFix showcases a neighborhood's potential through participatory visioning and implementation.
1-5pm
Ever wondered how much beer you could drink in four hours if given 35 regional craft breweries and two local home-brew clubs to choose from? The eighth annual Cooper-Young Beerfest is your chance to find out. This event sells out every year, so don't procrastinate. (Tickets are $45).
4-8pm
Kunal Jadhav's monthly Indian Pizza Pop-Up at the Cove is a one of a kind dining opportunity. The menu features Indian-inspired pizzas and nachos -- think butter chicken and saag paneer on the carb of your choice (crust or chips). All proceeds go to charity, and this time, it's the West Memphis Animal Shelter. Get there early!
8-11pm
Dale Watson bought a house in Whitehaven and is doing regular shows at Murphy's. Early shows. So now there's no excuse not to get over there and have a listen. He's got a hometown band now -- the Memfia -- and prides himself on not having a set list. Even though he likes to wing it, you can count on him performing original songs inspired by Sun Studio artists like Elvis, Johnny Cash, Carl Perkins, and Jerry Lee Lewis. And if you make it to the end, Dalevis will most certainly come over, say hi, and happily pose for a selfie with you.
Brunch So Hard Memphis AF

| justin fox burks
7-10pm
This installation of Soul Cinema features the movie Super Fly, which boasts a classic soundtrack crafted by the great Curtis Mayfield. In the movie, Youngblood Priest is a cocaine dealer looking to leave the drug business, but before he can go, he has to make enough money to support his lavish lifestyle. Looking to sell out of his stock and get out, Priest runs into dealers, junkies, traitorous friends, and corrupt cops, all of whom could hold him back from his goals. The flick is free, but you'll need to register.
11am-2pm
The Brunch So Hard Memphis AF Edition was made for you to enjoy a positive, slightly lit, and true Memphis pride environment while you meet, greet, and connect with other Memphians. There will be speakers, and host Cristina McCarter will help mediate the Q&A. She will discuss neighborhoods, jobs, the gentrification concerns, favorite attractions and much more. Bring your crew, your cousin that won't allow anybody to talk bad about Memphis, your Memphis Tigerlane tailgate friends, your coworker that's new to Memphis, and that friend that complains there's never anything to do here. Brunch menu will be created by Chef Aaron Winters of The Vault and champagne will be provided by Luc Belaire. Tickets are $48.
Sign up here for our daily Memphis email and be the first to get all the food/drink/fun in the Blues City.