11 Can't-Miss Black History Month Events Around South Florida
Celebrate throughout the month of February and beyond.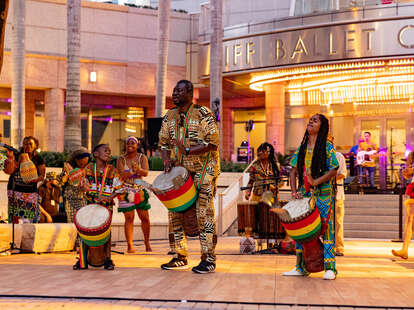 Arsht Center

| Arsht Center
Arsht Center

| Arsht Center
February is Black History Month, a time to commemorate and reflect on the past, present, and future of the Black community. All around the nation, there are celebrations featuring art, music, food, interactive panels, and more. In South Florida, museums, hotels, and restaurants are honoring Black History Month by hosting a myriad of events. Here are the ones you don't want to miss.
Museum of Contemporary Art highlights Haitian culture
February 1 - 28
North Miami
Throughout Black History Month, the Museum of Contemporary Art, North Miami will offer a series of educational and public programming. These events include movie screenings, panel discussions, quilt making classes, concerts, and art workshops. Additionally, MOCA has two new exhibitions, "Didier William: Nou Kite Tout Sa Dèyè," which translates to "We've Left That All Behind" and Leah Gordon's "Kanaval" which documents twenty years of Carnival in Haiti.
Cost: $10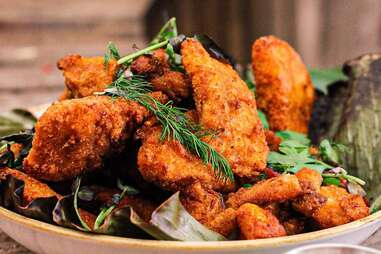 Feast on specialty menus at Red Rooster Overtown
February 1 - 28
Overtown
Each week in February, Red Rooster Overtown will celebrate the food traditions of the African diaspora, starting with West and Central Africa, the Caribbean, New Orleans, and the South Carolina/Georgia low country. In addition to the regular menu, guests can expect special dishes like Carolina-style smoked pulled whole hog, Goat & Chicken Jollof Rice, Seafood Gumbo, and Bajan Salt Fish Cakes & Pumpkin Fritters.
Cost: Varies
Check out art at Kimpton EPIC Hotel
February 1 - 28
Downtown
As part of Kimpton EPIC Hotel's ongoing EPIC Art program, this month will feature local artist Nate Dee. Influenced by his Haitian background and its colorful aesthetic, his pop surrealist art will be on display throughout the hotel's 16th floor foyer. All of it is for sale and 100% of the sales go directly to the artist.
Cost: Free
Visit Kathia St. Hilaire's first solo museum exhibition at NSU Art Museum
Ongoing through April 23
Fort Lauderdale
Titled "Kathia St. Hilaire: Immaterial Being," this exhibit addresses her personal transcultural experience and how she experiments with art-making techniques. St. Hilaire engages with materials through weaving, carving, collaging, and painting. On view at the NSU Art Museum through April 2023, her show confronts and memorializes complex issues from the artist's ancestral past as she encounters it within her own urban environment via her cultural identification and innate beliefs—refusing to shy away from imagery that may be controversial, political or historical, all of which is filtered through portrayals of everyday life in the neo-diaspora.
Cost: $12 or free the first Thursday of the month
Arsht Center to host Heritage Fest 2023: Black Resistance
February 4
Downtown
This indoor/outdoor event will feature an Afro-theory dance workshop led by Show Stopper Dance Studio's Kerine Jean-Pierre, a gospel pop-up performance by Rev. Melvin Dawson & the Genesis Fellowship Delegation, and more. Free to the public, you can RSVP here. Additionally, the Arsht Center will host an array of events throughout the month including jazz concerts, book readings, Sunday gospel, and dance performances.
Cost: Free
Make your way to Downtown West Palm Beach's Black History Month Kickoff
February 4
West Palm Beach
"See What I Can Be," presented by Rohi's Readery and The Office of African and African American Studies, is the kickoff event for the Second Annual Black History Month celebration at The Square. Taking place from 8:30 am to 3 pm, the event will include a group SoulCycle 'origins of hip-hop' themed ride, a yoga class, live musical performances, kids cooking and gardening station, local artisan market, student panel, family and educator workshops, children's author readings, dance and music class, and more. It's free to the public. Reserve a spot on Eventbrite.
Cost: Free
Get dressed up for a Black History Gala: "Loving The Culture"
February 10
North Miami Beach
Get decked out for this upscale night of dining and dancing put together by The Creative Spot in North Miami Beach. Tickets cost $60 and can be purchased on Eventbrite.
Cost: $60
Attend the 10th Anniversary Party of Art + Soul
February 11
Downtown
Art + Soul at the Pérez Art Museum Miami (PAMM) is celebrating its 10th anniversary this month with a gala hosted by The PAMM Fund for Black Art. The evening includes cocktails, a seated dinner, and dancing under the stars with live entertainment. This year will feature actor and activist Jesse Williams as its honoree and a new piece of work for the collection will be revealed.
Cost: Tickets start at $1,500
Enjoy a free screening of Hidden Figures
February 17
Miami Beach
Head over to Miami Beach Regional Library for a 3 pm screening of Hidden Figures. The Oscar-winning film stars Taraji P. Henson, Octavia Spencer, and Janelle Monáe, who play three brilliant Black female NASA mathematicians who served as the brains behind one of the greatest operations in history—the launch of astronaut John Glenn into orbit.
Cost: Free
Melton Mustafa Jazz Festival
February 23 - 26
Overtown
Over the last weekend of the month, Melton Mustafa Jazz Festival Weekend is taking over the Black Archives Historic Lyric Theater in Overtown. Featuring professional jazz musicians that are joined by music students as young as 11 years old, this year's festival will celebrate the international ladies of jazz. It's designed to expose middle school, high school, and college students to the educational component of jazz and will include performances from over a dozen artists.
Cost: $25 - $225
Attend the Third Annual Afro-Carib Festival
February 25
Miramar
This festival, hosted by the City of Miramar, honors both Black History Month and Reggae Month. Blending the cultures that evolved through their shared African origins, this year will feature reggae, afrobeats, reggaeton, salsa, and other musical genres from the Caribbean and African Diaspora. Catch Grammy Award-winning Reggae artist Koffee, as well as Tekno, Jacob Forever, J. Perry,Alexander Star, and Yung Wylin at Miramar Regional Park Amphitheater from 5 pm to 11 pm.
Cost: $20 - $125