Here's What You Missed at the Epic Taco Takeover Miami
If you don't think Miami is the underdog taco champion of the US, you clearly weren't at Taco Takeover on September 8. We went on a mission earlier this month -- a mission to discover the best tacos in Miami. The best way to do that? By hosting the Taco Takeover and tasting the best bites and cocktails local restaurants had to offer. As you can tell from the pictures, there wasn't a single bad entry. That being said, there can still only be one champ. Take a look at the competitors: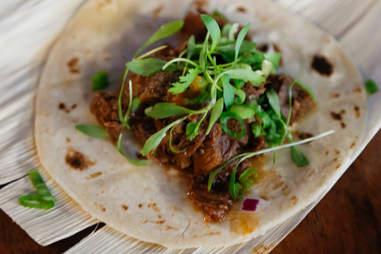 Jordan Braun
Shorty:
Slow-braised short ribs, onions, cilantro, cotija cheese, and Aji Limo sauce.
Lengua Taco:
Beef tongue with a Peruvian ají panca spice
Smoky:
Tequila, smoked pineapple, ancho chile-infused agave, lime, smoked/spicy rim, and pineapple leaf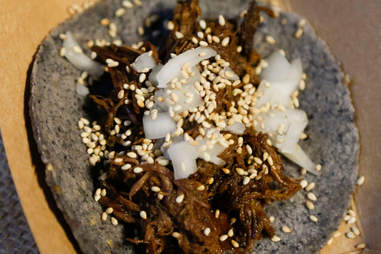 Jordan Braun
Birria de Res:
Short ribs braised in chiles and tequila
Grill and Thrill:
Tequila, ancho verde, grilled nopales cactus, black peppercorn, grilled pineapple syrup, lime juice, and aquafava 
Jordan Braun
Tacos de Cochinita Pibil:
Fresh handmade corn tortillas, Yucatan-style pork marinated in achiote with Mexican sour orange and pickled red onions
Jalapeño Margarita:
 Tequila, fresh jalapeño, agave syrup, elderflower liqueur, and fresh lime juice, with an ice & salt rim
Jordan Braun
Tacos Al Pastor:
Slow-cooked pork marinated in a homemade sauce, served with pineapple and pico de gallo
Cauliflower Al Pastor:
Served with pineapple and pico de gallo
Banana Rita:
Tequila, Giffard Banane du Brésil, pressed lime, and agave
Jordan Braun
Tacos Al Pastor:
Ground pork marinated in a special dried pepper blend, pineapple juice, and apple cider vinegar served on a corn tortilla and topped with fajita vegetables
Chicken Tinga Tacos:
Braised chicken, sweet-smoky chipotle, refried beans, lettuce, queso fresco, and sour cream served on corn tortillas
Margarita de Oro:
Tequila, fresh lime juice, caramel syrup, torched thyme sprig garnish
Jordan Braun
Pork Belly Taco: Served with ancho chili-roasted pineapple, curtido, and avocado
Cría Cuervo: Tequila, Le Jay Creme De Cassis, lime juice, Giffard Pêche Peach Liqueur, and blue Curaçao
Jordan Braun
ChaCha Pork Tacos:
Mojo Chili-marinated pork served with black bean salsa, signature garlic aioli sauce, pickled onions, and queso fresco
Chicken Vaca Frita Tacos:
Shredded chicken pan fried with onions and lemon juice, topped with tossed slaw and Chef Chris' signature garlic aioli
Passion Loca:
 Passion fruit, tequila, orange scent, and mint
Jordan Braun
Carnitas Al Cabo:
Braised pork marinated in adobo, served on corn tortillas with pickled onions, cilantro, and avocado salsa verde
El Cabo Margarita:
Signature margarita served on the rocks
When the dust had finally settled and the guests were properly full of tacos, the votes were cast. The winner? Plomo Tequila & Taco Bar came in strong with their pork belly tacos. (Apologies to the cilantro-haters in the house.) But congrats are due to every competitor; there wasn't a bad taco to be had.
Jordan Braun
AND THERE WERE PLENTY OF DRINKS, OF COURSE
Of course, it wouldn't be a respectable taco competition without drinks. Aside from the delicious cocktails brought by our taco competitors, we also had entries from E11EVEN Miami, like the Watermelon F11zz (tequila, agave, watermelon pucker, fresh lime juice, and a splash of Sprite). Not a big tequila drinker? Funky Buddha Brewing was kind enough to provide their beer, a perfect complement to beef tongue tacos. Our guests this year got to vote on cocktails as well. The winner: HotLime Craft Tacos and Ceviches' "Smoky." Clearly there's no beating smoked pineapple when it comes to tequila cocktails.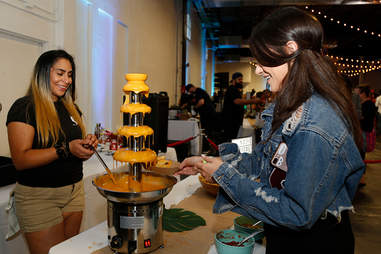 Jordan Braun
IT WOULDN'T BE A PARTY WITHOUT FAVORS
We didn't stop there, though. Not only did we have mountains of tacos and tons of cocktails, we had to make sure everyone got a little bit extra. Our taco lovers got to visit the do-it-yourself taco seasoning station. Take-home jars gave guests the opportunity to mix and bring home their own taco spices. (Although we're sure most people just tried to copy the flavors they'd just experienced.)
Think that's all? We have two words for you: queso fountain. Not only could guests hoard tons of tacos, but they could even smother them in mounds of gooey melty cheese. In case two DIY stations weren't enough, we also had Santo Dulce! serving DIY churros at the dessert station. Plus, one final cocktail for VIPs: the classic Paloma.
MORE PHOTOS? IF YOU INSIST
All in all, it was a pretty awesome Taco Takeover, especially for the winners of our competition. Here are a few extra of our favorite photos from this year: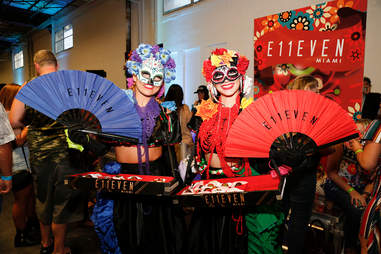 Jordan Braun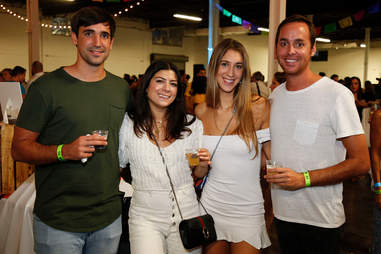 Jordan Braun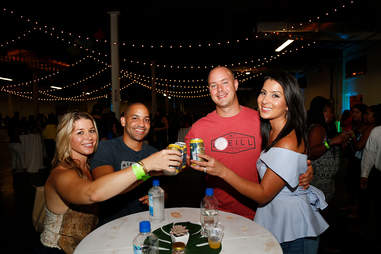 Jordan Braun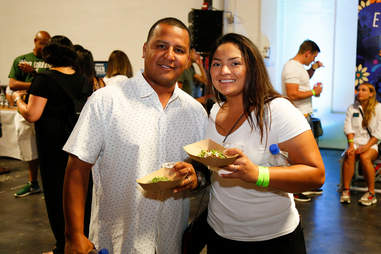 Jordan Braun
Jordan Braun