Celebrate the Season Miami-Style at These Cool Holiday Events
Heat-proof ice skating, beachside Christmas markets, and plenty of coquito to make you feel merry and bright.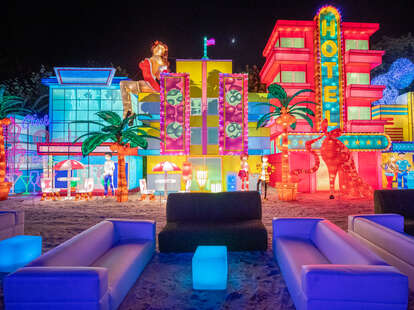 Photo courtesy of Jungle Island
Photo courtesy of Jungle Island
The palm trees wrapped in Christmas lights always unnerve newcomers a little bit, but it's part of the charm of Christmas in Miami and you won't hear "Mi Burrito Sabanero" on the radio in many other places. Beyond those holiday season staples, Miami's got some other holiday events that show how we do the season in our own special way. There's a waterpark with daily snow flurries, a coquito-themed cocktail menu, and Thanksgiving dinner on the sand. Of course, Santa also comes through the 305 and this year you can even ice skate next to the ocean to kick off Christmas time. Even though it's 80 degrees outside, you can still get in the winter spirit with the help of these holiday events in Miami.
Holiday Events in Miami
Now through Sunday, January 7; 5 pm
Doral/Medley; Tickets start at $44.86
Though we still miss the twinkling lights alongside the Palmetto, we're glad Santa's Enchanted Forest has found a new home. The place that birthed a million childhood memories is still as Miami-fabulous as always, with over a million lights, over-the-top nativity scenes, and rides that are terrifying on multiple levels. You haven't done Christmas in Miami until you've spent a night at Santa's, just do yourself a favor and ride all the rides before you eat.
Now through Monday, January 1; 10 am to 10 pm
LOOP Park; $20 for adults, $15 for children
If you've ever tried outdoor ice skating in South Florida, you know it can be a slushy experience. LOOP's Wonderland Rink solves this problem with a smooth, ice-like surface where you can skate (and bust your ass) like you would on regular ice, but it never melts. The Rink is open every day until New Year's Day, with live music on Fridays.
Saturday, November 18 and Wednesday, December 13; Times vary
Thesis Hotel; Free to attend
Who needs Copenhagen when you have Coral Gables? The City Beautiful gets its own Christmas market at the Thesis, which will be hosting events on November 18 and December 13. You'll find all kids of crafts, fashions, candles, skincare products, and other unusual gifts. Stop by the December night market for performances by students from the Barrett School of Music.
Thursday, November 23–Sunday, January 7; 10 am to 10 pm
Aventura Mall; $35
You don't have to leave South Florida to experience the joys of a snowy winter. All you have to do is step inside the Snow Carnival at Aventura Mall, where 350 tons of real snow await. You can build a snowman, race down the Mini-Matterhorn, take a snowy train ride, or just throw snowballs at targets. Then after an hour, put your shorts back on and don't think about snow again until next season.
Sunday, November 26
Various locations; Prices vary
Looking for some unique, locally made gifts that'll be far more interesting to open than whatever you can get at the big-box stores? Consider doing some shopping on Museum Store Sunday, where gift shops from some of our leading museums will have deep discounts on all kinds of cool stuff. Frost Science, PAMM, Vizcaya, the ICA, and Deering Estate are just a few of the participating institutions, and you can even work a museum visit in with your shopping trip.
Saturday, December 2–Sunday, December 3; Times vary
The Parker and Barry University; Tickets start at $15
Two of the holiday season's great music traditions continue when the South Florida Symphony Orchestra presents its renditions Handel's Messiah and the Holiday Pops. Featured soloists will include soprano Katherine Henly, mezzo-soprano Lisa Marie Rogali, tenor Chauncey Parker, and baritone Neil Nelson.
Saturday, December 16; 6:30 pm
Downtown Fort Lauderdale; Free-$30
Typically, a Saturday night boat party in Fort Lauderdale falls squarely into the "naughty" category. But for one night a year South Florida seafarers go "nice" with the family-friendly Winterfest Boat Parade. Cabin cruisers, luxury yachts, and everything in between will be decked out in their holiday finest, rolling up the New River past Downtown Fort Lauderdale. For prime seating, head to Las Olas Oceanfront Promenade, where a special ticketed viewing area gives you the best vantage point. Oh, and this year's grand Marshals are none other than Boyz II Men.
Saturday, December 16–Monday, December 18; 7:30 am to 5 pm
Intercontinental Miami; Menu prices vary
No need to go all the way to Orlando and pay outlandish prices for a Character Brunch. Toro Toro at the Intercontinental welcomes Mickey and Minnie Mouse for a special Holidaze Festive Brunch on December 17 at 1 pm. It's preceded by a Breakfast with Santa on the 16th starting at 7:30 am, and St. Nick will make a return on the 18th for an afternoon of arts and crafts at 3 pm.
Thursday, December 21–Monday, January 1; 3 to 6 pm
Tidal Cove; Admission starts at $58.95
Though our notable lack of snow and hills makes tobogganing a little tough, Tidal Cove lets you combine high speeds and falling flakes during its Candy Cane Lane winter celebration. In addition to decorating its cabanas in Christmas lights, the water park will have a daily 5 pm snow flurry, where you can pretend it's snowing in your swimsuit while you roast marshmallows. There'll also be holiday-themed music, and Santa's even promising to make an appearance on December 25.
Friday, December 22–Saturday, December 30; Showtimes vary
Diplomat Beach Resort; $39
The Grand Theater at the Diplomat becomes our own version of the Grand Chapiteau for the final week of 2023 as the cirque-like Pomp, Snow, and Cirqueumstance show takes over the 50,000-square-foot space. The holiday-themed show is based on the book by Neil Goldbers and promises plenty of acrobats, skaters, magic, cycling, circus performers, and outrageous costumes.
Holiday Pop-Up Bars and Food Specials in Miami
Thursday, November 23; Noon to 6 pm
Nikki Beach; Menu prices vary
Why do we call it "Thanksgiving Dinner" when we start eating at 2 pm? Nikki Beach gets the terminology right for its noontime feast, where you can enjoy turkey on the sand with a sexy saxophone in the background. Other menu offerings include lobster mac and cheese, oysters ceviche mixto with cranberry vignette, and Key Lime pie.
Thursday, November 23; 6 to 11 pm
Serevene at Hotel Greystone; $109 per person
Though the Dallas Cowboys always make an alluring soundtrack to Thanksgiving dinner, perhaps this year you can make the ambience a little more refined. Severene is offering a four-course dinner with honeynut squash bisque, cranberry kale salad, turkey sage remoulade, and wine poached pear—all accompanied by a live jazz combo to class up the experience. You can also add a wine pairing for $49.
Friday, November 25–December 23; 5 pm to 5 am
Better Days; Drink prices vary
The Christmas-themed Miracle bar takes a divey turn this season, moving into the low slug spaces at Better Days starting the weekend after Thanksgiving. The Christmas-themed cocktail menu has yet to be released, but it'll come to us from the team at DrinkMiami. Another bonus: This Christmas bar miraculously will stay open until 5 am.
Now through Sunday, December 31; All day
Velvet Taco; Free
The new Velvet Taco in Fort Lauderdale gives us its version of the Pickle Present, as it invites guests to solve the mystery of "Who Stole the Spirit of Resistmas?" Clues will be inside the restaurant, in emails, and on Velvet Taco's social pages. And if you think you've solved the riddle you can enter a sweepstakes to win Velvet Taco for a year.
Now through Saturday, January 6; 6 pm
Miami Lakes; Prices vary
Is there a more perfect place to host an evil Christmas bar than a bar called "Santa Diabla?" The Miami Lakes speakeasy will transform into the Grinch's den for a special mean-themed Christmas bar until January. Drinks include the Tiki Clause, O Holy (Dark) Knight, and the Grinch's Cup, a green mint coquito with candy canes.
Friday, December 1–Sunday, December 31; 5 pm to 12 am
The Commodore at Ritz-Carlton Coconut Grove; $18
Miami's favorite creamy, coconutty Christmas drink gets some fresh looks courtesy of cocktail maven Gio Gutierrez. He's crafted a whole menu of coquito-inspired drinks for the Commodore using everything from Patron Reposado to Angels' Envy, and he'll be pairing them with delightful Christmas cookies for a special menu running all through December.
Sunday, December 3 and Thursday, December 14–Sunday, December 17; Times vary
Batch; Free
All four Batch locations are bringing back Shots for Tots, where everyone who brings in a new, unwrapped toy gets a shot from the bar. The fun begins with a Grinch-themed brunch at noon on December 3. Then continues with an ugly sweater and snarky Santa party in Miami on December 14 at 7 pm. Get more free shots on December 15 in Fort Lauderdale at 6 pm, or hit noon brunch in West Palm and Delray over the weekend.
Holiday Lights and Decorations in Miami
Now through Sunday, January 7; 6 to 11 pm
Fairchild Tropical Gardens; $30-35
Fairchild Gardens will transform into a trippy LED forest as the NightGarden returns for its fifth edition. The wisecracking banyan tree is back, as is the augmented reality fairy garden and the mysterious holograms that seem to hide behind every plant. It's our own Miami version of an enchanted winter forest, and it runs through January 7
Now through Sunday, December 31; 7 to 10 pm
Village at Gulfstream Park; Free
Gulfstream Park unveils its annual holiday light show a couple of weeks before Thanksgiving, where a quarter-million LED lights flash and twinkle in time with holiday classics and popular hits. The kickoff show will feature DJ Chris Cruz as well as the Valerie Tyson eight-piece band. Santa will come down from the South Pole a little early too, accompanied by Nutcracker stilt walkers and an army of elves.
Tuesday, November 28–Wednesday, February 28; Hours vary
Jungle Island; Adult tickets start at $29.90
After a four-year absence, the colorful lanterns and LED showcases of Luminosa have returned to the tropical paths of Jungle Island. The silk lanterns will line a 1.35-mile trail through the park, illuminating the way as acrobats perform overhead, and photo zones encourage guests to stop along the way. There'll also be plenty of food and the bars will be open.
Matt Meltzer is a Miami-based contributor for Thrillist, a veteran of the United States Marine Corps, former pageant judge in the Miss Florida America system, and past contributor to Cosmopolitan magazine. Matt graduated with a BBA from University of Miami and holds a master's in journalism from the University of Florida. He currently lives in Miami with his Betta fish, Bob.