Everything You Need to Do in Miami This Holiday Season
They say South Florida has only two seasons: Hurricane and Tourist. But for a couple of months each "winter" we have a brief holiday season too, where our palm trees are wrapped in bright lights and a certain song about a donkey plays on Power 96 at least twice an hour.
That said, our holiday season is a little different than the rest of the country's. But who cares if we don't have cold weather or chestnuts roasting on an open fire? We have Santas! And Pitbull! And New Year's dinners that cost more than a 3-series lease payment! Sure, our holiday season might not look like most of America's, but that's par for the course in Miami. And here's all the things you can do to make the most of it. 
Now – January 8
Jungle Island
Any poor sap with an electrical outlet and Walgreen's within driving distance can put up Christmas lights. You know what takes talent? Putting up a million LED lights in lanterns made to look like iconic Miami streetscapes and tropical animals. Luminosa manages that feat over 13 acres at Jungle Island, and runs this winter light show nightly through New Year's.
Cost: $35
Now – January 5
Tropical Park
Is it really Christmas in Miami until you've taken a selfie with the surfing Santa, as foam snow drifts in your face and "Mi Burrito Sabanero" fills the air? No, no it is not. And if you don't make it out to the world's largest Christmas theme park during the holiday season, you may as well have spent it shoveling actual snow.
Cost: $35
Courtesy of NightGarden
November 20 – January 11
Fairchild Tropical Botanic Garden
The brilliantly-illuminated path through the tropical wonderland of Fairchild returns this year, with all the epic lanterns, trippy holograms, and talking trees we came to love in 2018. New this year: an augmented reality fairy quest, giving a new challenge to those who've been before.
Cost: Non-member tickets start at $33
November 20 – December 29
Miami and Ft. Lauderdale Brightline Stations
Odds are Chris Van Allsburg never envisioned a Christmas train with power outlets and high speed WiFi, but such is the Polar Express in 2019, where Brightline runs one-hour journeys to the North Pole from Miami and Ft. Lauderdale. Your golden tickets bring you aboard a train full of dancing chefs serving cocoa and cookies with a full reading of the book. Plus, each passenger gets a souvenir sleigh bell.
Cost: $50-75
November 26 – January 1
Gramps/Java & Jam/Death or Glory
Not content to let Miami have all the Christmas pop-up bar fun, this year's rendition of the Miracle's pop up heads up to Broward at Java & Jam, and Delray Beach at Death or Glory. There's no guarantee they'll all have a snow machine that covers the bar in white stuff every time "All I Want for Christmas" comes on like they did at Gramps. But they will all be having ugly sweater parties on December 2.
Cost: Drink prices vary
November 28
Three
Perhaps the only downside of eating Thanksgiving dinner at a restaurant is that you don't have guaranteed turkey sandwiches for the next 65 days. Three solves this problem for at least one day, sending you home with a turkey sandwich after its family-style feast featuring calabaza squash soup, turkey breast and leg confit, yukon gold potato gnocchi, and pumpkin pie topped with toasted marshmallows. 
Cost: $65 per person
November 28
The Gates Hotel
Yes, it's always fun to take out a year of aggression on your brothers with a little Turkey Day football. But if your sibling rivalry doesn't include targeting, head to The Gates in South Beach where they'll be playing pin the feather on the turkey, pumpkin toss, turkey bowling, and other wholesome events with warm pie and apple cider.
Cost: Free
November 28
Barton G
While we don't have details on what, exactly, the restaurant's three-course menu including roasted acorn squash salad, turkey breast with cranberry walnut stuffing, brown butter candied yams, and spiced pumpkin mousse and salted bourbon caramel atop a brown butter blondie will be served in, we can promise it won't look anything like a serving platter.
Cost: $85 per person
November 30 – December 25
Bayfront Park
Given December temps here aren't exactly conducive to ice, it's hard to recreate Rockefeller Center in Downtown Miami. But we come dang close with the Bayfront Holiday Village, where the Bayskate roller skating rink sits under a 50-foot Christmas tree, just a few steps from the North Pole Beach Club where they'll be serving spiked eggnog and other holiday cocktails all month.
Cost: Free to attend. Skates are $15 for two hours.
December 1 - December31
Lincoln Eatery
Don't get tempted and try to bite through it or anything, but all December the Lincoln Eatery will have a life-sized gingerbread house on display for your walking and Instagramming enjoyment. The house is the creation of Making It contestant Amber Kemp-Gerstel, who'll be on hand December 15 from 1-3pm for a meet and greet.
Cost: Free
December 3
Las Olas Blvd.
Though we'll never experience actual snow -- or a frozen pond -- in South Florida, we can almost recreate that Christmas magic while wearing shorts at the 57th annual Christmas on Las Olas. The street'll be shut down between SE 6th Ave. and SE 11th Ave., with four stages, a snow mountain, ice skating, and pictures with Santa.
Cost: Free
The Nutcracker

| Miami City Ballet
December 13-29
Adrienne Arsht Center/Kravis Center for the Performing Arts
The Nutcracker, the most famous ballet in the world that tells the story of a small girl who finds herself lost a world of toy soldiers, colorful characters, and the Mouse King, is as much a part of Christmas as "Jingle Bells" and crowded shopping malls. MCB's rendition will run at the Arsht Center from December 13-22, and at the Kravis Center in West Palm Beach from December 27-29.
Cost: Tickets start at $30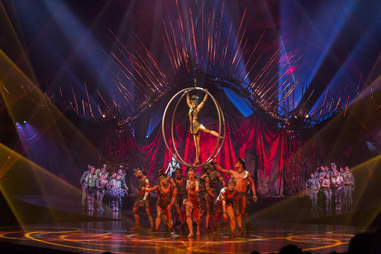 Cirque du Soleil

| Courtesy of Marie-Andrée Lemire
December 13 – January 16
Hard Rock Stadium
Though some might say Alegria, the classic Cirque du Soleil show that's been updated for 2019, isn't holiday-themed, that would be implying they understand what, exactly, a Cirque du Soleil show is about (which is always open to interpretation). So just enjoy the death-defying acrobatics, slapstick clowns, and muscle-clenching contortionists and imagine how it probably relates to Christmas.
Cost: Tickets start at $42
December 14
New River and Intracoastal Waterway
Everything always seems a little more wholesome during the holidays, which is never more evident than when the South Florida boating community decks their vessels out in their Christmas finest for the annual Winterfest Boat Parade. This year's Grand Marshall is none other than Bret Michaels, who may ask you to talk dirty to him, but will still keep it family-friendly.
Cost: Free
December 14
Morikami Museum and Japanese Gardens
Are the gifts you give always painfully obvious because it looks like they were wrapped by The Tasmanian Devil? Find the beauty and nuance of gift giving, Japanese Style, at this one-day workshop where you'll learn how to carefully design unique boxes and delicately wrap with washi, Japanese homemade wrapping paper.
Cost: $35
December 18
Etaru Hallandale Beach
You can debate whether or not Home Alone is a Christmas movie all you want (it totally is), but it won't matter when you're posted up in the sand watching it on the big screen. Etaru's monthly cinema club screens Kevin McCallister's sadistic robber-foiling comedy starting at 7pm, and your ticket gets you maki for two, a glass of rose, and prosecco upon arrival.
Cost: $30
December 31
Bayfront Park
Pitbull's Worldwide NYE is like Miami's version of Times Square, except you're not freezing and you can actually find a bathroom. Our quintessential orange-dropping celebration takes over Bayfront Park, and while you can catch the concert from a distance for free, VIP tickets rate you an open bar, free food, and a chance to get close enough to see how sweaty Pitbull really is.
Cost: Free from afar. VIP tickets start at $295
December 31
Nikki Beach
Granted, you could just wander out to the sand and watch Miami Beach's fireworks display for free. But don't think too hard about who you'd be finding out there to kiss. Better to head to Nikki Beach, who has a reasonable-for-the-beach $75 cover plus a front row seat to the fireworks and a 1920s-themed party.
Cost: $75
December 31
The Villa at Casa Casuarina
If you've resigned yourself to spending money on New Year's Eve, you may as well do it surrounded by complete opulence. The venerable Versace Mansion welcomes to general public to its NYE shindig, with two dinner seatings at Gianni's at 6pm and 8:30pm, as well as an open bar package for those who don't care to soak up their champagne.
Cost: Bar package $150. Dinner $125-$450
December 31
Rusty Pelican
Barring a newfound friendship with someone owning a rooftop penthouse, you won't be able to find a better view of all our city's fireworks than you will from the Rusty Pelican. They'll be throwing an all-night soiree with a grand buffet and open bar, and a five-course sit-down dinner for those who don't need unlimited drinks.
Cost: $275. $200 for just dinner.
Hit a friend's house party in Kendall
December 31
Your friend's house
Because, seriously, who's paying some of those prices?
Cost: A 12-pack of beer
Sign up here for our daily Miami email and be the first to get all the food/drink/fun in town.