16 Spooky Ways to Celebrate Halloween in Miami This Year
Mask up!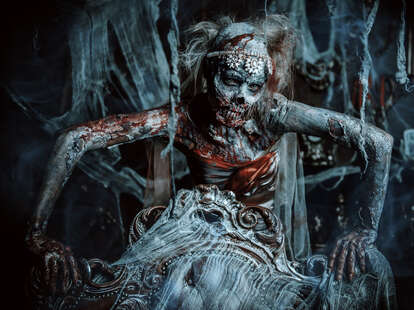 Remember how we used to joke that you couldn't tell the difference between regular club-goers and people in skimpy Halloween costumes? Those were the days. But just because the clubs are closed and the massive Halloween parties are a no-go this year doesn't mean you'll be stuck bobbing for apples by yourself. Plenty of spots around South Florida have adapted their Halloween celebrations for the COVID-era, from drive-through haunted houses to socially-distant parties where the costume contests award the coolest mask. Halloween 2020 is not even a little bit canceled, so read on for our tips on where to celebrate best.
Through Saturday, October 31
Miramar
A Cirque du Soleil vet put together the most immersive drive-through Halloween experience in South Florida at Horrorland, where you'll take a 35-minute ride through seven themed haunted areas filled with unexpected bursts of unusual activity. The haunted outdoor areas include themes like Alice in Horrorland, Farm of Horrors, Creepy Carnival, and Christmas Nightmare, and are open nightly from 7-11pm.
Cost
: $48.99 per car
Through Sunday, November 1
Davie
As your family rolls slowly through Tree Tops Park, they'll find Bruja, who has been held captive in the park for 200 years, feeding off those who get too close. Her followers will also come to life during your drive, and if you're feeling extra brave you can opt to take a dark woods walk. Each car will also receive a free surprise gift to redeem at the Museum of Discovery and Science, and there's a Bingo game you can play along.
Cost
: $39
Through Saturday, October 31
Online
The City of Pompano Beach is throwing a virtual costume contest with prizes for scariest, best duo, baby costumes, cutest, most original, funniest, and best overall. To enter, follow a link on
the official page
. Take a picture of yourself in your costume, give it a caption, then share it on social with the hashtag #copbboobashdrive.
Cost
: Free
Through Sunday, November 1
Flagami
For those who don't feel like having to clean their seats after a Halloween drive-through, there's the Not So Spooky experience at Tamiami Park, running this weekend and next from noon to 7pm. Tune in on your car radio and follow an interactive Halloween story during your drive, then hit Miami's first-ever drive-through pumpkin patch. Your kids can trick or treat from the car at Trick or Treating Alley, and if you feel like getting out there's a harvest market with food and photo-ops galore.
Cost
: $29
Trick or treat your way around local parks
Through Saturday, October 31
Various locations
Many smaller communities around South Florida will have drive-through trick-or-treating events so your kids can still rot their teeth in a safe manner.
Sabal Pines Park
in Coconut Creek,
Cooper City Community Center
,
Snyder Park
in Ft. Lauderdale,
Pembroke Lakes Tennis Center
,
Plantation Central Park
,
Vincent Torres Memorial Park in Lauderdale Lakes
, and others all have events through Halloween
Cost
: Varies by event
Friday, October 30
Hallandale Beach
You wouldn't be the first person to roll up to a South Florida horse track and have a mysterious bag placed in your trunk under the cover of night. But at least when you hit the ten drive-up trick-or-treating stations around Gulfstream Park Village from 6-8pm, you can be relatively sure whatever's in the bag will not be the subject of a federal investigation.
Cost
: Free
Friday, October 30
Online
If the outside world is still a little too for-real scary for you, you can still take a look inside some seriously spooky spots around the world.
Tiqets
will host the Halloween Festival of Fright, which includes a tour of Bran Castle (aka Dracula's castle) in Romania, a family friendly Monster Mess at Warwick Castle, and an interactive murder mystery from Madam Tussauds in London.
Cost
: Free and sign up
here
Yelloween at Hyde Beach
Saturday, October 31
South Beach
If you've been jonesing to get back to your Instagrammable Miami lifestyle, look no further than Yelloween at Hyde Beach, where the Veuve Clicquot will be flowing alongside spooky décor, a special Katsuya menu, and a surprise DJ from sunset-midnight.
Cost
: Tickets start at $75, includes reserved seats.
Saturday, October 31
Coral Gables
The excitement of a fun size Milky Way tends to wane a little bit once you're an adult. But the excitement of a free one-night stay at a swanky new hotel? Never gets old. Which is why the Thesis is randomly throwing a few of those—along with a $100 food and beverage credit—into the kids' goodie bags, which you can drive up to the hotel and snag between 5-8pm/
Cost
: Free, potentially free-er!
Cantina Beach
Saturday, October 31
Key Biscayne
Perhaps the best Halloween value of 2020 will be at…The Ritz Carlton? Yep. In yet another instance of 2020 turning the world upside down, the Ritz's Cantina Beach is offering a worth-the-trip-to-Key-Biscayne special where $25 gets you bottomless tequila, mezcal, and mini margaritas from 5-11pm. The open-air restaurant will also offer food and other non-unlimited drinks, as well as live entertainment.
Cost
: Menu prices vary, reserve a table here
Saturday, October 31
Downtown
The Frost Science Museum's Fourth Annual Spooky Science Monster Mash will be a little different this year, with masks on everyone and limited capacity. But those who go will get a special sticky demonstration from the American Chemical Society, a Frankenstein selfie station, a special "Mad Science Lab," and a terrifying blacklight look at your hands so you can better understand the spread of germs.
Cost
: $27.95, all included in regular museum admission
| Tidal Cove
Saturday, October 31
Aventura
South Florida's finest waterpark,
Tidal Cove
, plays host to an epic afternoon of Halloween fun with its Spooktacular Halloween. In addition to riding all the slides, patrons can also hit the Royal Palm Court between 4-6pm for pumpkins and pirates, a mummy wrap relay, a "Monster Mash" dance off, the speedy spider race, candy edible art, and a 6pm showing of Hocus Pocus.
Cost:
$125 park admission for the whole day.
Saturday, October 31
Online
It's kind of like trick or treating in reverse this year, when Sour Patch Kids offers you the chance to have a whole boatload of candy delivered to you free. To win, you've gotta go on Twitter or Instagram between 2-8pm on Halloween, tag @sourpatchkids #SourThenSweenHalloween #Sweepstakes, then click the link in bio to see if you've won. Winners will get contactless drop-offs within a couple of hours.
Cost:
Free
Saturday, October 31
Westchester
If you're ready to get back to concert going, 4Ward Miami and the Gay8 Festival are throwing a socially distant celebration Halloween night starting at 8pm. The concert and costume contest will feature live performances from Ray Guell and salsa superstar Lucy Grau, as well as a special Donna Summer tribute and music from DJ Alex Gutierrez. Families will also find a "trunk or treat" for the kids and a 5pm showing of Coco.
Cost
: Tickets start at $30
Saturday, October 31
Wynwood
Who better to spend Halloween with than a guy named Carnage? And the breezy, open air patio at 1-800 Lucky will play the perfect socially distant backdrop for the superstar DJ's show, which starts at 9pm. To encourage even more safety, 1-800 Lucky will be hosting a costume contest where entrants won't be judged so much on their overall costume, but on creative use of masks. All are required to wear them, but the best one wins $100.
Cost
: $30
Friday, October 30 - Saturday, October 31
Aventura
Though finding zombies in Aventura usually doesn't require much more than hanging out in the common room of a Country Club Drive highrise, the Aventura Police Department has rounded up some of the scarier ones and is looking for your help to capture the rest. The drive-through haunted experience will keep the zombies socially distant from your car.
Cost
: Free
Sign up here for our daily Miami email and be the first to get all the food/drink/fun in town.