New Year's Eve in Miami is a classic case of all of us living where other people vacation. The city fills up with visitors looking for the hottest parties at the best clubs, while most locals are content to take an Uber to their friend's house party in Kendall -- which is usually more fun. But if you want to get dolled up and make the last night of 2017 a special occasion, Miami's got better options than almost anywhere in the world. And some don't cost more than a car payment!
The most obvious is Pitbull's special from Bayfront park with the big orange drop at the Intercontinental and guest performances from Tone Loc. But beyond that there's glamorous pool parties, no-cover bar parties, and everything in-between. Here are our picks for Miami's best New Year's Eve parties, no matter what your budget.
Fontainebleau Hotel
Probably the next most-recognizable New Year's party after Pitbull's will go down next to the pool at the fabulous Fontainebleau. This year's edition will include pop sensation Demi Lovato doing a full set, as well as another set from EDM producer and DJ Kygo. Cheap it's not, but since when did being seen in Miami have anything to do with money?
Cost: $275
Hyde Beach
So maybe the Fontainebleau price was a little too steep for you. That doesn't mean a swanky South Beach pool party is out of your reach. Danish DJ Dada Life will perform all night at Hyde Beach at the SLS, where there'll be grilled meats abound and a midnight champagne fountain. Entrance gets you an open bar from 9pm to midnight, but of course there's no shortage of VIP table and cabana options.
Cost: $175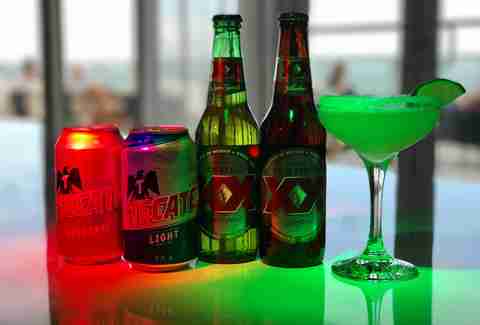 W Fort Lauderdale
If eating well to close out 2017 is your main objective, you'll wanna make sure you're in the Grand Hall at the W Fort Lauderdale. That's where a massive Stephen Starr-created buffet will offer limitless portions of Manhattan Strip and Mediterranean grouper -- just for starters. You'll also get three free cocktails and a glass of Champagne at midnight, plus plenty of music to dance to until you get the inevitable side ache.
Cost: $175
Ball and Chain in Little Havana
The cool, historic bar in the heart of Little Havana is welcoming 2018 with the same impossible-to-stay-seated music it plays all year long. Enjoy an open bar with live sets from the Pepe Montes Trio, Tito Puente Jr., and DJ Danis La Cave (going all night long). Even if you don't salsa, this is as close to spending NYE in Cuba as you'll get without having to consult the Department of Homeland Security.
Cost: $100
El Tucan
Brickell's throwback Latin nightclub takes on a distinctly Parisian feel this New Year's with two Moulin Rouge-inspired cabaret performances at 7pm and 10:15pm. There'll be two dinner seatings here, but you can also just come to enjoy the show and the open bar that comes with the price of admission.
Cost: General admission: $190; 7pm dinner: $190pp; 10:15pm dinner: $350pp
Spend a reasonable amount at Ricky's, Radio, and Bodega
Ricky's, Radio Bar, Bodega
About this point in the story you just saw a dinner selling for $350 a person and said "Yeah, OK, guess a house party in Kendall it is then." But wait! Three of our favorite locals' hangouts are offering no cover and some insane specials. Bodega will be handing out shots of Don Julio at midnight. Ricky's will have half off drinks from 5pm-10pm. And Radio will have $9 drinks, $4 beers, and $100 bottles all night long.
Cost: Free, though the drinks are not
Rusty Pelican
Your best dining option with views of the fireworks is at the venerable Rusty Pelican, who in addition to throwing a Mad Tea Party from 10pm-2am, will also host a grand Wonderland dinner in its ballroom. Here you'll dine on Alice in Wonderland-themed dishes like "Off With His Head!" -- chilled poached lobster with black tea and Thai chili broth, as well as catch views "through the looking glass" of the fireworks through the floor-to-ceiling windows.
Cost: Seatings start at $250
R-House
You like drag shows? Here's an entire day of 'em. R-House kicks off the 31st with its traditional drag brunch, then adds to it a four-course drag dinner with seating at 9pm and a show at 9:30pm. In a stroke of New Year's marketing genius, the dinner offers tiered pricing ranging from $70 for one glass of wine (since nobody should spend New Year's completely sober) on up to $125, which includes bottomless Vranken Pommery Brut Royal Champagne.
Cost: $70-$125
Sugar
Miami's premiere rooftop bar is undoubtedly the best place to catch our numerous fireworks displays all in one place. But it wouldn't be Miami if you couldn't one up it just a little, so for an extra $125 you can join the masquerade party in Sugar's secret hidden tea room that boasts the same spectacular 40th floor views with none of the elements.
Cost: $100 at Sugar, $225 in the tea room
The Wilder
The swanky new cocktail lounge that's been the hottest drinking destination in Broward the past couple of months wants you to explore their creative cocktail menu to ring in 2018. They'll have an open bar the includes premium spirits, beer, wine, and bubbly plus a Champagne toast at midnight and performances from DJ Obscene. That's just his name; the performance is family-friendly.
Cost: $150
Blackbird Ordinary
Though the high-rises in Brickell will have no shortage of house parties with views of the fireworks between other people's apartments, the best deal to be had is at Blackbird Ordinary. Not only are they offering no cover for their New Year's party, they'll also be selling $100 bottles of Absolut, meaning NYE bottle service isn't just within reach, it's downright cheaper than most of your other options
Cost: Free, but buy some drinks, you cheapskate!
E11even
It might seem weird to go to E11even at any time that ends with "pm" but this New Year's, G-Eazy and Halsey will perform their hit single "Him and I" at some point before midnight. After which we'll assume the club will descend into its usual brand of early-morning madness. Plus DJ Irie will be there, so you know it's a party.
Cost: $275... plus whatever singles you need to make it rain.
Sign up here for our daily Miami email and be the first to get all the food/drink/fun in town.