How to Have a Safe and Fun New Year's Eve in Miami
Goodbye, 2020. We won't miss you.
Most years, this would be the spot where we'd make some snarky remark about restaurants charging a three-series lease payment for dinner on New Year's Eve, and then tell you you'd probably be better off just going to a house party in Kendall. But this year a) it would be irresponsible of us to tell you to go to a house party in Kendall and b) restaurants need all the help they can get. So go out, spend an obscene amount of money at your favorite restaurant, and hope they're still there for New Year's 2022. And if you're still trying to find a place to push curfew on December 31, we've found some pretty solid parties that are socially distant and fit any budget.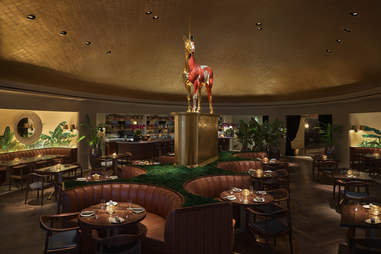 Faena Hotel

| Photo Courtesy of Nik Koenig
Casa Faena
A celebration of illumination is in store at the brightly-colored Casa Faena, where the evening begins in the Faena Cathedral with priests and priestesses performing live for guests. The evening continues with dancing in the living room, followed by dinner at one of the hotel's fine restaurants. The whole thing concludes with music from Javier Garcia, Leslie Cartaya Duo, Ziggy and the Neptunes + Fire, and more, with dancing at appropriate distances.
Cost:
Call 786-655-5600 for pricing
Gianni'a at Casa Casurina

| Photo Courtesy of Gianni'a at Casa Casurina
Gianni's
Since you probably never pictured doing 95% of the stuff you ended up doing in 2020, you may as well finish it in the lavish surroundings of the Versace mansion watching synchronized swimmers in the pool. Gianni'a at Casa Casurina gets the party started with a first dinner seating at 6 pm, with main seatings beginning at 8:30 pm, and an open bar starting at 10 pm.
Cost:
Early seating dinner $125pp, main seating $450; open bar $150
Irma's W South Beach
Typically, ringing in the new year by the trendy W South Beach pool requires literal boxcars of cash to book a table. But if 2020 has given us any silver linings, it's that incredible experiences have become occasionally affordable, and this year you can snag a table at Irma's outdoor terrace—right next to the pool— for an unobjectionable $250 per person. You can also stroll into the Living Room for some of their famous cocktails, or peruse the collection of Andy Warhol originals in the lobby.
Cost:
$1,000 minimum spend for four guests
Kuba Cabana
CityPlace Doral will harken back to Havana's golden age on New Year's Eve, when Kuba Cabana hosts an old-world drag show beginning at 10:30pm. The performance will be hosted by Miss Noel Leon and feature burlesque renditions of "Fever," "All that Jazz," and other drag hits. Prior to the show, you can enjoy a three-course Latin feast, and just before midnight guests will get the Cuban-traditional dozen grapes and a glass of Prosecco.
Cost:
First seating $99; main seating $150
Café La Trova
Typically, New Year's Eve unlimited drink specials involve waiting in line at understaffed bars for a watered down vodka-soda that lasts you just long enough to wait in line for another one. But if you head to Café La Trova, their open bar will include drinks from Miami's top mixologist Julio Cabrera, alongside live Cuban music and passed bites from Michelle Bernstein.
Cost:
Open bar package is $85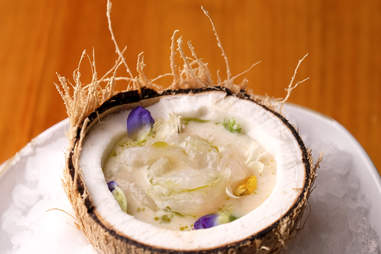 Ariete

| Photo Courtesy of Ariete
Ariete
If you're going out for dinner New Year's Eve, you've probably resigned yourself to dropping some cash. And if you're going to spend a lot on dinner, you might as well get a dozen courses worth of food from one of Miami's best home-grown chefs. At Ariete, Michael Beltran will be feeding you a savory potato doughnut, sofrito game hen, pork tenderloin, and other creations. With optional wine and cocktail pairings available.
Cost:
$225 per person
Nikki Beach
Going out on New Year's Eve doesn't really seem like it would lend itself to social distancing. But if you can snag one of the open air teepees at Nikki Beach, you and up to five of your friends can show up to watch the sunset with charcuterie, mezze, and sushi platter with three bottles of Perrier-Jouet. And not have to worry about unmasked strangers until you're safely into 2021.
Cost:
$10,000 for up to six people
Gitano

| Photo Courtesy of Gitano
Gitano
If we could describe Miami restaurant openings in 2020 in two words, it would absolutely be Tulum vibes. So what better way to close out the year than immersing yourself in said Tulum-ness at Gitano, where they'll have a full evening of Gypsy-Disco fun in store. You'll enjoy a four-course menu from Chef Antonio Maldonado, along with an open bar of signature mezcal cocktails, and special guests DJs in the Jungle Room and Jungle Roof.
Cost:
Email
miami@grupogitano.com
for reservations and pricing
Bodega South Beach and Ft. Lauderdale
If it weren't for that pesky curfew thing, odds are you'd probably end up at Bodega at some point on New Year's Eve scarfing tacos you won't remember the next day. But since that's not really going to be an option, get your taco-and-tequila on earlier as Bodega offers two open bar packages, one from 4-8pm and another from 8pm-midnight. Tacos are not included, but are highly encouraged.
Cost:
$150 from 4-8pm, $300 from 8pm-midnight; tables also available
Byblos
A masquerade party just seems like the fitting conclusion to a year where face coverings became a legitimate fashion accessory. Which is why Byblos' Sultan's Masquerade is a natural fit to close out 2020, where you can enjoy three-or-four-course prix fixe dinners in the dining room before heading out to a themed garden party with a four-hour open bar.
Cost:
Dinner at 5:30pm is $75pp; 7:30pm is $225; Sultan's Garden open bar is $75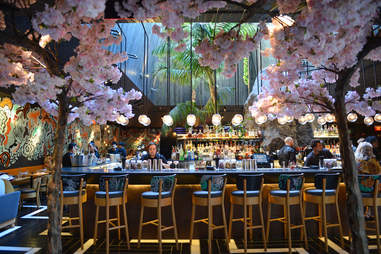 Chotto Matte

| Photo Courtesy of Chotto Matte
Chotto Matte
Most years, an urban dystopia-themed NYE soiree might seem like a cool, steam-punky way to welcome the new year. This year, a Dystropolis party just sounds like a fancy way of saying "year in review." But whatever, when you're enjoying a Nikkei prix fixe menu in Miami's best setting for the Peruvian-Japanese cuisine, you won't think too hard about how close it hits home. And instead can enjoy the live DJ and cosmic cocktails until the stroke of midnight.
Cost:
Menus range from $150-200 per person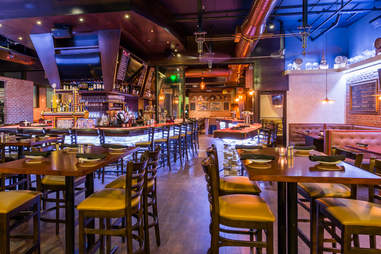 Batch Gastropub

| Photo Courtesy of Batch Gastropub
Batch Gastropub
Because the people at Batch realize 2020 has already screwed you hard enough, they're gonna take it easy on you this New Year's Eve, offering an open bar for less than your typical Friday night tab at Brickell's favorite place for bad decisions and cool bathrooms. To say "thanks for not making me blow my whole stimulus check on New Year's," stop in early and enjoy dinner beforehand, which will be served at regular menu prices.
Cost:
$50 open bar from 9pm-1am
Phuc Yea

| Photo Courtesy of Phuc Yea
Phuc Yea
Chef Cesar Zapata could easily charge well into the triple digits for a four-course New Year's dinner. But the local legend will be creating a family-style Vietnamese menu for a reasonable $65 per person, with an optional cocktail pairing. In addition to all that, guests will get a Phuc Year gift bag filled with items intended to bring you good fortune in the new year.
Cost:
$65 per person, cocktail pairing is an additional $45
Sign up here for our daily Miami email and be the first to get all the food/drink/fun in town.